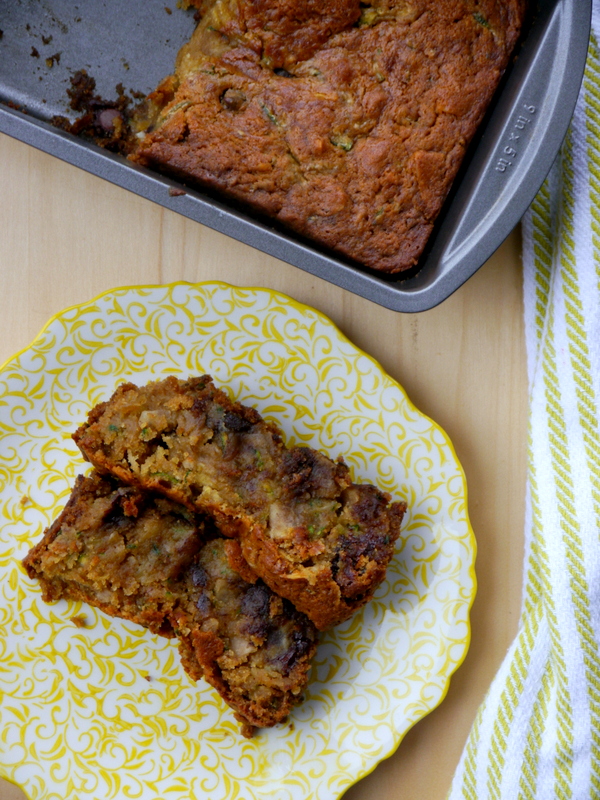 I did a little something crazy.
I made you something vegan. On a bacon blog. I KNOW.
But hear me out. First of all, let's be real, this zucchini bread was never going to have bacon in it. Some things just aren't meant to be. And I've just been so damn inspired by all the gorgeous vegan baked goods hovering around the food blogosphere lately (sticky buns, anyone?) that I have been dying to try my hand at some vegan baking. And boy, am I glad I did.
This vegan dark chocolate chip zucchini bread is seriously amazing. Not just this-is-pretty-good-for-a-vegan-version amazing, but actually completely I-ate-this-every-single-day-last-week-and-wouldn't-let-anyone-else-have-any amazing. By the time you're reading this, I'll probably have another loaf baking up in the oven. It's that good.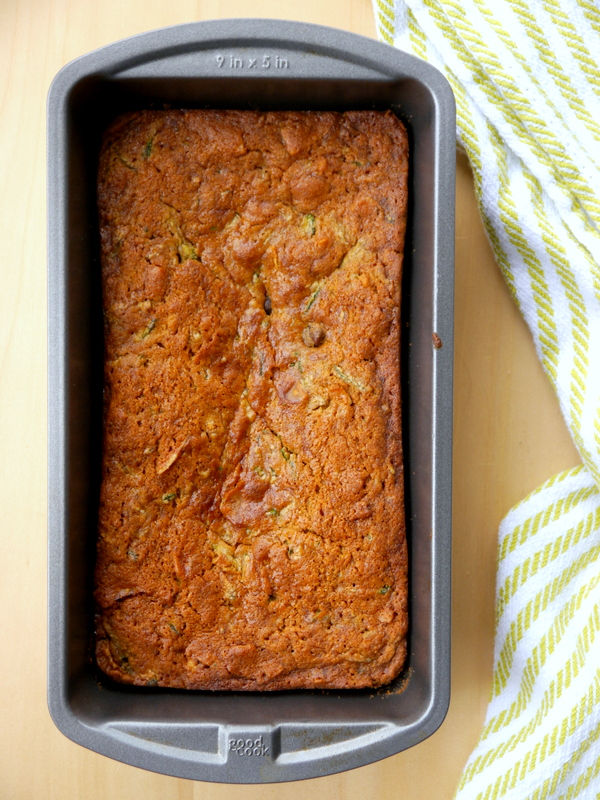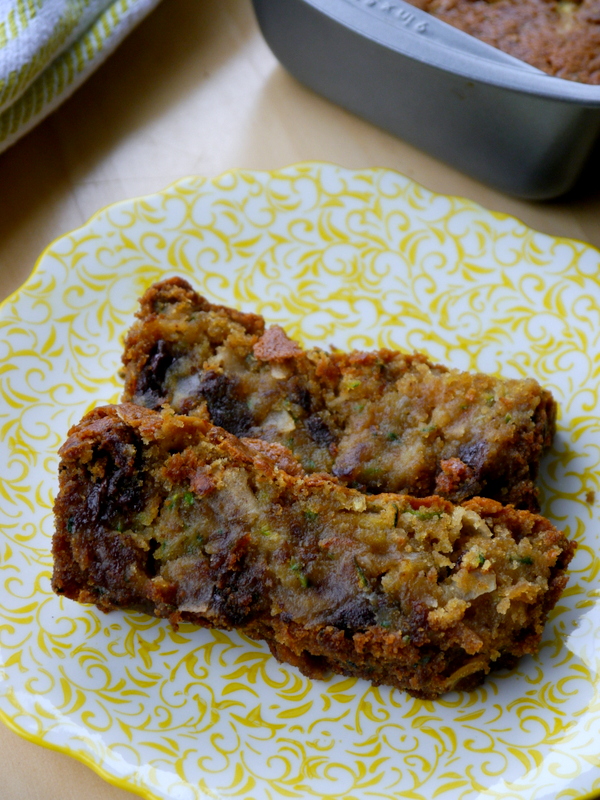 Let's talk vegan baking details. Vegan baking requires no eggs or milk or butter, so we have to get creative. Coconut milk and coconut oil serve as the liquid and fat elements, and both are so insanely rich and creamy and lend the perfect flavor to this super moist, chocolate-y loaf that celebrates the best baking veggie of summer: zucchini! I couldn't believe how moist and decadent this loaf was, considering it's loaded with tons of good-for-you ingredients like whole wheat flour and veggies and heart-healthy coconut oil. Oh, and dark chocolate chips. Because YES and DUH, always.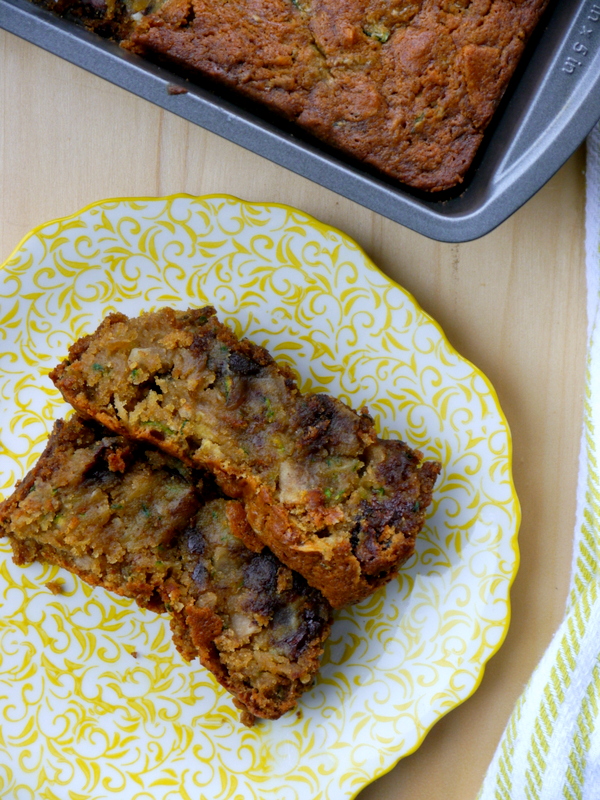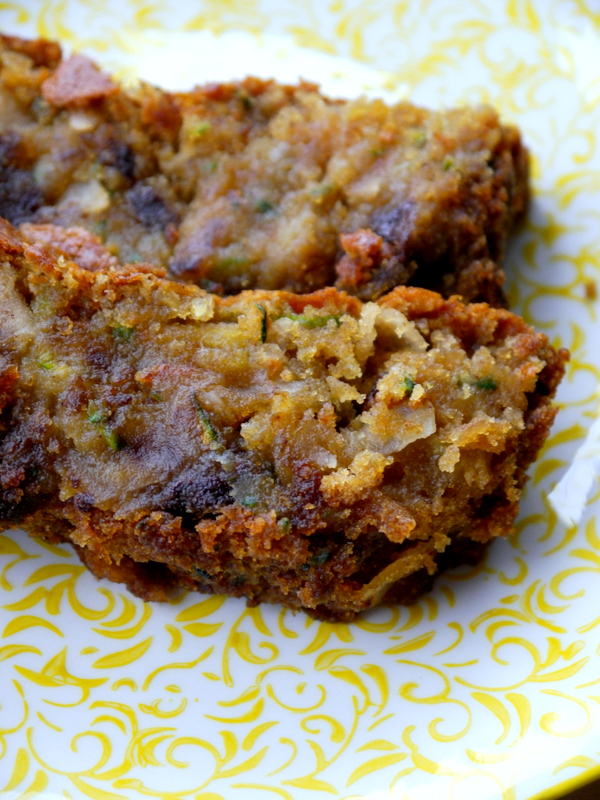 Now, some things to note. This bread is very heavy-handed with the coconut ingredients. I love coconut, but Brad doesn't and he had zero complaints about this zucchini bread. If you hate coconut, I honestly don't think you can taste much coconut flavor at all in the bread, so don't worry – but you might want to leave out the coconut flakes or sub them with some toasted walnuts for that extra crunchy element. Also, you're going to have to excuse the flagrant under-baked-ness of this zucchini loaf in the pictures – I am a chronic under-baker because I generally prefer my baked goods slightly less than done, but this one probably could have used a few more minutes. Whoops! Luckily, it was a highly delicious mistake (my favorite kind).
Whether you're vegan or not, this is an absolutely decadent summer quick bread that is super moist, incredibly flavorful, and not actually all too bad for you – what more could we want?! I highly recommend baking up a loaf if you're a gardener with more zucchini than you know what to do with right now, or if you're like me and can't garden to save your life but love using vegetables as an excuse to eat more delicious chocolate-y bread. Because in my book, that's as good a reason as any to make up some vegan dark chocolate chip zucchini bread!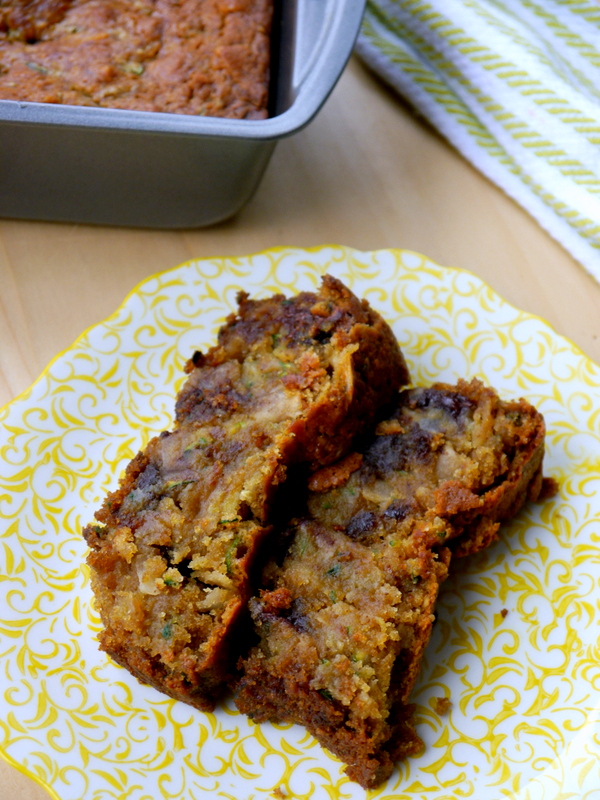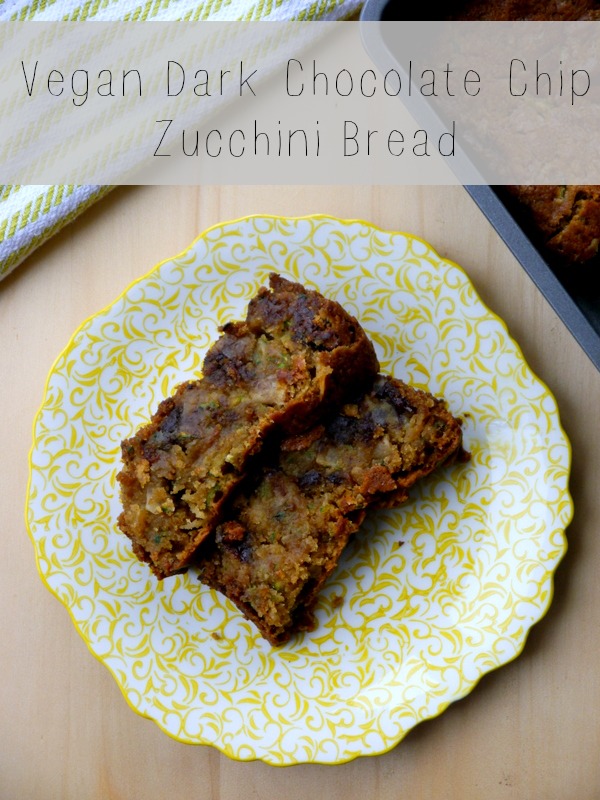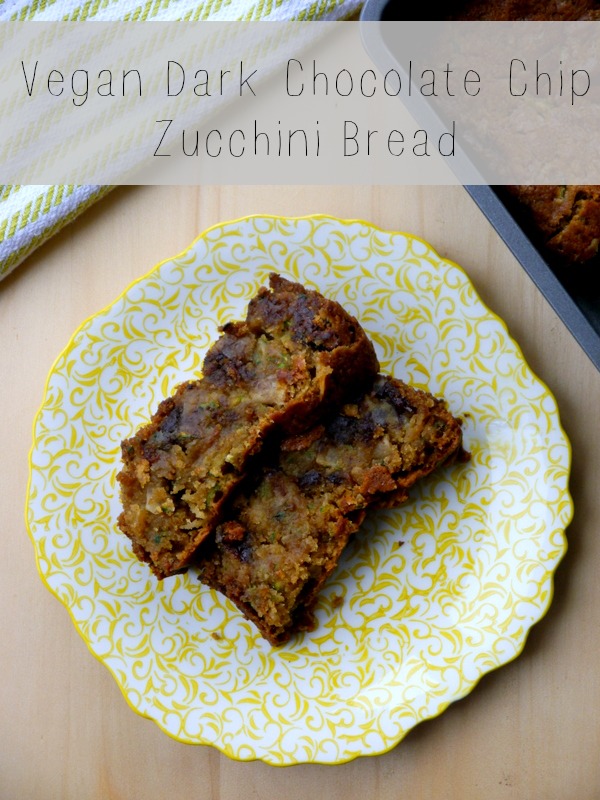 Vegan Dark Chocolate Chip Zucchini Bread
2014-07-14 19:14:04
Serves 8
An insanely decadent, perfectly moist, super chocolate-y zucchini bread that'll be the best you've ever made - no one would ever guess it's vegan!
Ingredients
1 2/3 cup whole-wheat pastry flour, spooned into the measuring cup and leveled with a knife
1 cup brown sugar
2/3 cup unsweetened flaked coconut
1 tsp. baking soda
½ tsp. baking powder
¼ tsp. cinnamon
¼ tsp. salt
1 cup canned coconut milk
1 tsp. vanilla extract
½ cup coconut oil, melted in the microwave
1 ¾ cup grated zucchini
¾ cup dark chocolate chips
1 tbsp. flour
Instructions
First, preheat your oven to 350°F. Coat a 9x5 loaf pan with coconut oil and set aside.
Next, whisk the flour, sugar, coconut flakes, baking soda, baking powder, cinnamon, and salt together in a large bowl. In a small bowl, toss the dark chocolate chips with the 1 tbsp. flour. Combine the coconut milk and coconut extract in a separate small bowl, then add to the dry ingredients and stir to combine. Once combined, stir in the melted coconut oil. Once that is combined, stir in the zucchini and floured dark chocolate chips. Pour your batter into the pan.
Bake for about 60 minutes, until a toothpick inserted into the center comes out clean. If the top of your bread is baking too fast (i.e. is getting brown a little too quickly) and the inside still isn't done, you can tent it with aluminum foil.
Allow the zucchini bread to cool completely before slicing and serving.
Adapted from How Sweet It Is
My Bacon-Wrapped Life http://www.mybaconwrappedlife.com/
Looking for more chocolate-y baked goods?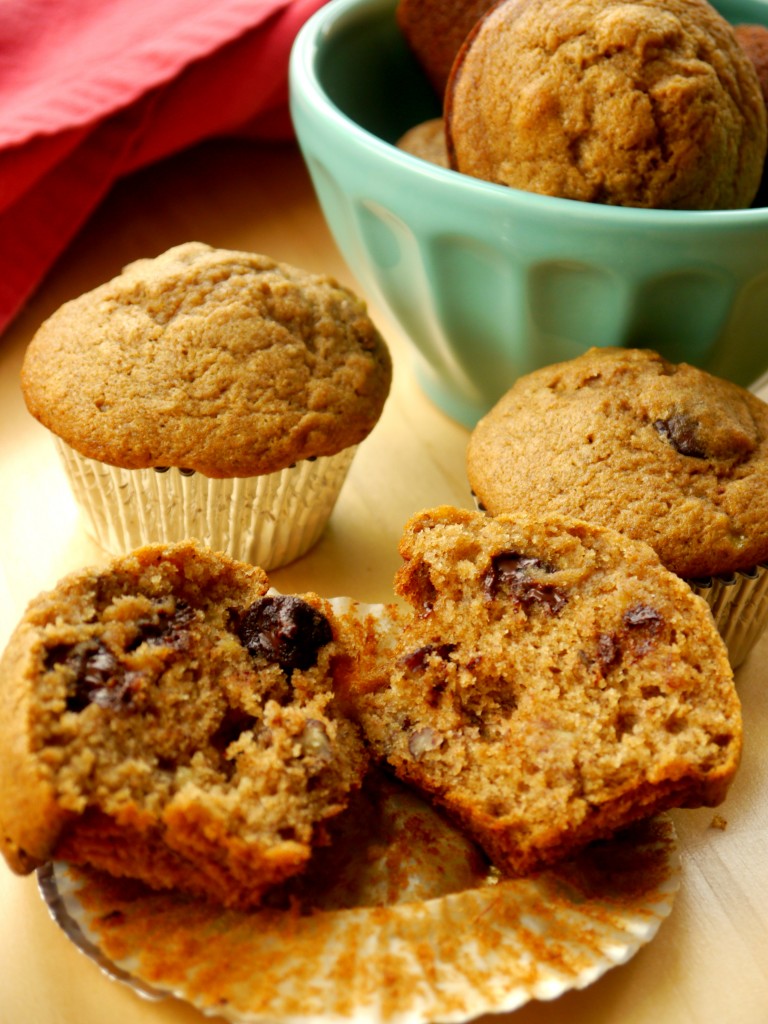 Whole Wheat Banana Muffins with Dark Chocolate and Toasted Pecans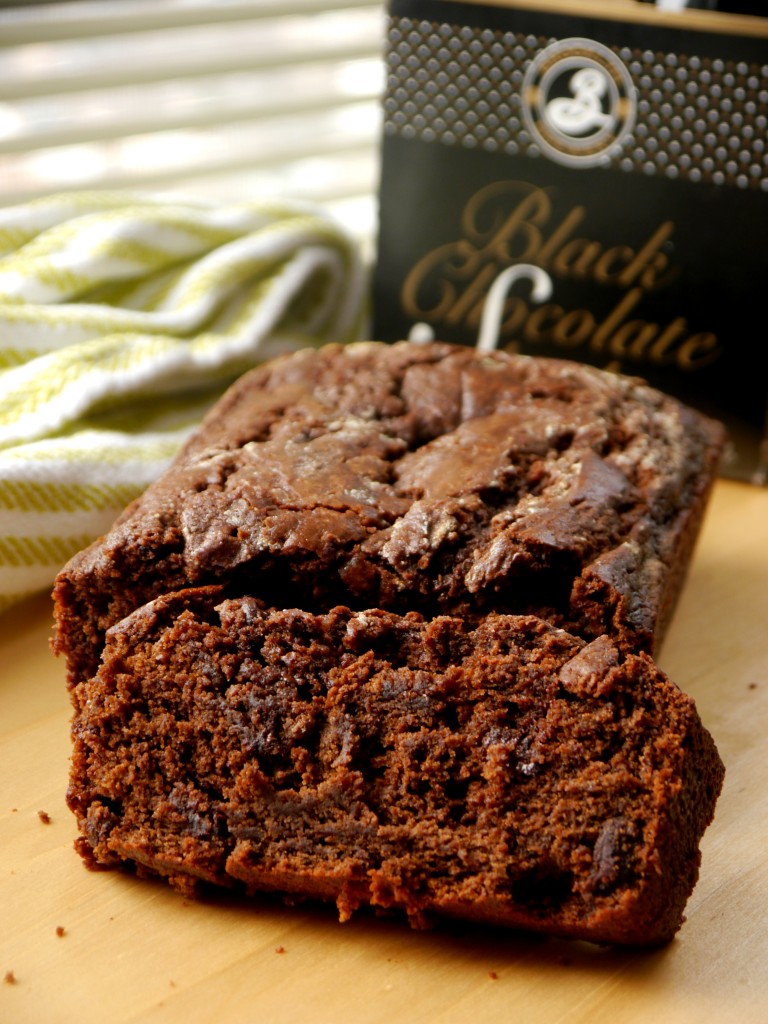 Chocolate Stout Bread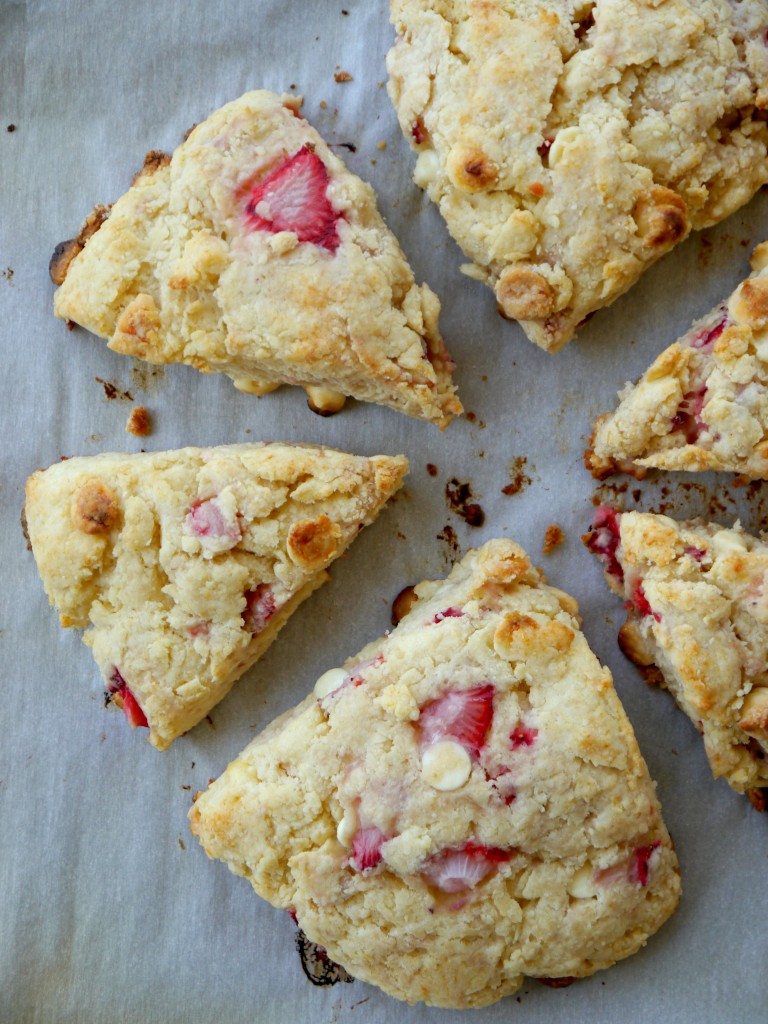 White Chocolate Strawberry Cream Scones