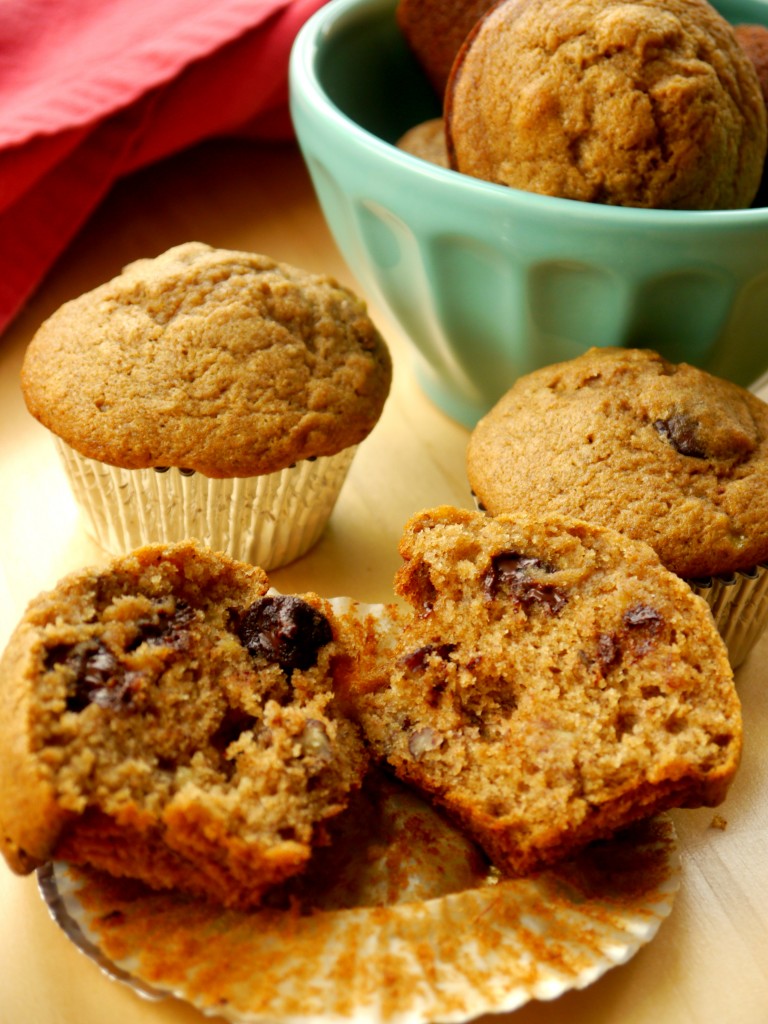 Happy spring, everyone!!!
Just kidding. It's 25 degrees out today with a snowstorm coming this week. Spring has NOT SPRUNG in Chicago.
I had planned to do a light, fresh, healthy recipe today to celebrate the official start of spring. But then I was like, you know what, screw it, I'm making some super-loaded banana muffins all jacked up with dark chocolate and toasted pecans. Because in this cruel hell in which it's still sub-freezing and snowing in late March, bathing suit season just seems really, really far away. And banana muffins sound really, really good right now.
If you are one of those lucky people who live in a place where it actually feels like spring, I'm sorry. I know you're trying to get ready for shorts and tank tops and struttin' yo stuff in your cute new bikini. I know these muffins aren't helping you out here. But you probably also look significantly less like a cave-dwelling vampire than I do, so I don't really feel that bad. Besides, these are WHOLE WHEAT, okay? It could totally be worse.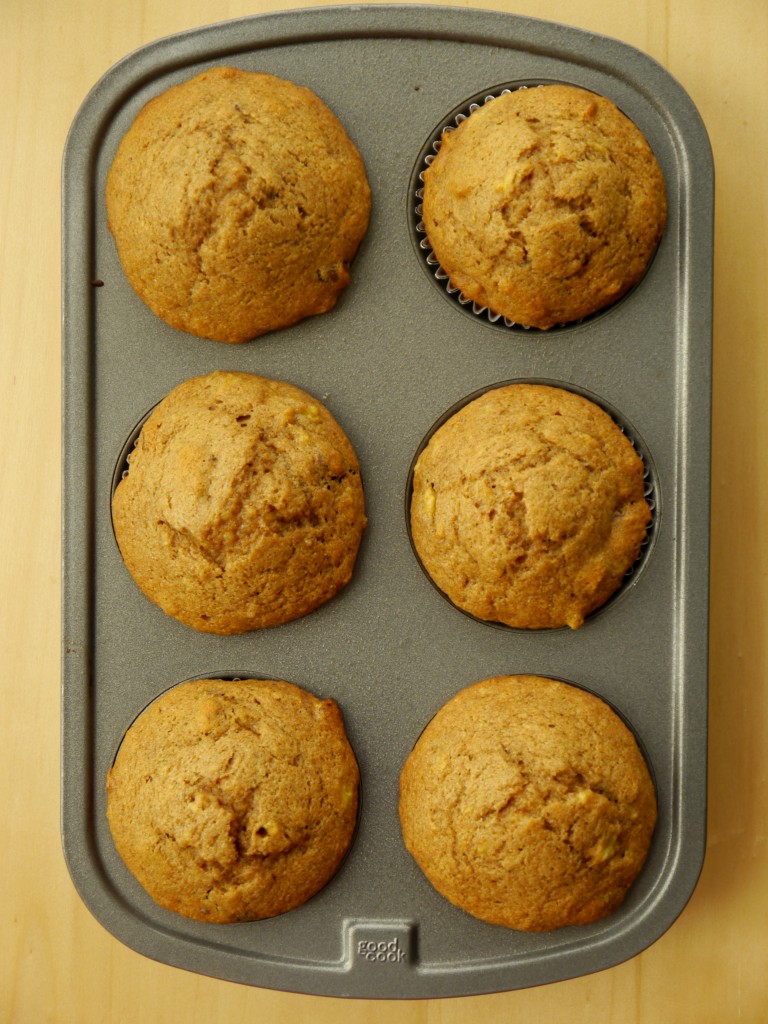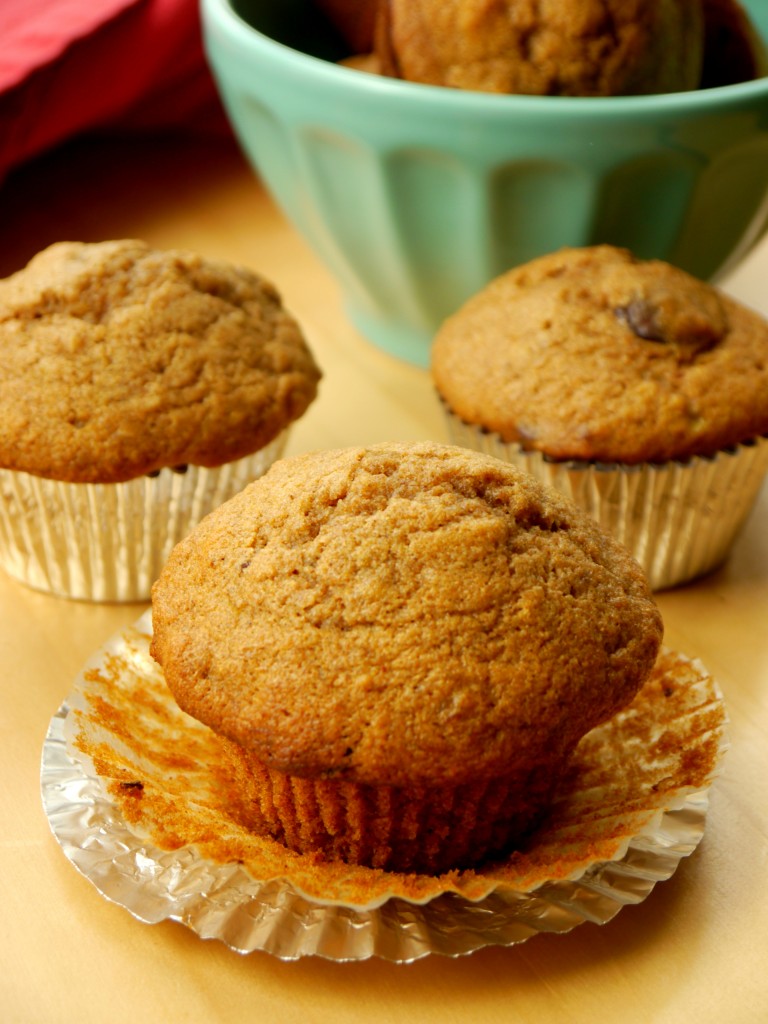 These whole wheat banana muffins are SO GOOD, you guys. They're super moist, perfectly sweet, and chock-full of melty dark chocolate chips and crunchy, lightly toasted pecans. They're rich and soul-satisfying and yet light and fluffy all at the same time. The whole wheat flour lends such a delicious depth of flavor and a heartiness that warms you all up inside. Serious muffin perfection up in here.
These muffins were adapted from the ultimate source of whole grain recipes, King Arthur Flour's Whole Grain Baking. I don't usually wax poetic about cookbooks on here, but I gotta say – I purchased this cookbook a few months ago and have been so inspired by it. It's truly the whole grain baking Bible, a tome of inspiration that embraces the exact type of cooking and baking I love – discreetly, warmly healthy, without making a big deal about it or being all righteous about anything. It celebrates genuinely using whole grains to add flavor and substance first and foremost, with increased nutrition just being an added benefit. If you're a baker and want to try to work some whole grain goodness into your baking, this book is an awesome addition to your repertoire.
Basically, what I'm trying to say is: make these muffins, stat. I can't think of a more worthy cause to delay your bathing suit preparation plans.
P.S. If you're having other sorts of banana-y baked good cravings, I have you covered with banana pancakes and bourbon banana bread.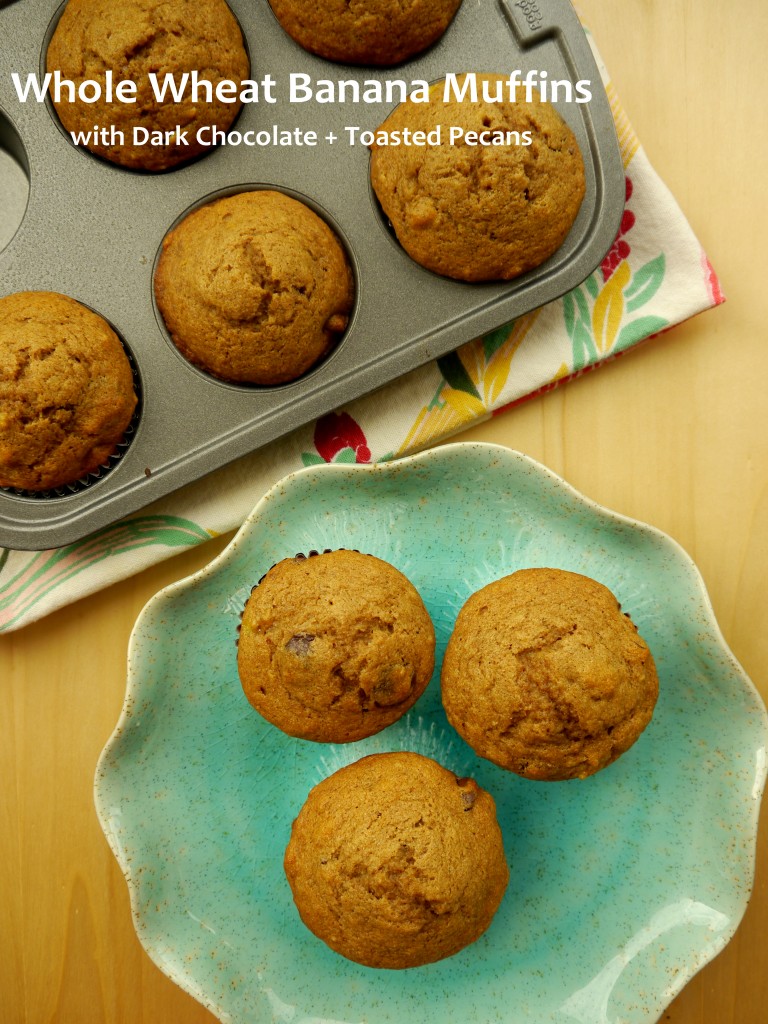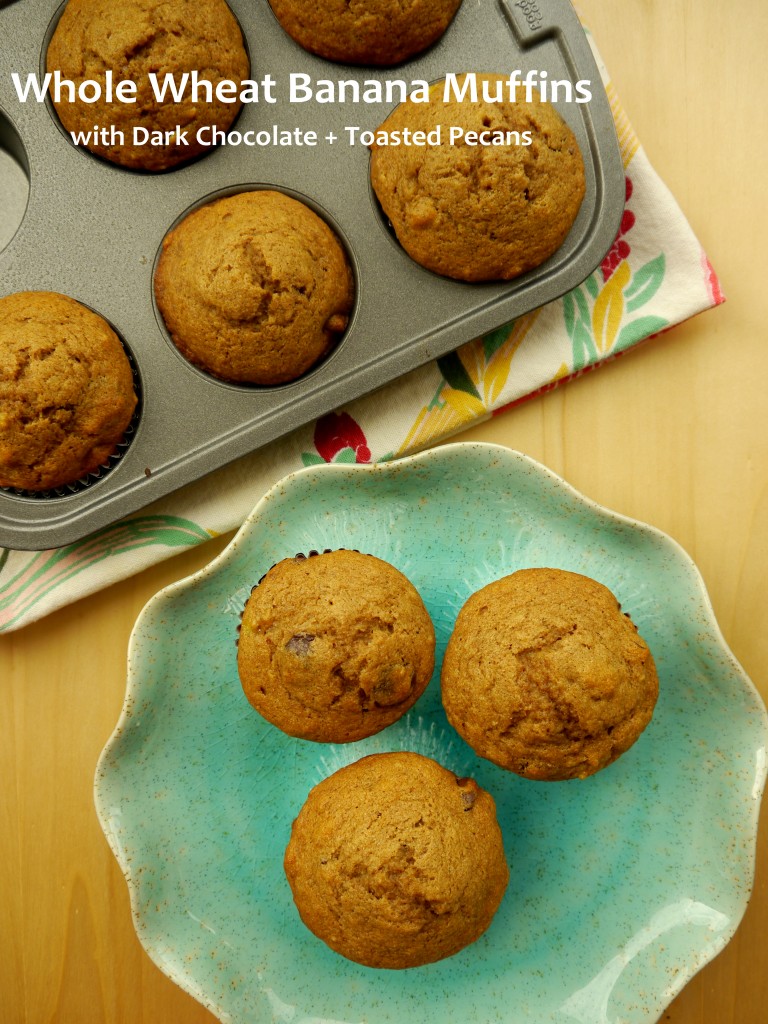 Whole Wheat Banana Muffins with Dark Chocolate and Toasted Pecans
2014-03-23 18:07:08
These banana muffins are perfectly moist, insanely flavorful, and chock full of delicious dark chocolate and toasted pecans. You'd never guess they were made with 100% whole wheat flour!
Ingredients
½ cup unsalted butter
½ cup tightly packed brown sugar
¾ tsp. baking soda
½ tsp. salt
½ tsp. ground cinnamon
¼ tsp. ground nutmeg
1 tsp. vanilla extract
3 large VERY ripe bananas, mashed
¼ cup honey
2 eggs
2 cups whole wheat flour
½ cup pecans, toasted
2/3 cup dark chocolate chips
Instructions
Line 12 muffin cups with liners and preheat your oven to 350°F.
In a large bowl, combine the butter, brown sugar, baking soda, salt, cinnamon, nutmeg, and vanilla until smooth using a hand mixer. Once combined, add in the banana mash, the honey and the eggs; beat to combine again until the mixture is smooth. Finally, stir in the whole wheat flour, mixing until just combined with a rubber spatula, and then stir in the toasted pecans and the dark chocolate chips.
Spray your muffin cups with a light coat of cooking spray. Then spoon the batter into the cups (they will be quite full). Bake the muffins for 23-25 minutes, until a toothpick inserted into the thickest part of the muffin comes out clean. Cool and serve.
Adapted from King Arthur Flour's Whole Grain Baking
My Bacon-Wrapped Life http://www.mybaconwrappedlife.com/
Disclaimer: These is an Amazon affiliate link in the above post. I have not been compensated to write positive reviews about any products, and as always, all opinions expressed are entirely my own.