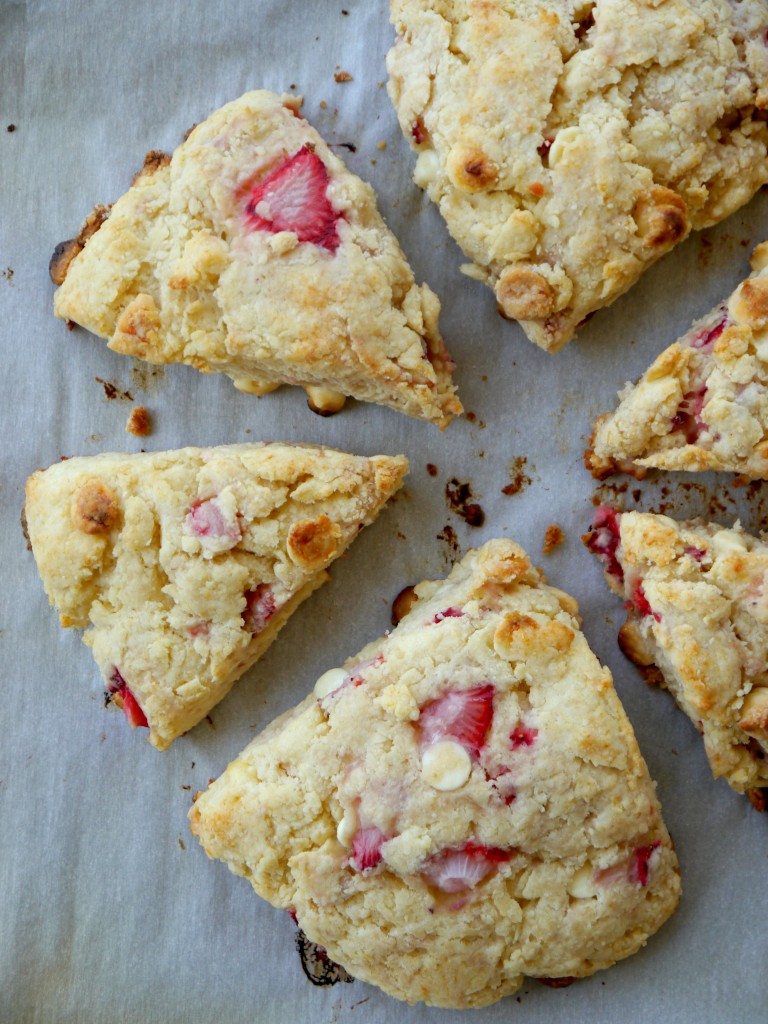 Happy Memorial Day weekend, everyone!
What are you doing to celebrate? Our apartment's grill area is still being renovated (major fail) so we're cooking up some burgers and drinking beers inside with the windows open. At least there's no UV rays?
Fake grilling aside, it still feels like summer and I'm absolutely loving it. To me, the best part about summer food is, hands-down, fresh berries. I can devour a Costco-size container of blueberries, raspberries, or strawberries in a single sitting, all day every day. And the only thing that rivals the amazingness of fresh berries is baking them into an incredible dessert or sweet treat!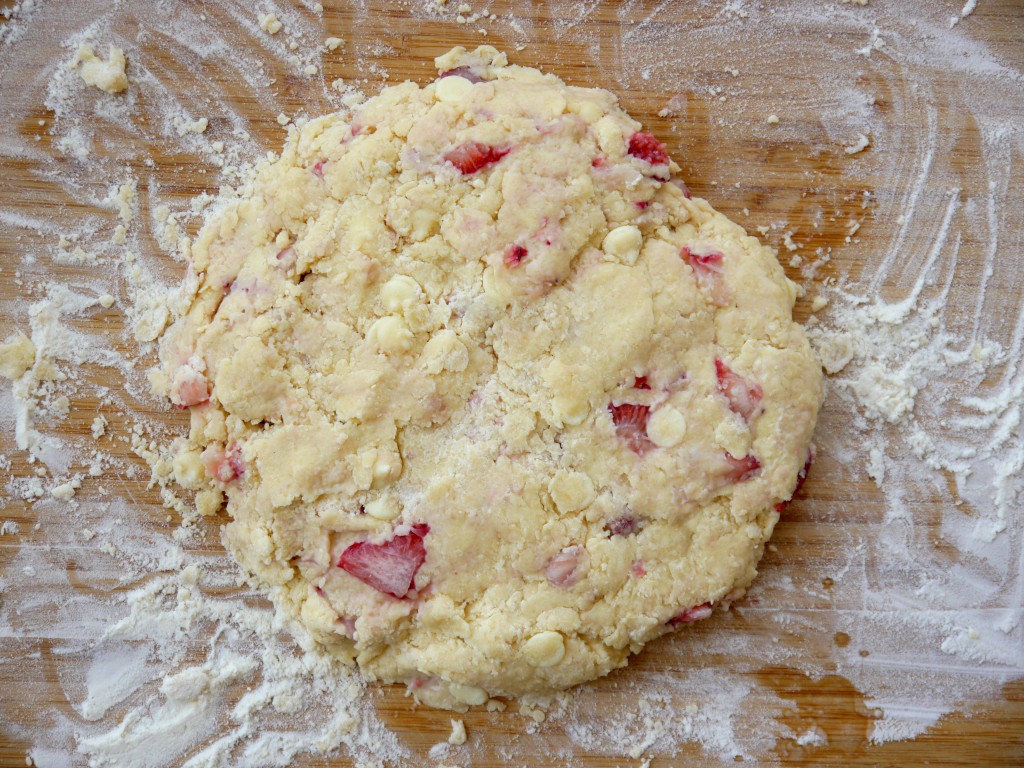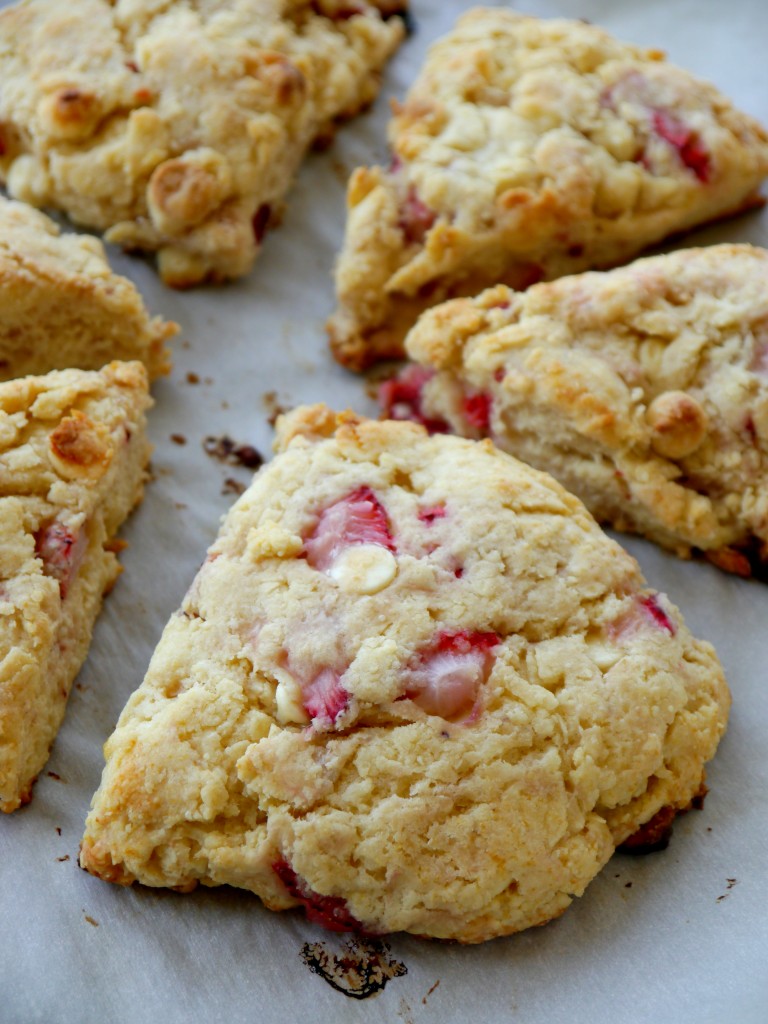 I have a long list of summer baking plans, from pies to crumbles to ice cream, but let's start slow today. Let's savor some simple white chocolate strawberry cream scones. Now, first things first. Some people are anti-scone. If you think scones are dry, flavorless, and lame, you have been eating the wrong scones! Scones done well are baked good perfection – crunchy and lightly browned on the inside, and insanely moist and almost creamy inside. These strawberry scones are some of the best I've ever had. The secret to the perfect scone? Lots and lots of heavy cream! These scones are little more than a few simple ingredients, highlighted with some chopped-up summer strawberries and a handful of white chocolate chips for sweetness and flavor. They couldn't be easier, and they just scream down-home, rustic summer goodness. I'm obsessed!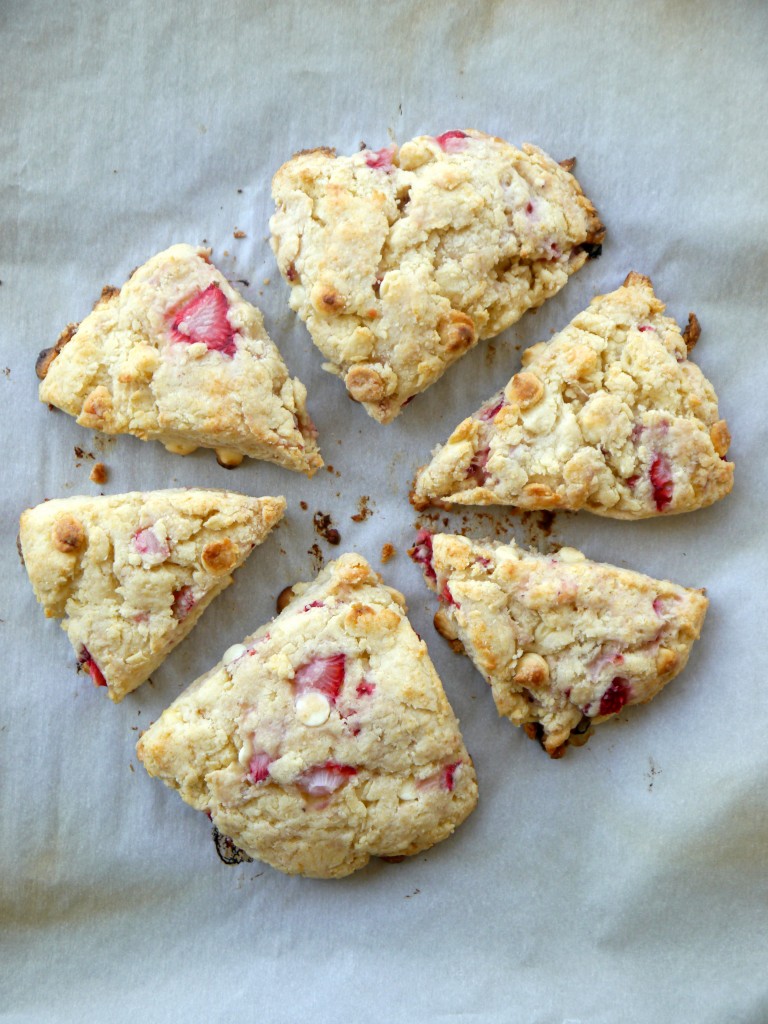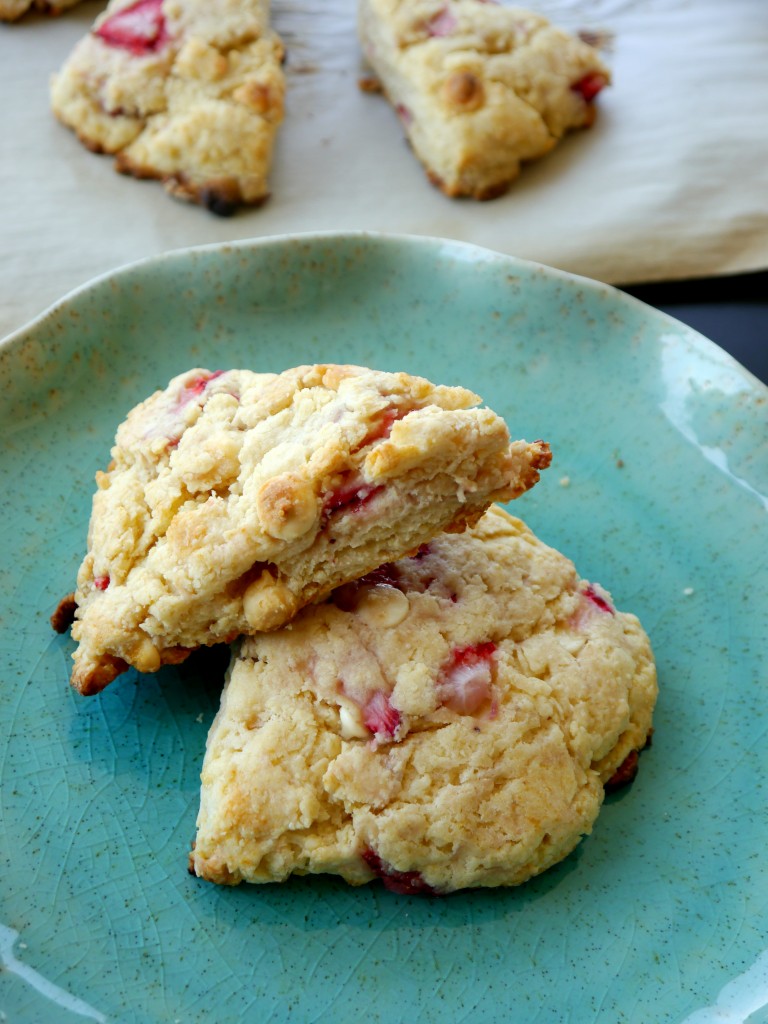 Side note: could these be more beautiful? They pretty much photographed themselves!
Happy start of summer! I hope your Memorial Day is filled with pools and backyard barbeques and burgers and beers and sunshine!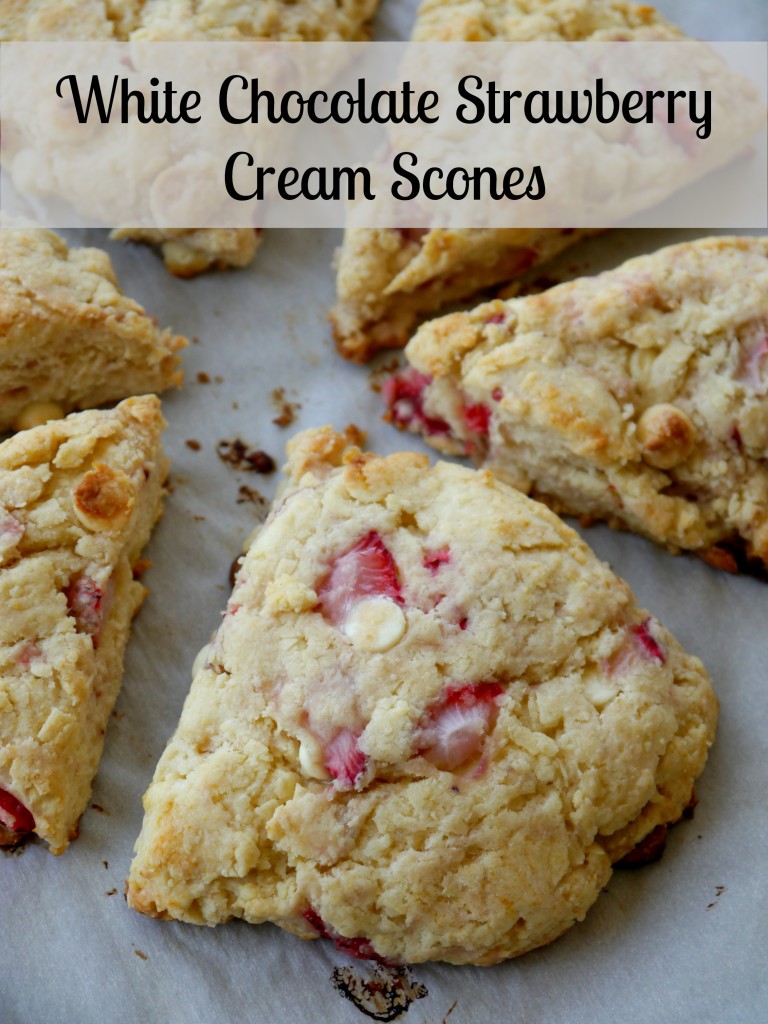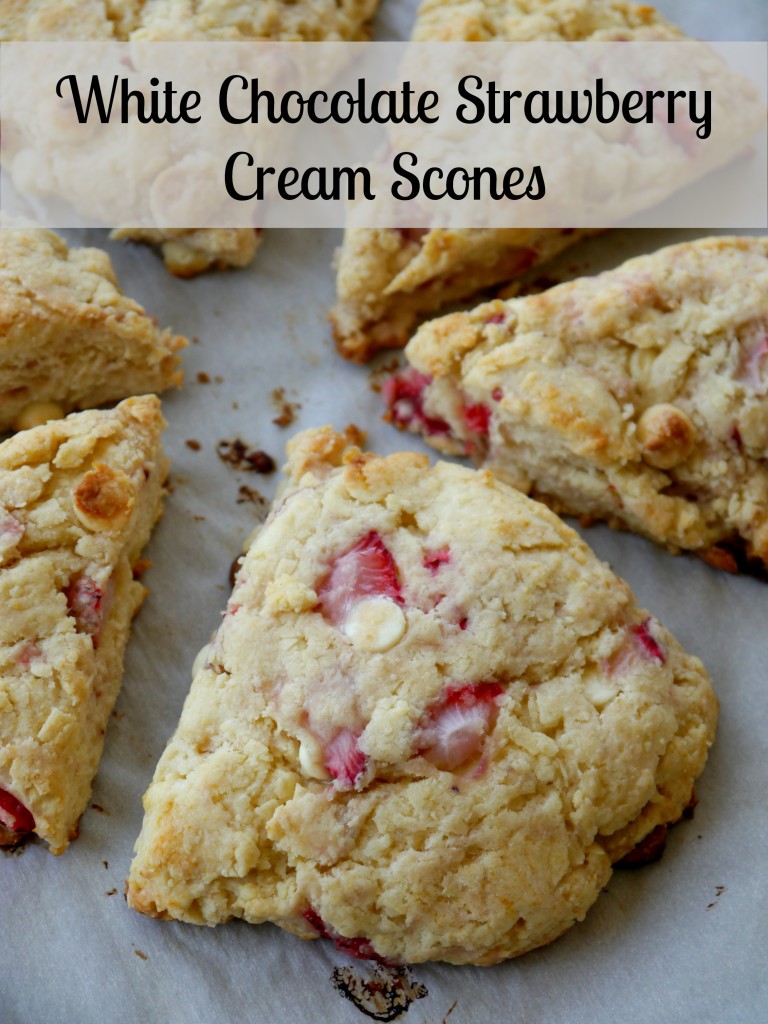 White Chocolate Strawberry Cream Scones
2014-05-25 16:41:27
Bursting with summer strawberries and white chocolate chips, these white chocolate strawberry cream scones are the epitome of down-home rustic summer goodness!
Ingredients
3 cups all-purpose flour (spooned lightly into the measuring cup and then leveled with a knife, NOT scooped out – critical!)
1 tbsp. baking powder
1 tsp. salt
1/3 cup granulated sugar
1 tsp. vanilla
1 1/3 cup, plus 1-2 tbsp. heavy cream
¾ cup chopped strawberries
1/3 cup white chocolate chips
Instructions
In a large mixing bowl, whisk together your dry ingredients (flour, baking powder, salt, and sugar). Add 1 1/3 cups heavy cream to a liquid measuring cup, then add in the vanilla extract and stir to combine. Drizzle the vanilla/cream mixture a little bit at a time over the dry ingredients, stirring every so often to combine as you pour. Next, lightly stir in the strawberries and white chocolate chips. At this point, the dough should be cohesive but a bit craggly. If you feel you need an extra 1-2 tbsp. cream to make the dough come together, add it one tablespoon at a time until the dough comes together.
Flour a clean cutting board or kitchen counter. Dump out your dough, divide it in half, and press into 2 circles that are about 6 inches wide and ¾-inch tall. Move the dough circles to a baking sheet that has been lined with parchment paper. Cut each circle into 6 triangles, then separate the triangles a bit so that they have room to rise. About an inch on either side of each triangle should be fine.
At this point, preheat your oven to 425°F. Put the baking sheet of scones in the freezer for the 10-15 minutes it will take your oven to preheat. When your oven is ready, take the scones out and bake for about 14 minutes, until they are started to brown on top and are cooked through in the middle.
Serve the scones warm. Scones are best eaten the day they are made, but they can be kept in an air-tight container for a few days.
Notes
I allude to this earlier, but it's absolutely critical to measure your flour properly for all baked goods – especially delicate baked goods like these with few ingredients. If you scoop directly from the container/bag, it will be way too heavy. The proper way to measure out a cup of flour is to use a spoon to spoon the flour into the measuring cup, without packing down, and then level with a knife at the top.
I usually bake up half of these the day I make them and then freeze the other half for quick fresh scones any morning we want. To do this, complete all steps up through putting the baking sheet of scones in the freezer. Leave the scones you want to freeze for later in the freezer for about an hour or two, until they have frozen a bit and won't stick together. Then, you can transfer them to a freezer-safe zip-top baggie. You can bake them directly from frozen, just add 1-2 minutes to the baking time.
Adapted from Joy the Baker
My Bacon-Wrapped Life http://www.mybaconwrappedlife.com/
Adapted from King Arthur Flour via Joy the Baker.
Looking for more fantastic breakfast baked goods?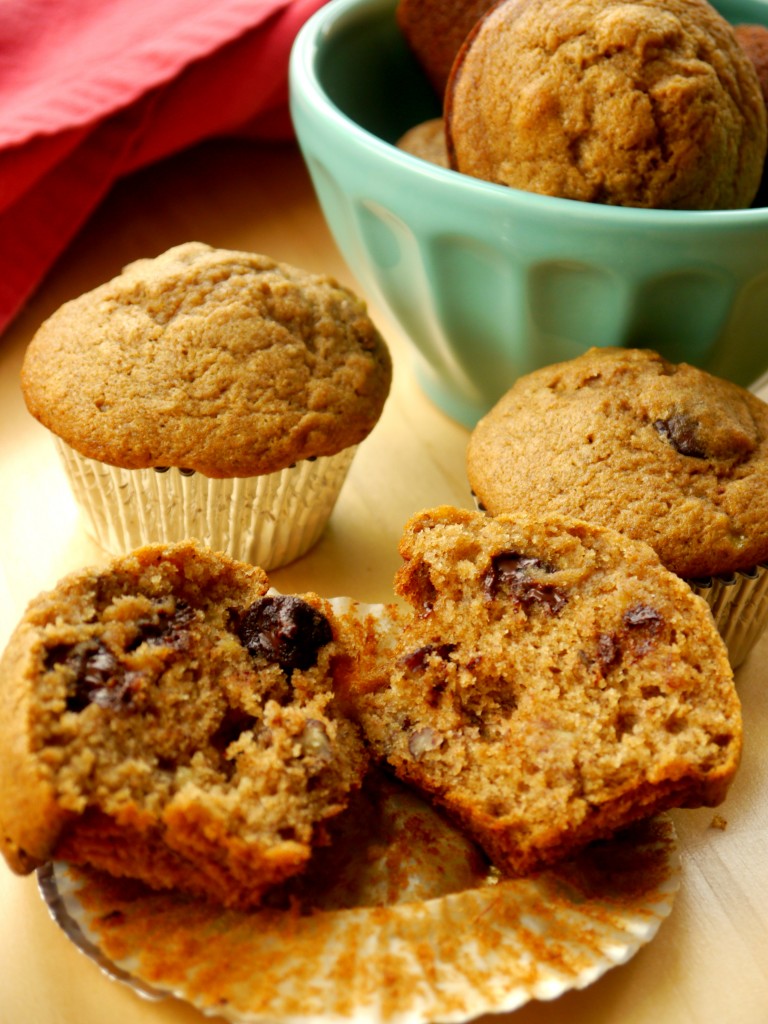 Whole Wheat Banana Muffins with Dark Chocolate and Toasted Pecans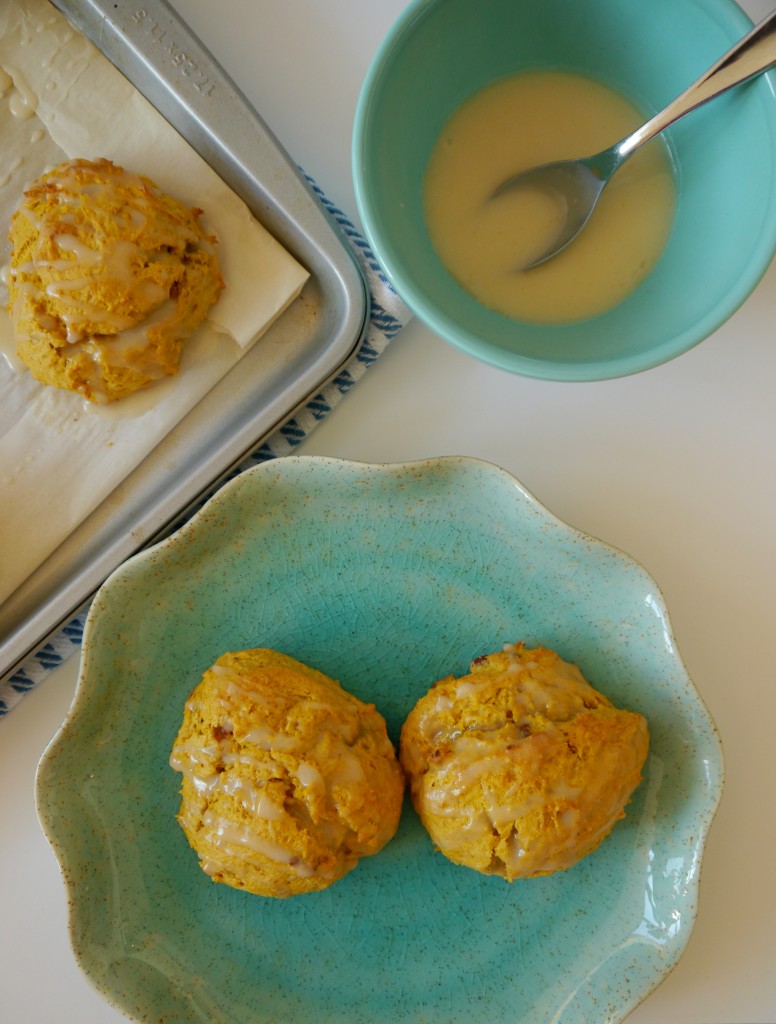 Pumpkin Scones with Brown Butter-Vanilla Glaze