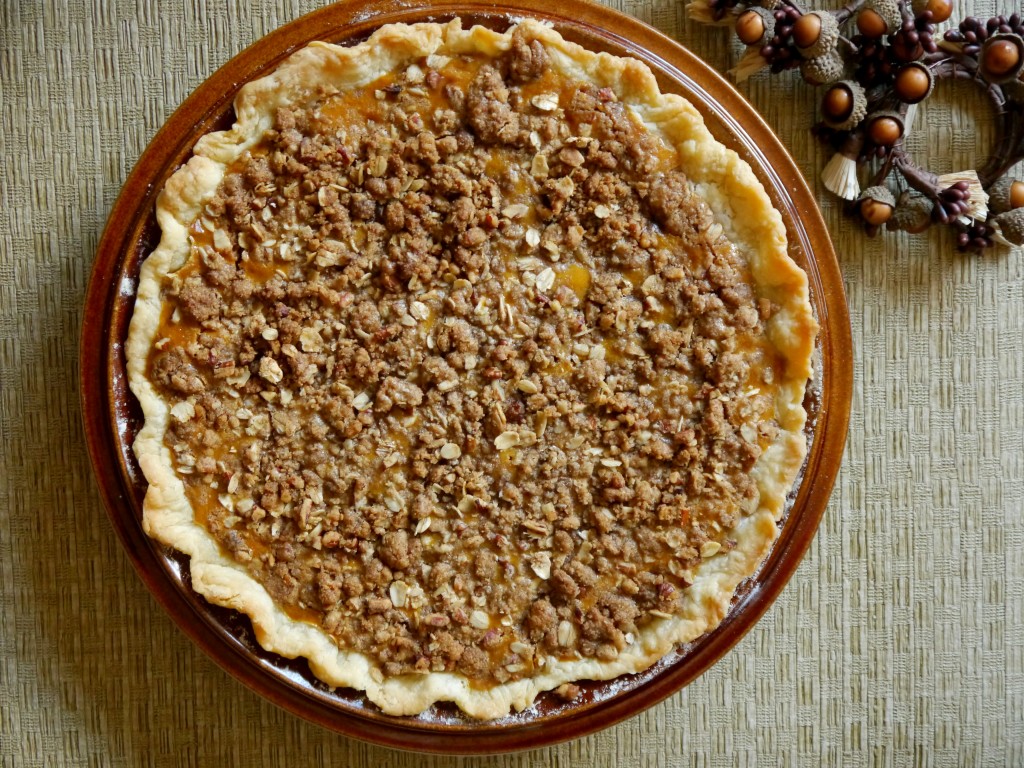 Happy Thanksgiving, everyone! I hope you all had a fantastic day of family, football, a few too many cocktails, and pumpkin pie.
Mmmm…speaking of pumpkin pie…
I'm sure it will surprise exactly zero people that I am still not tired of pumpkin, particularly in pie form. Even the day after we ran out of pie leftovers, I was still like, "Damn, I could use some pumpkin pie right now." Is anyone with me on this? I hope so, because this post is for you, fellow never-ending pie enthusiasts. Also, pie is a super awesome Christmas/holiday party dessert. So, conclusion: pumpkin pie is still relevant and I'm going to talk about it.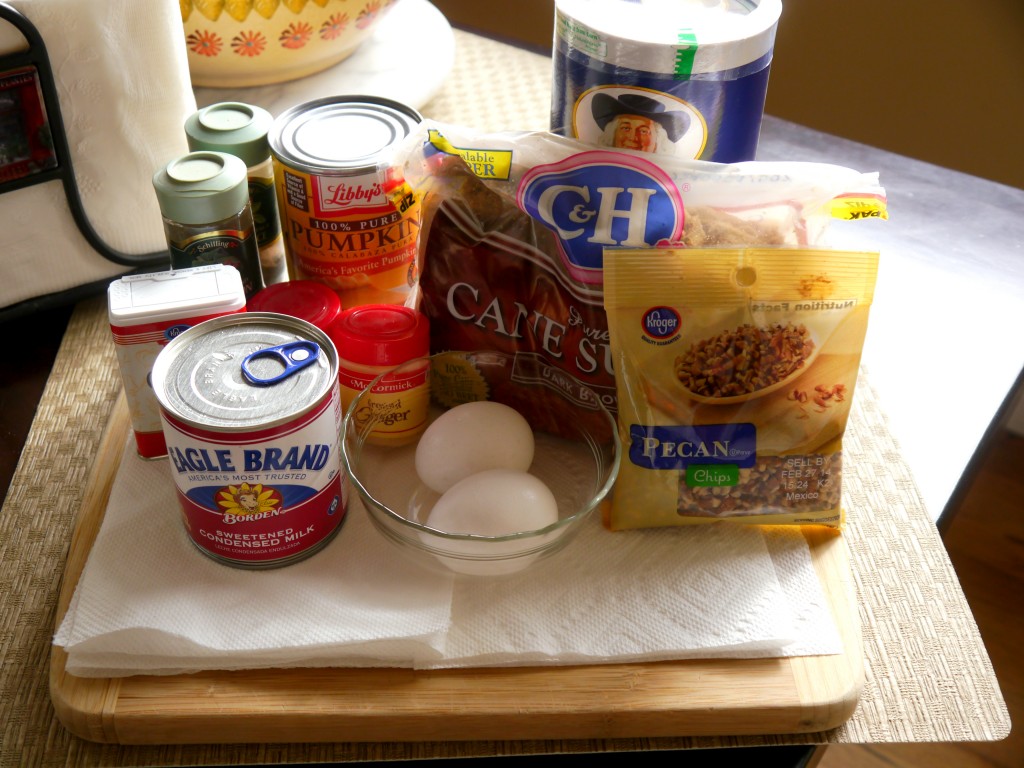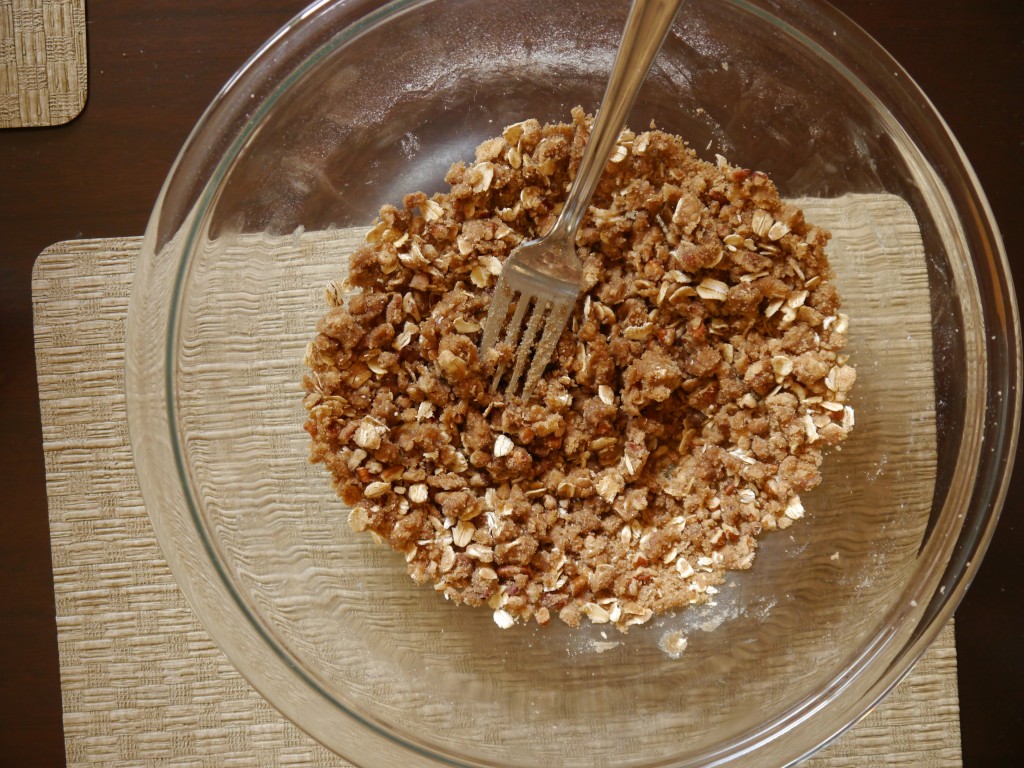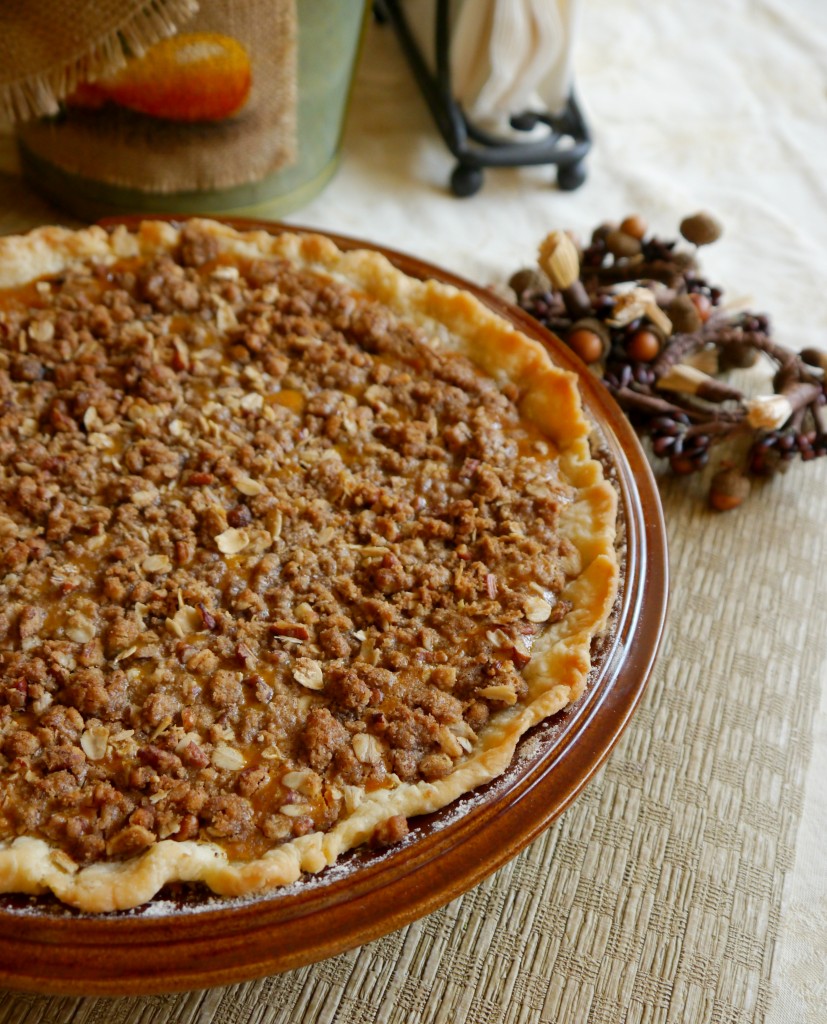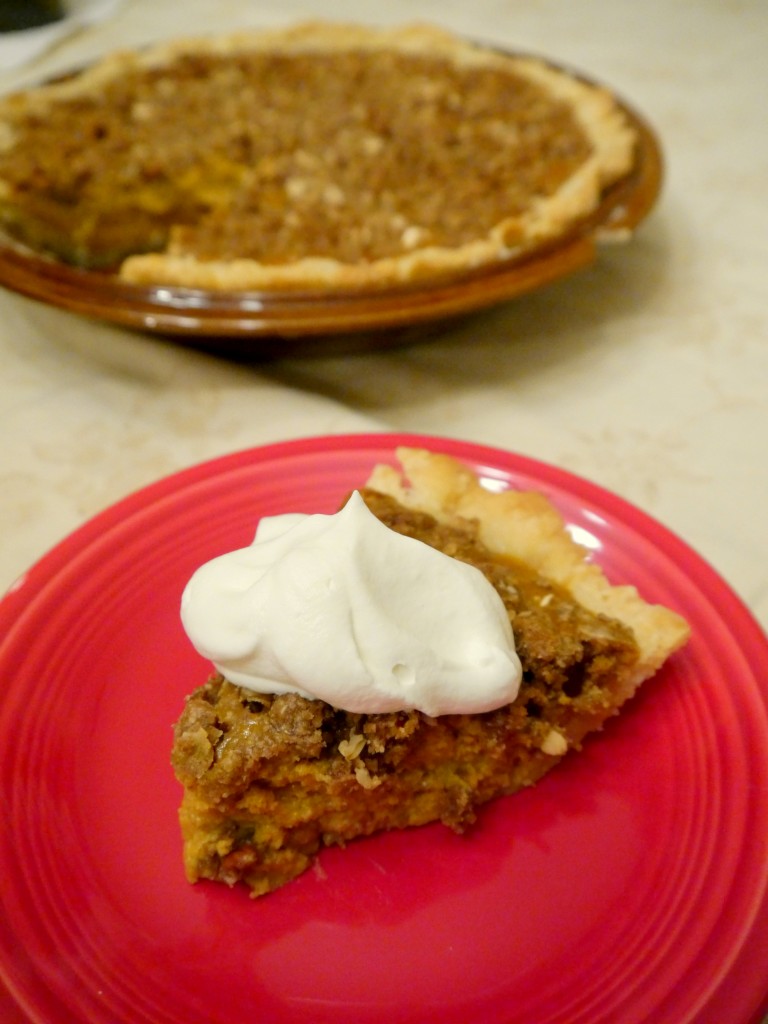 I always make the pumpkin pie on Thanksgiving, and I've never made the same recipe twice. There was one year that I tried a sweet potato version, another year that involved a heavily bourbon-ed whipped cream topper. It's not that I didn't love all of the pies, I've just never found my perfect version, the pumpkin pie to end all pumpkin pies. I think it has something to do with the pumpkin curse – because I love pumpkin everything so much, it's a struggle to get me super excited about any one thing.
This streusel-topped pumpkin pie, which hit the Green family table this Thanksgiving, was fantastic. It has great pumpkin-y flavor, the pie itself is the perfect consistency (soft but not too runny), and the streusel on top adds an insanely delicious crunchy element that I think pumpkin desserts, being inherently soft and gooey, definitely benefit from. I paired it with a rich, all-butter pie crust from my go-to gal and a dollop (or four) of homemade whipped cream, for the perfect creamy-crunchy combination. It is a delicious, classic pie, the ideal end to an incredible holiday meal or contribution to a holiday party dessert table. But in true me fashion, I'm already thinking of what little changes I may make for next time – maybe a graham cracker crust or some vanilla bean whipped cream to add a little extra flavor punch? I'm hopeless. But maybe that's half the fun, right?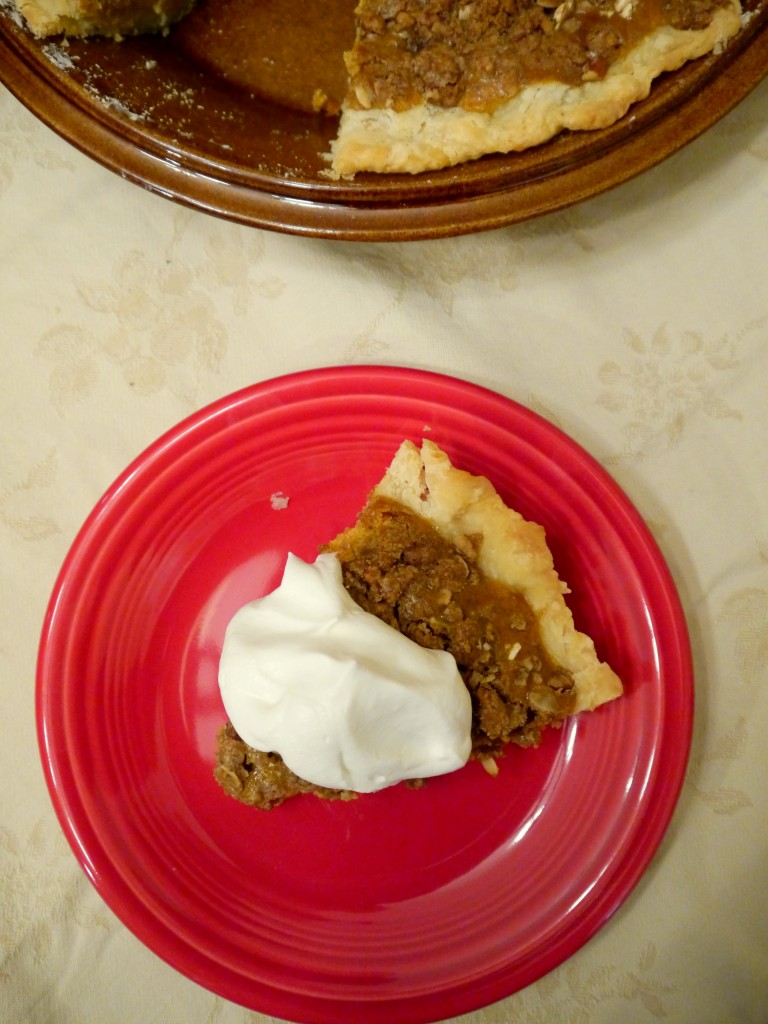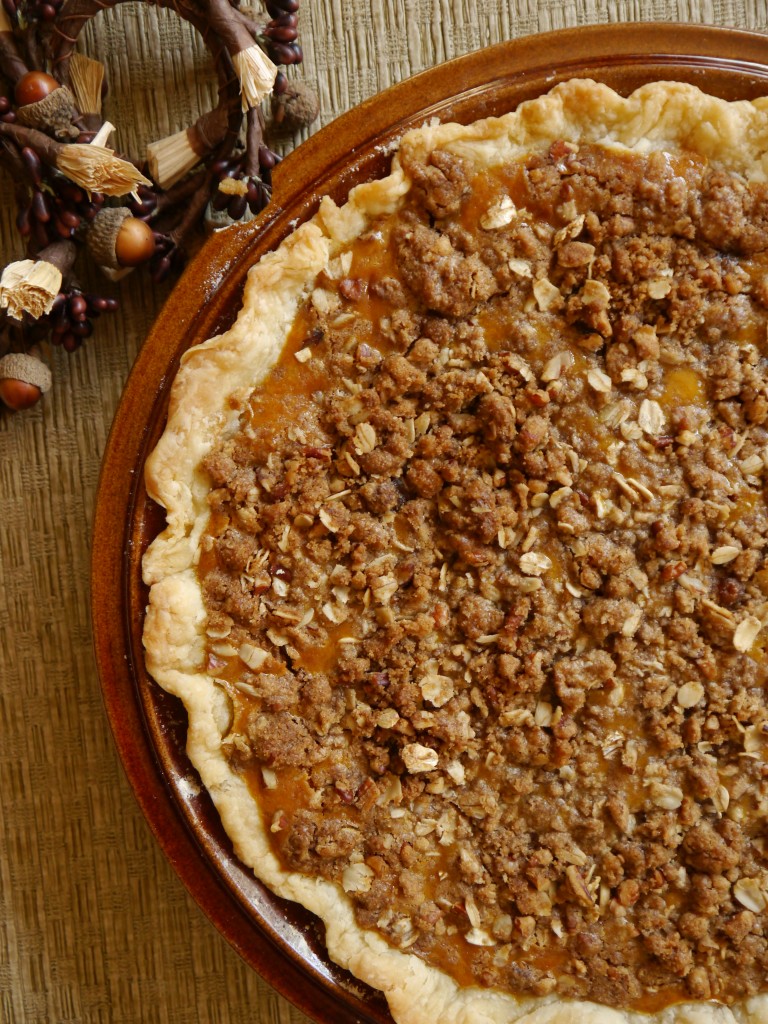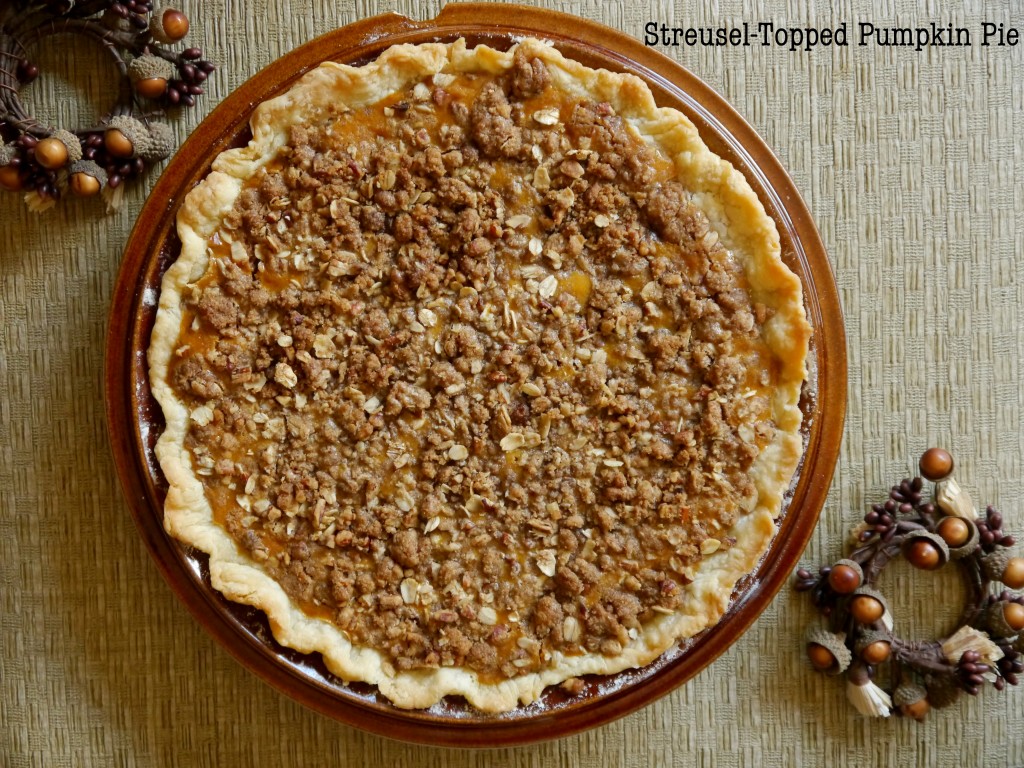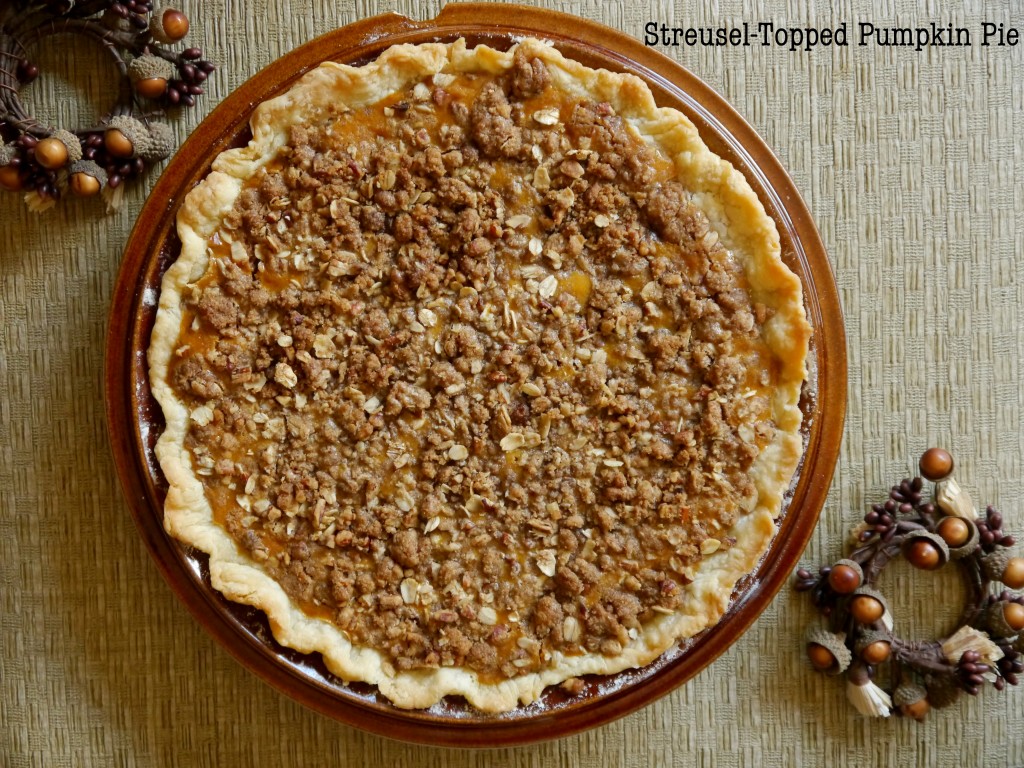 Streusel-Topped Pumpkin Pie
2013-12-02 19:39:19
Serves 8
A fantastically smooth, creamy pumpkin pie with a super flaky all-butter pie crust - all topped off with a big ol' dollop of whipped cream!
For the crust (this makes two crusts, or one double-crusted pie)
2 ½ cups flour
1 tbsp sugar
1 tsp table salt
2 sticks very cold unsalted butter
For the filling
¾ tsp ground cinnamon
¼ tsp ground allspice
¼ tsp ground ginger
¼ tsp ground nutmeg
1/8 tsp ground cloves
2 large eggs
1 can unsweetened pumpkin (15-ounce)
1 can fat-free sweetened condensed milk (14-ounce)
For the streusel
1/3 cup all-purpose flour
1/3 cup packed dark brown sugar
¼ cup old-fashioned oats
¼ cup chopped pecans
¾ tsp ground cinnamon
1/8 tsp ground ginger
2 tbsp very cold butter, cut into ½-inch chunks
2-3 tsp water
For the homemade whipped cream
1 cup heavy whipping cream, very cold
1 tbsp powdered sugar
Instructions
First, prepare the dough. Fill a one cup liquid measuring cup with water and drop in a few ice cubes to make the water as cold as possible. In a large bowl, whisk together the flour, sugar, and salt. Dice the butter into ½-inch pieces (if the butter starts to get warm, re-refrigerate for 5 minutes and then start again). Sprinkle the butter cubes over the flour and work them into the dough with a pastry blender. The butter pieces will be uneven, but as long as they're all roughly the size of small peas, you're all good.
Next, drizzle ½ cup of the water (do not include the cubes) onto the dough mixture. Using a spatula, gather the dough together. Add water 1 tbsp at a time until it comes together (it will probably take ¼ cup more). Once it's worked in a bit, switch to your hands. Using your hands, gather the dough together and knead it together gently. Divide the dough in half and put each half on a piece of plastic wrap. Roll up the dough and press down slightly so that each half is in a slightly disk-like shape. Refrigerate for at least one hour (longer is better) before rolling it out.
When the dough is ready, preheat your oven to 375°F. Prepare the pie filling. Combine the first 8 ingredients in a large bowl and stir with a whisk to combine. Next, make the streusel. Spoon flour into the 1/3 cup measuring cup lightly and level with a knife. Combine the flour and the next 5 ingredients in a bowl. Cut in the butter with a pastry blender or your fingers until crumbly. Sprinkle with water and toss with a fork.
Roll your pie crust out to an 11-inch circle and fit into a regular 9-inch pie plate. Fold the edges over so the crust is slightly thicker at the edges and flute. Pour the pumpkin mixture into the crust and sprinkle with streusel. Place the plate on top of a baking sheet and bake for about 50 minutes, or until a toothpick comes out clean in the center. Cool completely on a wire rack before serving.
To serve, make the homemade whipped cream. Put a metal bowl in the fridge for about 10 minutes until very cold. Add the cold whipping cream and the powdered sugar to a bowl, and whip with a whisk until soft peaks form (this will take about 5 minutes). Serve pie with a big ol' spoonful on top of each piece!
Freezing
The dough will keep in the fridge for a week, and the freezer for much longer. If storing in the freezer (like I did with my second half), wrap in a few layers of plastic wrap for insulation and protection.
Crust
Crust recipe from Smitten Kitchen (http://smittenkitchen.com/blog/2008/11/pie-crust-102-all-butter-really-flaky-pie-dough/)
Adapted from Cooking Light
My Bacon-Wrapped Life http://www.mybaconwrappedlife.com/