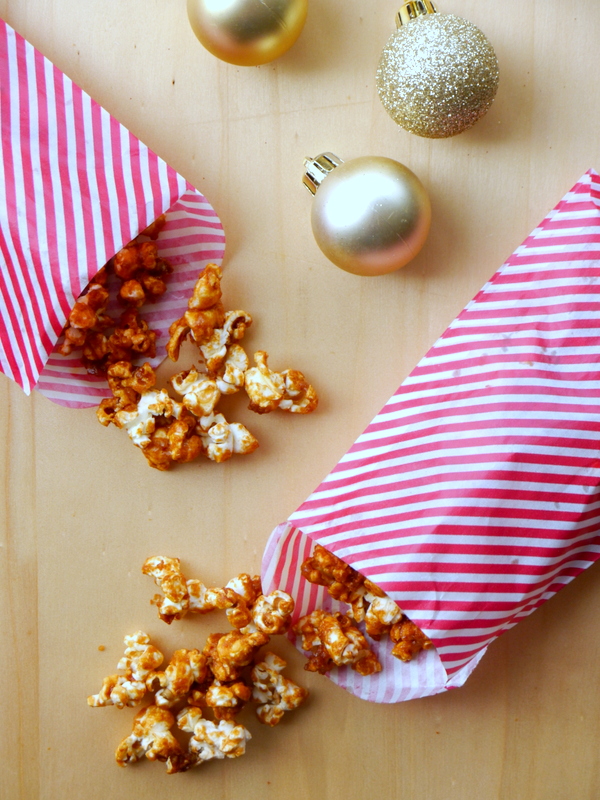 GUYS. It's here. The best time of the year!!!!
No, not Christmas. Not QUITE. But it's full-blown, no-holds-barred, decorate the Christmas tree and listen to obnoxious pop versions of classic Christmas songs and bake your face off season, and to me, that's almost as fun as the real thing. Seriously, nothing makes me happier than spending days upon days making homemade Christmas gifts for the people I love and packaging them up all pretty. And not eating ANY of them myself, of course. Never!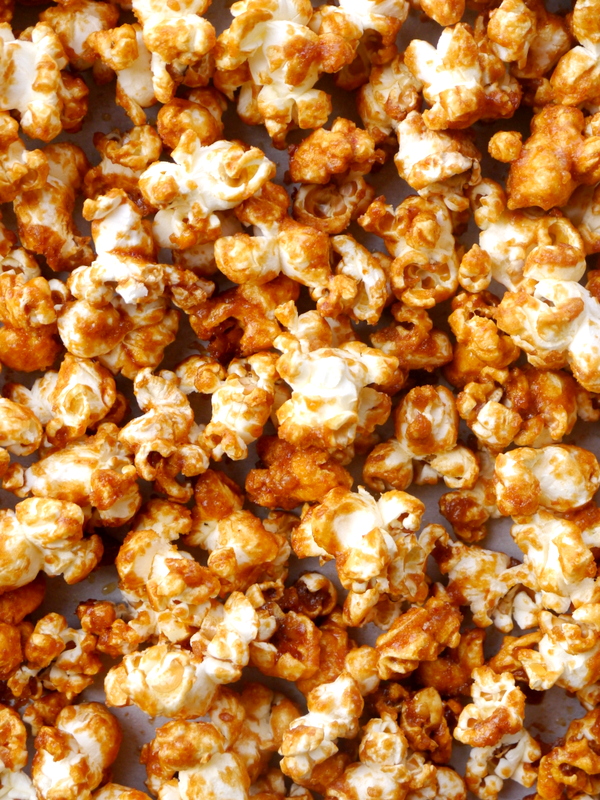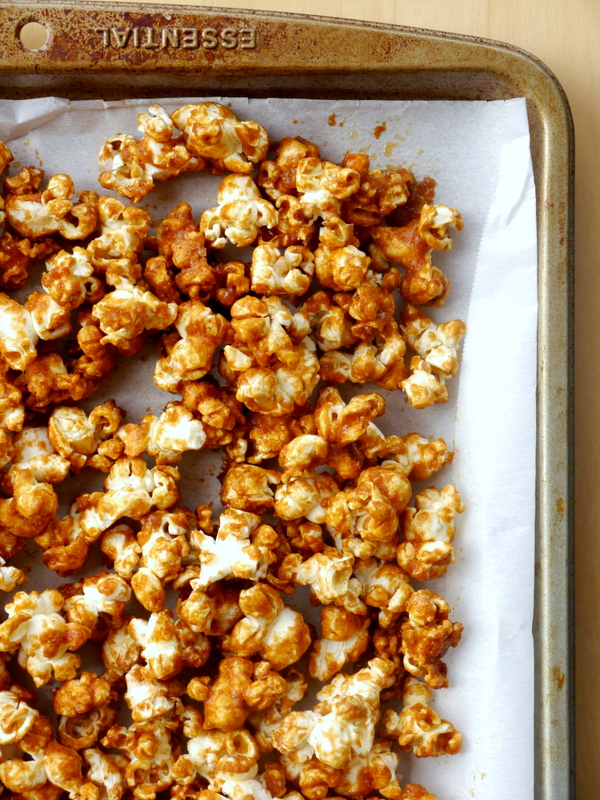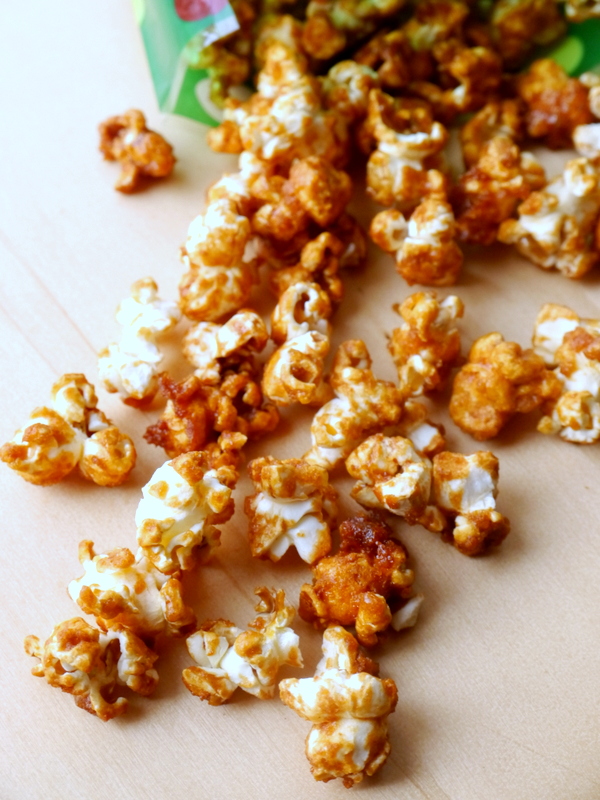 After years of holiday baking and eating, I've developed some favorites over the years that I always make. These truffles always make an appearance, as well as some granola of some sort, because they are both so good and pretty easy to make. But I always like to try some new stuff, too. And after I fell in love with cooking with Sriracha earlier this year, I had the feeling that this Sriracha caramel corn might just be the Christmas gift that dreams are made of.
Spoiler alert: I was so, so right. This stuff is the real deal, people. I used this recipe exactly as written because caramel still scares me a leeeeeetle bit, and it was so much better than I dreamed it could be (and I had high standards for this stuff). The Sriracha provides the slightest heat to the caramel that hits at the end of each bite, a cinnamon-y spiciness that so perfectly contrasts the super sweet caramel corn. It's so balanced, sweet-and-savory (which you know is my weakness) and ADDICTING. I don't think I can ever get my caramel corn on without my favorite spicy sauce again, and that's saying something.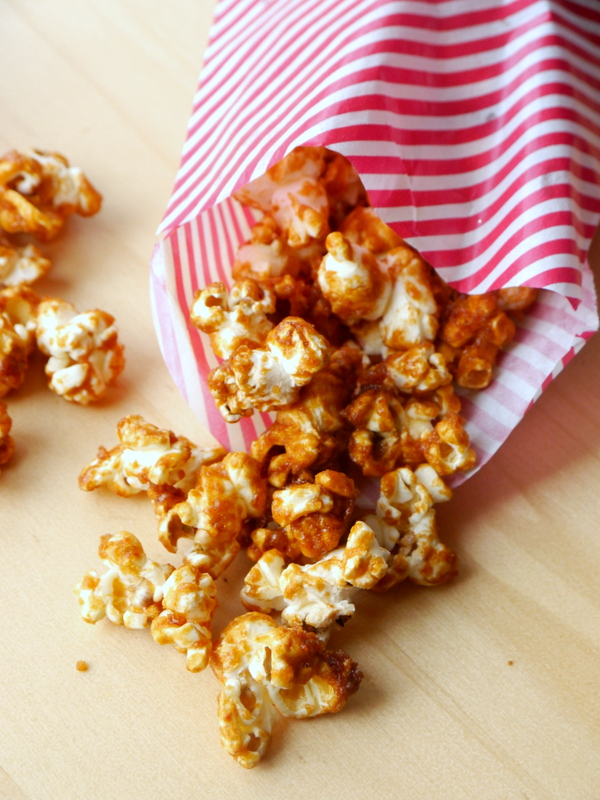 Some notes here. This recipe only makes about 6 cups of popcorn, which, depending on your packaging, is probably only enough for 2-3 gifts. I would recommend doubling or even tripling it if you'd like to make it for more people or for a big Christmas party. Just note that you'll need a really big bowl (or use two bowls) to mix everything together if you do this. Also, it took EVERY OUNCE of my self-control not to add bacon to this, but I really wanted to make it gifting-friendly, and I wouldn't recommend storing bacon outside of the fridge. So if you're serving this immediately, you should absolutely do it up with some cooked, chopped bacon.
Also – packaging is just as important as the food, amiright?! I love the idea of serving these in little popcorn bags like I did here (I got these at Target), but Chinese takeout boxes or good ol' mason jars would be super cute too.
Happy gifting, everyone!! And remember, nothing screams Christmas like eating Sriracha popcorn while wearing a santa hat in your PJs: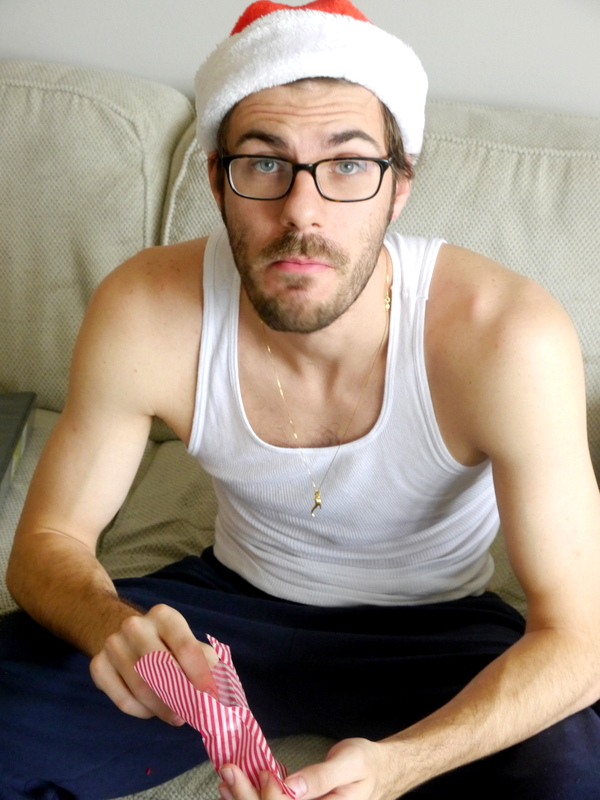 ENJOY!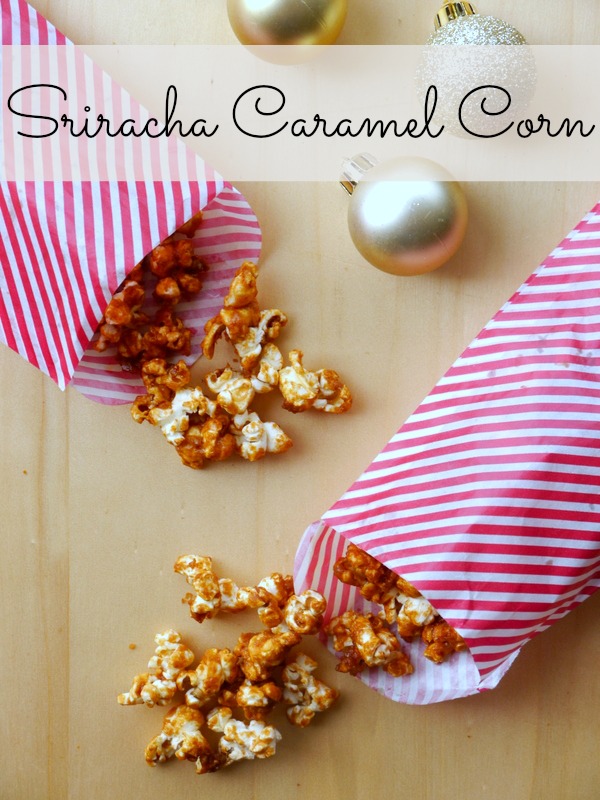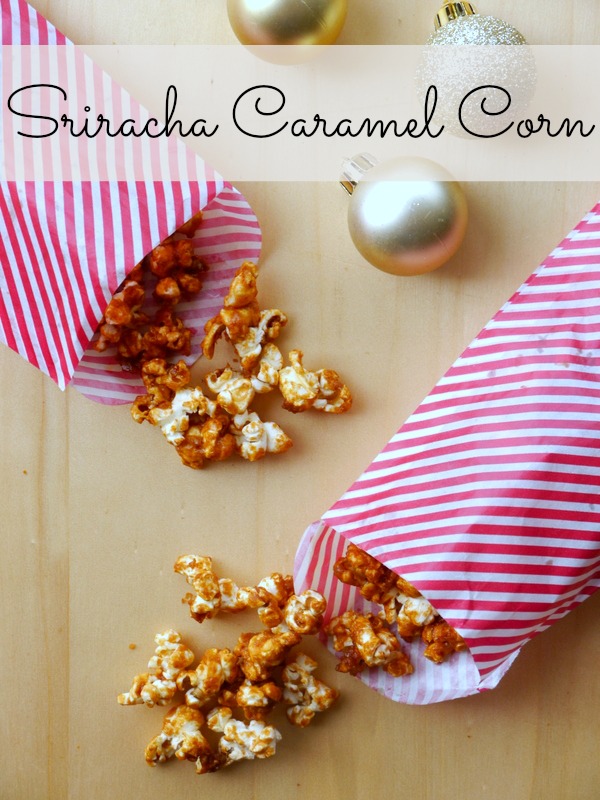 Sriracha Caramel Corn
2014-12-07 13:12:58
Serves 2
This sriracha caramel corn is so freakin' incredible - sweet and a little spicy, with a perfect kick that hits right at the end. It's the perfect Christmas gift for the people you love!
Ingredients
6 cups popped corn
6 tbsp. unsalted butter
½ cup brown sugar
½ tsp. vanilla
1/8 tsp. salt
1/8 tsp. baking soda
2 tbsp. Sriracha
Instructions
Preheat your oven to 250°F and line a baking sheet with parchment paper. (If you're doubling the recipe, I'd use two sheets so everything bakes evenly.) Put your popped corn in a large (heat-safe) bowl for mixing with the caramel later.
In a small heavy-bottomed saucepan, melt the butter over medium heat. When totally melted, stir in the brown sugar until well-combined. Bring the mixture to a boil, then boil for 3 minutes, stirring constantly so nothing sticks to the bottom and sides of the pan. Remove from the heat and set aside.
Quickly (the caramel will continue to cook a bit as you do this, so don't dilly-dally), combine the vanilla, salt, baking soda, and Sriracha in a small bowl. Pour the mixture into the caramel (it will bubble up a bit) and stir very quickly and thoroughly until all combined and smooth.
Pour the caramel sauce over the popcorn and toss very gently until all pieces are evenly coated with caramel. Spread out in an even single layer on the baking sheet and bake for 1 hour in the preheated oven, tossing every 15 minutes to make sure nothing sticks. Cool to room temp and either package up or serve!
Adapted from i am a food blog
My Bacon-Wrapped Life http://www.mybaconwrappedlife.com/
I used this method for popping the popcorn and it worked perfectly! Seriously, microwave popcorn is never happening ever again. It's SO easy to make your own!
Looking for more Christmas gift ideas?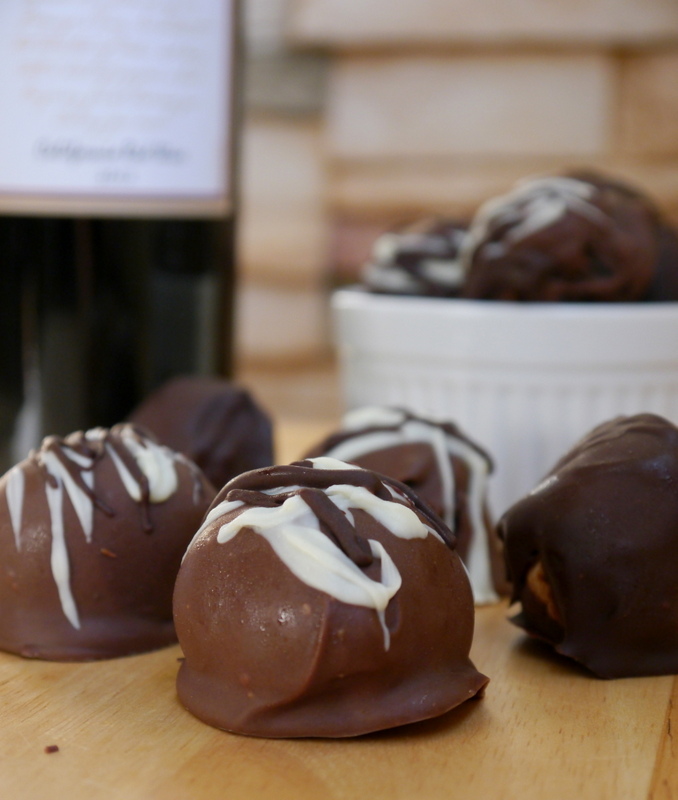 Oreo Truffles & Cookie Dough Truffles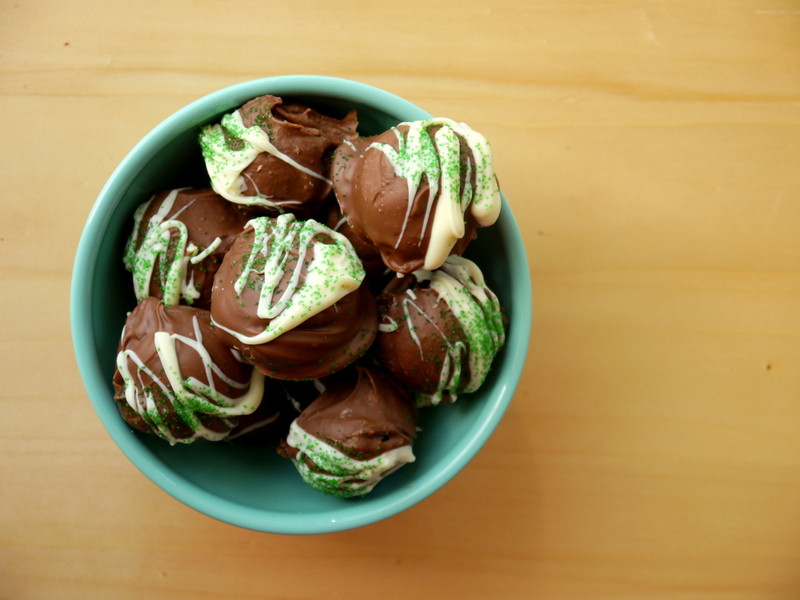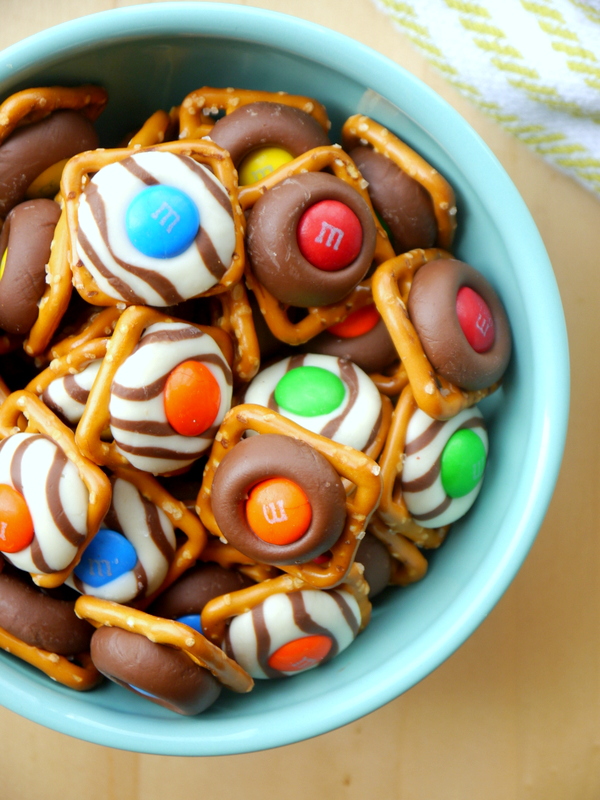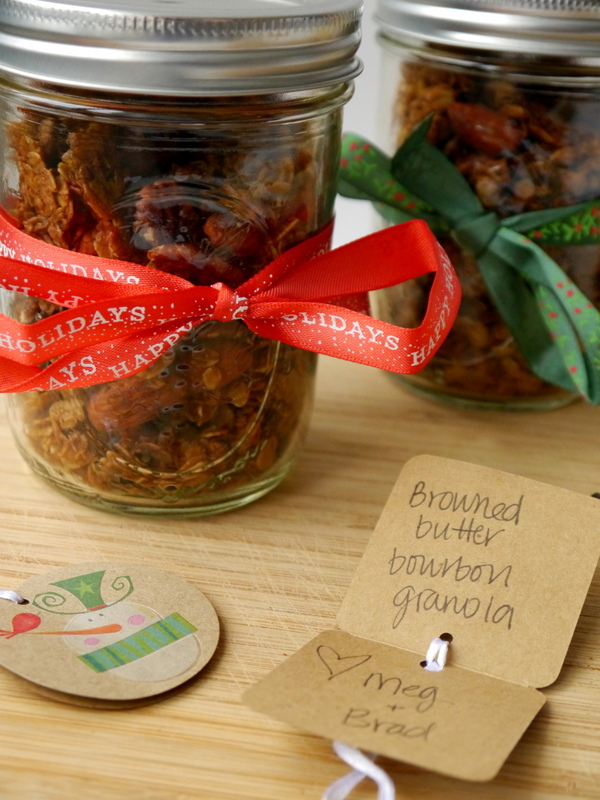 Browned Butter Bourbon Granola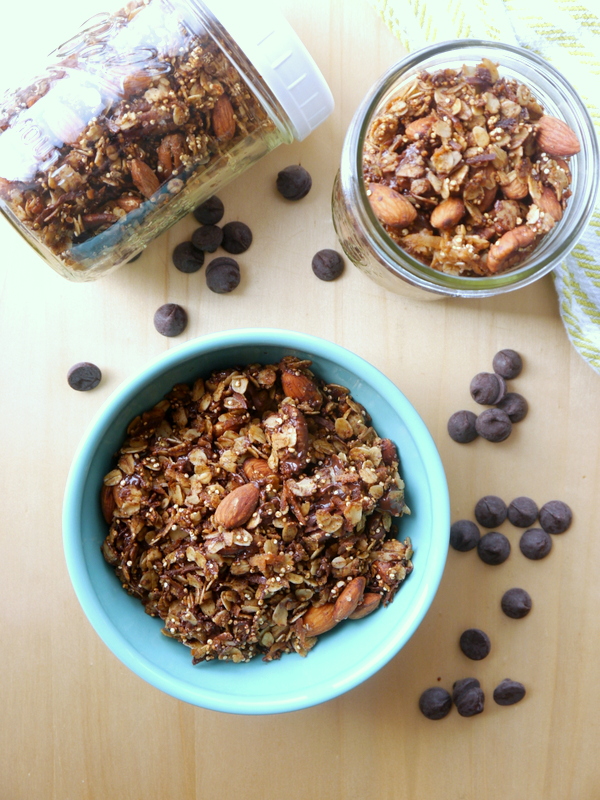 Dark Chocolate Coconut Quinoa Granola