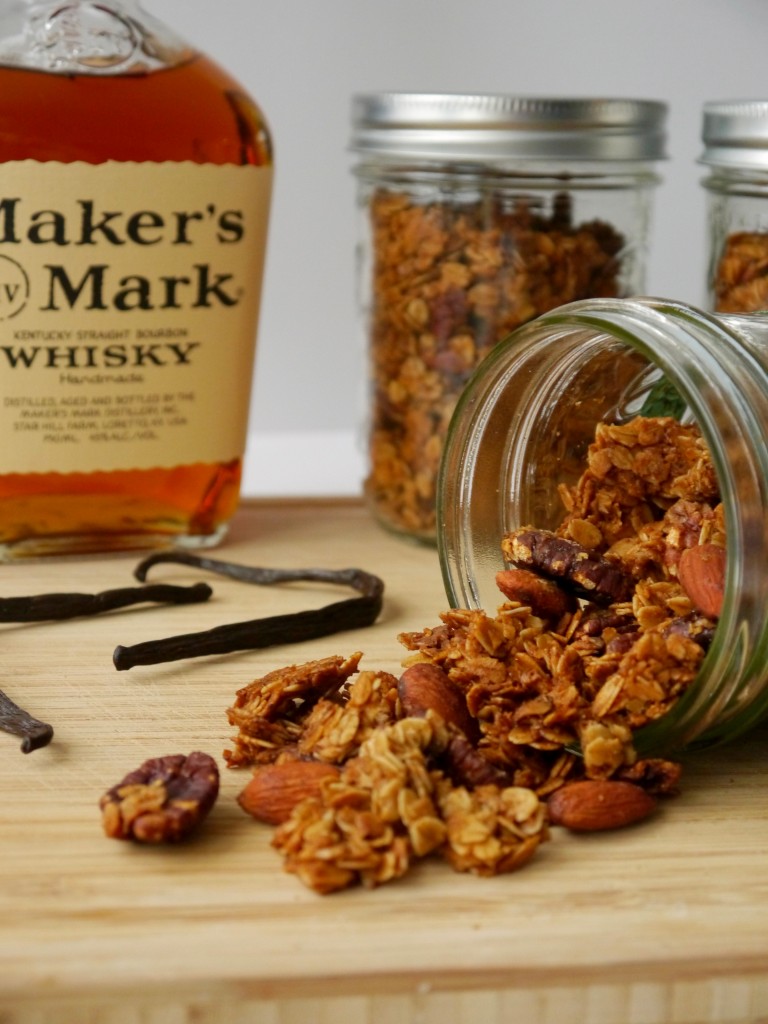 As I mentioned last week, holiday baking is one of my absolute favorite part of the holidays. I'm talented at very few things in life besides baking, so I have to take advantage of the time of the year that it really comes in handy! Unfortunately, my other talent (reading young adult books at an alarmingly fast pace) never really comes in handy, so this is all I have, people.
I love making cookies, candy, and all the other traditional holiday baking staples, but I also need something that can be made, you know, in advance. I have holiday parties to attend, glasses of sparkly champagne to sip, and tiny hors d'oeuvres to cram into my mouth! And in my opinion, the absolute best make-ahead homemade holiday gift is some fancy granola. It's super flexible (it can keep, in a tightly sealed container, for weeks), incredibly delicious, and way easier to make than it looks and tastes. Oh, AND it fits into a mason jar! Who doesn't love a mason jar?! Tied with a ribbon? Packaging granola up all pretty takes 2 seconds and you feel like Martha. Done and done.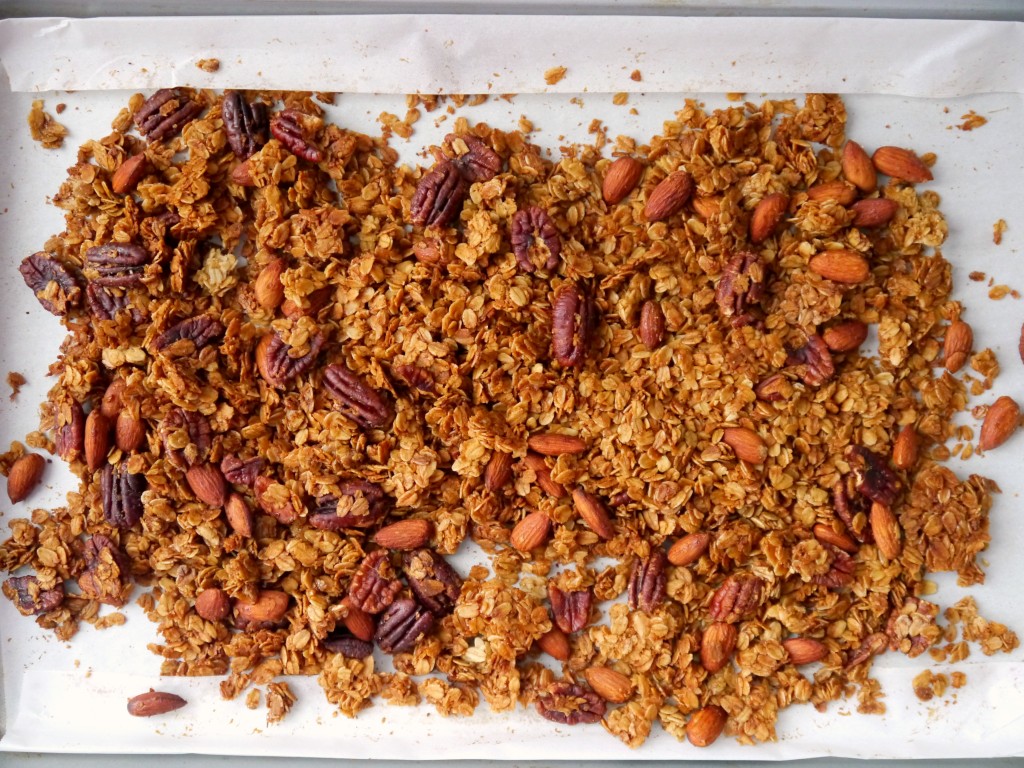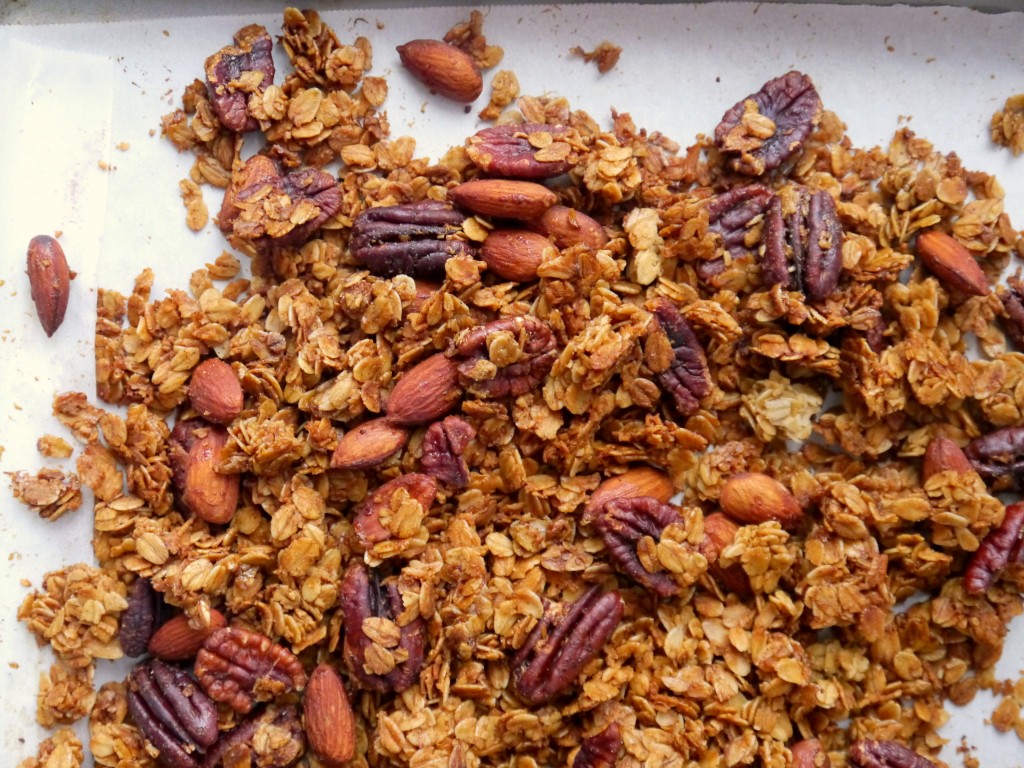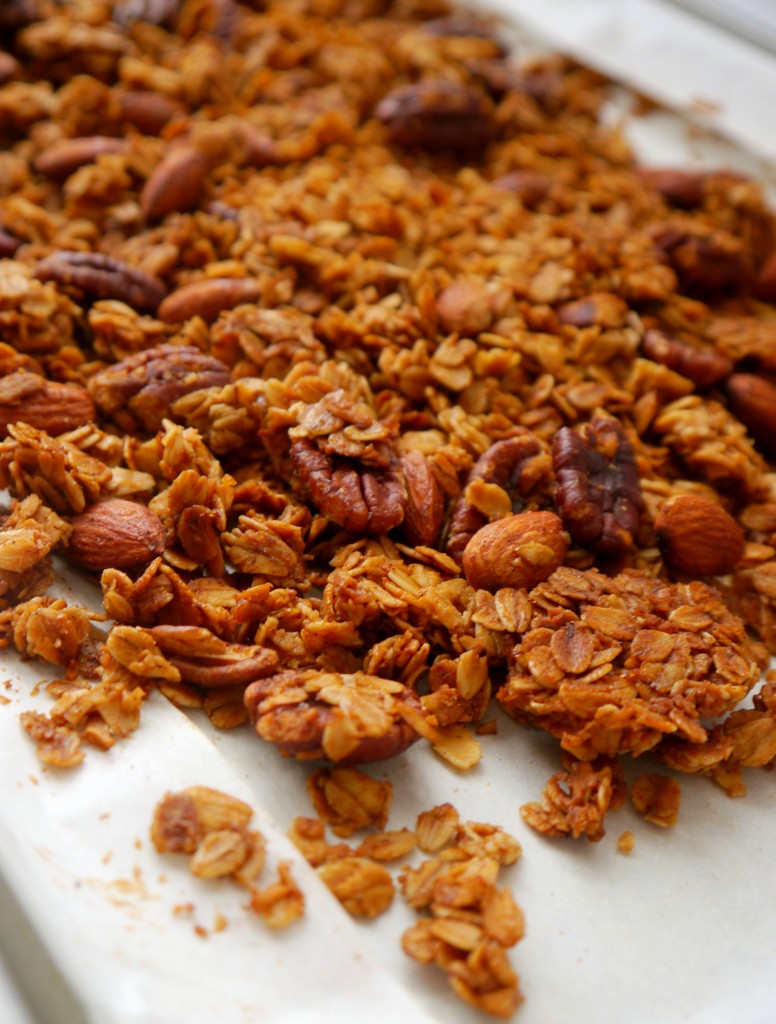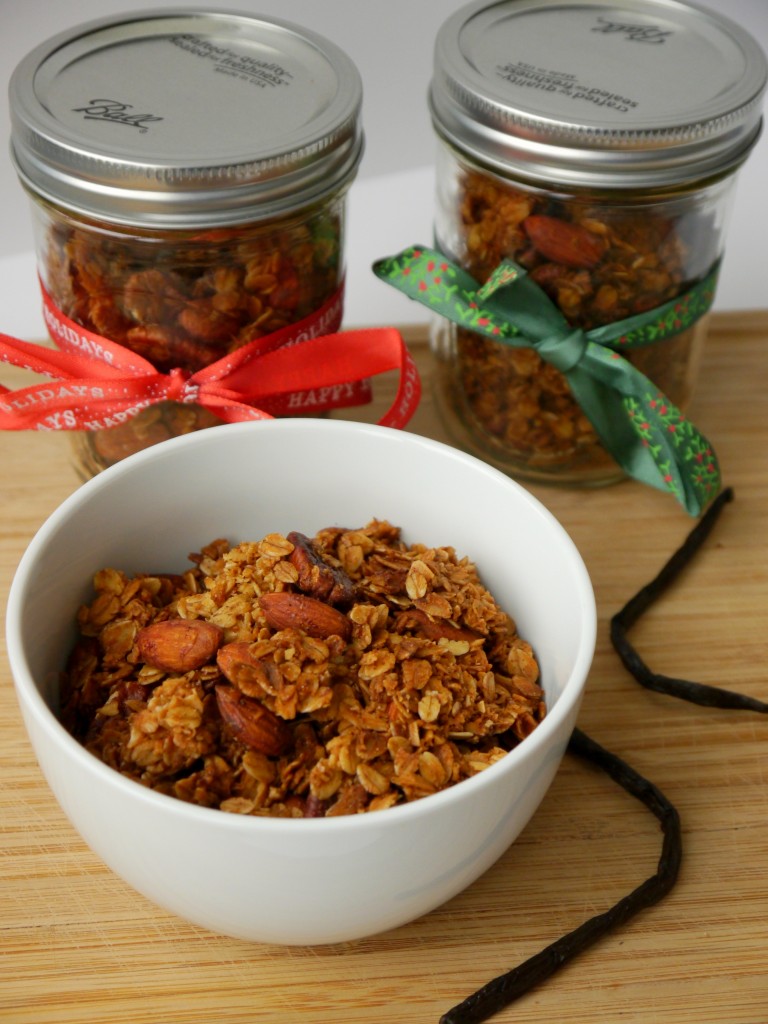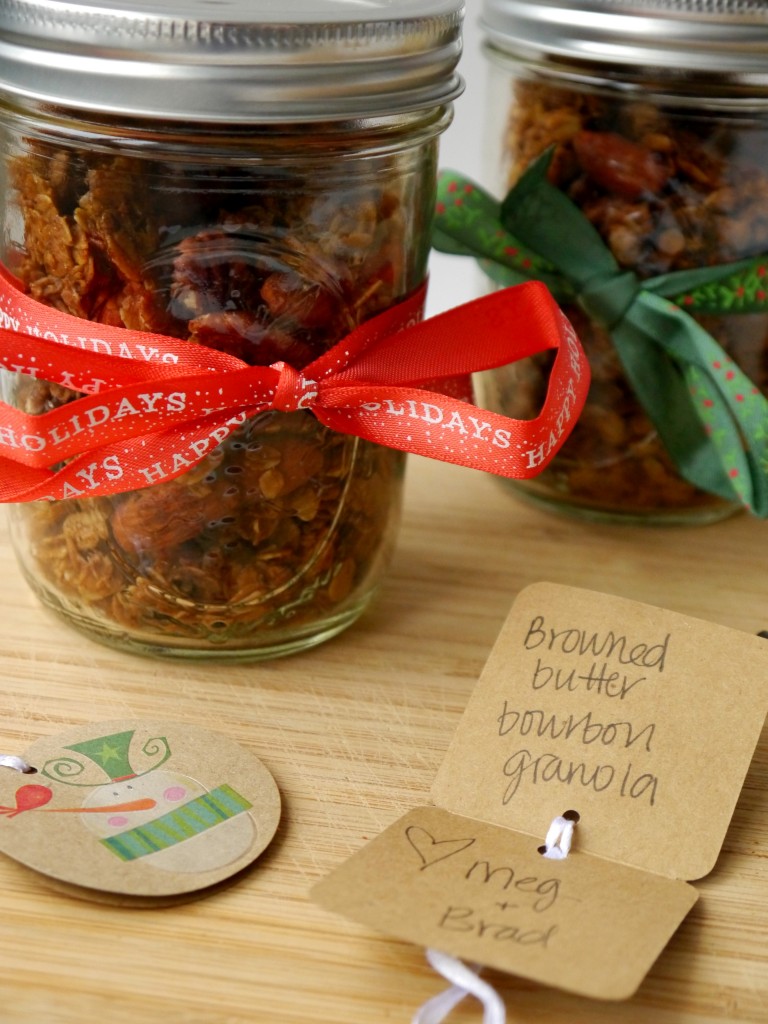 I first made this browned butter bourbon granola last year after spotting it on a food photography site, and I knew as soon as I tasted it that it would become a staple for years to come. I have an awesome simple, classic granola recipe that's my go-to for everyday, but this one is some serious gifting granola. With browned butter, real vanilla bean, and some heavy-handed splashes of bourbon, this granola is an absolute treat. It clumps perfectly and masters the sweet-salty thing that makes everyone go crazy. Basically, it's exactly what you want to give to the people you love the most, at the greatest time of the year. Or, you know, for sneaking giant handfuls of as you package it up to give to the people you love the most at the greatest time of the year.
Not that I'd ever do something like that.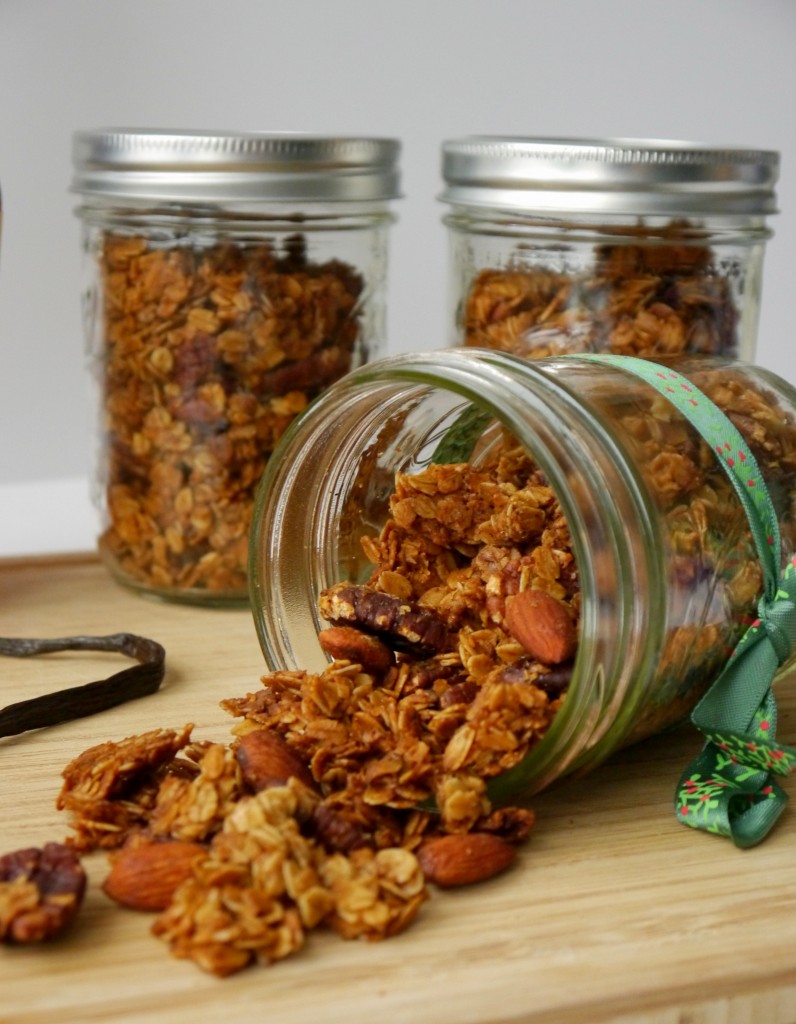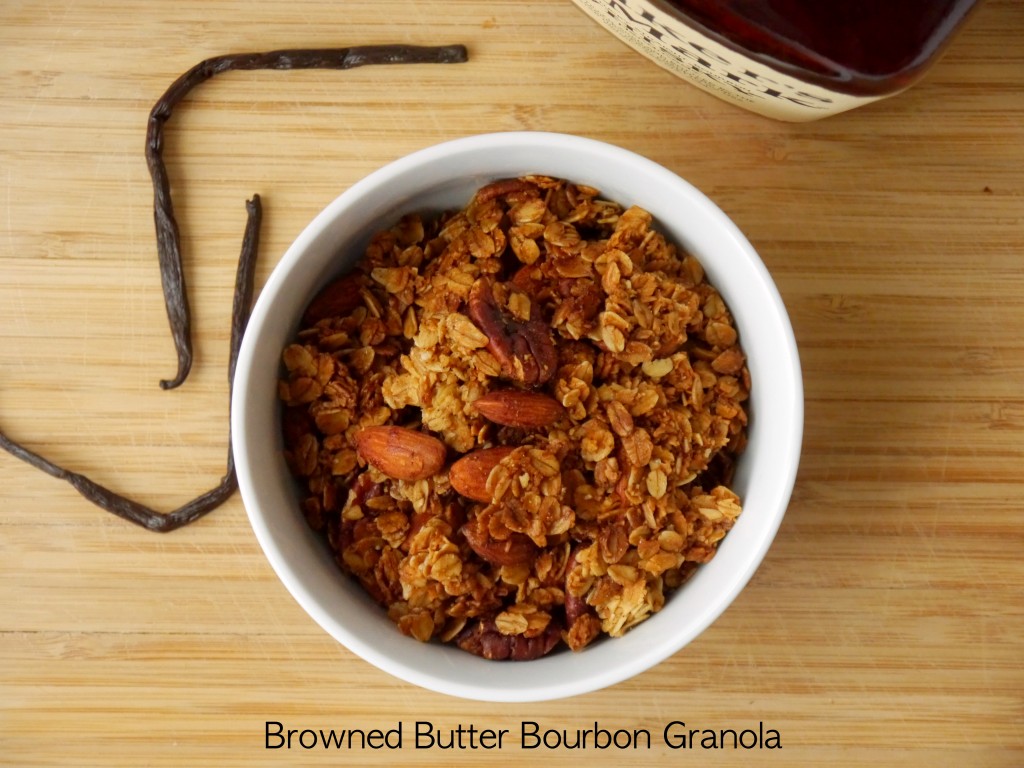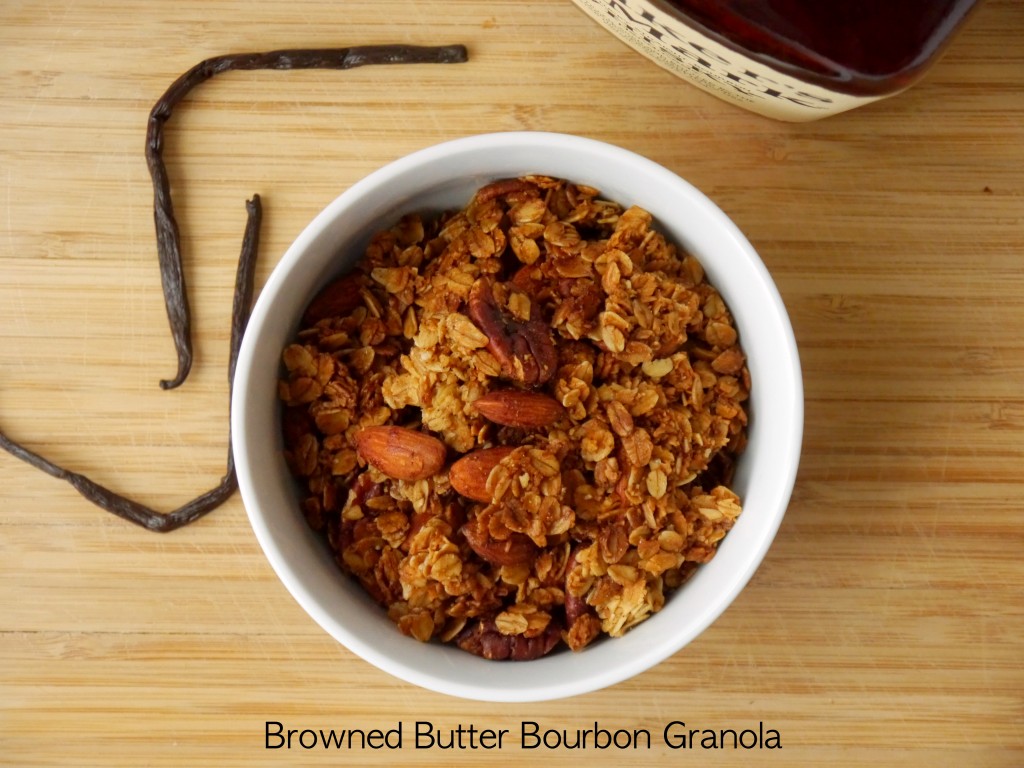 Browned Butter Bourbon Granola
2013-12-22 18:27:23
A truly special granola made with browned butter, real vanilla bean, and bourbon - this granola makes the perfect holiday gift!
Ingredients
6 tbsp unsalted butter
½ vanilla bean, split lengthwise + seeds scraped
¼ cup maple syrup
¾ tsp salt
2 ½ cups old-fashioned oats
½ cup whole almonds
½ cup pecan halves
1/3 cup brown sugar
¼ tsp cinnamon
¼ tsp nutmeg
2 tbsp bourbon whiskey
Instructions
Preheat your oven to 325°F. Line a rimmed baking sheet with parchment paper. Meanwhile, melt the butter and the vanilla bean seeds in a saucepan over medium heat, continuing to cook until the butter turns brown and smells nutty and delicious. This takes about 5-10 minutes, so watch it closely!! When the butter has browned, move the butter from the heat and allow to cool slightly, then add the salt and maple syrup and stir.
In a large bowl, combine the oats, nuts, brown sugar, cinnamon, and nutmeg. Add the butter mixture, then mix all together thoroughly. Finally, add the bourbon and stir again.
Add the mixture to the prepared baking sheet, spreading evenly. Then lay another piece of parchment paper over the granola and place another baking sheet on top, sandwiching the mixture. Bake for 20 minutes. Then rotate to prevent over-browning in the back and bake for another 10-20 minutes, until the granola is golden brown. When done, remove and allow the granola to cool with the parchment paper and pan on top to maintain its shape. When completely cool, break up the granola into chunks and store in an air-tight container. This granola keeps, when stored properly, for 1-2 months.
Adapted from The Bojon Gourmet
My Bacon-Wrapped Life http://www.mybaconwrappedlife.com/