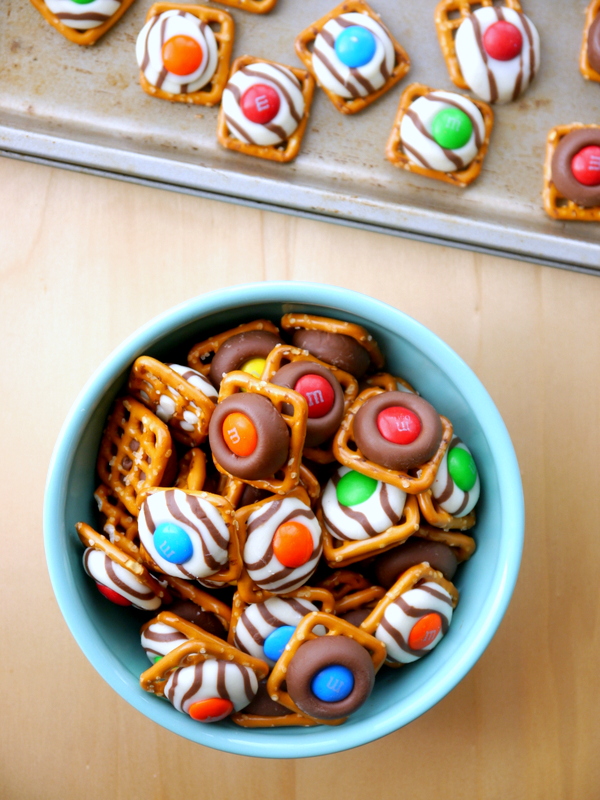 This is exactly the thing I would make for trick-or-treaters if I lived in the good old days when kids were allowed to eat homemade candy and other unpackaged goodies, back when you didn't have to throw away all the pumpkin-shaped sugar cookies that kindly old ladies baked thinking they were doing something nice. There must have been a time like that, right? Before anthrax and serial killers?
Never thought I would talk about anthrax OR serial killers on my food blog, but hey, there's a first time for everything.
Anyways, you know what I mean. I would always feel so sad for those little old ladies with the homemade goodies, knowing my mom would make me throw them right away like any other big-city mama in the 1990's. But sadly the trusting days of yore are long gone, and people out there are still crazy, so trick-or-treaters, don't eat shit from people you don't know. Mama knows best.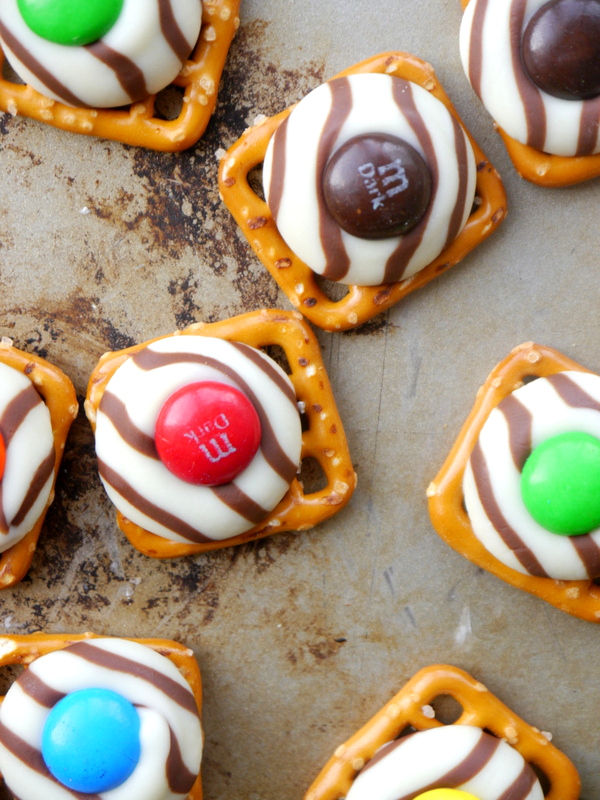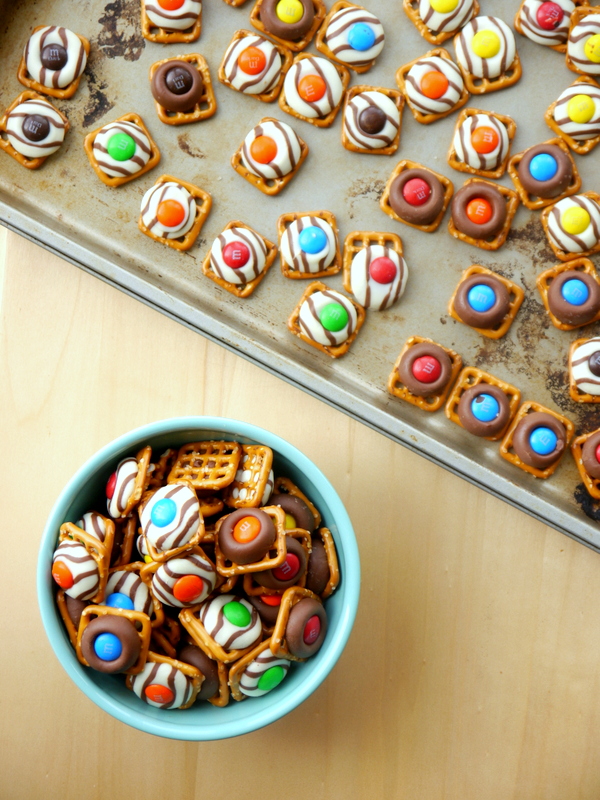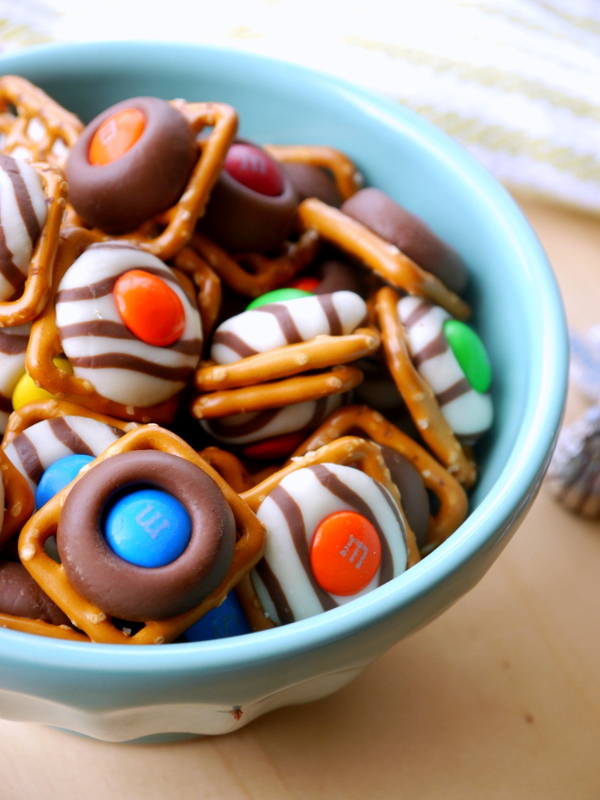 BUT!! If you happen to be having a Halloween party (or maybe a Werewolf Bar Mitzvah?), I have just the thing for you. Because you know what's even better than Snickers and Reese's peanut butter cups and Twix? Well, very few things, realistically, but one of those things is HOMEMADE candy. And I have the easiest little "recipe"/incredible Halloween trick to getcha there, fast.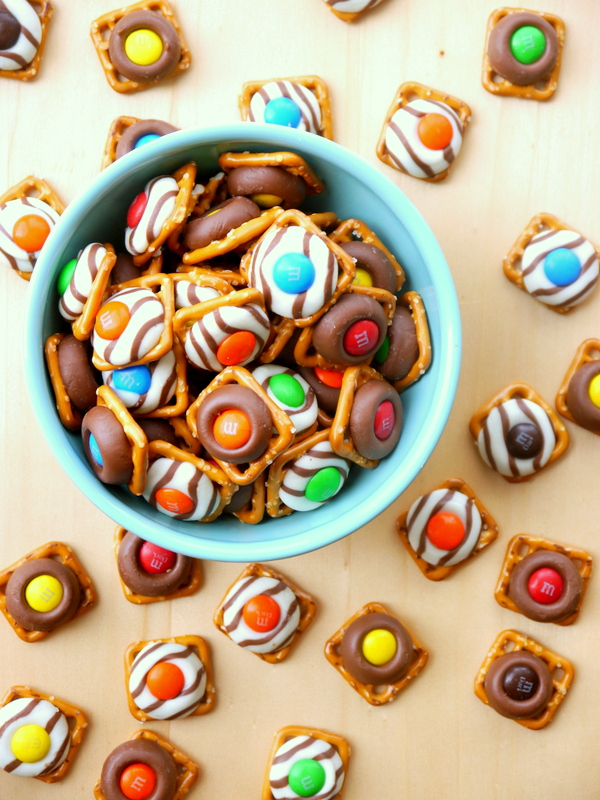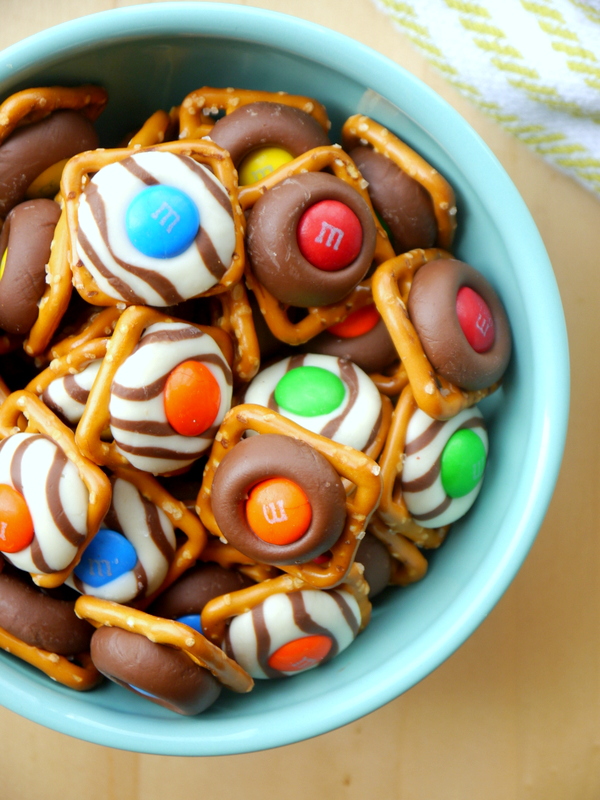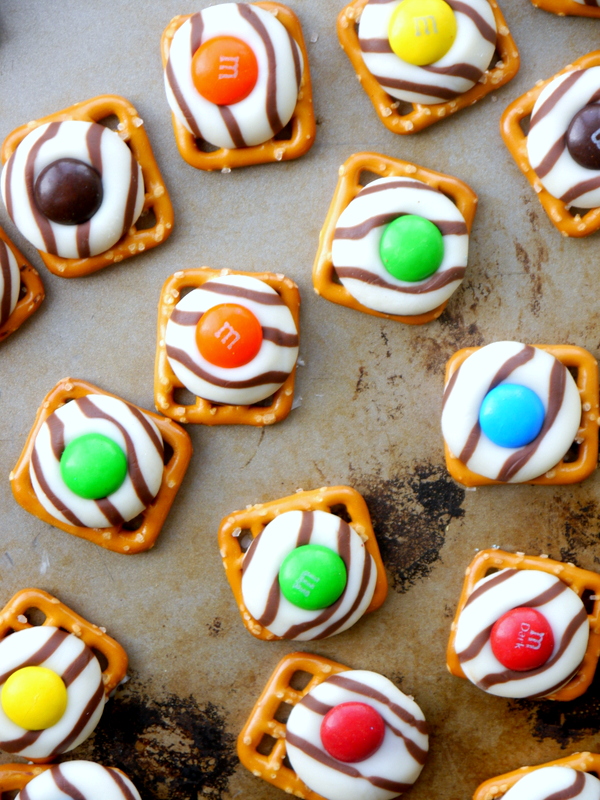 These homemade pretzel candies are so easy, I feel bad even calling them a recipe. However, they've been one of my favorite things to make since I first started out in the kitchen, and they've been my back-pocket super-easy Halloween party secret weapon for so many years that I just had to share them with you. If you haven't had them before, they're simply Hershey's Kisses melted onto salty pretzels and topped with an M&M for that extra crispy chocolate crunch. The best part (besides the fact that they come together in zero time) is that you can customize them exactly how you like; I used a mix of regular milk chocolate Kisses and white chocolate Hugs (my fave!), topped with dark chocolate M&Ms to counter-balance the super sweet Hershey's. The salty pretzel is the perfect base for some melty chocolate goodness, and they are seriously the star of every party I bring them to. Make them for your kiddos/friends/family/coworkers this Halloween and I promise, you'll be the star too.
P.S. If you can find Halloween-colored or Fall-themed M&M's (which I swear I've seen before, but were nowhere to be found at my local drugstore) you can use those for some extra festive pizzaz!
P.P.S. Stay tuned next week for another sweet rock-your-Halloween-party recipe!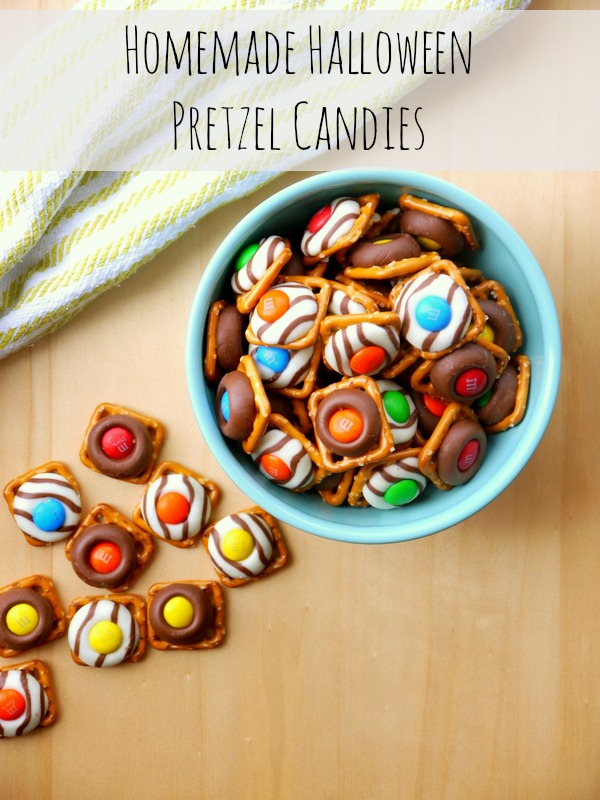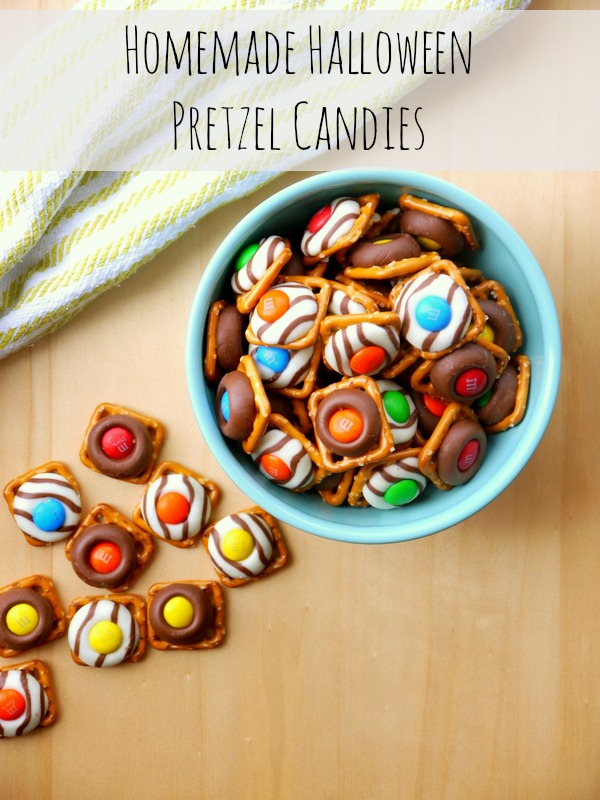 Homemade Pretzel Candies
2014-10-19 18:05:02
These homemade pretzel candies are dangerously easy and dangerously addicting - the perfect treat for your Halloween bash!
Ingredients
About 150 salted pretzels (I like using the grid kind, so buy these if you can find them)
2 packages Hershey's Kisses or Hugs
About 150 M&M candies (this was about 1/3 to ½ of a standard package)
Instructions
Preheat your oven to 175°F.
Place about 75 pretzels (or however many can fit) on each of two large baking sheets, and top each one with a Hershey's Kiss or Hug.
Bake the sheets for 2-3 minutes, until the chocolate is soft and starting to look a little melty. Remove from the oven and immediately press an M&M in the center of each chocolate, pressing down until they sit nicely in the center of the chocolate. If you are having trouble pushing it down completely, the candies might need another minute in the oven.
Cool the baking sheets in the refrigerator for about a half hour, until the candies are firm. Remove and eat immediately!
Notes
I like to keep these candies in the refrigerator because my kitchen runs hot and I like to eat them cold, but you should also be able to keep them on the counter for a few days in a Ziploc bag.
My Bacon-Wrapped Life http://www.mybaconwrappedlife.com/
Looking for more sweet treats for Halloween?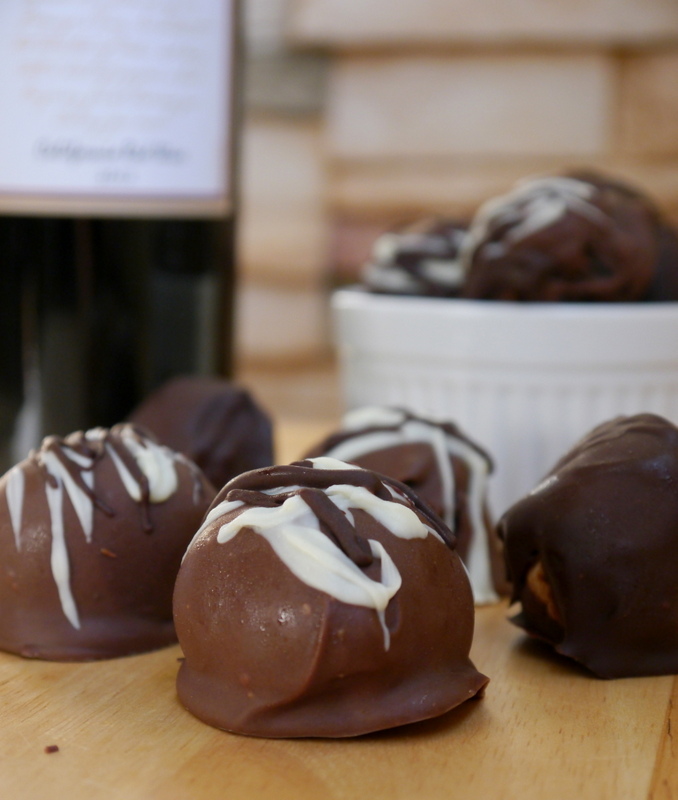 Oreo Truffles and Cookie Dough Truffles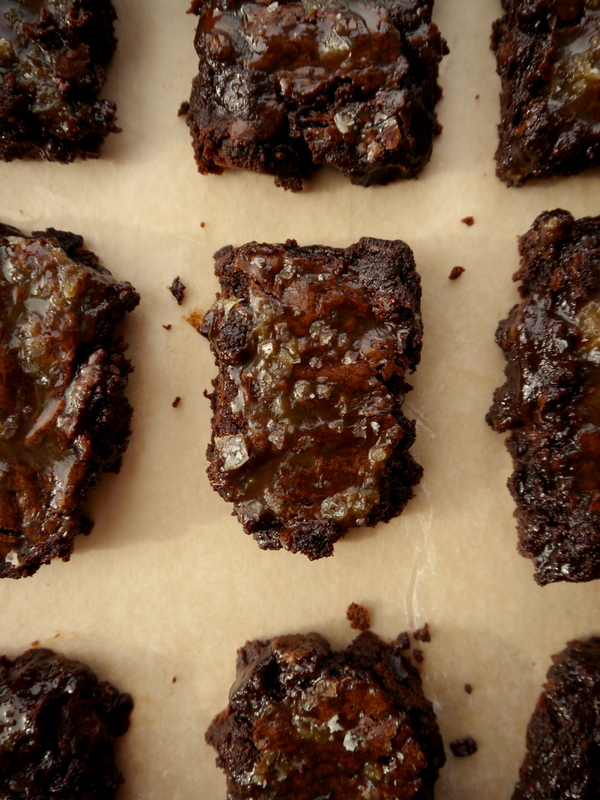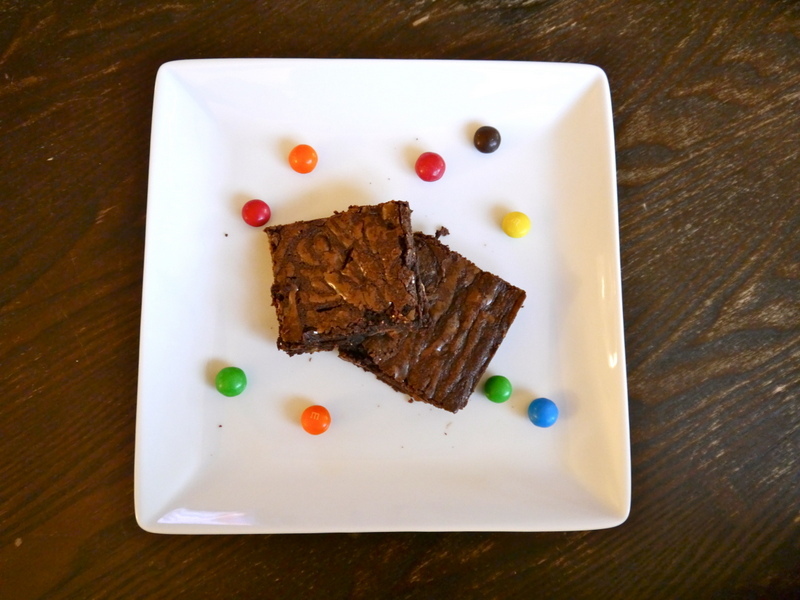 Peanut Butter M&M Brownies