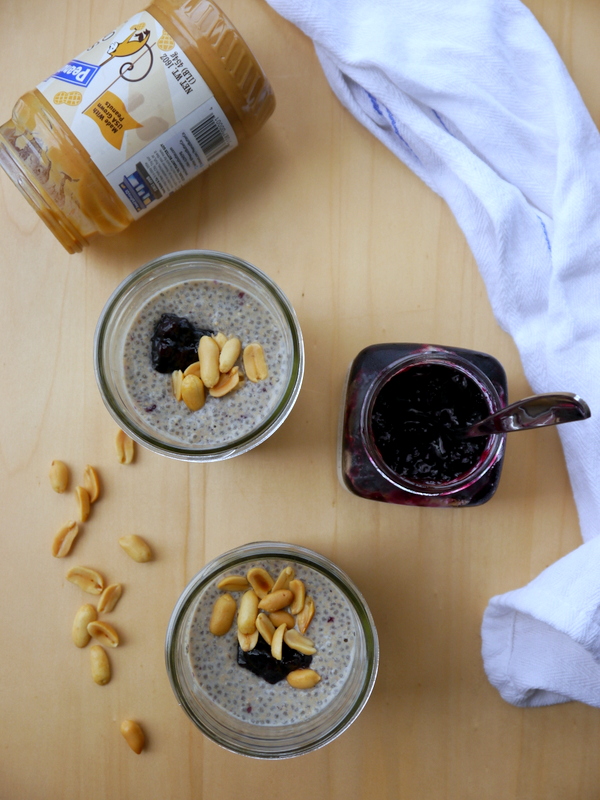 So I'd like to introduce you to this here thing called chia seed pudding.
Well, chances are you've already heard of chia seed pudding. It's been making rounds around the internet for a few years now. But like with all healthy food trends, I can be a little skeptical and a little late to the game. I'm always like, "IT CAN'T BE AS GOOD" and immediately dismiss said healthy food craze as a lame version of the real thing. But after baking up this incredible vegan zucchini bread earlier this summer, I decided I needed to start being a little more open-minded. (A little. I still draw the line at substituting spaghetti squash for pasta, though.)
Anyways, chia seed pudding is similar in taste and texture to tapioca pudding, except it's super healthy for you because it's made with chia seeds. Chias are filled with omega 3's, protein, fiber, and tons of other good-for-you words. The chia seeds are soaked in milk overnight, and come morning, they've magically transformed from tiny black seeds to a sweet snack-y dessert porridge. With just a few ingredients and a quick overnight trip to the fridge, you have a fantastic healthy breakfast or snack ready and waiting for you.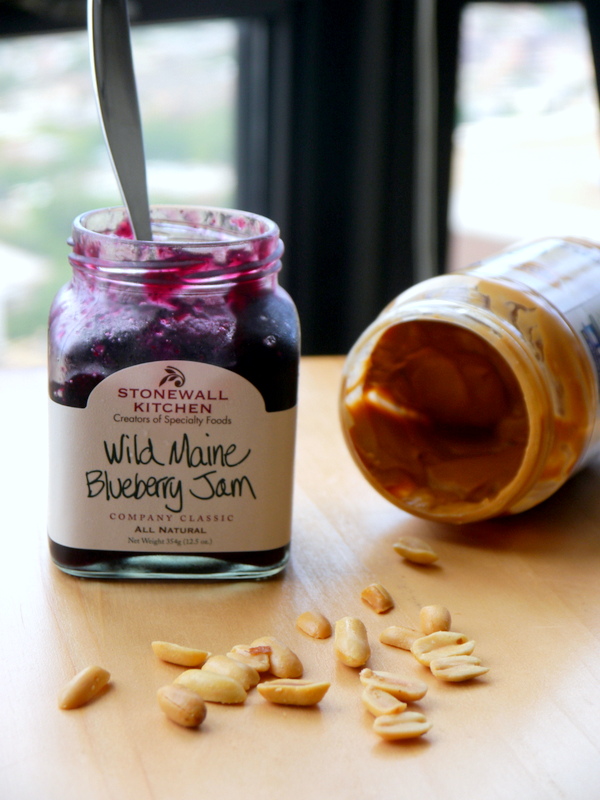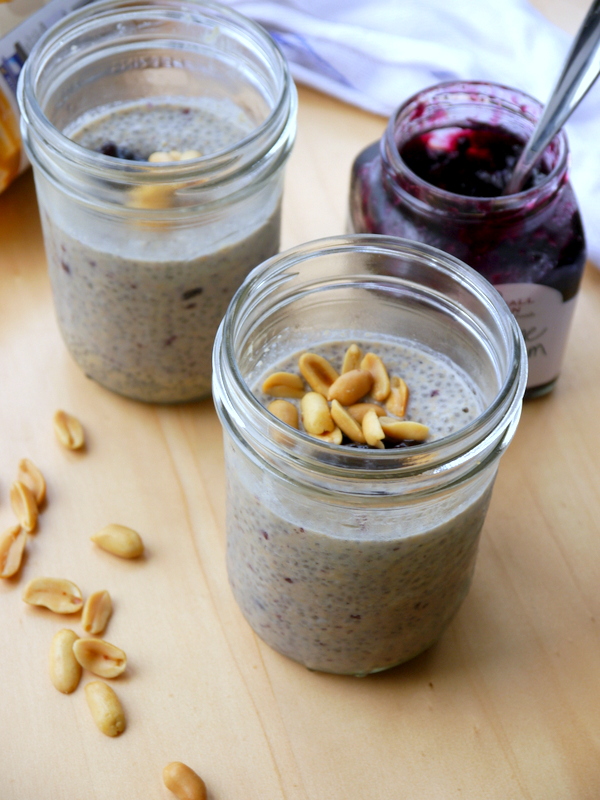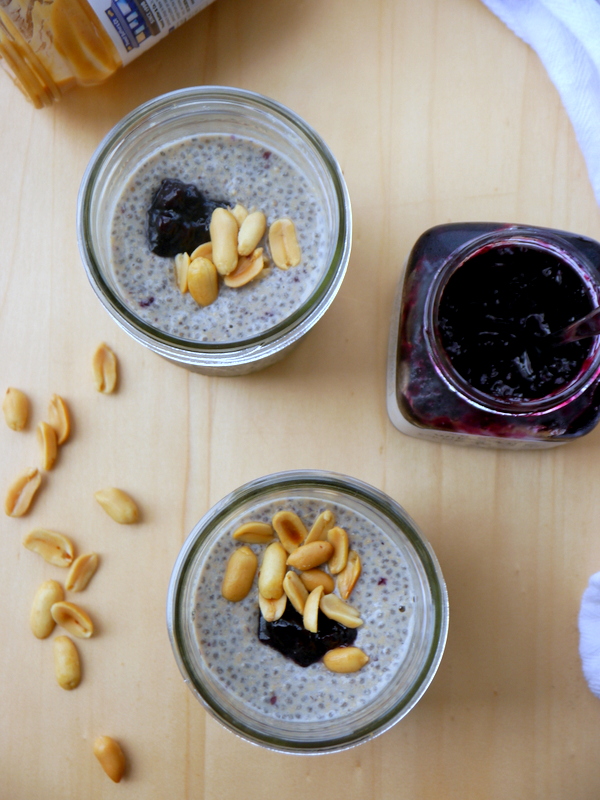 I did some recipe research in my quest for the perfect foray into chia seed pudding, and I found that most recipes call for a ratio of 1 cup milk or other liquid to 2 tbsp. chia seeds, and basically you can run free from there. It should surprise no one that has ever lived with me that I decided to create a peanut butter and jelly version, as peanut butter oatmeal has been my breakfast almost every single day since high school. What can I say, I'm a creature of habit! I just never get sick of peanut butter-y goodness.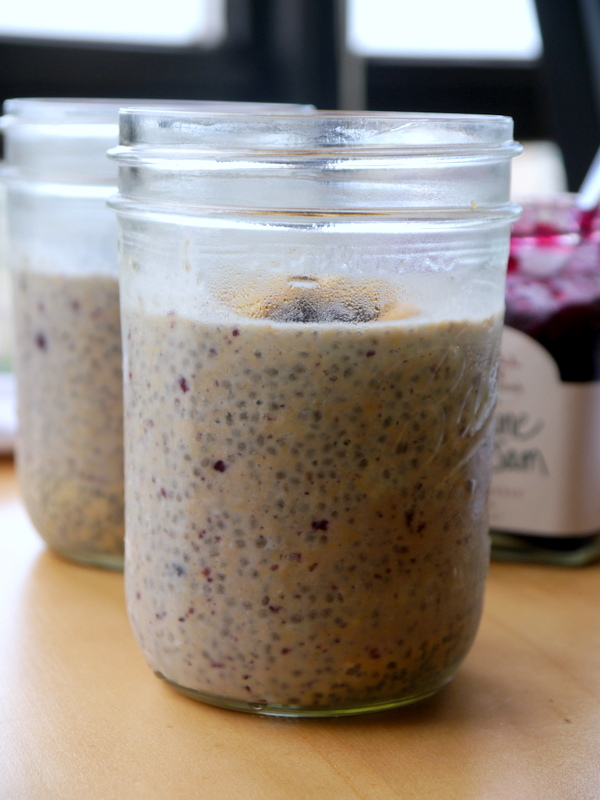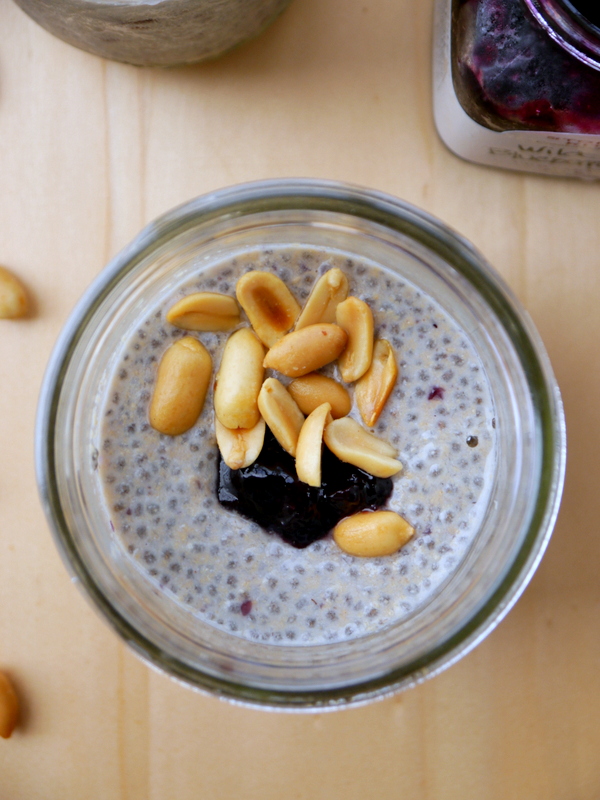 This peanut butter and jelly chia seed pudding is so good. Like eating-an-entire-bowl-of-peanut-butter good. I loved it – it's rich, creamy, lightly sweet, and totally filled with peanut butter and jelly flavor. We take vanilla almond milk for sweetness, whisk in some creamy peanut butter for richness and nutty flavor, and then add in the chia seeds. After a trip to the fridge overnight, we stir in some jelly for that fruity hit (I'm a total sucker for blueberry jam) and top with salted peanuts if we're feeling fancy. Because even on a Wednesday, breakfast deserves to feel a little decadent, right?
P.S. This is (completely on accident) totally vegan. Go us!!
P.P.S. If you're not into major texture, you may want to blend up your chia seed pudding to get rid of the tapioca-like feel. Here are some good instructions on how to do so.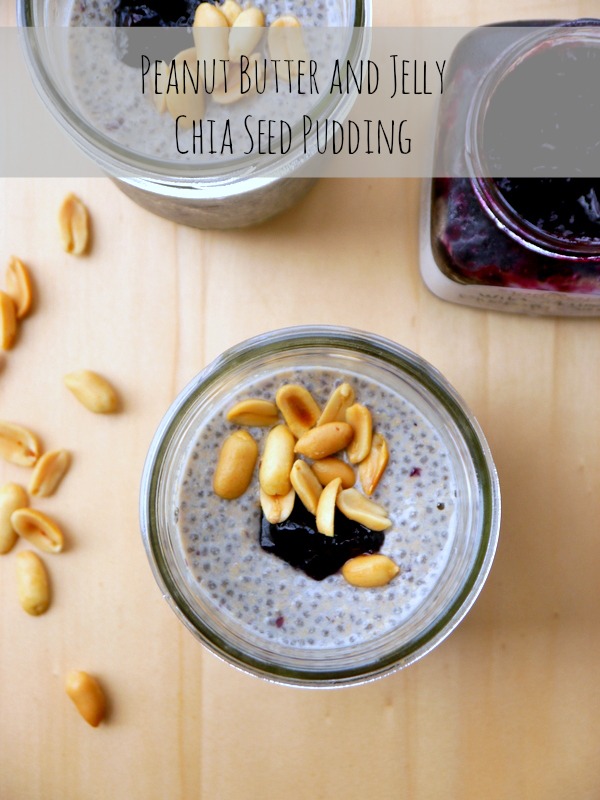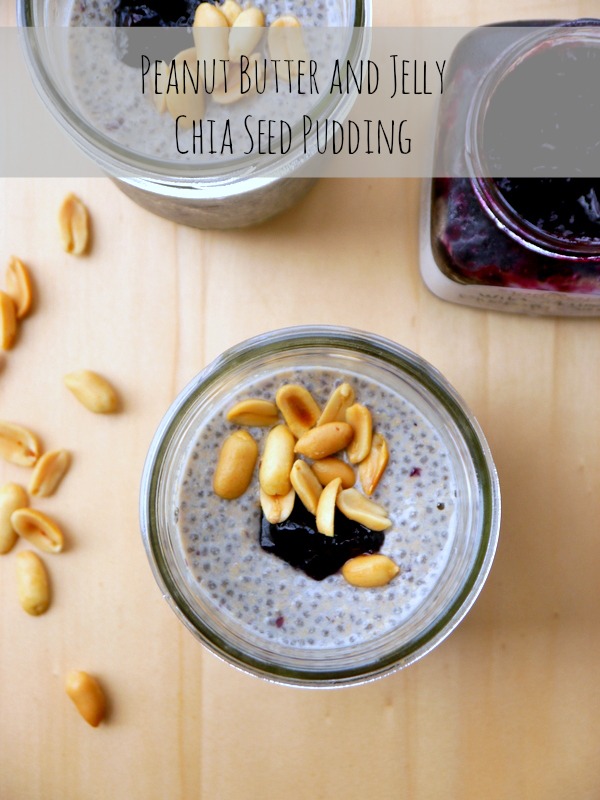 Peanut Butter & Jelly Chia Seed Pudding
2014-08-10 09:48:19
Serves 4
A deceptively decadent vegan breakfast or snack, peanut butter & jelly chia seed pudding tastes like eating a big bowl of peanut butter - heaven!
Ingredients
2 cups vanilla almond milk
¼ cup creamy peanut butter
¼ cup chia seeds
¼ cup jelly or jam
Salted peanuts, for topping (optional)
Instructions
In a large bowl, whisk together the almond milk and the peanut butter until completely combined. Add the ¼ cup chia seeds and mix thoroughly. Cover and refrigerate overnight.
When you're ready to eat the chia seed pudding, stir the mixture vigorously until the entire thing comes together in a pudding-like consistency (it may separate a bit in the fridge). Stir in the jelly and spoon into individual bowls. Top with salted peanuts, if desired.
Notes
You can also pre-portion this chia seed pudding for breakfast throughout the week (my preferred method). To each of 4 mason jars, add ½ cup vanilla almond milk and 1 tbsp. peanut butter; shake or stir to combine. Add 1 tbsp. chia seeds and combine. Cover each jar and refrigerate for at least 1 night. Whenever you're ready to eat one, stir in 1 tbsp. jelly and top with a few salted peanuts. Breakfast is SERVED!
Total time listed does not include overnight refrigeration.
My Bacon-Wrapped Life http://www.mybaconwrappedlife.com/
Looking for more healthy breakfast ideas?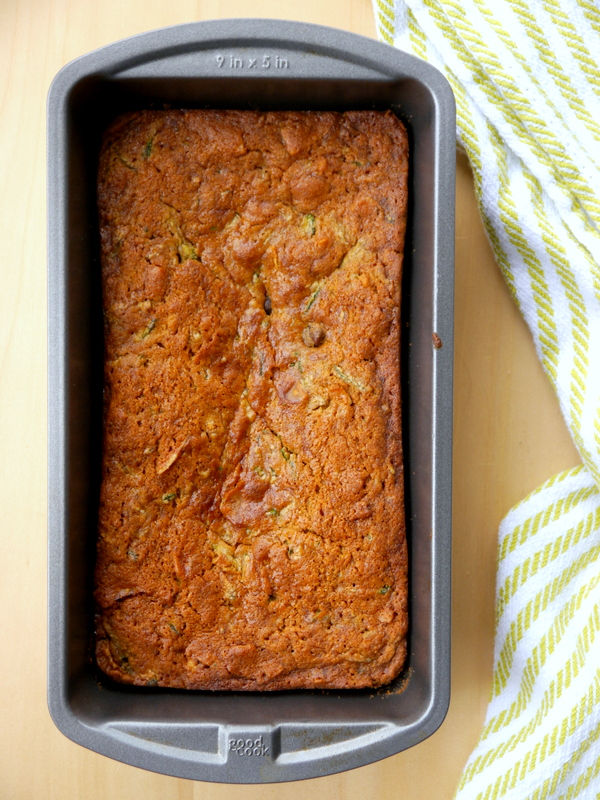 Vegan Dark Chocolate Chip Zucchini Bread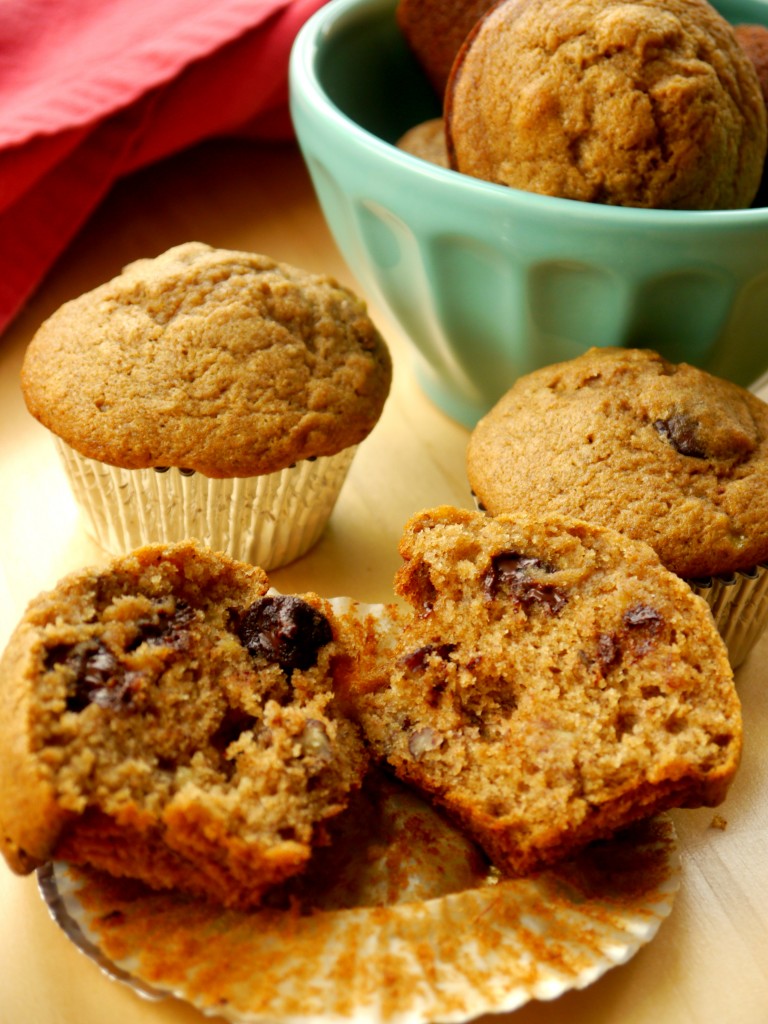 Whole Wheat Banana Muffins with Dark Chocolate and Toasted Pecans