I don't want to be totally cliché and say the 4th of July totally snuck up on me and I CAN'T BELIEVE it's next weekend, but like. There. I said it. It's true. How is it not-June as of Wednesday?!
Not that I'm complaining. Although the summer always flies by way too fast, I love this time of year – poised right at the beginning of months and months of long, warm, sunny days, the promise of relaxed alfresco meals and lots of ice cream dangling right in front of us. Even in perpetually-sunny California, there's something about summer that just makes you want to relax, take a deep breath, and just be. And that is always a good thing in my book!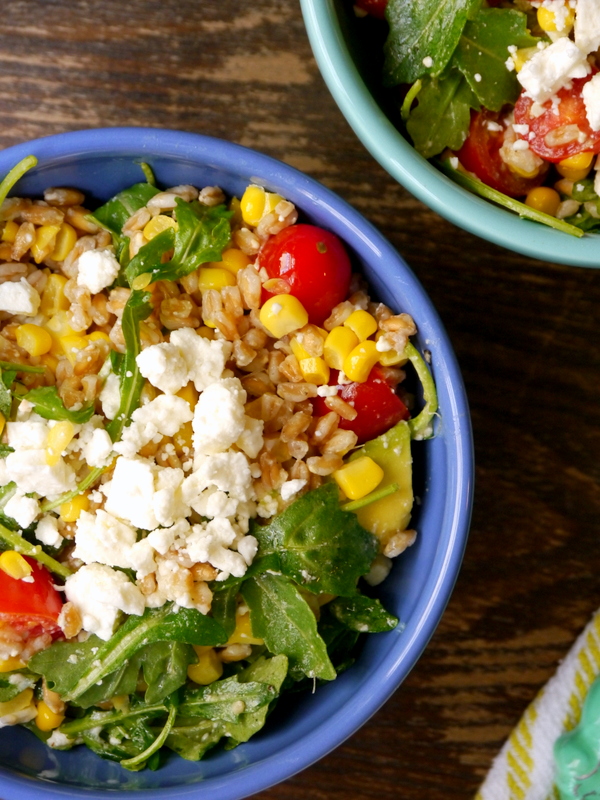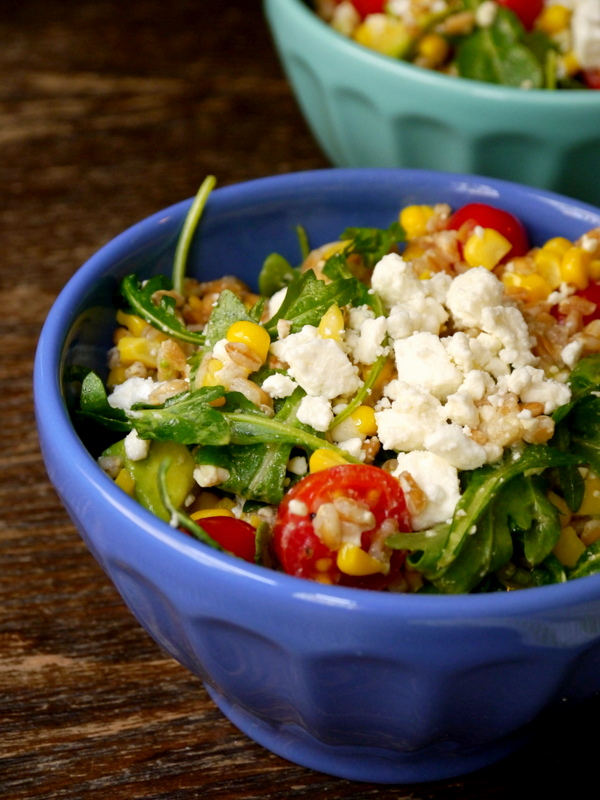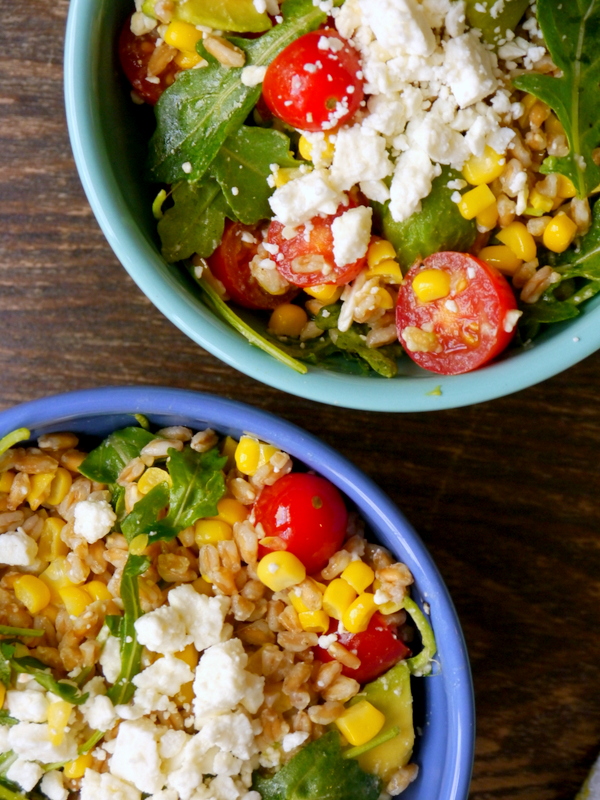 So this year, for 4th of July, I wanted to celebrate the often-overlooked side salad by making a really freakin' epic (vegetarian!) version loaded up with the best of what summer has to offer. For all you non-vegetarians out there, let me drop a truth-bomb on you: barbeques and picnics are generally woefully lacking in hearty, substantial vegetarian options. We focus on the wonderful meaty grilled mains, which are great for all those carnivores out there, but then our veggie friends are stuck with eating a plate of boring potato salad and 17 cookies for lunch. Once, in my vegetarian days, I actually ate a hot dog bun with a piece of melted American cheese on it at a barbeque in hunger-desperation. TRUE STORY.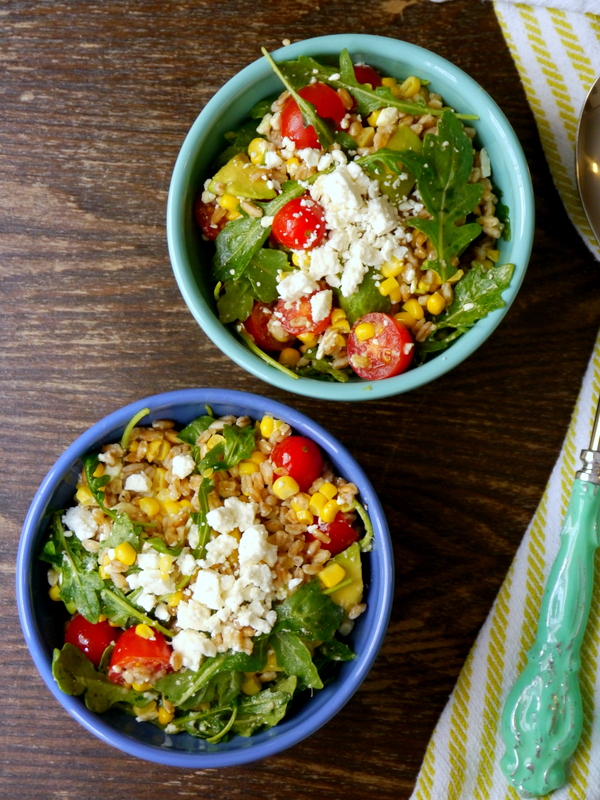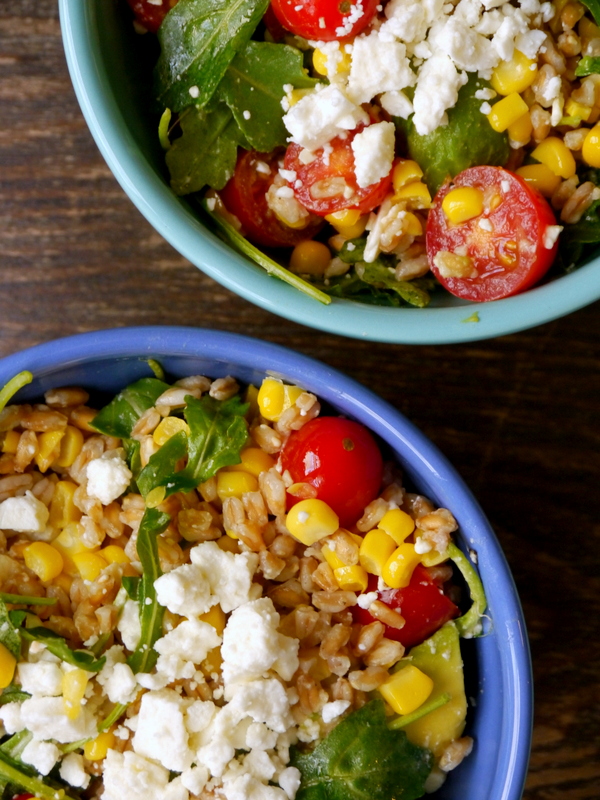 Not only is this kitchen sink summer farro salad a delicious and hearty vegetarian option for your veggie friends, it's also just a fantastic side in general for hot dogs, hamburgers, grilled meats – basically anything your grilling heart desires. I jacked up one of my favorite easy healthy meals with tons of summer veggies, and the result has all the critical elements of picnic salads: can be eaten at room temperature, doesn't get soggy, and (in my world, at least) contains absolutely no mayo. What's even better, I think it truly celebrates the chill spirit of summer because you can just throw whatever looks good at the farmer's market in here – it's the most forgiving salad ever. (Hence, the whole "kitchen sink" thing.) I used cherry tomatoes, corn, avocado, and baby arugula, but use whatever your summer-veg-loving heart desires. The whole thing comes together in about 30 minutes, and it's both healthy and incredibly filling and satisfying. Can I get an AMEN to that?
This farro salad is my new favorite picnic staple – it's loaded up with tons of textures and colors and flavors, and the feta adds the most perfect salty bite. I can't get enough. So for all the months of picnics and barbeques and summer lovin' ahead, let's just sit back, relax, and enjoy it – with a big ol' plate of summer farro salad.
And wine. Lots and lots of wine. And pie. I can't wait!!!!!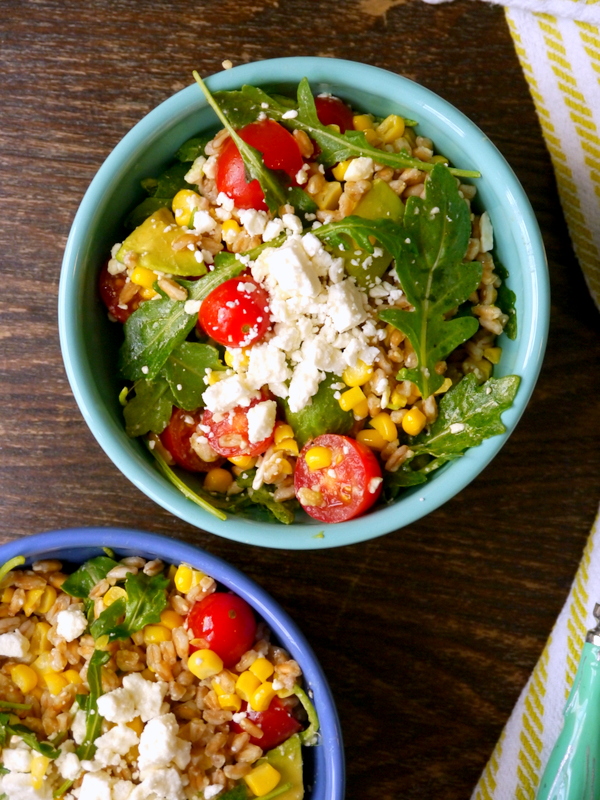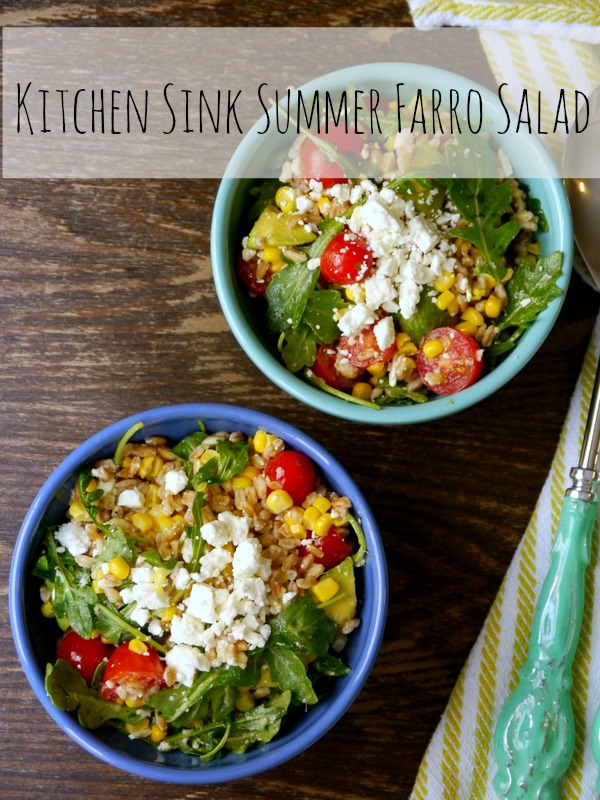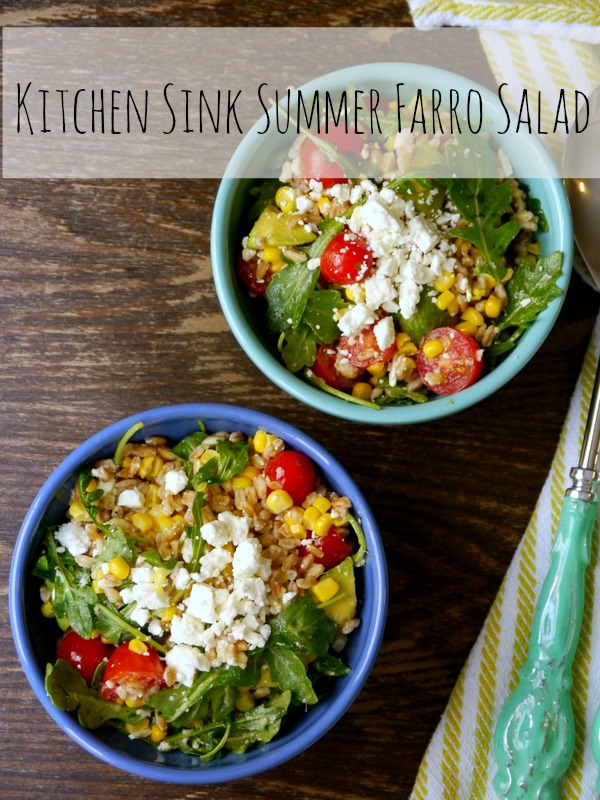 Kitchen Sink Summer Farro Salad
2015-06-28 14:58:42
Serves 4
This loaded summer farro salad is the perfect picnic salad - healthy, hearty, and best eaten at room temperature!
For the farro salad
1 cup uncooked pearled farro, rinsed and strained
2 pieces corn on the cob, grilled and kernels removed (for inside/grill-less version, see Note below)
1 cup cherry or grape tomatoes, halved
½ ripe avocado, cubed
Juice from ½ lime
2 big handfuls baby arugula
½ cup crumbled Feta cheese (plus extra for serving)
For the sherry vinaigrette
1 ½ tbsp. sherry vinegar
1 tbsp. olive oil
1 tsp. Dijon mustard
1 tsp. minced garlic (or 1 garlic clove, minced)
½ tsp. kosher salt
¼ tsp. black pepper
Instructions
Cook farro according to package directions. Strain, allow to cool slightly, and add to a large bowl. Add the cooked corn on the cob, cherry tomatoes, and arugula. Toss the avocado with the juice from ½ of a lime and add that to the bowl too. Add ½ cup crumbled feta. Mix the whole thing together until well-combined.
Meanwhile, in a small bowl, make the vinaigrette by whisking all of the ingredients together. Pour over farro mixture; toss to combine. Serve immediately or at room temperature, topping each serving with additional feta, if desired.
Notes
If you're woefully lacking a grill like me, cut the fresh corn off the cob and then sauté in a skillet for a few minutes with 1 tbsp. coconut oil or olive oil. Easy!
My Bacon-Wrapped Life http://www.mybaconwrappedlife.com/
Vinaigrette adapted from Cooking Light.