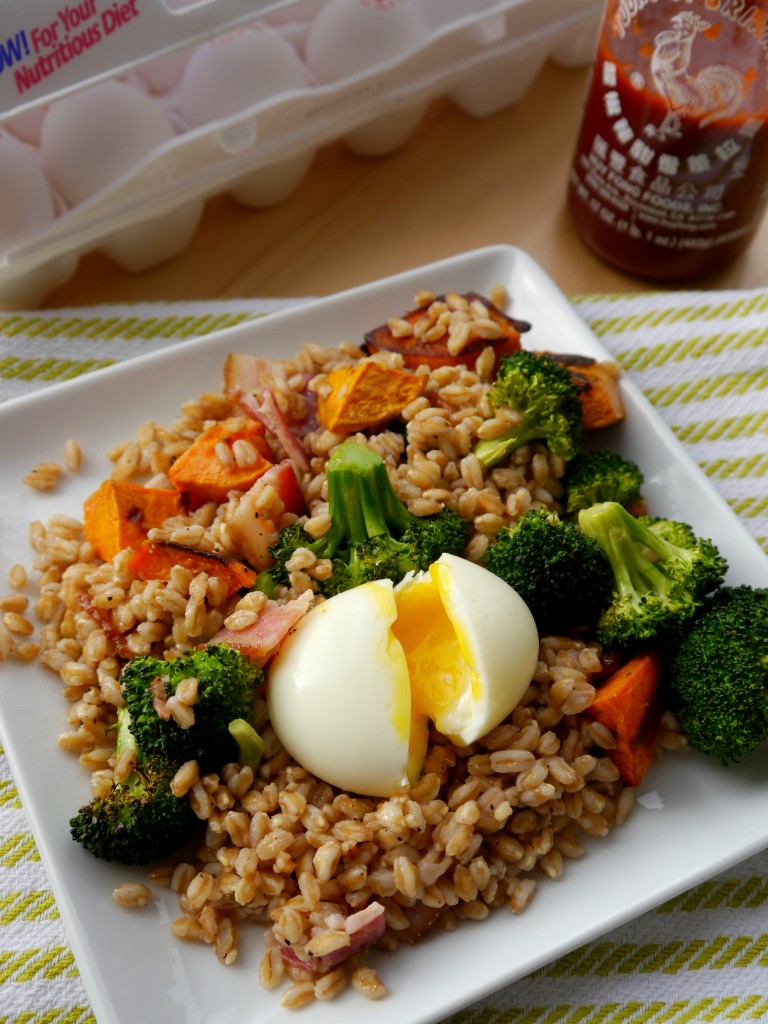 Guys…I HATE winter.
I hate that it takes me 5 solid minutes of intense bundling to run to the grocery store. I hate that it gets dark at 4pm. I super-hate running on the treadmill. And I super-super-hate polar vortexes. I grew up in Southern California and my body just. can't. deal.
Pretty much the only thing getting me through this winter is warm, homey winter cooking. Fall/winter foods are my absolute favorite, and this totally includes veggies. Give me some serious broccoli, Brussels, kale, and sweet potatoes all day every day. Make 'em roasty-toasty and delicious and I will be the happiest. And you know what, Southern California? Roasted vegetables just don't taste as good when it's 70° outside. Now that's some serious polar vortex silver lining right there.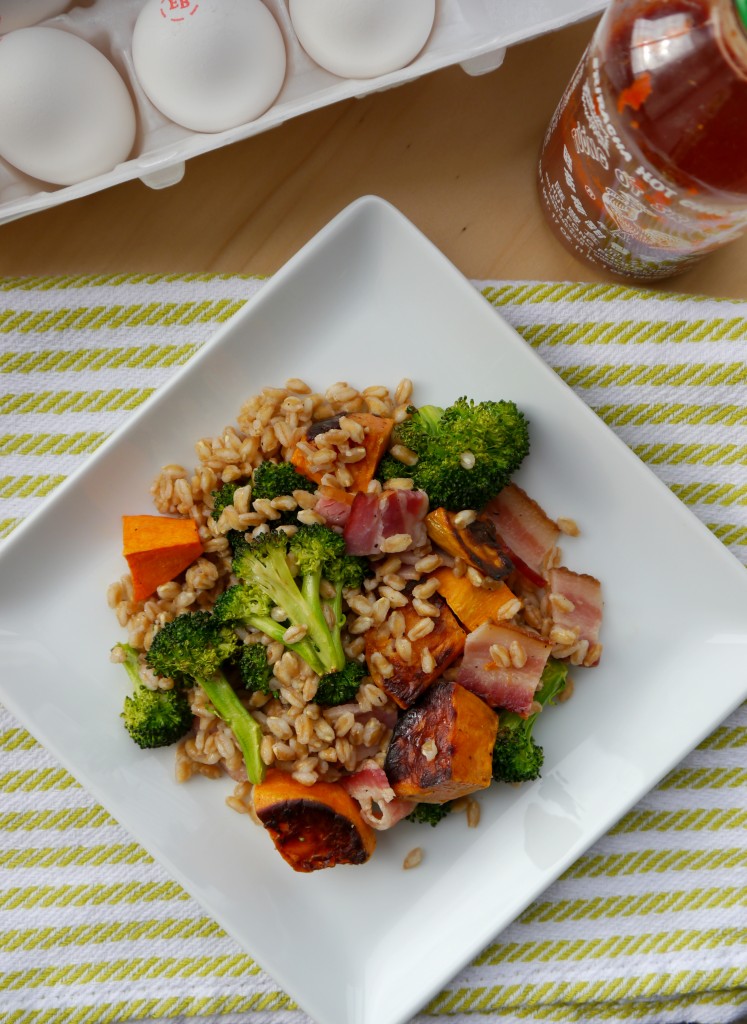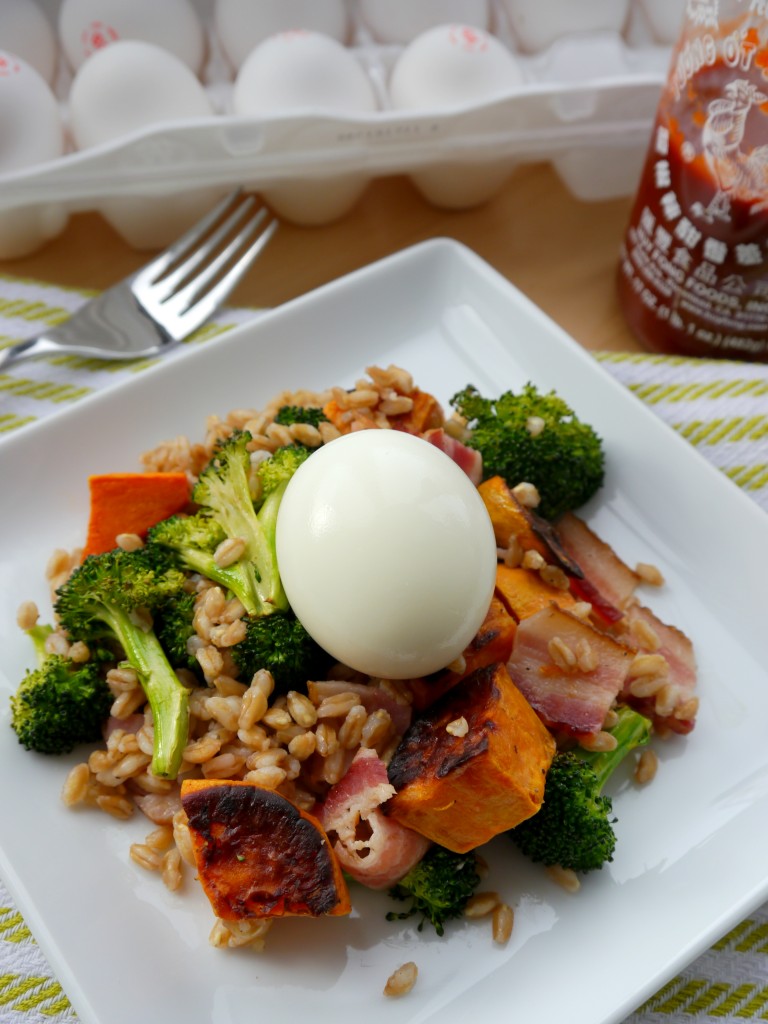 I have been obsessed with this bacon & egg farro salad creation pretty much all winter. I was craving this salad, but wanted to winterize it all up. So I subbed in roasted broccoli and sweet potatoes for the corn and basil and threw in some big ol' chunks of thick-cut bacon in there because we all need some extra bacon at this time of year (errrr all the time). Finally, to turn it into a main course situation, I add a soft-cooked egg that gets all runny and sauce-y all over everything. HEAVEN. I have eaten this salad no less than 4 times in the past week, and I don't see this slowing at any point. It's hearty and light and colorful and carb-y all at the same time. I like it a jillion times better than the original. Furry hats + farro salad, people. It's the only way to get through winter in Chicago.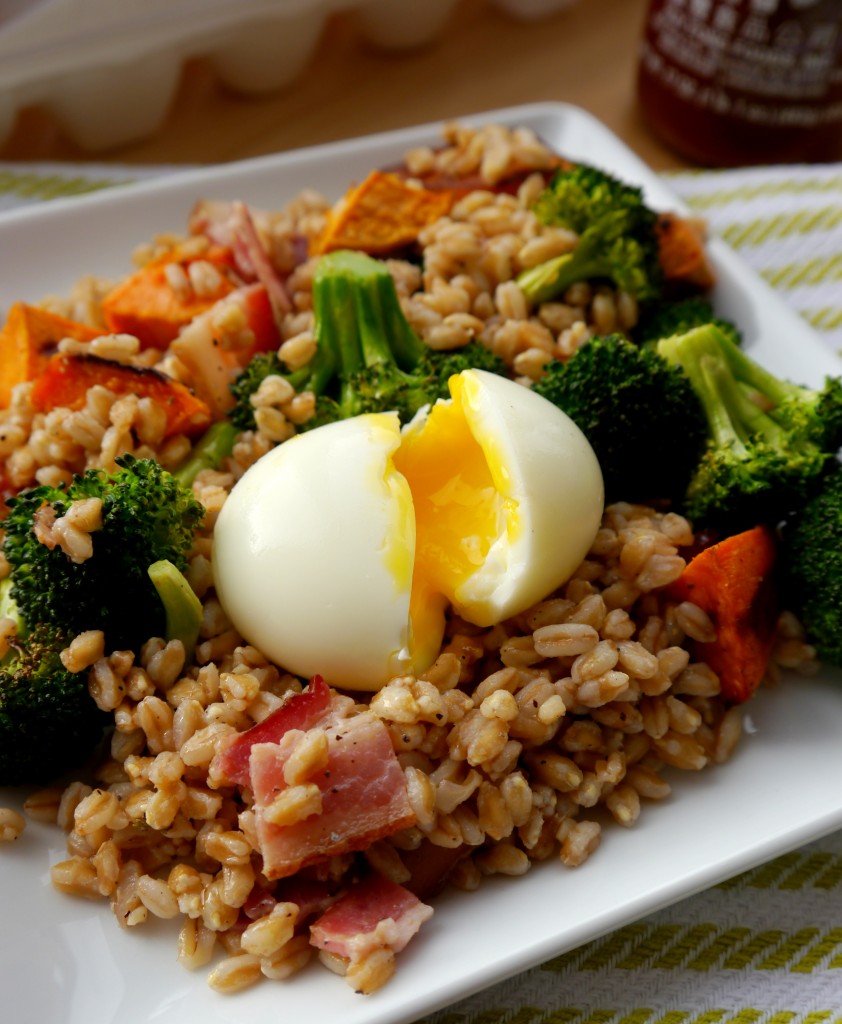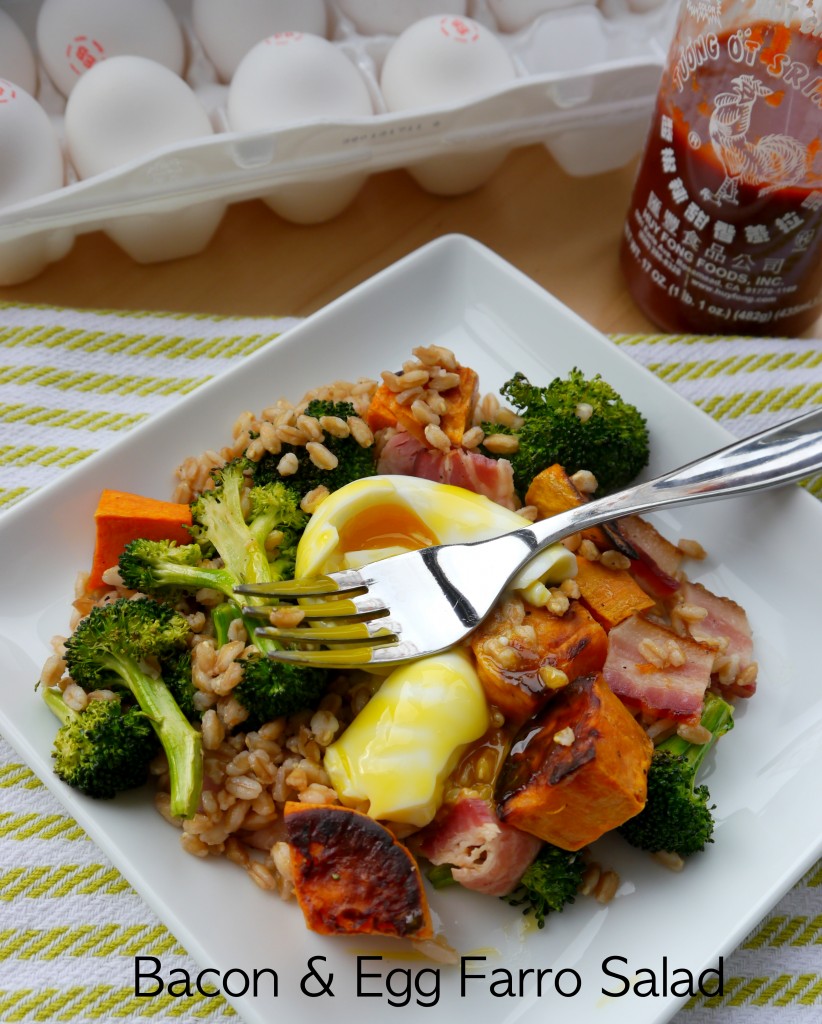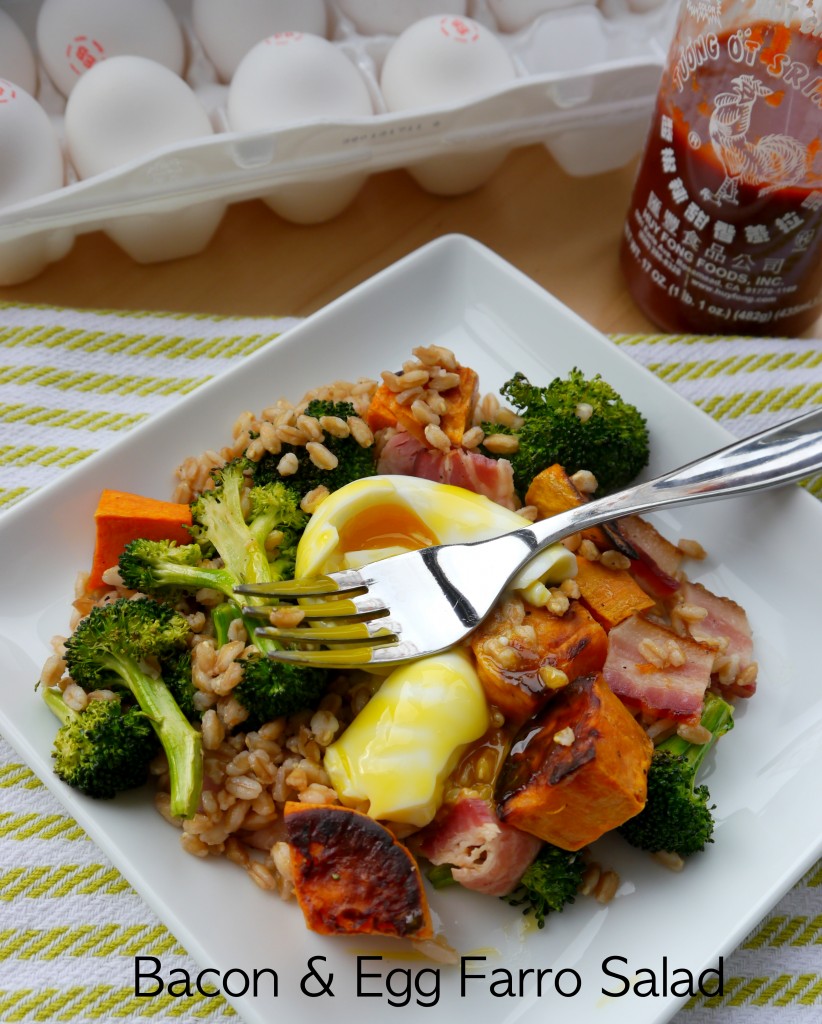 Bacon & Egg Farro Salad
2014-02-02 11:38:01
Serves 4
This bacon & egg farro salad is the perfect winter food - hearty, healthy, and completely delicious with roasted veggies, big chunks of bacon, and a beautiful runny egg!
Ingredients
Olive oil
2 sweet potatoes, cut into one-inch cubes
1 large bunch broccoli, separated into bite-sized florets
3 slices thick-cut bacon
1 cup Italian pearled farro
1 ½ tbsp. sherry vinegar
1 tbsp. olive oil
1 tsp. Dijon mustard
½ tsp. salt
¼ tsp. black pepper
1 garlic clove, minced
4 eggs
Instructions
First, preheat your oven to 400°F. Coat a large baking sheet evenly with olive oil and add the sweet potatoes in a single layer. Sprinkle with salt and pepper, then roast for about 15 minutes, or until browning underneath. Add the broccoli, toss everything around so that it cooks evenly, and continue to cook for another 10-20 minutes, tossing once or twice more, watching closely to make sure the veggies don't burn.
Meanwhile, cook your bacon in a skillet. When done, place on a plate lined with paper towels to drain. Chop into ½-inch pieces (they should be serious bacon chunks!).
Next, cook farro according to package instructions. Drain and return to pot.
In a large bowl, whisk together the sherry vinegar, olive oil, Dijon mustard, salt, pepper, and garlic. Add the farro, sweet potatoes, broccoli, and bacon pieces; mix to combine.
Plate the farro salad, then cook your eggs however you like 'em. For the runny egg pictured (my favorite), bring a small pot of water to a boil. Add eggs and cook for 5 minutes, then immediately plunge into cold water to stop the cooking. Peel eggs while running under cold water, place on top of the farro and smash. AMAZE.
Notes
This recipe was a mish-mash of a lot of different recipe components. Vinaigrette adapted from Cooking Light (http://www.myrecipes.com/recipe/basil-corn-farro-salad-50400000121381/), roasted veggie inspiration from Smitten Kitchen (http://smittenkitchen.com/blog/2013/10/miso-sweet-potato-and-broccoli-bowl/), and method of egg-cooking from Smitten Kitchen as well (http://smittenkitchen.com/blog/2013/04/spinach-and-smashed-egg-toast/)
My Bacon-Wrapped Life http://www.mybaconwrappedlife.com/