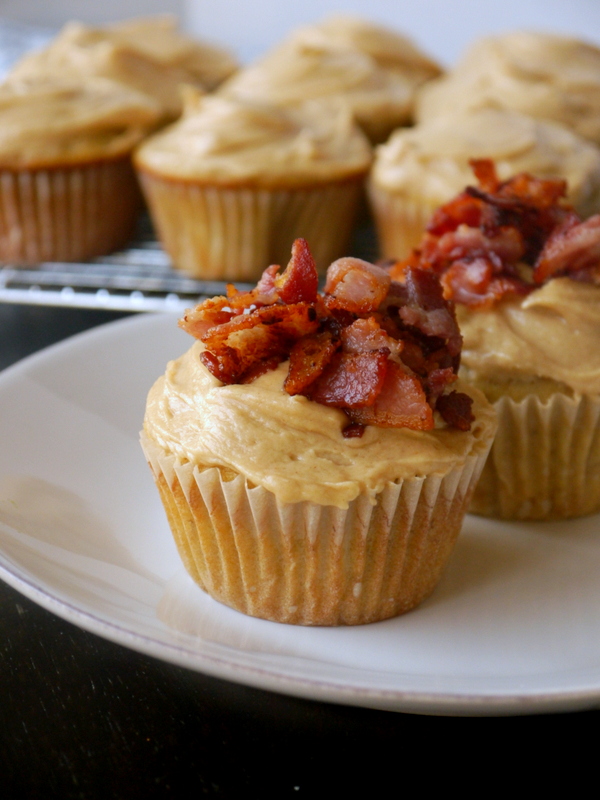 It's been way too long since we bacon-ed our dessert, amiright?
In fact, I know it's been just about a year, because it just happens to be my 4 year blogiversary! Just about 4 years ago, I started posting on this here space (check out my first post if you want to see some seriously offensive photos). Since then, it's become a little tradition to create a bacon dessert to celebrate. Because why just eat butter and sugar when we can eat butter, sugar, AND bacon?!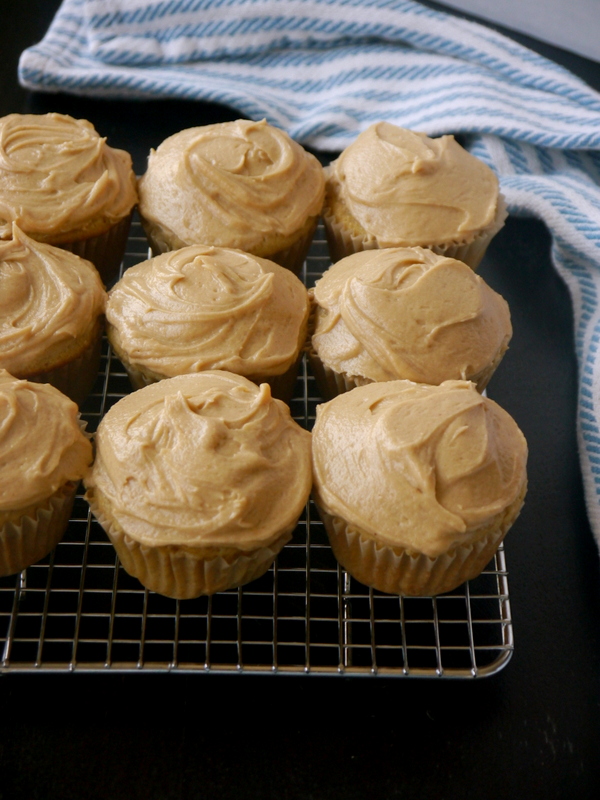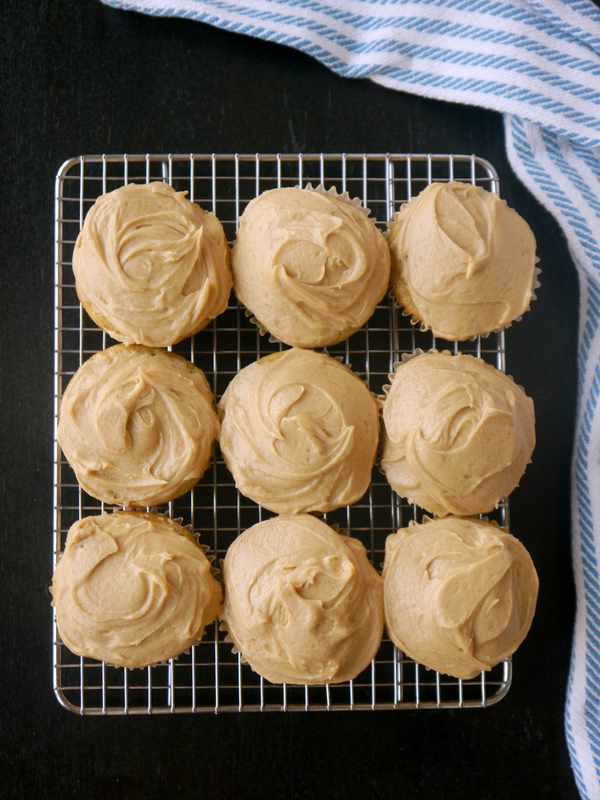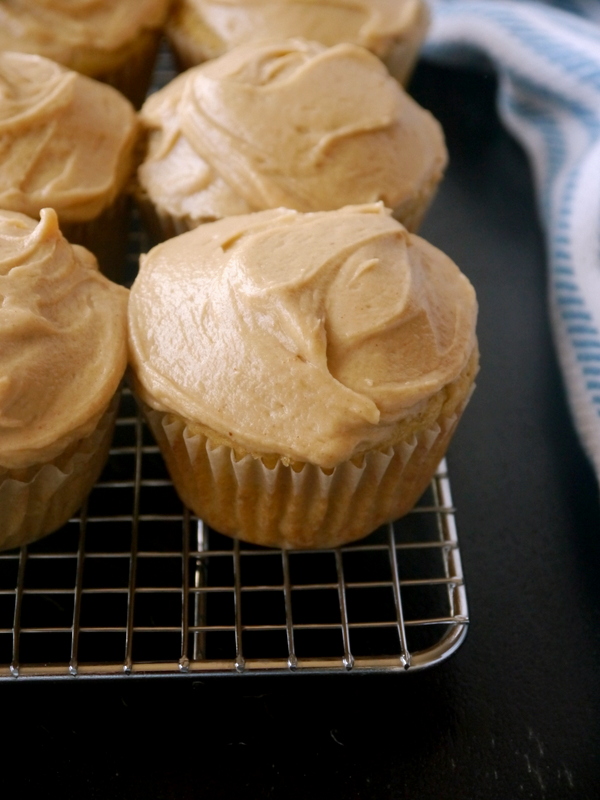 I chose to make these super decadent Elvis cupcakes for this year's celebration – it's a banana cupcake topped with peanut butter frosting and crumbled BACON! I got the idea from this incredible Elvis banana bread from a few years back, and couldn't wait to recreate it in cupcake form. Elvis definitely knew what was up, because somehow the peanut butter, banana, and bacon combo just works way too well. The whole sweet and salty thing gets me every time. Sweet, fluffy banana cake, creamy peanut butter frosting, and salty, crunchy bacon is a total dream dessert combo if you're a salty dessert lover like me. Oh, and I feel I have to warn you…this peanut butter frosting is absolutely impossible to stop eating by the spoonful – it was a miracle it even made it on the cupcakes, to be honest. It's SO good!!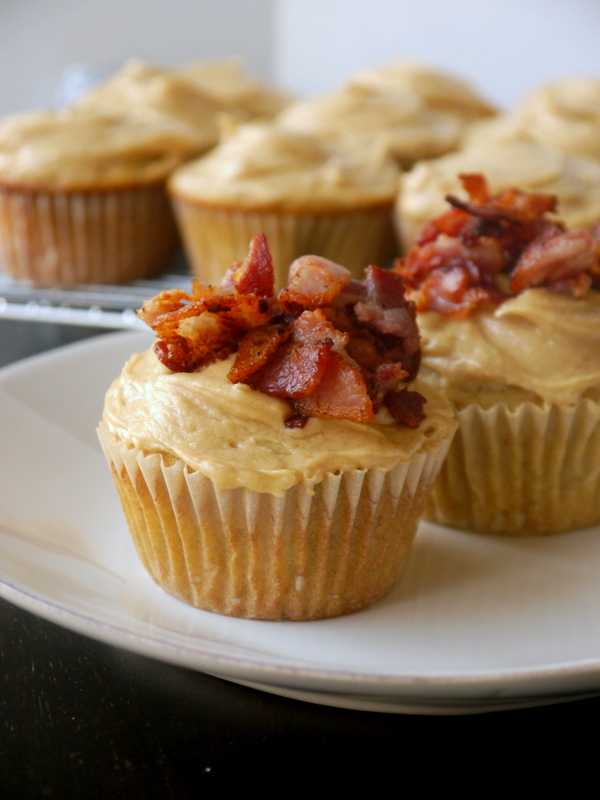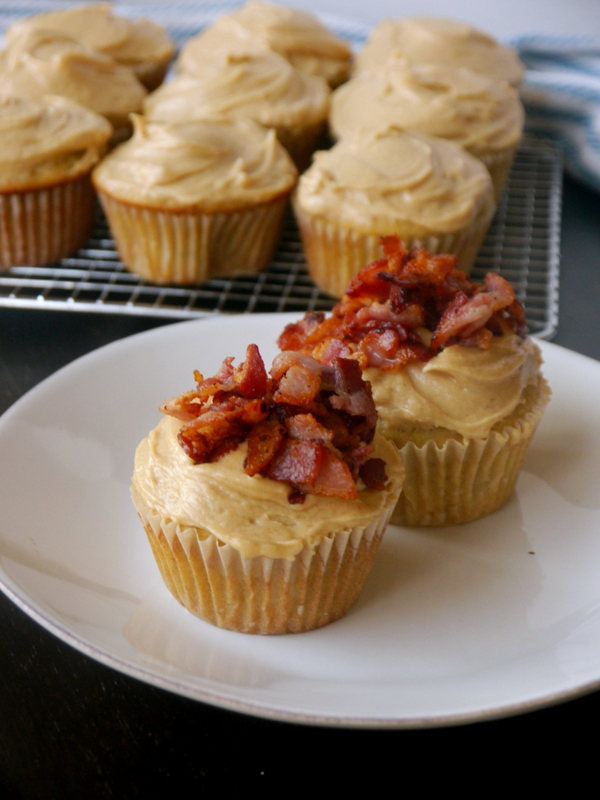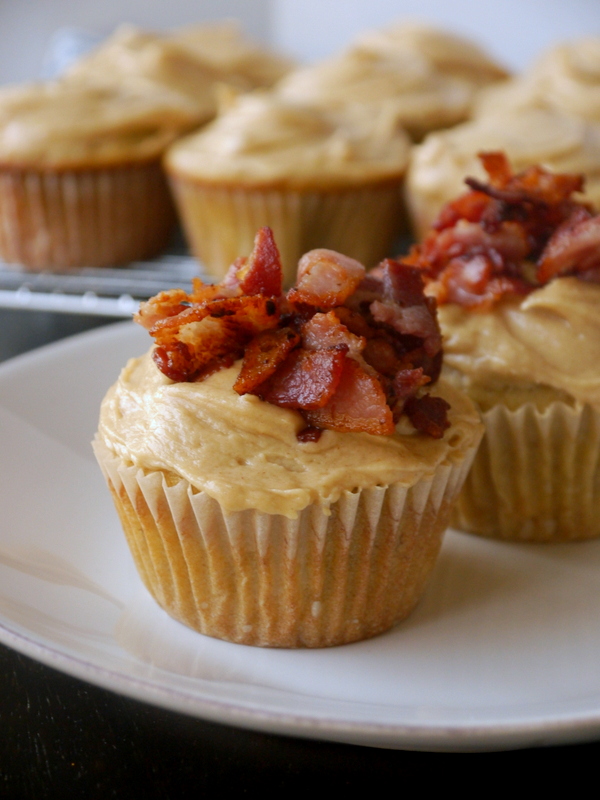 Real talk time – this year marked a lot of changes in my life and in my blog. I got married, took on a ton more responsibility at work, and correspondingly had to roll back my weekly or bi-weekly blog posting schedule. I'm so happy to say that I've truly loved blogging again since I made the decision to cut back, and I think (and hope!) that shows when I do post, even if it's not quite as frequent anymore. Thank you, from the bottom of my heart, to every single person reading this – for being a part of my days and weeks and months, and for sharing food and stories with me in this space for 4 freakin' years. Cheers to love, life, balance, incredible food, and – perhaps most of all – bacon in our cupcakes!
Xoxo,
Megan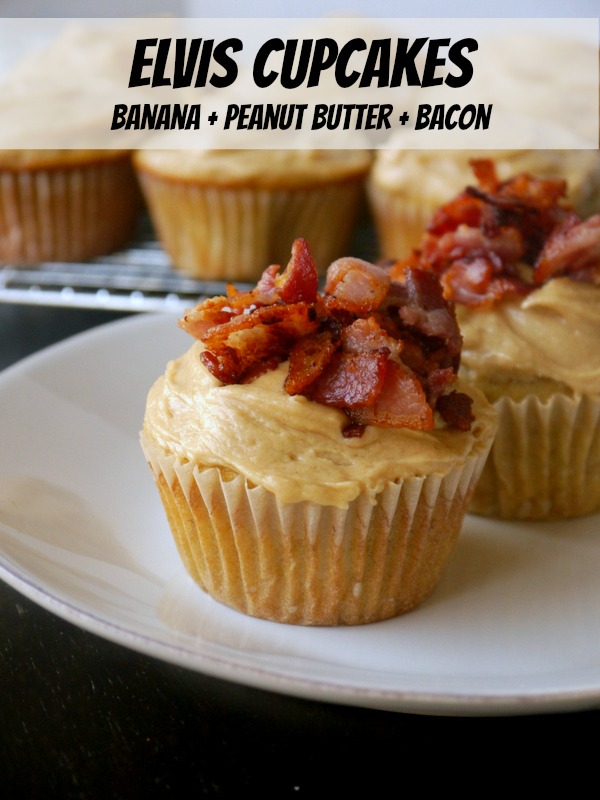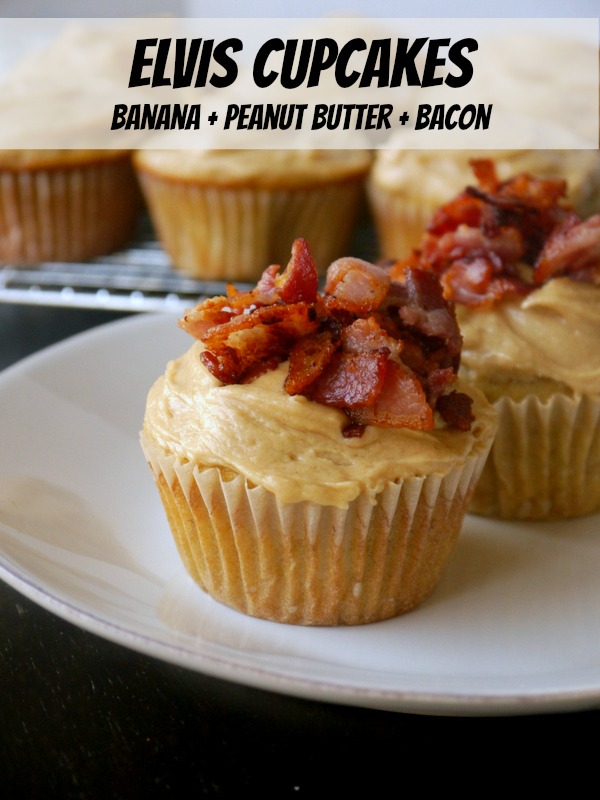 Elvis Cupcakes
2017-07-02 16:29:56
These Elvis cupcakes are insanely decadent and delicious, featuring a sweet and fluffy banana cake, creamy peanut butter frosting, and salty, crunchy BACON!
For the banana cupcakes
3 very ripe bananas, mashed
3 cups all-purpose flour
1 tsp. baking powder
1 tsp. baking soda
½ tsp. cinnamon
½ tsp. salt
¾ cup unsalted butter, room temperature
1 cup granulated sugar
½ cup brown sugar
3 eggs, room temperature
2 tsp. vanilla
1 ½ cups buttermilk, room temperature
For the peanut butter frosting
1 ½ cups creamy peanut butter (use Jif or Skippy, do not use natural)
½ cup unsalted butter, room temperature
3 cups powdered sugar
½ cup whole milk
1 tsp. vanilla
Pinch of salt
For serving
6-8 slices bacon, cooked and crumbled (optional)
Instructions
Preheat your oven to 350°F. Line 24 cupcake tins with liners.
In a large bowl, whisk together the dry ingredients – flour, baking powder, baking soda, cinnamon, and salt – until well-combined. Set aside.
In another large bowl with a handheld mixer or a stand mixer, beat the softened butter on high speed until creamy. Add in the brown sugar and granulated sugar and beat together for a few minutes until creamed together. Add the eggs and vanilla and beat to combine. Beat in the mashed bananas. Gradually add in about 1/3 of the dry mixture, then 1/3 of the buttermilk, continuing to alternate until both are incorporated, beating to combine after each addition.
Fill each cupcake liner 2/3 full. Bake for about 20-22 minutes, until a tester inserted into the cupcakes comes out clean. Allow to cool for about 15 minutes in the pan, then transfer to a wire rack to cool completely.
While the cupcakes cool, make the peanut butter frosting. In a large bowl with a handheld mixture or stand mixer, beat the softened butter and the peanut butter on medium-high until combined and smooth, about 2 minutes. Add in the milk, vanilla, and salt. Slowly add in the powdered sugar, beating on low at first then increasing to high speed. Beat until the frosting is thick and fluffy.
To serve, spread the frosting on the cooled cupcakes and top with bacon crumbles, if going full Elvis! (DO IT.)
Notes
Total time does not include cooling time.
My Bacon-Wrapped Life http://www.mybaconwrappedlife.com/

Cupcakes and frosting adapted from Sally's Baking Addiction.

Check out past years' bacon dessert celebrations!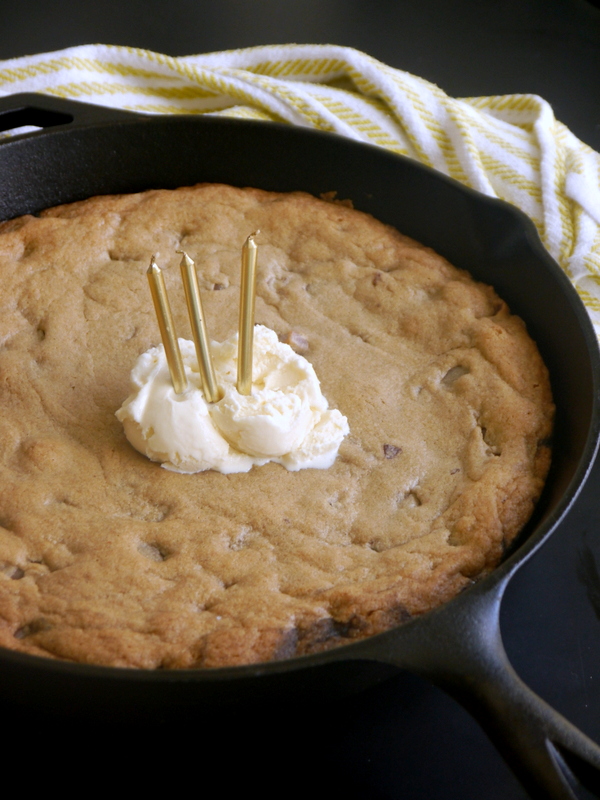 Skillet Bacon Chocolate Chip Cookie (Year 3!)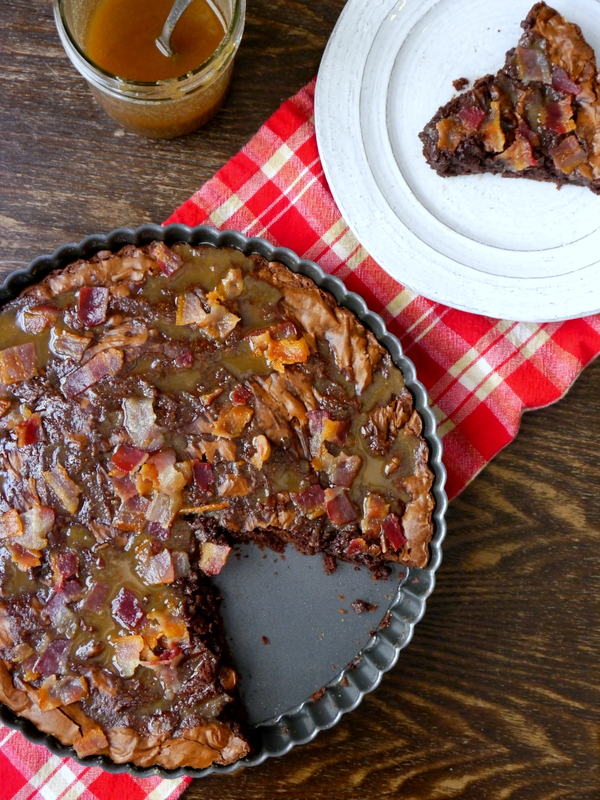 Brownie Tart with Salted Caramel Bacon Topping (Year 2!)