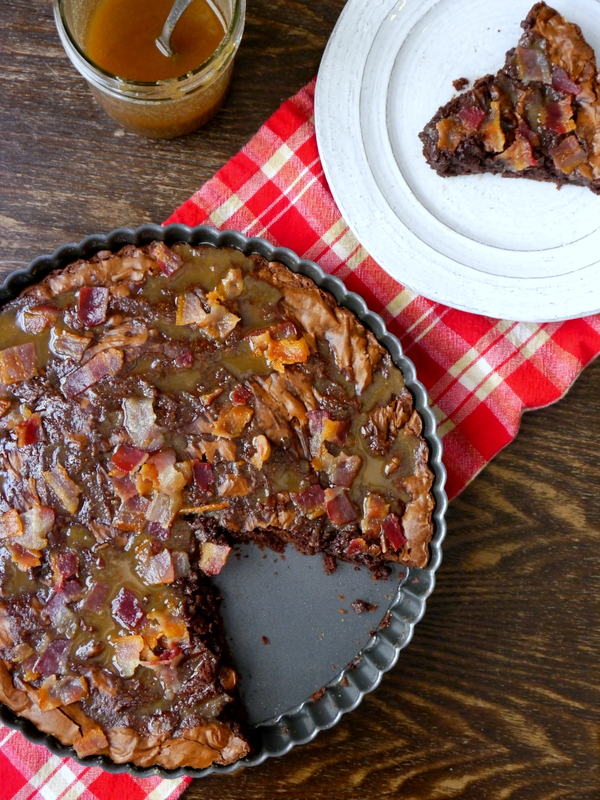 And in a blink of an eye, it's that time of year again. Guys, this week is my two-year blogiversary!
It feels like just yesterday we were celebrating one year of bacon and lovin' with this salted caramel bacon ice cream pie. I mean seriously. How was that one year ago?!
So while I can't believe it's been two years that we've been hangin' out in this here corner of the internet, I definitely knew we'd be in need of some major celebration. As you probably know by now, in my book, that usually takes the form of an ultra-decadent sweet-and-salty bacon dessert. Also, it's Father's Day! If meat in a dessert doesn't scream "Dad's day", I don't know what does. I know my super sweet-tooth (and bacon-tooth?) Dad would agree!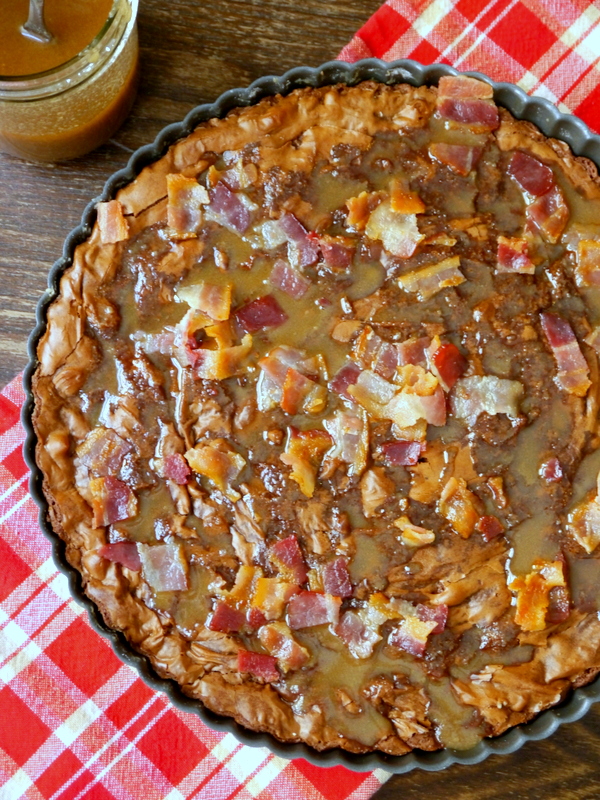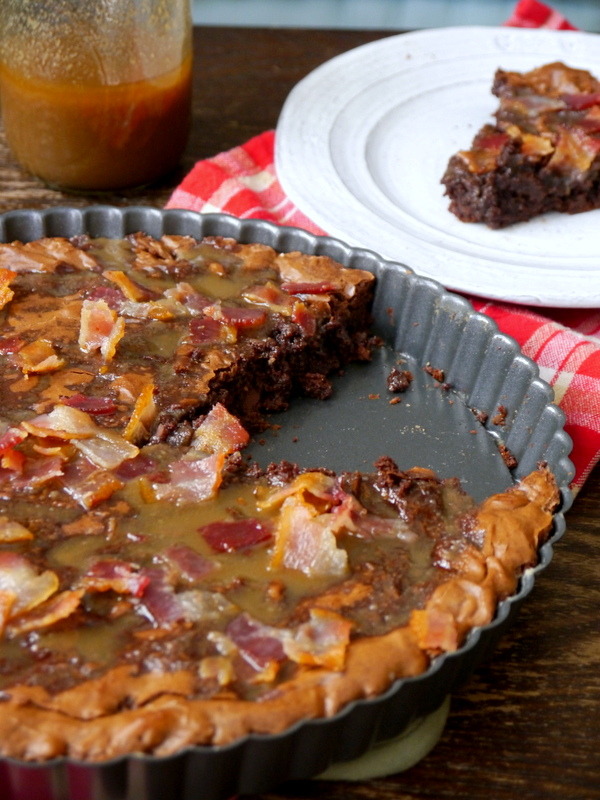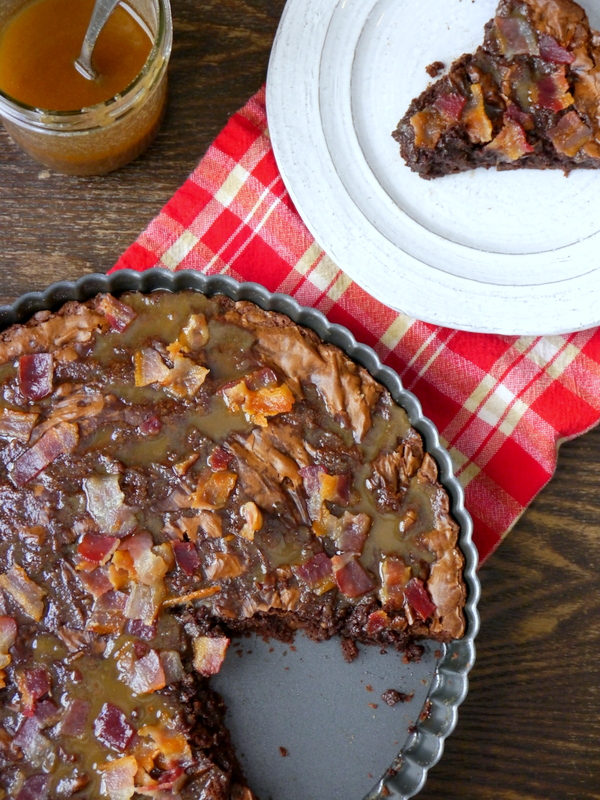 In my humble opinion, this brownie tart with salted caramel bacon topping is the perfect, most decadent way to celebrate two incredibly awesome years of food-blogging. First of all, let's talk about the brownie tart. It's SERIOUSLY AMAZING. I used Ina's recipe, cuz girl never lets me down, and it was bonkers out of this world. Imagine the most decadent, gooey brownie center combined with crispy brownie-tart edges – that's what this is all about. I mean, it's basically a gooey brownie baked in a tart pan, but that makes for a more fun celebration-like feel, don't you think?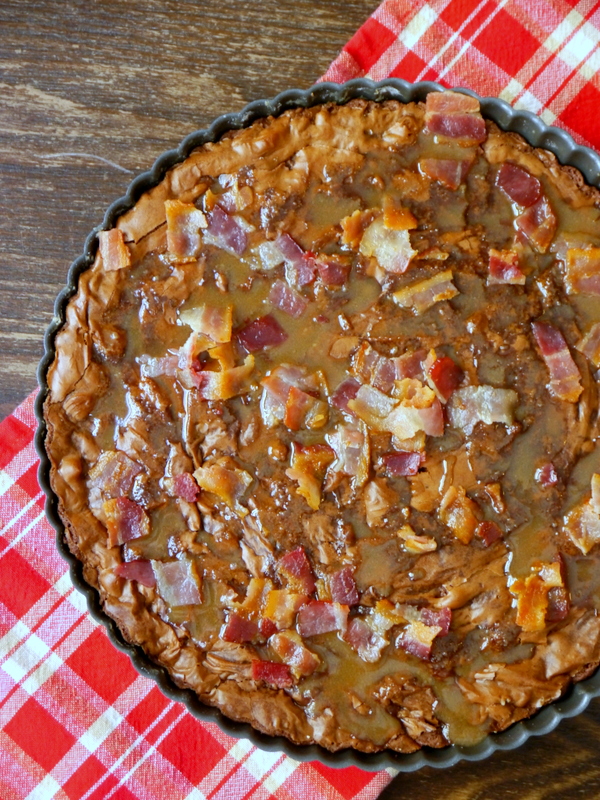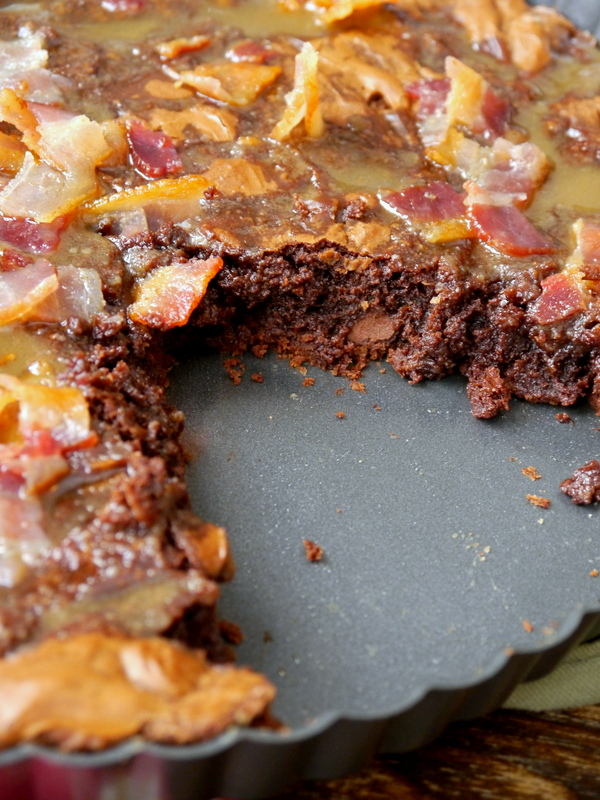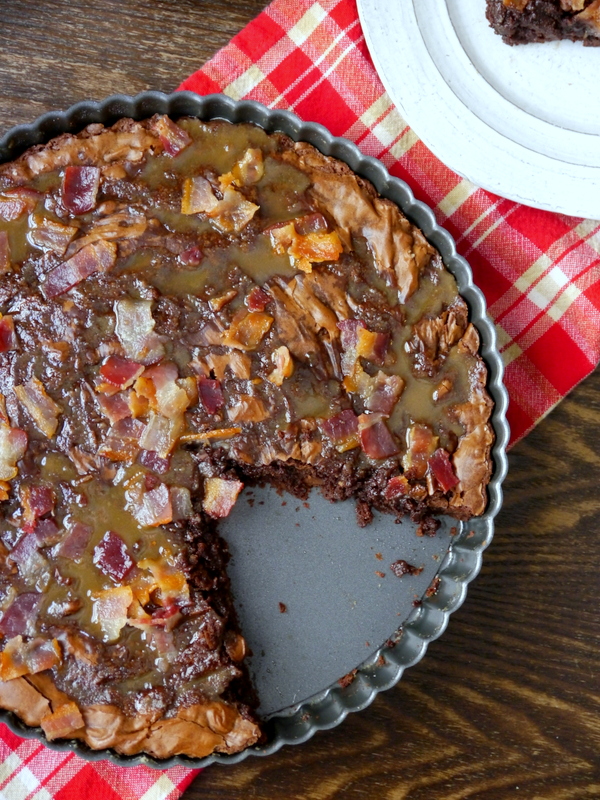 And I clearly love the combination of bacon and salted caramel – it goes together surprisingly naturally, creating the perfect sweet-and-salty balance. This combo is even more insane when drizzled over a warm, fresh-from-the-oven brownie tart. The whole thing was incredibly decadent, perfect for a true celebration. And even Brad, who generally is more in the "no bacon in my desserts, please" camp (can you even believe I'm marrying him?), absolutely loved this. He said the bacon was "subtle" and I couldn't agree more – well, it's as subtle as bacon in salted caramel sauce on top of a brownie could be. Next time you want a special treat for a birthday, anniversary, or other celebration, this brownie tart with salted caramel bacon topping is just the ticket.
Guys, today and every day, thank you so much for tuning in to my weekly posts. I love this blog-baby so much, and it would be nothing without all of you, so THANK YOU, THANK YOU, THANK YOU. Let's bacon-brownie cheers to another incredible year of food and laughs and love!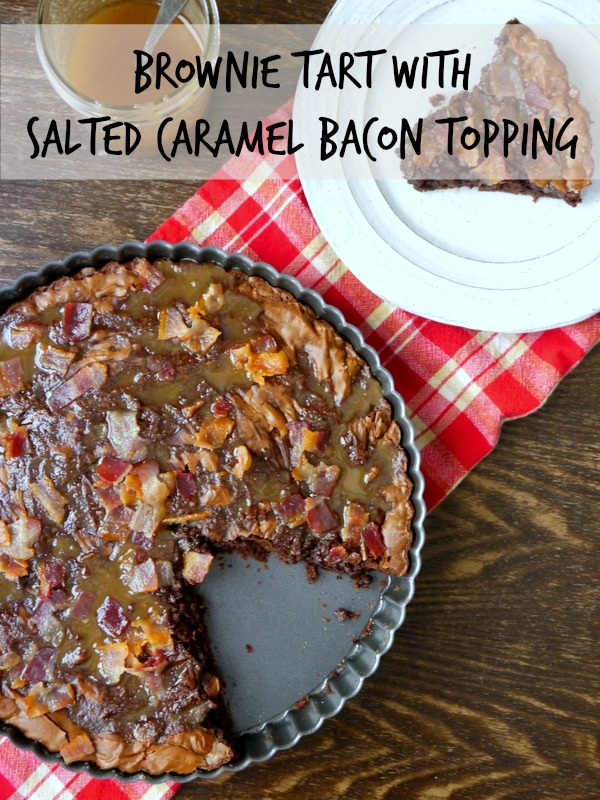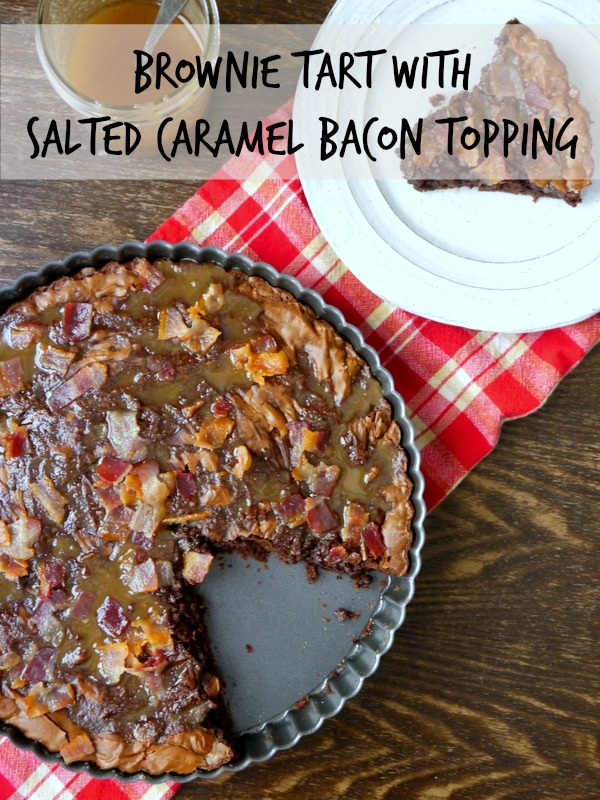 Brownie Tart with Salted Caramel Bacon Topping
2015-06-21 14:56:41
Serves 8
An incredibly decadent, ooey-gooey brownie tart topped with an insane sweet-and-salty salted caramel bacon topping to celebrate 2 years of blogging!
For the brownie tart
6 tbsp. unsalted butter
3 cups semisweet chocolate chips
3 eggs
1 cup granulated sugar
1 tbsp. instant coffee granules
½ tsp. vanilla extract
½ cup all-purpose flour
¼ tsp. baking powder
¼ tsp. kosher salt
For the salted caramel bacon topping
1 batch easy salted caramel (see link below)
4 slices thick-cut bacon, cooked and crumbled
Instructions
Butter and flour an 11-inch tart pan. Preheat your oven to 350°F.
In a double boiler (or a heat-proof glass bowl set above a small pot of simmering water), melt the butter. Turn off the heat and add 2 cups of chocolate chips. Stir with a rubber spatula until totally melted. Remove from the heat and allow to cool completely.
In a large bowl, combine the eggs, sugar, coffee, and vanilla with a hand mixer on medium-high speed. Blend until light and fluffy, about 3 minutes. Stir in the cooled chocolate. In a separate medium-sized bowl, combine the flour, remaining 1 cup chocolate chips, baking powder, and kosher salt. Gently fold the chocolate chip mixture into the wet mixture until combined, taking care not to over-mix.
Pour the mixture into the prepared pan and bake for about 35-40 minutes, until the center is puffy and a bit cracked but the middle is cooked through (it will still be gooey in the middle). Allow to cool to room temperature before topping with salted caramel sauce and bacon crumbles. Slice and serve!
Serve warm, with vanilla ice cream (if desired) or just as-is. Store any leftovers in the fridge due to the bacon topping!
Notes
As a precaution, you may want to place the tart pan on top of a baking sheet to catch any drips – my pan was fine, but I imagine if your pan's sides are shorter this could definitely bubble over a bit.
I recommend making the salted caramel sauce a day before to allow it to really firm up in the refrigerator! I forgot to do this and it's not as thick as I'd like in these pictures. The day before is the way to go!
My Bacon-Wrapped Life http://www.mybaconwrappedlife.com/

Brownie tart from Ina Garten and easy salted caramel sauce from this salted caramel bacon ice cream pie.

Looking for more decadent bacon desserts?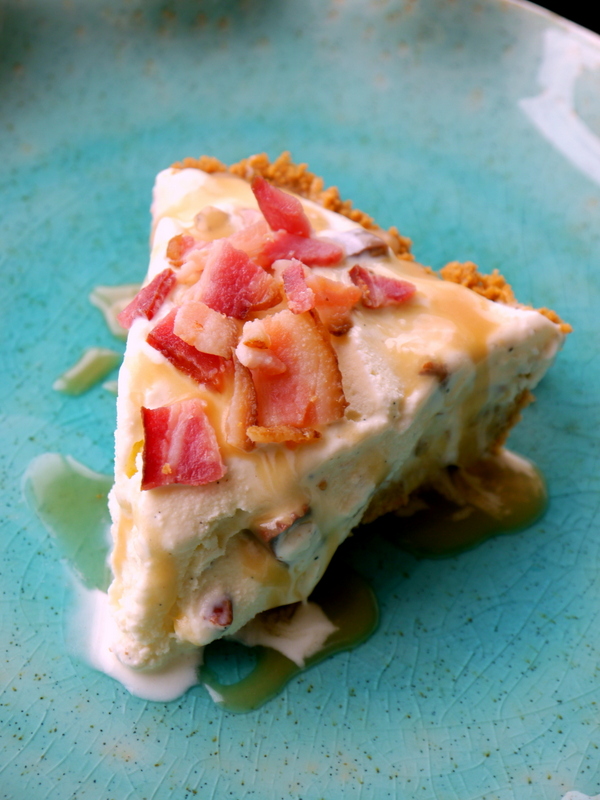 Salted Caramel Bacon Ice Cream Pie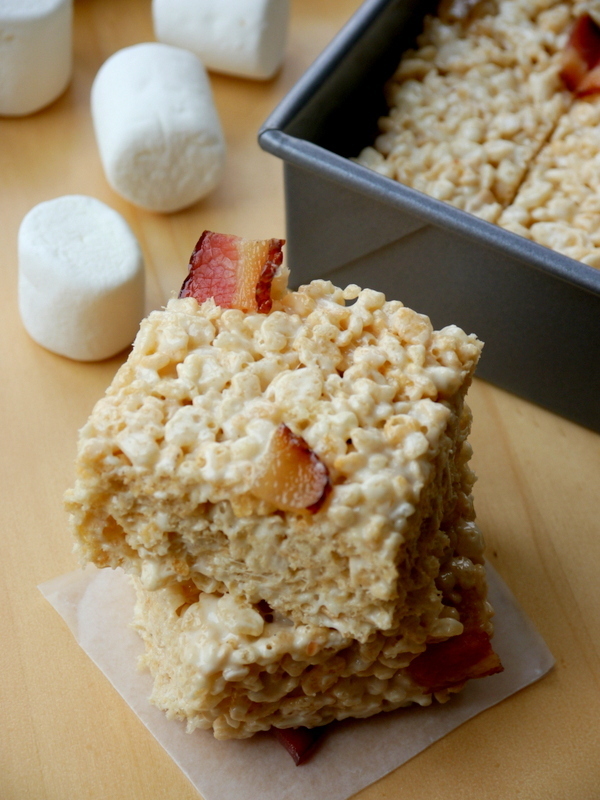 Browned Butter Bacon Rice Krispie Treats