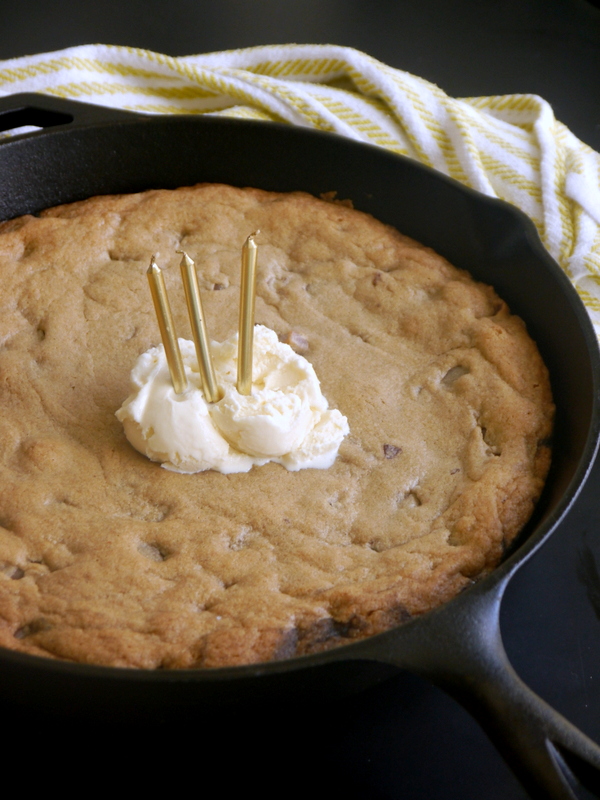 It makes me so happy that every year, Father's Day falls right around my "blogiversary" – the anniversary of the day I started blogging! My Dad and I have the exact same taste in desserts – with anything warm, gooey, and topped with vanilla ice cream way up on the top of the list. I think this makes the cut, wouldn't you say?
It's become a little tradition around here to bake a big decadent dessert with bacon to celebrate another year of life, love, and copious amounts of food on My Bacon-Wrapped Life. If you've followed this space for awhile, you know that I am definitely not a cake person – I'll take brownies, cookies, ice cream, pie, etc. any day. So for my celebration I wanted to make perhaps one of my ALL-TIME favorite desserts – a warm, gooey, enormous skillet baked chocolate chip cookie!
…with bacon of course. Topped with vanilla ice cream. (!!!!!)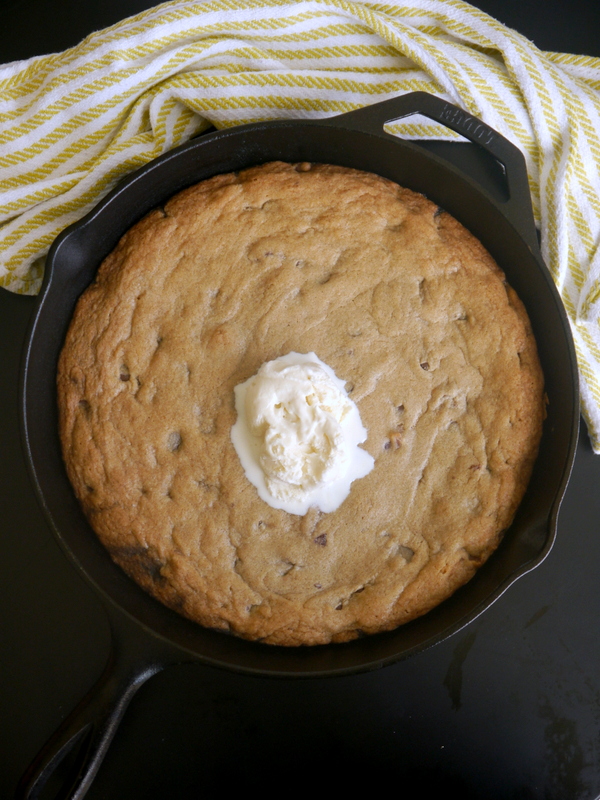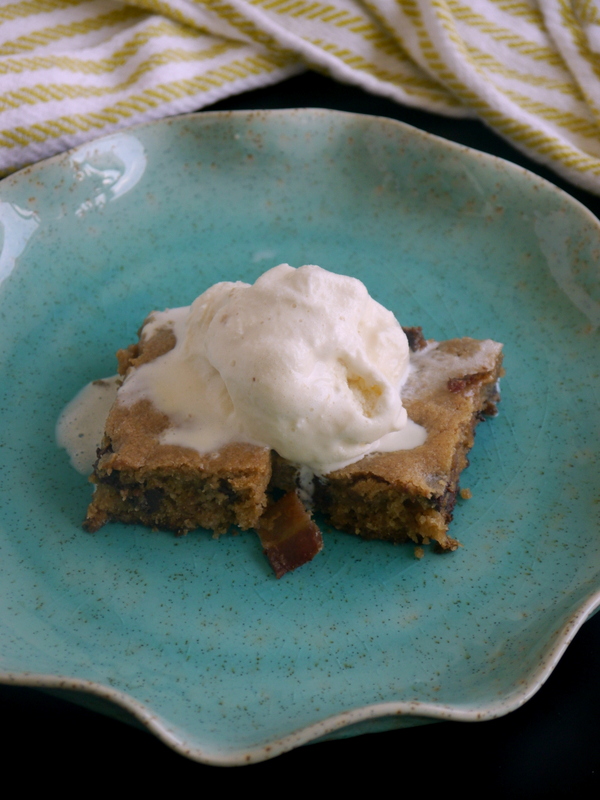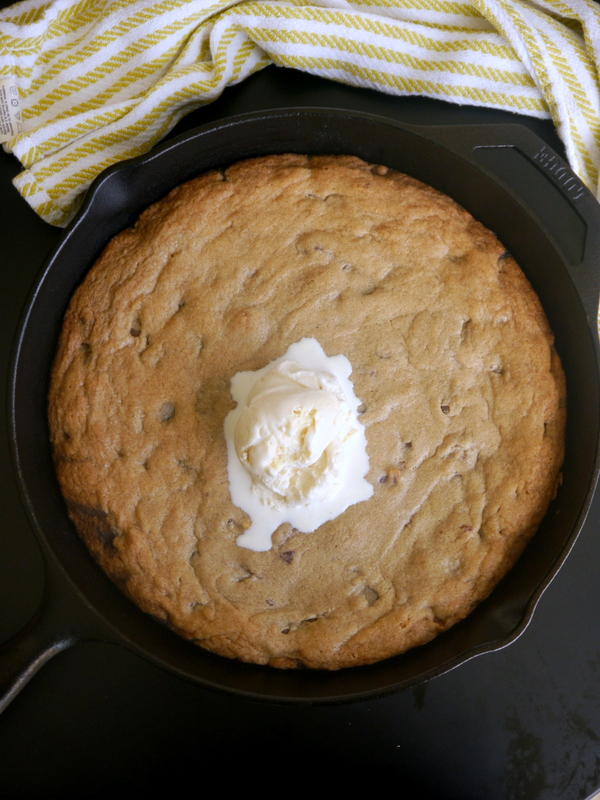 I know my Dad would absolutely love this skillet bacon chocolate chip cookie – it's warm and gooey and barely cooked in the middle, with those incredible lightly browned skillet-crunchy sides, so everyone can choose their own adventure. There's just enough bacon to give it that perfect sweet-and-savory vibe, but not enough to feel like you're eating a meat cookie (ew). It's an insanely decadent, family-style dessert that is made to share with those you love most – perfect for Father's Day for a sweets-lovin' pop or a food blogiversary celebration of another year of cooking up a storm on this here space.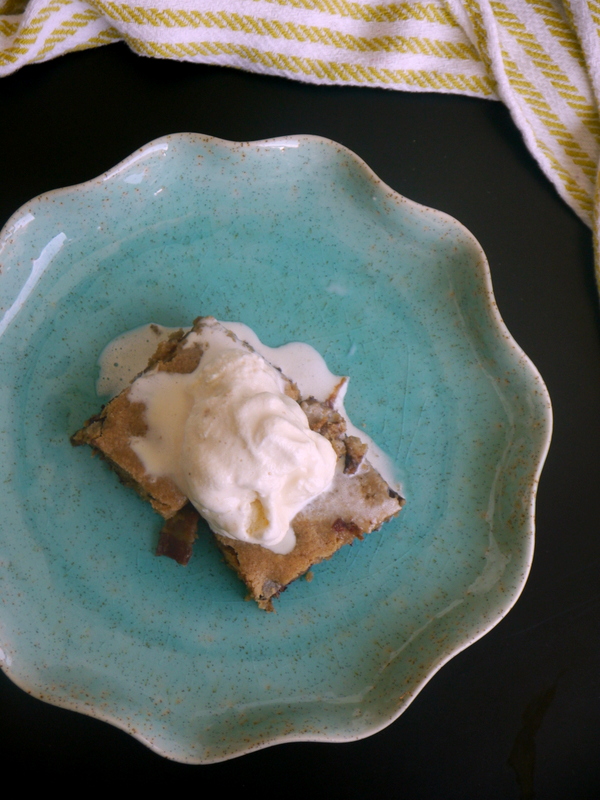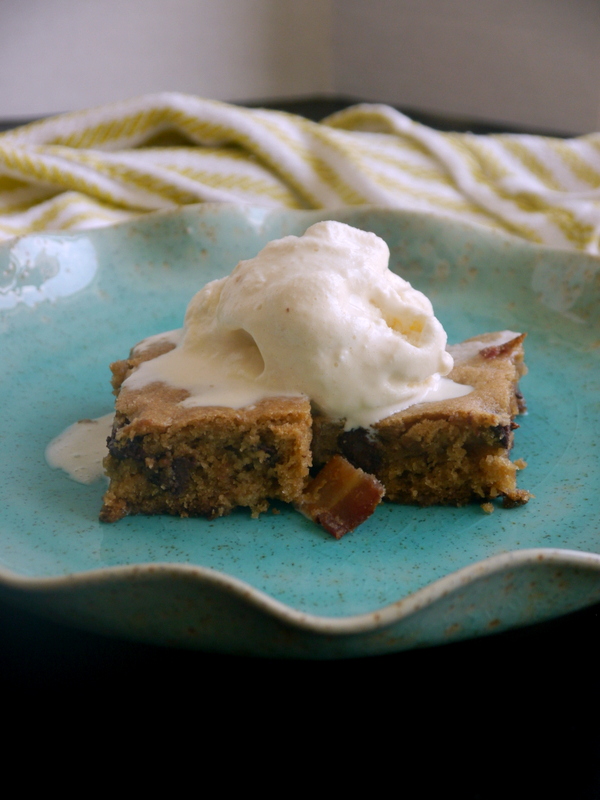 I probably sound like a broken record every year, but it means so much of me that every single one of you, every single eyeball reading this right now, tune in for my weekly ramblings on sugar, carbs, and, yes, often bacon. This has been my happy and creative space for three years now, and I will always hold this blog and everyone who visits it, whether I know you or not, so close to my heart. But to be fully honest, this year has been rough. Between moving across the country to an apartment we hated (that had arguably the worst lighting of all time, ugh) to planning a wedding to working a much more demanding job, this blog sometimes felt more like a nuisance than a hobby, something I'm, ya know, supposed to be doing for FUN. And that just breaks my heart. This blog is one of my very favorite things in the whole world, and I know in order to continue to do it justice and practice one of my resolutions for this year (to be kinder and more forgiving to myself), I have to make some changes. Adhering to a schedule that no longer serves me or makes me happy is something I need to stop doing, as much as my stubborn, perfectionist self hates to admit it. So moving forward, I am not going to post every Sunday. I absolutely still plan on posting recipes, but it might be every month, or every other month, or maybe two weeks in a row – I have no idea, and I want the flexibility to take breaks when I need to. I think the result will be much more exciting posts and a much happier and passionate me, which is exactly why I fell in love with this place in the first place. So, more than ever, THANK YOU for being here, thank you for listening, and than you for letting this be a space full of love, laughs, and ridiculous amounts of bacon. I love you all!! And I'll be back once I'm a MARRIED lady!!
In the meantime, I leave you with one skillet cookie and all the spoons. No plates required. Dig in!! And happy Father's Day to the best Dad in the entire world!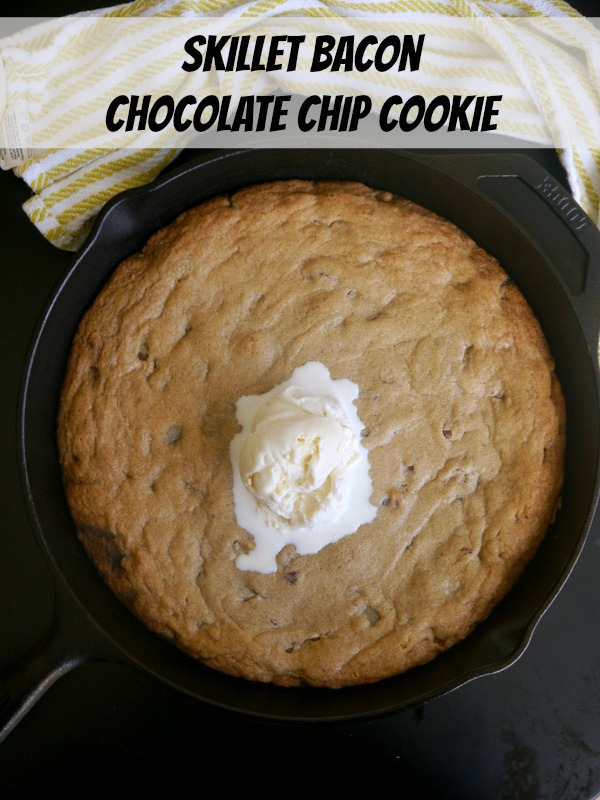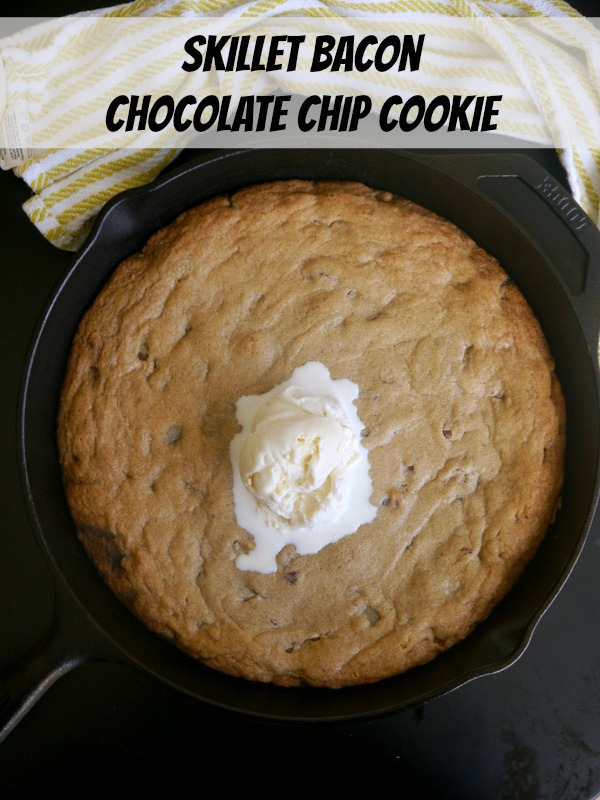 Skillet Bacon Chocolate Chip Cookie
2016-06-19 17:07:41
Serves 8
A warm and gooey oven-baked skillet chocolate chip cookie is loaded up with bacon and topped with vanilla ice cream for the most decadent and delicious dessert ever!
Ingredients
1 cup (2 sticks) unsalted butter, softened to room temperature
½ cup sugar
1 cup brown sugar
2 eggs, room temperature
2 tsp. vanilla
2 ½ cups all-purpose flour
1 tsp. cornstarch
1 tsp. baking soda
½ tsp. salt
1 cup dark chocolate chips
2 pieces thick-cut bacon, cooked and chopped
Vanilla ice cream, optional, for serving
Instructions
Preheat your oven to 325°F. Spray a 10 or 12-inch oven-safe skillet (such as cast iron) with cooking spray and set aside.
In a large bowl, cream the butter with a hand mixer until creamy. Add in the sugars and mix on medium high speed until light and fluffy. Add in the eggs and vanilla and mix in until combined.
In a separate bowl, whisk together your dry ingredients – the flour, cornstarch, baking soda, and salt. Add the dry ingredients to the sugar-butter mixture a little bit at a time, mixing to combine in between each addition, until completely combined. Add in the chocolate chips and chopped bacon and stir to evenly distribute.
Use a rubber spatula to spread the cookie dough evenly in the bottom of the prepared pan. Bake for 30-35 minutes, until lightly browned on top. Allow to cool slightly before topping with vanilla ice cream and digging in spoons first!
Adapted from Sally's Baking Addiction
My Bacon-Wrapped Life http://www.mybaconwrappedlife.com/
Blogiversary treats: Year 1 and Year 2!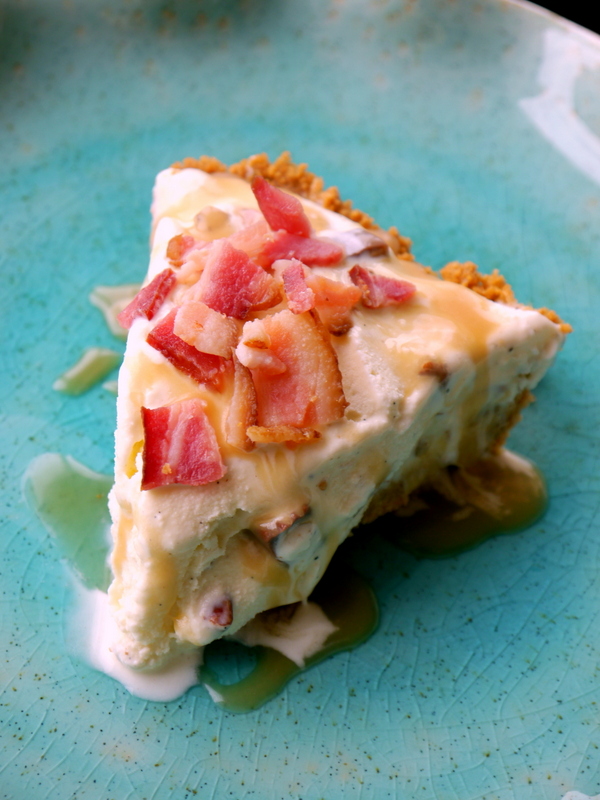 Salted Caramel Bacon Ice Cream Pie