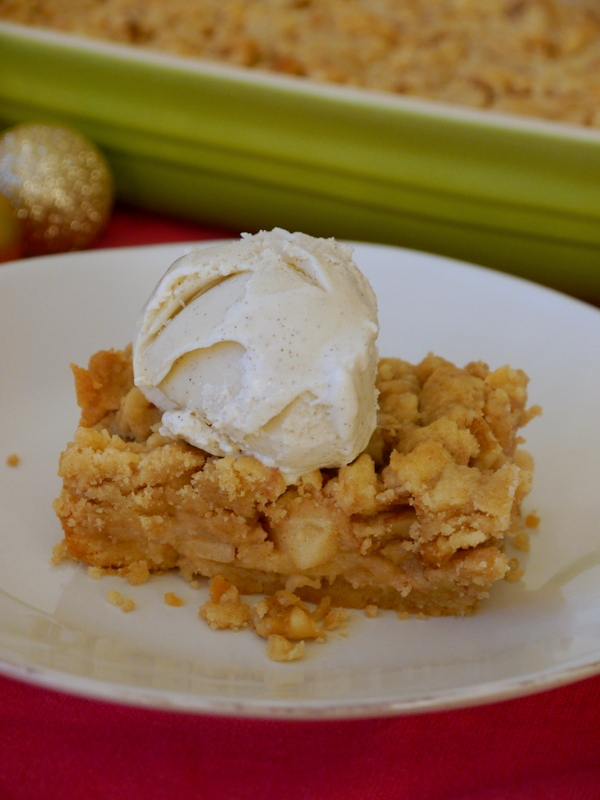 Well, we're right in the thick of it, aren't we? No matter how busy it always is, December is forever my favorite month of the year. Between holiday parties, birthdays (it's both Brad + my birthday month!), gift shopping, decorating, and holiday baking galore, it's pretty much an entire month full of things that I love. And, of course, the baking just might be my very favorite part (well, besides all the wine).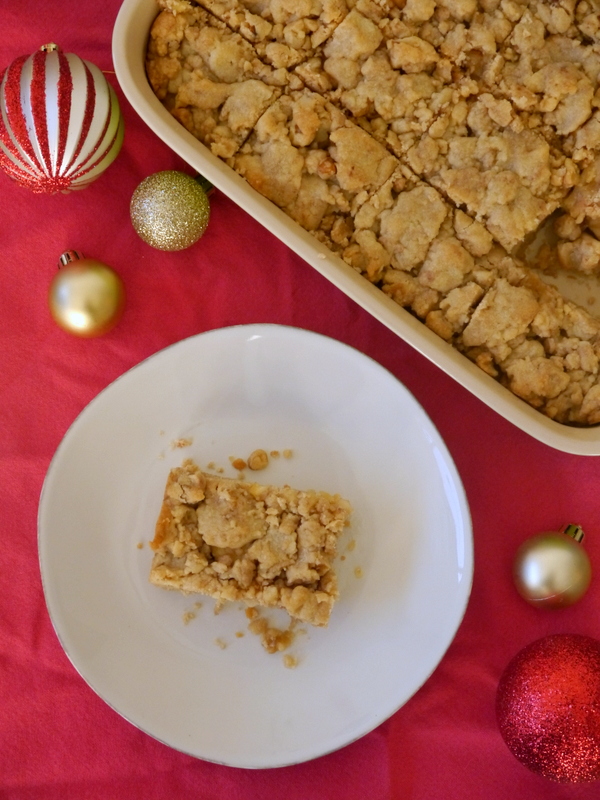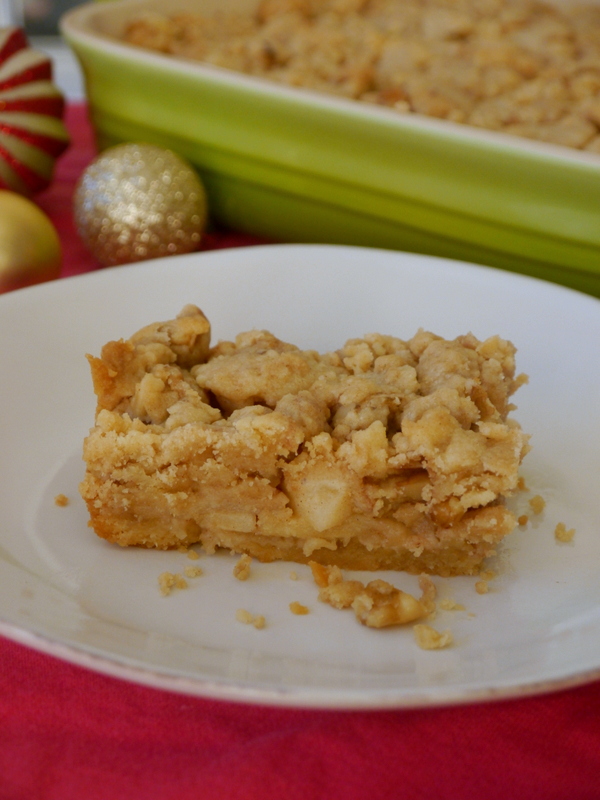 I have a few classics that I make every year, but each holiday season I like to try at least one new recipe to add to the mix. I figure if I never try anything new, how can I find my new favorite thing?! This year my holiday baking adventure was these buttery shortbread apple pie bars, and…let's just say I think we have a new Lookabaugh family holiday staple.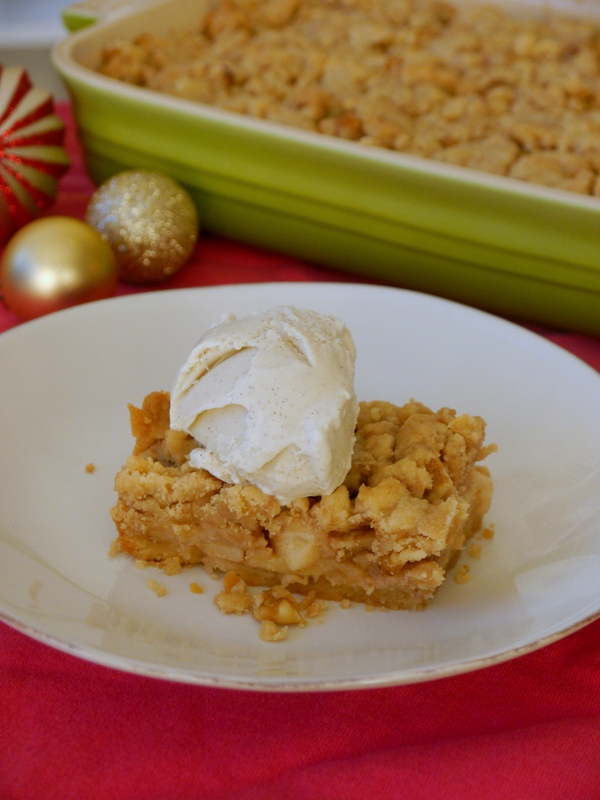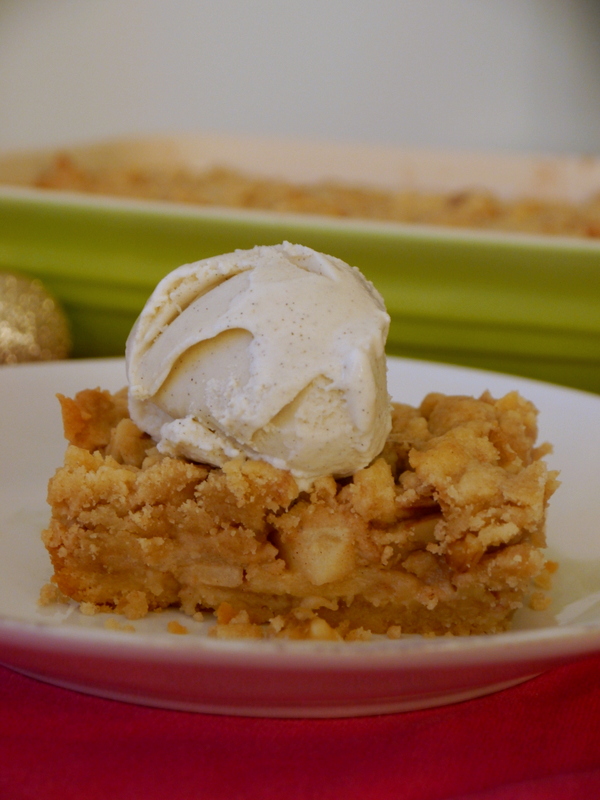 These bars were AMAZING – a seriously decadent buttery shortbread dough topped with soft, fragrant cinnamon-sugar apples, with more dough mixed with cinnamon and walnuts dolloped on top. The result is the best apple pie you've ever had (because let's be real, shortbread > pie crust any day!). It's also in handy-dandy bar form, which is so much more convenient than pie for transportation and sharing. I had high hopes for these warm, cozy holiday-perfect bars and they exceeded them completely. Do yourself and your family and friends a favor and bake up a batch of these apple pie bars this holiday season!
P.S. I don't even need to tell you that you MUST eat these with vanilla bean ice cream, right? Of course not.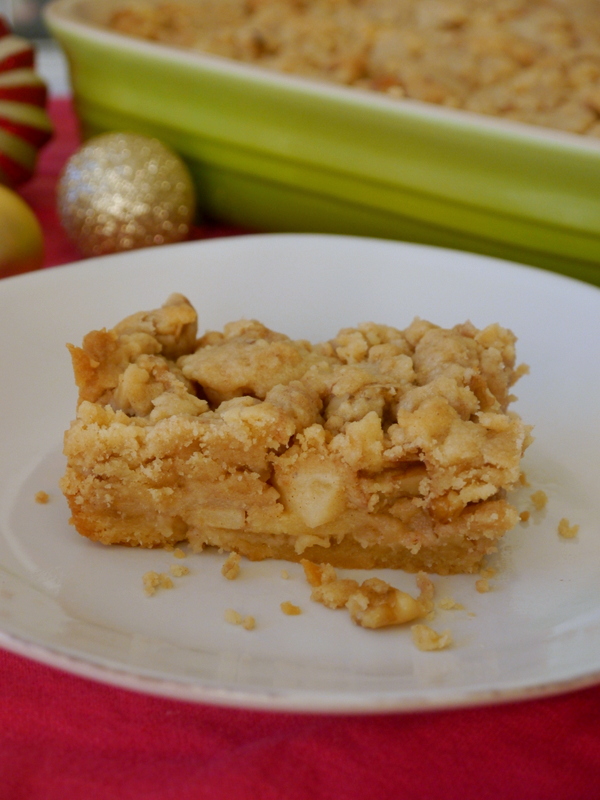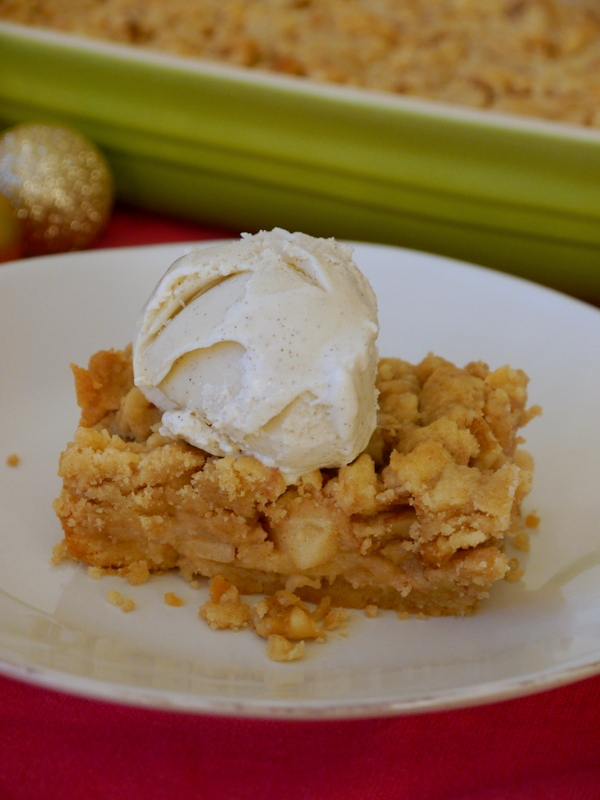 Buttery Shortbread Apple Pie Bars
2017-12-17 13:46:23
Serves 12
These buttery shortbread apple pie bars are an apple pie lover's dream! With a shortbread base and cinnamon-sugar apple filling, these bars are just begging to be served warm with a big scoop of vanilla ice cream.
For the shortbread
1 lb. unsalted butter, room temperature
¾ cup sugar
½ cup brown sugar
2 tsp. vanilla
4 cups flour
1 ½ tsp. kosher salt
½ cup chopped walnuts
1 tsp. cinnamon
For the apple pie filling
3 large Granny Smith apples, peeled, cored, and sliced in 1/8-inch thick slices
3 large Golden Delicious apples, peeled, cored, and sliced in 1/8-inch thick slices
2 tbsp. lemon juice
¼ cup sugar
1 tsp. cinnamon
1/8 tsp. nutmeg
4 tbsp. (1/2 stick) unsalted butter
Instructions
Preheat your oven to 375°F. Butter a 9 x 13 inch baking dish and set aside.
In a large bowl or stand mixer, combine the softened butter, both sugars, and vanilla and beat on medium speed for about 2 minutes. Add in the salt and then the flour a little bit at a time, beating on low speed until combined in between batches. Spread 2/3 of the dough in the bottom of the prepared baking dish, spreading evenly and pressing about ½ inch up the sides of the pan to form a crust. Refrigerate the pan of dough for 20 minutes, then remove and bake for 18-20 minutes (the crust should be very lightly golden brown). Set aside to cool.
While the shortbread bakes, stir the chopped walnuts and cinnamon into the remaining third of dough. Place the remaining dough in the refrigerator while you prepare the apple filling.
In a large bowl, combine the apples and lemon juice until well-coated. Stir in the sugar, cinnamon, and nutmeg and mix until combined. Melt the butter in a saucepot or large high-sided pan, then add the apple mixture and cook for 12-15 minutes, until the apples are soft. Spread the apples over the crust, leaving a small border on the edges.
Take the remaining dough from the refrigerator and dollop over the top of the apple filling with your fingers. Bake the bars for 25-30 minutes, until the shortbread on top is light golden brown and the apples are bubbly. Cool completely, then cut into bars and serve!
Adapted from Cooking for Jeffrey by Ina Garten
My Bacon-Wrapped Life http://www.mybaconwrappedlife.com/
Looking for more holiday baking inspiration?