This shop has been compensated by Collective Bias, Inc. and its advertiser. All opinions are mine alone. #MemoriesInTheBaking #CollectiveBias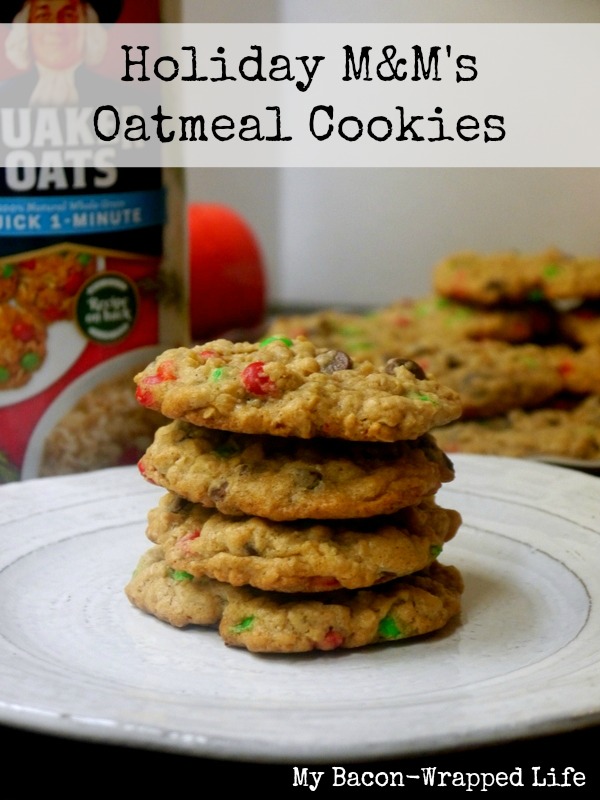 Guys, it's here!!! The most wonderful time of the year!
I'm sure it comes as no surprise that I go all out for the holidays, at least food-wise. For us bakers, it's pure heaven – so many opportunities to whip up sweet treats for our favorite people in the entire world! Between the endless piles of butter and sugar, Christmas carols, twinkly lights, and cozy nights (yes, even in California) it's basically impossible not to feel warm and fuzzy in December. I LOVE it!
So when it's time to get my holiday baking on, my first stop every year, without fail, is Target. I mean, they just. Have. Everything. I giddily walk through the aisles of holiday goodies and feel like I GOT THIS. For my holiday baking this year, I picked up M&M'S® Holiday Baking Minis, Quaker Quick 1-Minute Oats, and Glad® Holiday Edition containers for my all-time favorite cookie recipe – Brad's moms oatmeal chocolate chip cookies.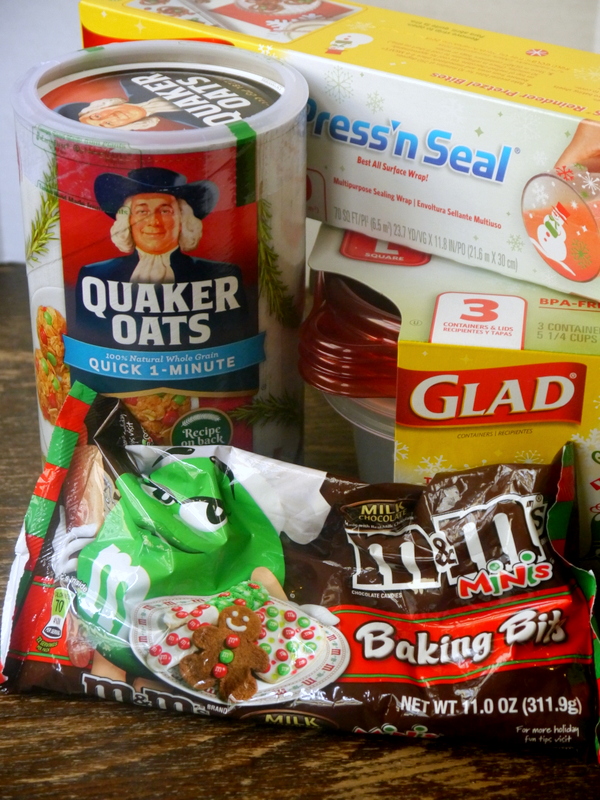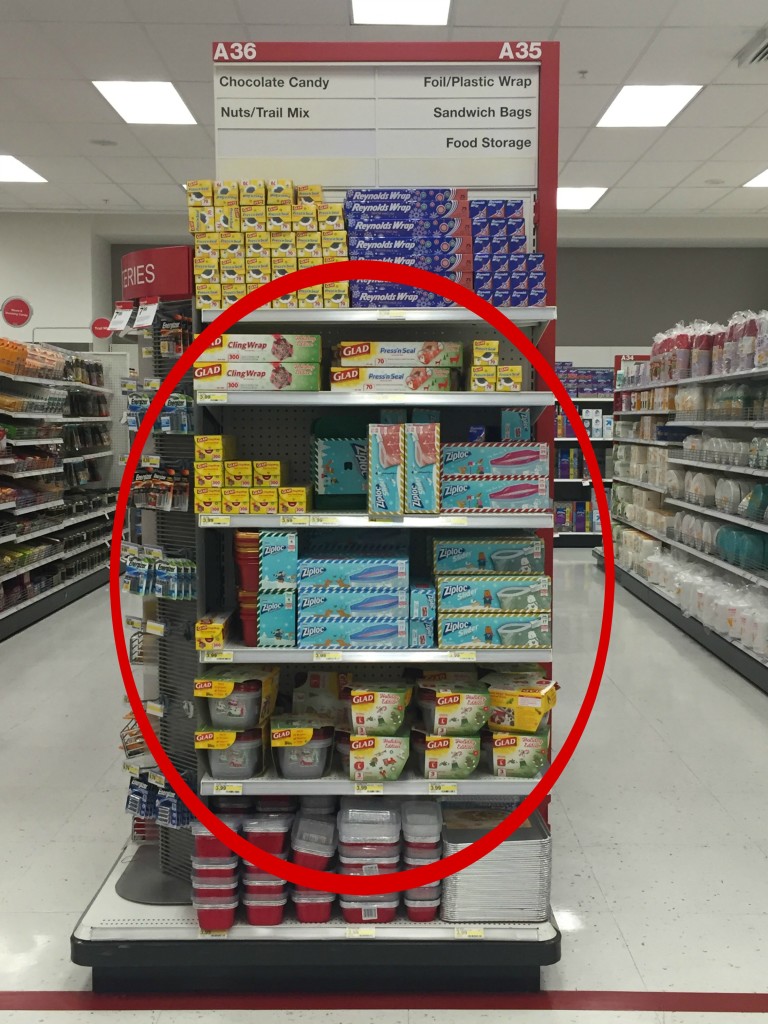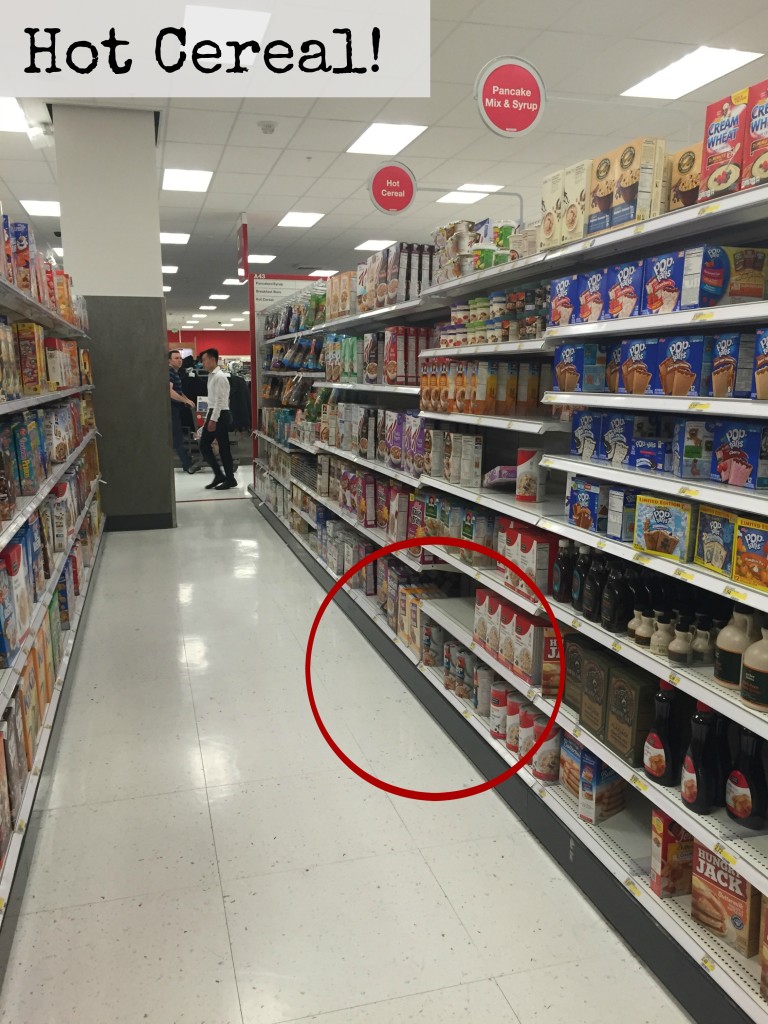 This year, to add extra holiday flair, I subbed in M&M'S® Holiday Baking Minis for half of the chocolate chips in these family oatmeal cookies, and I could not be happier with how they turned out. These holiday M&M'S® oatmeal cookies are incredible – chewy and sweet and hearty and full of texture from the oats. They're hands-down the best oatmeal cookie recipe I've ever had, and the chocolate chips and M&M'S® add the perfect sweet touch.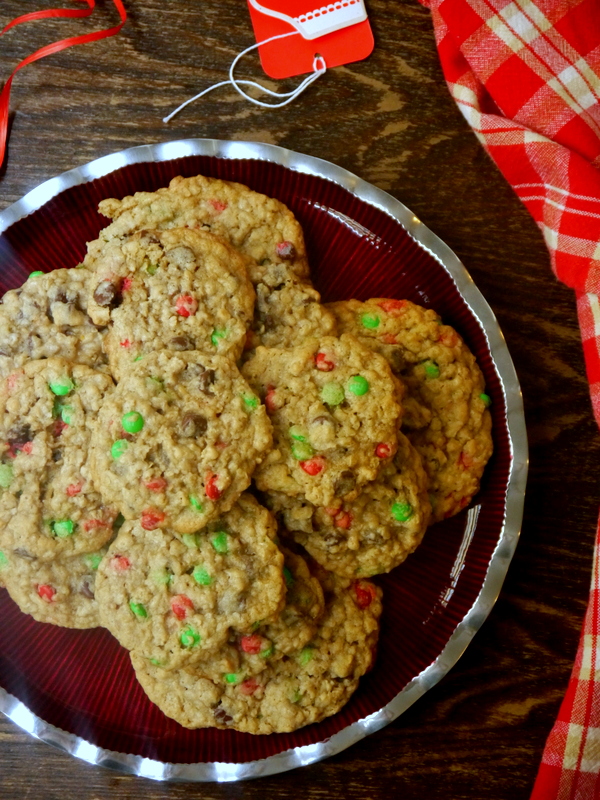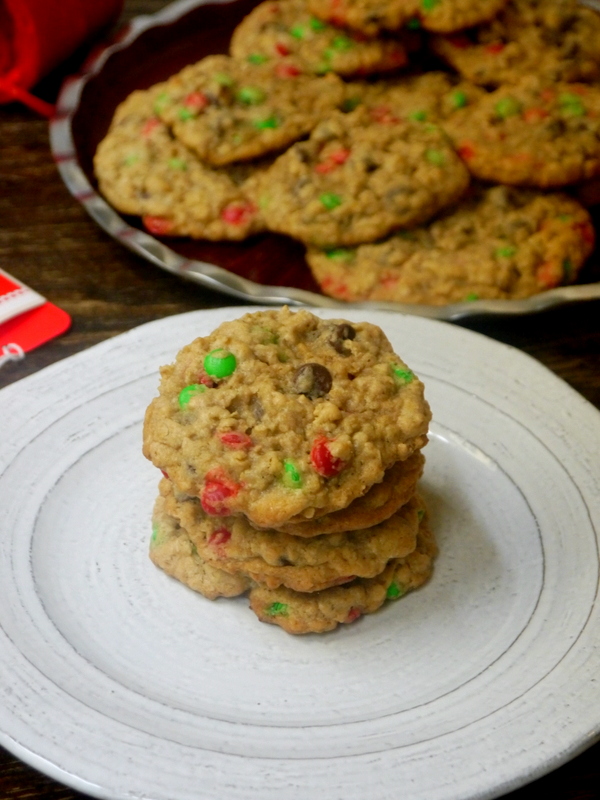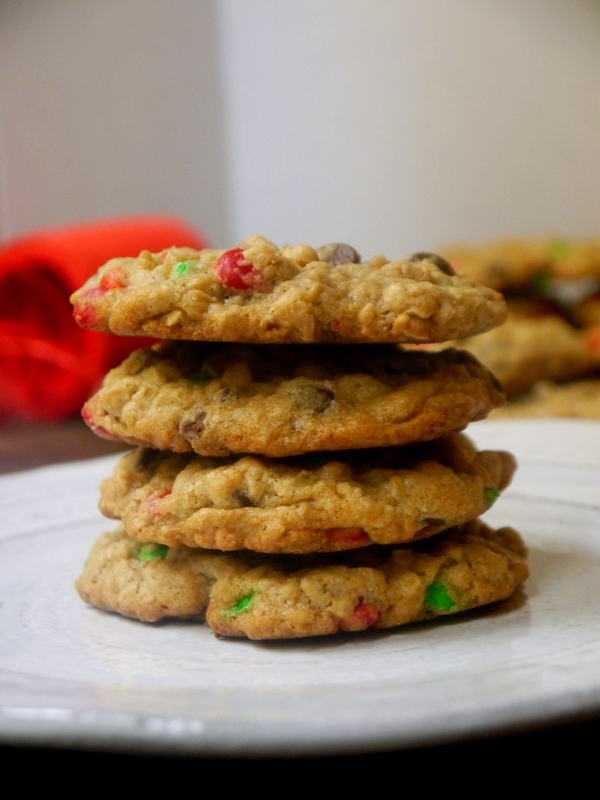 The best part? The packaging!! I am the least crafty person in the world (my creativity is confined to the realm of butter and sugar) so I absolutely love these Glad® Holiday Edition containers for packaging up my Christmas cookies. All you need is to pack up your cookies, tie up the container with some cute red twine or ribbon, and add a holiday gift tag – done! Your cookies are ready for gifting and sharing with the people you love.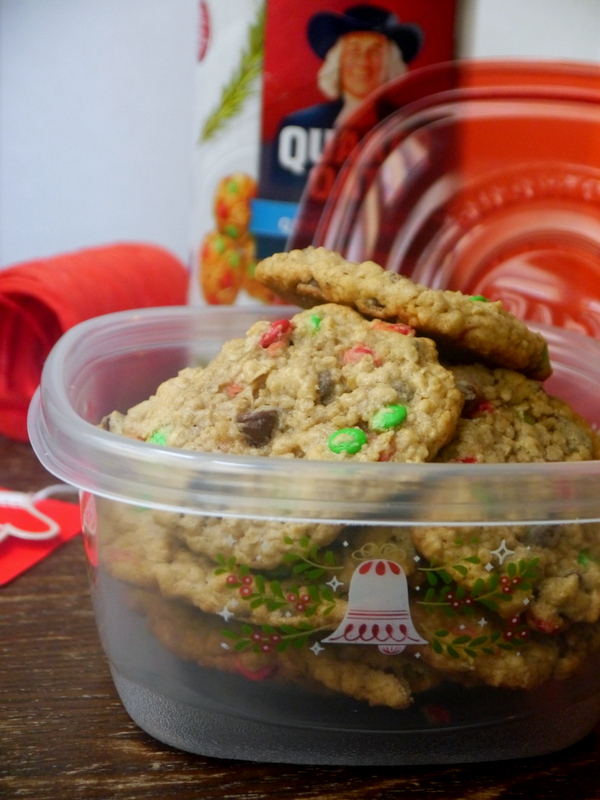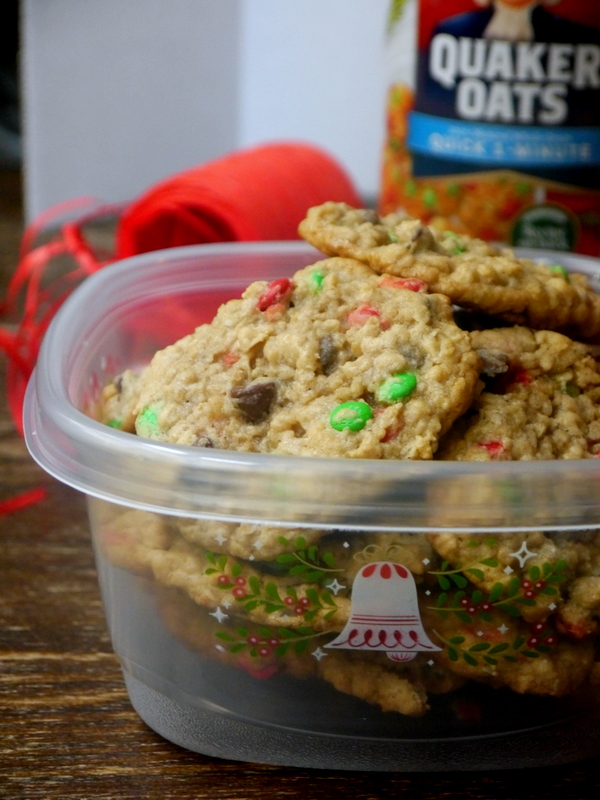 If holiday baking is warm and fuzzy, making a tried and true family recipe is doubly so. I absolutely love making recipes from Brad's side of the family, and I know these cookies will be a staple in our home as we build our own family traditions as well.
If you're looking for more insanely delicious holiday baking inspiration, you MUST check out all the fantastic recipes and holiday savings at Target over here! #MemoriesInTheBaking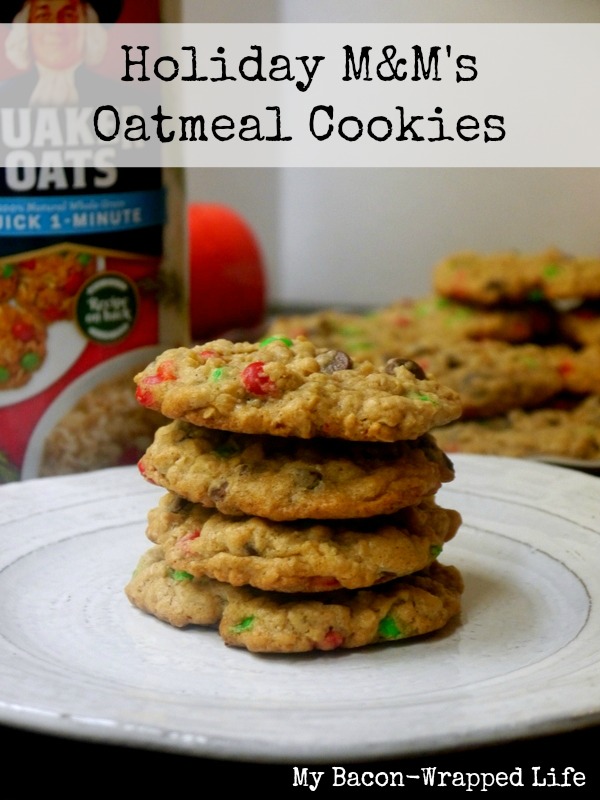 Holiday M&M's® Oatmeal Cookies
2015-12-06 21:12:57
My all-time favorite cookie recipe, these sweet and chewy holiday M&M's® oatmeal cookies are the best gift to share with the people you love this holiday season!
Ingredients
1 cup Crisco
1 cup (2 sticks) butter, softened slightly
2 cups brown sugar
2 cups granulated sugar
4 eggs
2 tsp. vanilla
1 tsp. water
3 ½ cups flour
2 tsp. baking soda
2 tsp. salt
4 cups Quaker oats (either quick or old-fashioned is fine)
1 12-ounce package chocolate chips
1 package M&M'S® Holiday Baking Minis
Instructions
In a VERY large bowl, beat together the butter, Crisco, and both sugars until light and fluffy. Add vanilla, water, and eggs, and beat to combine again. Add the flour, baking soda, and salt, and beat to combine once more. Stir in the Quaker oats, chocolate chips, and M&M'S® Holiday Baking Minis by hand until the whole thing is very well combined. Transfer the bowl to the refrigerator to allow the dough to chill for about 15 minutes while your oven preheats.
Preheat your oven to 350°F. Line 2-3 large baking sheets with parchment paper. Top with dough in 2-3 tbsp. portions (depending on how large you like your cookies) and bake for about 12 minutes, until lightly golden on top. Using a spatula, transfer to a wire baking sheet to cool completely. Repeat, as needed, until dough is all used up. Eat warm or package up for holiday gifting!
Notes
This recipe makes a TON of cookies. How many batches you'll need depends on how big you make the cookies and how big your oven is. Cook time is for one batch of cookies.
These cookies are adapted from a Lookabaugh family recipe!
My Bacon-Wrapped Life http://www.mybaconwrappedlife.com/