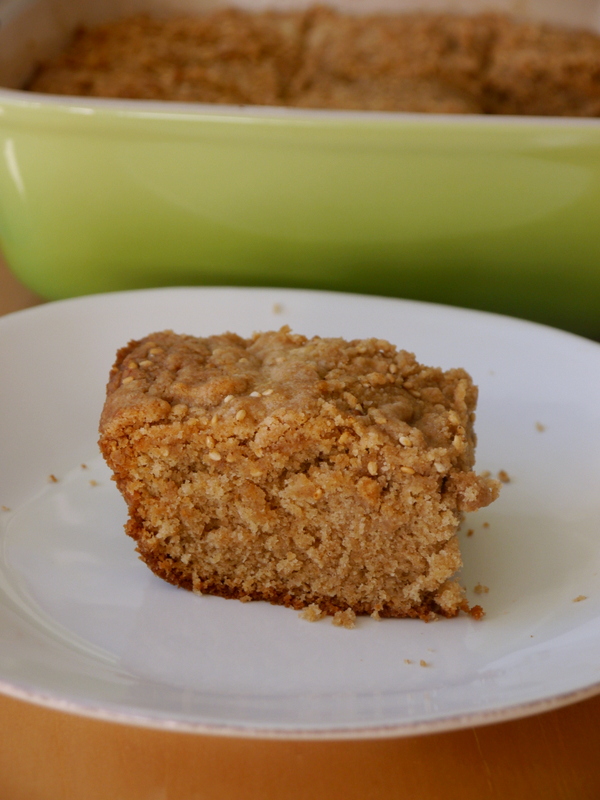 Guys. Meet my new favorite thing.
TAHINI COFFEE CAKE.
Have you completely fallen in love with tahini yet? I say yet because I'm convinced that once you try it, you can't help but become completely obsessed. Over the past few years, tahini has become one of my very favorite savory ingredients (see here and here for some of my still-favorite ways to use it, not to mention every hummus ever). But it wasn't until I put tahini in my banana bread that I fully appreciated its depth and complexity. Guys, tahini in baked goods is SO GOOD. It's truly that next-level ingredient that adds this super unique, salty twist to sweets – my absolute weakness. (By the way, that banana bread is still my all-time favorite ever – I definitely owe you guys that recipe soon!).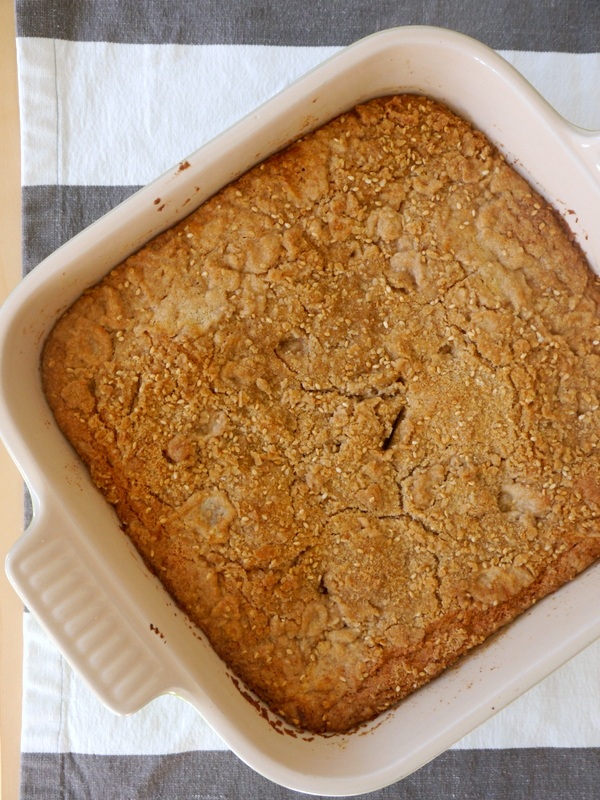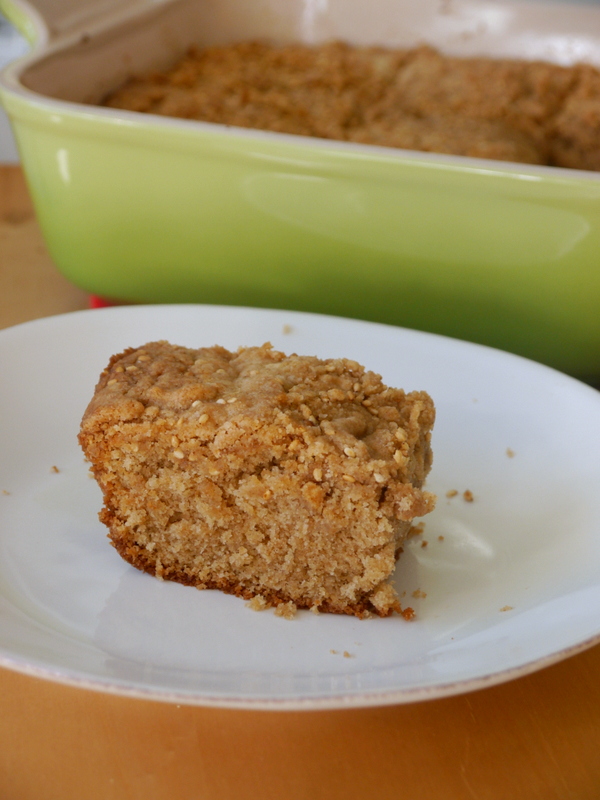 All of this brings me to this * jazz hands * tahini coffee cake. I had been craving some fall baking that felt not SO aggressively pumpkin-spice-y (it's still pretty hot here, after all) and this tahini coffee cake was the perfect thing. It's warmly spiced and cozy, but still felt right at home on an 80 degree day in California. The cake is so moist and flavorful but not too rich, and the sesame seed crumble on top is the perfect textural contrast to the soft cake. It's truly how a coffee cake should be – a good breakfast or snack cake, not too sweet or heavy but just a little bit special and decadent. I'm already dreaming of the gigantic slice I'm going to have for breakfast tomorrow….
Happy Fall baking! I hope this hits the spot wherever you are, too. Xoxo!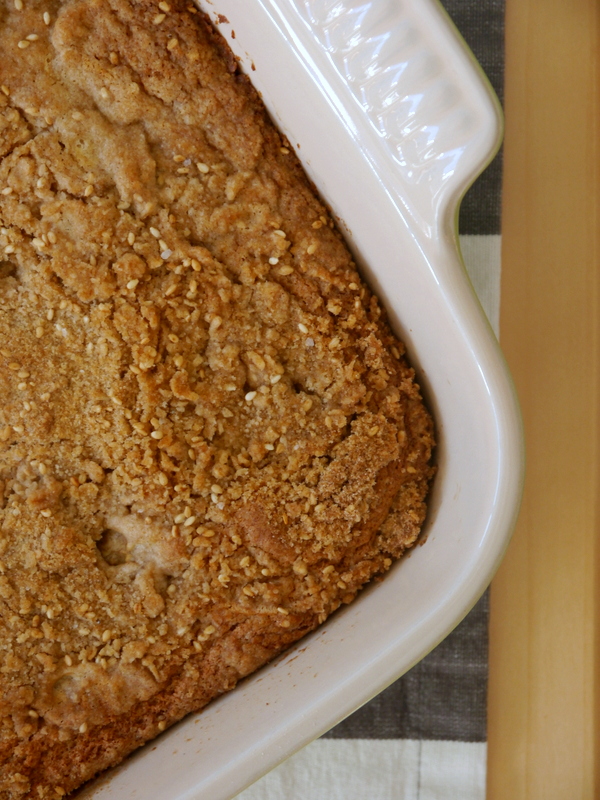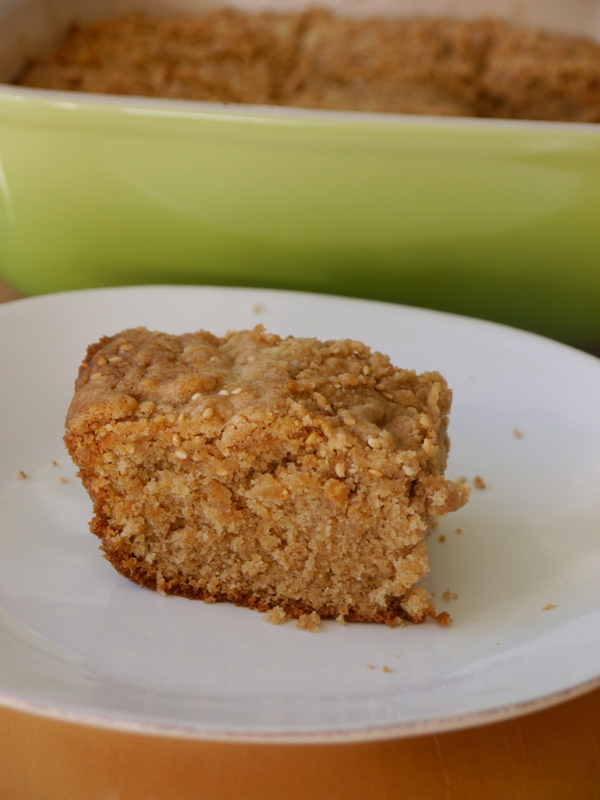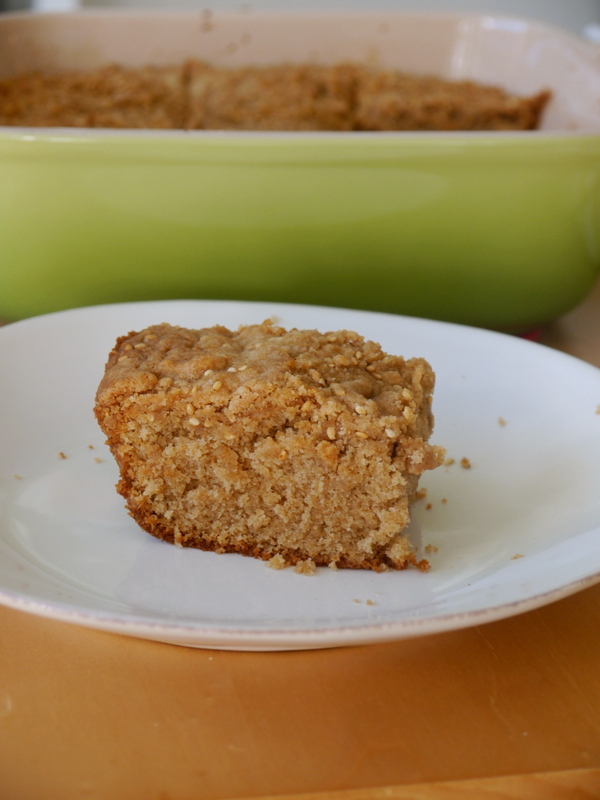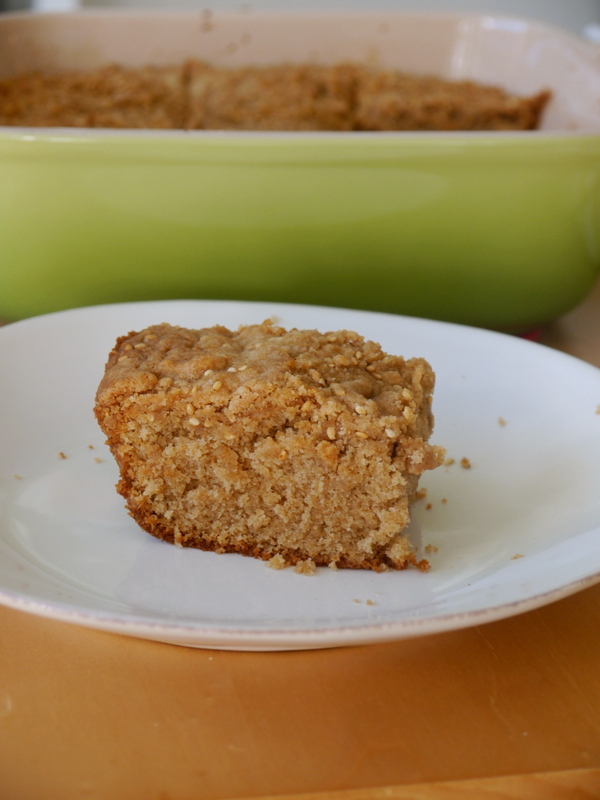 Tahini Coffee Cake
2017-10-22 17:49:04
Serves 12
This tahini coffee cake is the absolute perfect fall treat - cozy, warmly spiced, and filled with deep, delicious sesame flavor from the tahini!
For the crumble topping
¾ cup all-purpose flour
½ cup brown sugar
¼ tsp. kosher salt
½ tsp. cinnamon
½ tsp. Hawaij (see notes)
6 tbsp. unsalted butter, cut into small chunks, refrigerator-cold (I cut it into chunks and then stick it in the refrigerator while I get the rest of the ingredients together)
2 tbsp. toasted sesame seeds
For the coffee cake
1 ½ cups all-purpose flour
1 tsp. cinnamon
1 tsp. Hawaij
1 tsp. baking powder
½ tsp. baking soda
½ tsp. kosher salt
½ cup unsalted butter, softened to room temperature
1/3 cup tahini
1 cup granulated sugar
1 egg
1 egg yolk
2 tsp. vanilla
½ cup sour cream
Instructions
Preheat oven to 375°F. Butter an 8x8 inch baking dish and set aside.
In a medium bowl, combine the flour, sugar, salt, cinnamon, Hawaij, and sesame seeds. Add the cold butter cubes and combine with your fingers until the butter is the size of small peas, working as quickly as possible to keep the butter cold. When thoroughly combined, put in the bowl in the refrigerator to stay cold while you prepare the cake.
In a large bowl, combine the flour, cinnamon, Hawaij, baking powder, baking oda, and salt. Whisk to combine and set aside.
In a stand mixer (or large bowl with a hand mixer), cream together the butter, tahini, and sugar until well-combined and fluffy. Add the egg and egg yolk, combine again. Add the vanilla and combine again. Add in half the dry ingredients, combine, then add the sour cream, then the other half of the dry ingredients. Mix until just combined.
Transfer the batter to the prepared baking dish and smooth evenly. Sprinkle the crumble topping over the top. Bake for 35-40 minutes, or until a toothpick inserted into the center comes out clean. Allow to cool for 15 minutes or so and then serve warm!
Notes
Never heard of Hawaij? Me neither, until now! I learned about this delicious spice blend from Molly on the Range. To make a batch, combine 1/2 tsp. ground nutmeg, 2 tbsp. ground cardamom, 2 tbsp. ground ginger, 1/2 tsp. ground cinnamon, and 1/2 tsp. ground cloves. This makes a little more than needed for the recipe, but Molly recommends adding any leftovers to your coffee grounds before brewing in the morning, which I can't wait to try!
Adapted from Molly on the Range
My Bacon-Wrapped Life http://www.mybaconwrappedlife.com/
Looking for more Fall baking inspiration?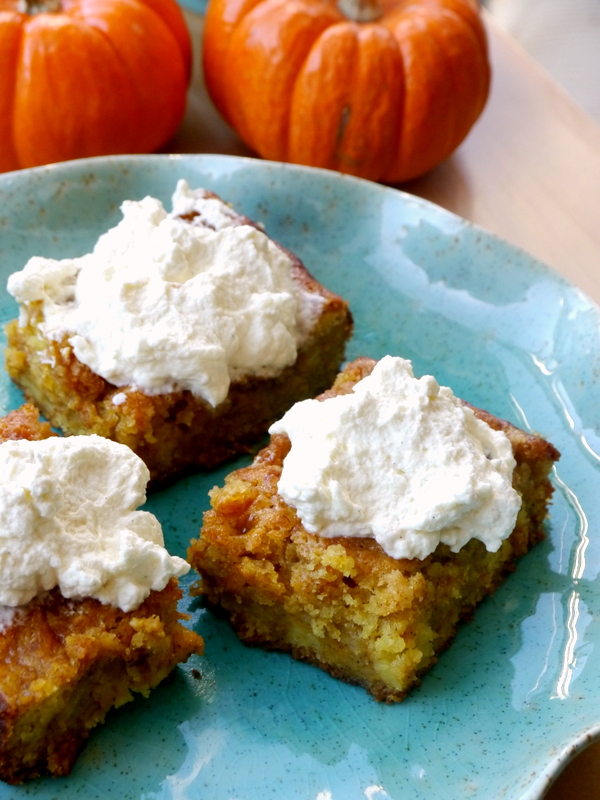 Gooey Pumpkin Cake with Bourbon Vanilla Bean Whipped Cream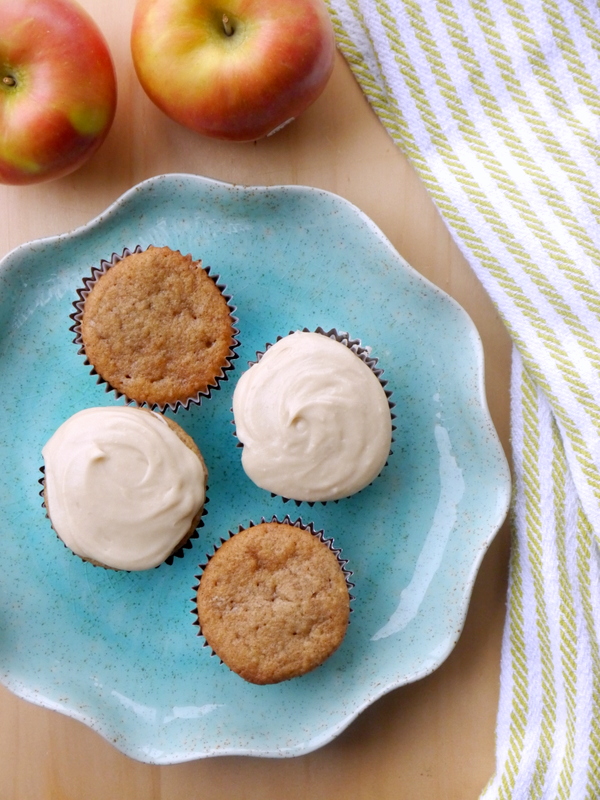 Apple Cupcakes with Brown Sugar Frosting