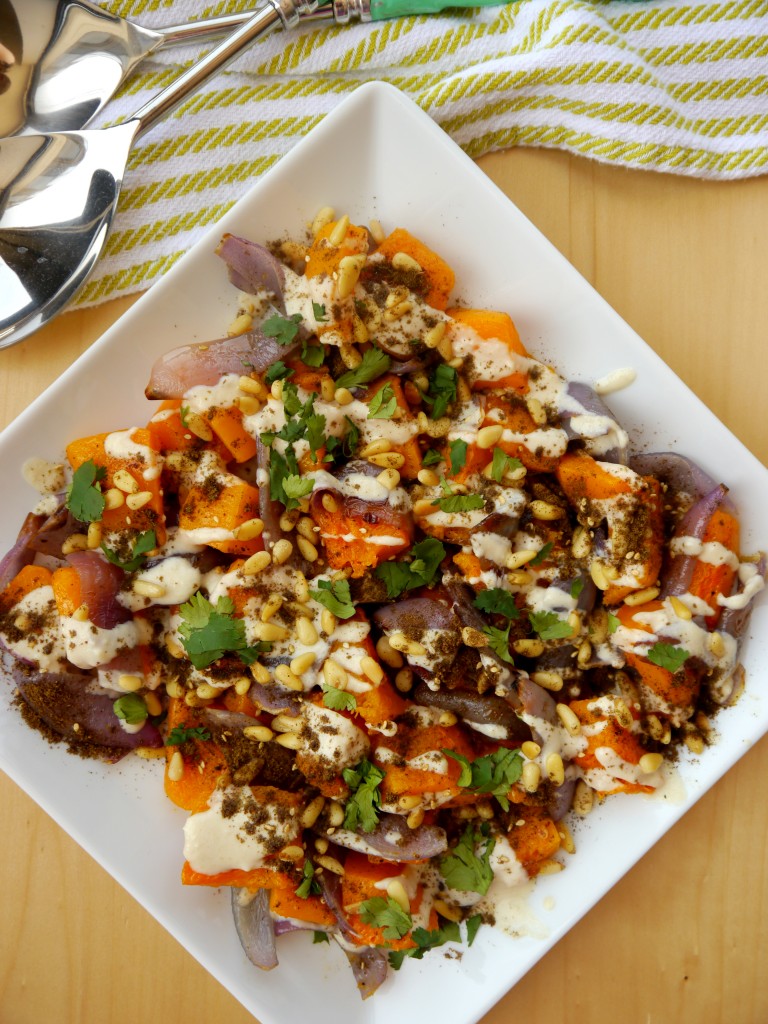 This, my friends, is the light and veggie-licious and insanely delicious recipe I denied you last week. The kind of recipe that makes you forget that you're eating vitamins and nutrients and all that good stuff because you're so distracted by all the incredible flavors and colors and textures and amazingness.
It's basically the Best Thing Ever and I can't stop eating it.
Although at first glance it might look like a winter recipe, with the roasting and butternut squash and red onions, I guarantee you this roasted butternut squash with tahini, toasted pine nuts, and za'atar is as light and fresh and warm-weather friendly as can be. I mean, just look at the colors! This is easily one of the most gorgeous recipes I've ever made, and I take zero credit for that – it's all due to the bee-yoo-ti-ful ingredients. All I did was arrange everything artfully on a plate and find some lighting that half-did this beauty justice.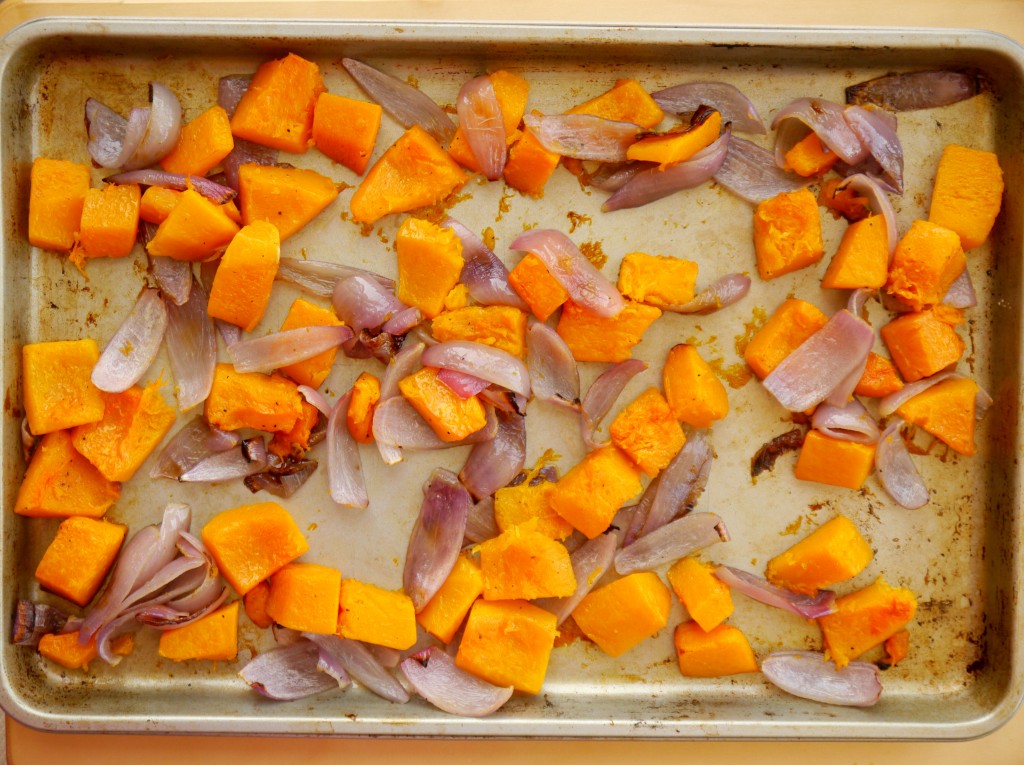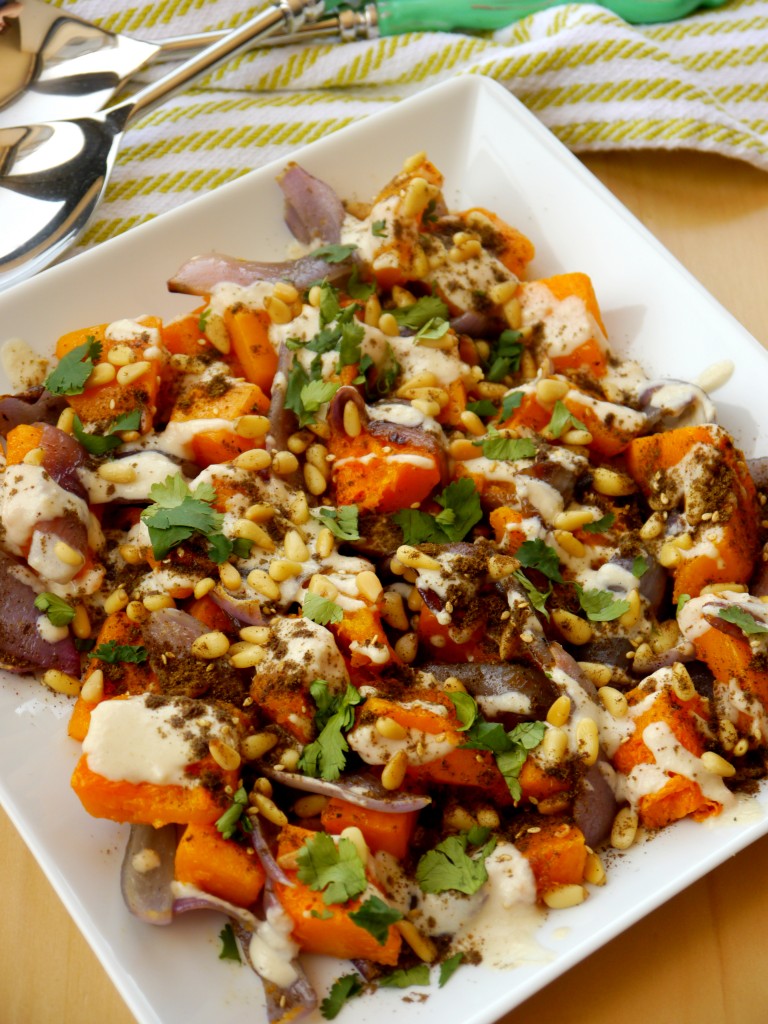 First things first. There are some crazy ingredients up in here, so let's break it down. Tahini is a Middle Eastern sesame seed paste that we over here in America are mostly familiar with as a main ingredient in hummus (however, I'm learning it's capable of so much more – Exhibit A being this drizzly sauce). You should definitely be able to buy this at your grocery store. Za'atar is a Middle Eastern spice mixture that might be a bit harder to find – I bought it at a specialty spice store – but you can certainly order it on Amazon. This recipe is from the most gorgeous cookbook ever, which I read a few weeks ago and basically wanted to make every single thing. This particular dish caught my eye because I absolutely love butternut squash and had some leftover tahini burning a hole in my fridge. It also looked easy to prepare and non-intimidating for someone new to cooking with Middle Eastern flavors like myself!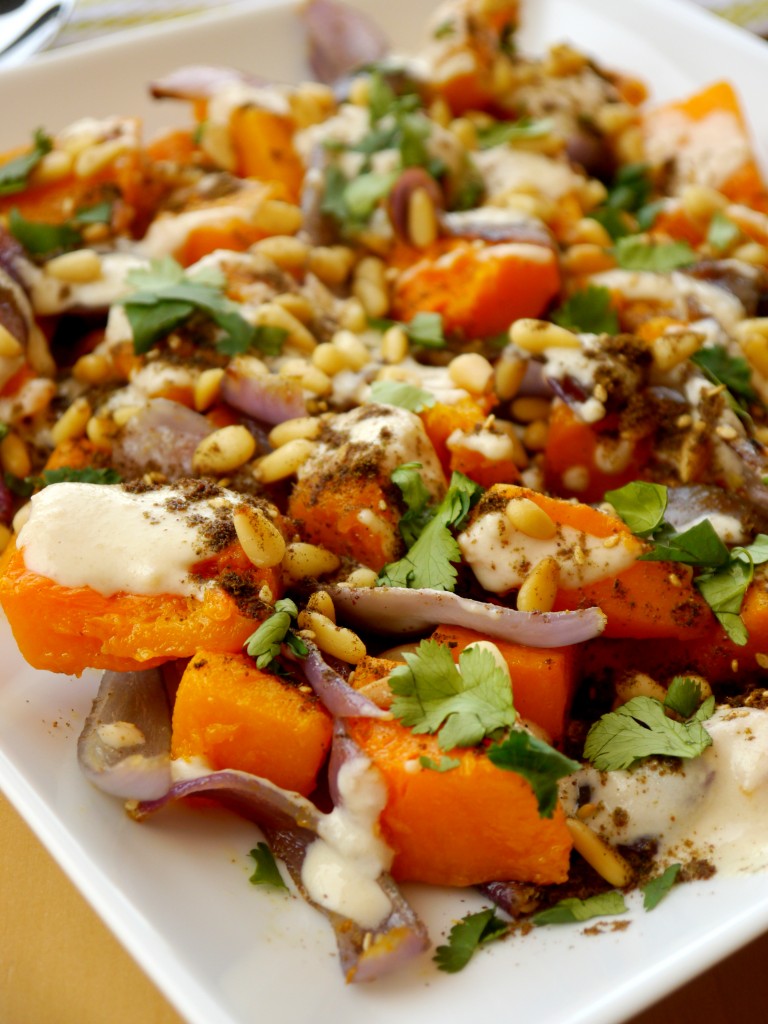 It's hard to explain just how this recipe tastes so good. There are layers upon layers of just such fantastically unique flavor – the rich and lemon-y tahini drizzle, the perfect toasty nuttiness from the pine nuts, the spiced kick from the za'atar, and the fresh bite from the parsley. It all goes so well with the sweet roasted veggies and tastes so different than anything I've had before – and I mean that in the best way possible. This dish is a perfect side dish or light lunch; we ate it with some leftover shredded chicken from last night's chicken enchiladas and it was the perfect amount of food. I could seriously eat food like this every day. Just so good.
Side note: also pretty much exercising every ounce of will power I have to not drop everything and hop on a plane to Jerusalem after making this. Someday, right?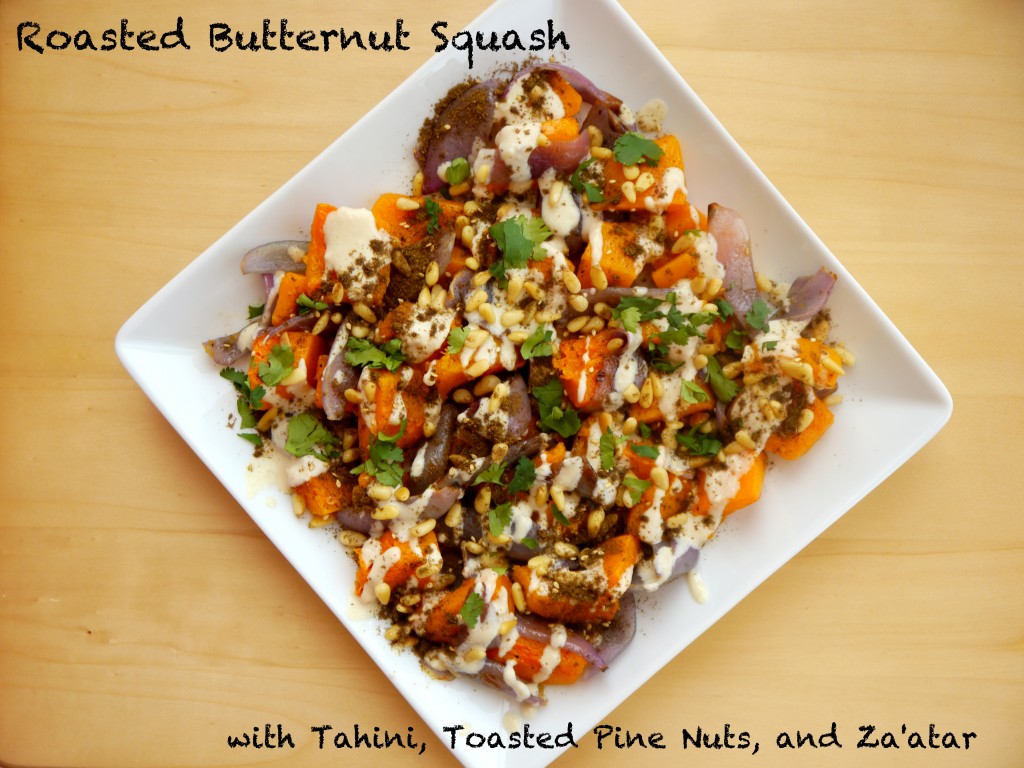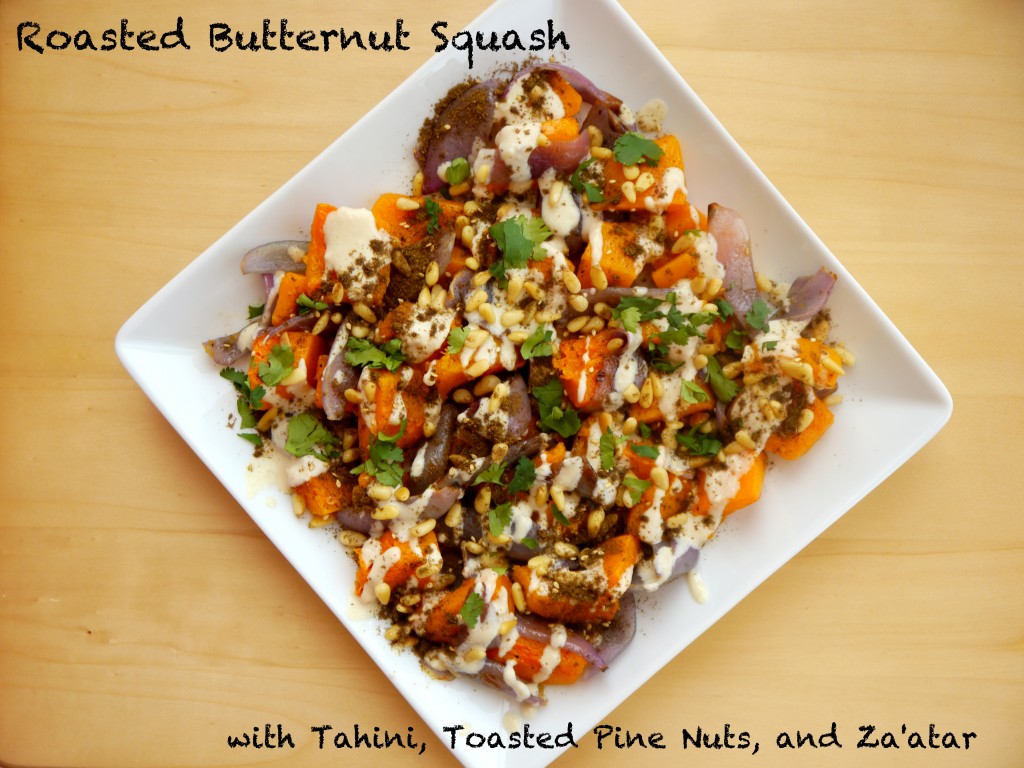 Roasted Butternut Squash with Tahini, Toasted Pine Nuts, and Za'atar
2014-03-30 14:21:15
Serves 4
Butternut squash and red onions are roasted and topped with an insanely flavorful tahini drizzle, toasted pine nuts, za'atar and a sprinkle of parsley for one of the most fantastic veggie dishes I've ever made!
Ingredients
1 ¾ lb. butternut squash cubes (about 1.5" cubes)
2 red onions, each cut into 8 wedges and layers separated
3 ½ tbsp. olive oil
Sea salt (I used Maldon brand, which is also what they recommend)
Black pepper
3 ½ tbsp. light tahini
1 ½ tbsp. fresh lemon juice
2 tbsp. water
1 garlic clove, minced
3 ½ tbsp. pine nuts
1 tbsp. za'atar
1 tbsp. chopped flat-leaf parsley
Instructions
Preheat your oven to 450°F. Add the squash and onion to a large mixing bowl; add 3 tbsp. of olive oil, 1 tsp. of sea salt, and a couple dashes of black pepper. Toss well to combine. Spread out in a single layer on a large baking sheet and bake for about 30 minutes, until both the squash and onion are cooked through and soft. Remove from the oven and set aside.
In a small bowl, combine the tahini, lemon juice, water, and garlic with a whisk.
Heat a small skillet over medium-low heat. Add the remaining 1 ½ tsp. olive oil to the pan and add the pine nuts. Toast the pine nuts for about 4-5 minutes or until just slightly browned, stirring constantly and watching closely. When the pine nuts are lightly browned, take them off the heat immediately and transfer the pine nuts and the remaining oil into a small bowl.
Arrange the vegetables on a large plate. Drizzle the tahini sauce evenly over the top, then add the pine nuts (with the oil). Sprinkle the za'atar over the mix and top with the chopped parsley. Done!
Notes
It is critical that you use sea salt for this recipe – if you absolutely can't get it, scale down the amount of salt A LOT! 1 tsp. of regular table salt would be way too much.
Adapted from Jerusalem
My Bacon-Wrapped Life http://www.mybaconwrappedlife.com/
Disclaimer: There are a few Amazon affiliate links in the above post. I have not been compensated to write positive reviews about any products, and as always, all opinions expressed are entirely my own.