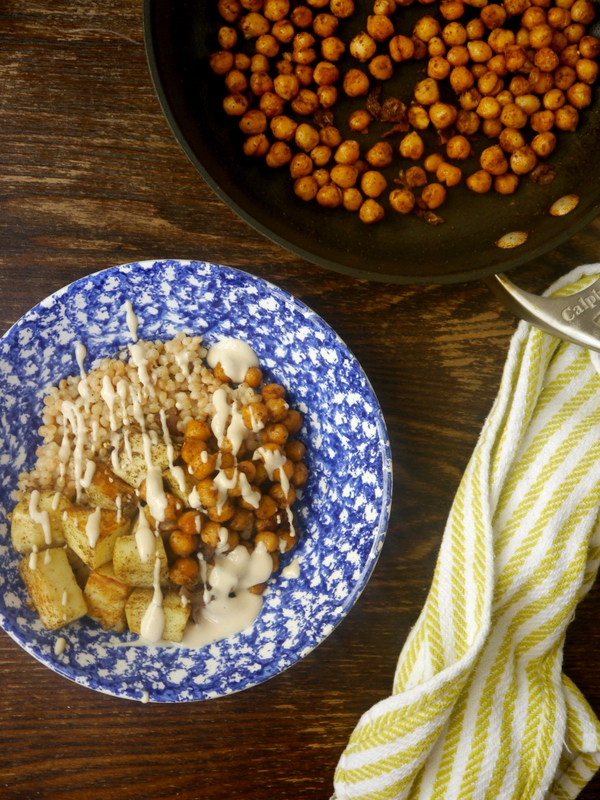 This right here is my ideal single-gal-for-the-night meal.
Every woman in the world who lives with their man knows what I'm talking about. It's what we eat when our boyfriends/fiancés/husbands are traveling for business or having a guy's night. It's pure, selfish "me" food, and as much as we love our men, it's always something we secretly look forward to making and eating when we get the rare single-gal-night opportunity. For me, my top single-gal meals include a lot of things that Brad will gladly eat, but doesn't really consider a real, filling (read: meat-filled) meal: avocado toast, veggie and egg scrambles, grain bowls, anything with tons of butternut squash and/or sweet potato, and anything with the word "drizzle". I manage to check of 3 of these boxes in this meal, so I consider this basically the ULTIMATE Meg-meal. I went all out, ladies.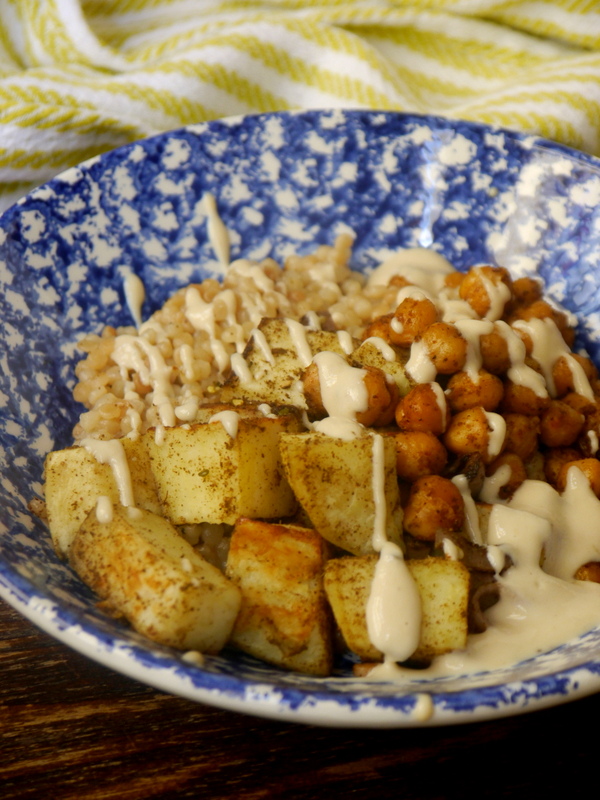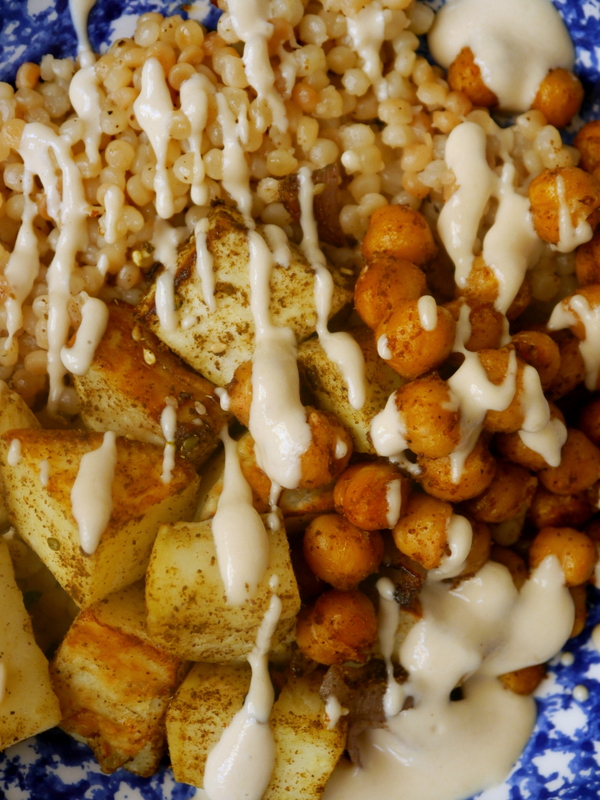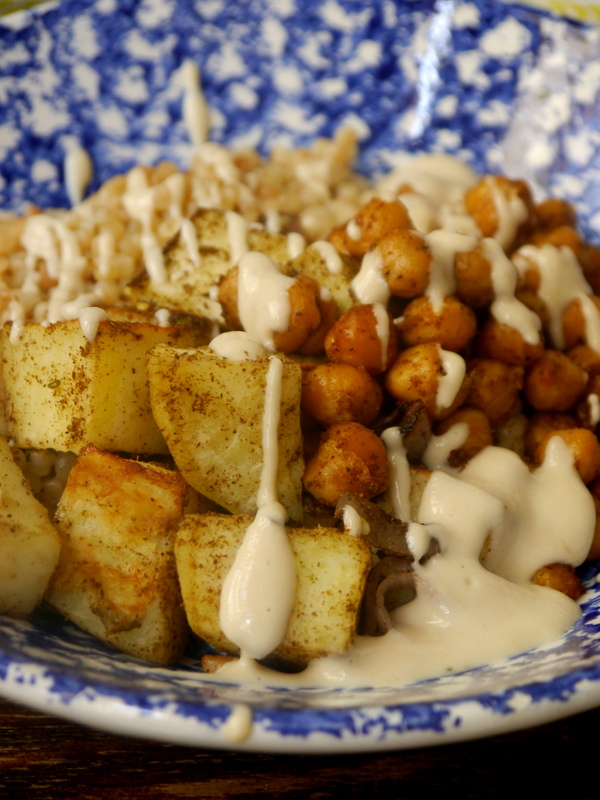 These Israeli couscous bowls contain so many of my favorite foods, textures, and flavors. The base is one of my favorite quick-cooking grains, Israeli couscous. We layer on big hunks of sweet potatoes and shallots that have been roasted and topped with za'atar and chickpeas that have been tossed with tons of spices and crisped up in some olive oil on the stove. The whole shebang is drizzled and tossed with the most to-die-for maple-tahini drizzle, and the result is a completely perfect healthy, vegetarian Mediterranean flavor explosion. If you make nothing else about this recipe, make the maple-tahini drizzle. Seriously – if you love tahini, you NEED this sauce. At least rock the drizz, people. (Can I say drizz?)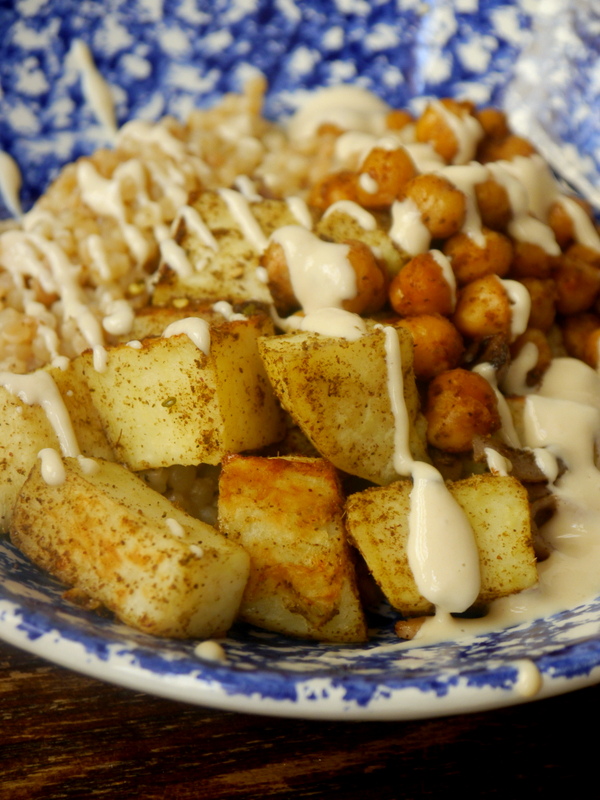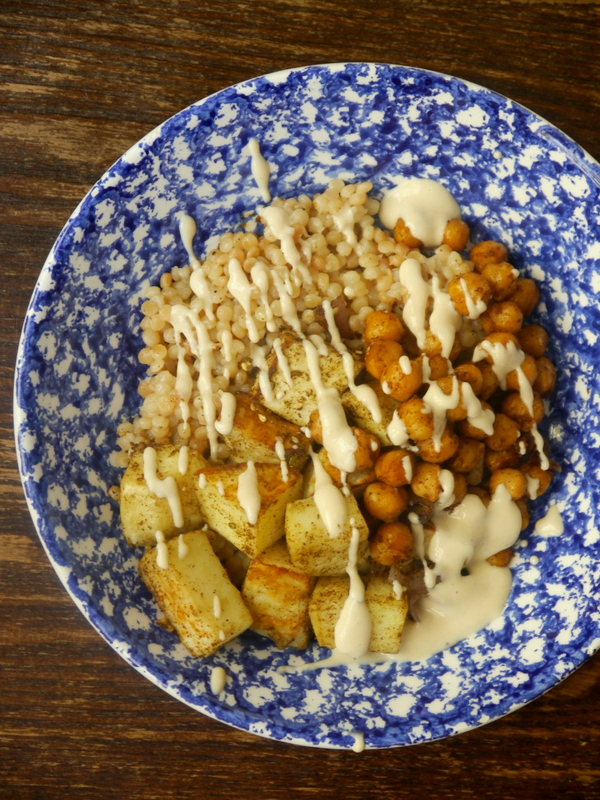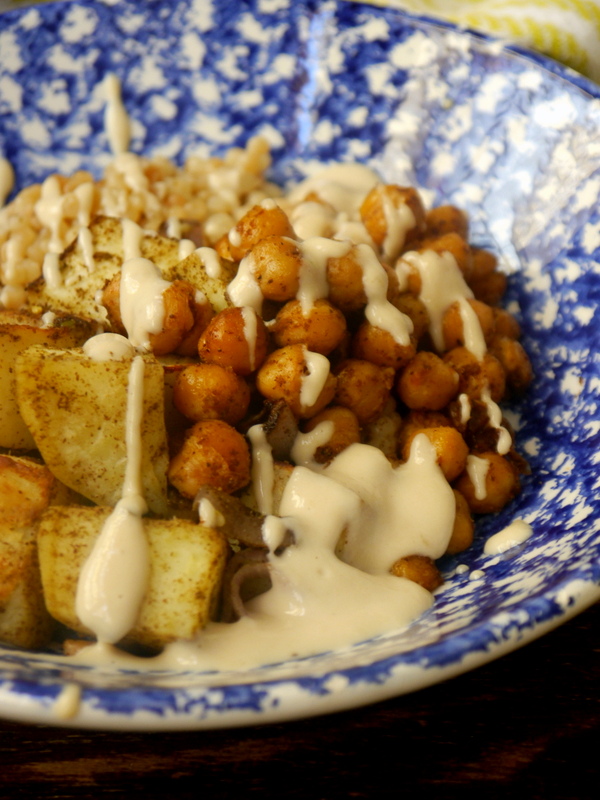 Next time you're finding yourself magically completely on your own for dinner, gals (or guys!) treat yo self with this incredibly healthy, delicious, soul-satisfying winner of a meal. I think this might become a weekly rotation around here, even when Brad is at the dinner table! Because let's be real – cooking is always better when you have someone you love to share it with, right? Even if that person doesn't QUITE love tahini drizzle as much as you do…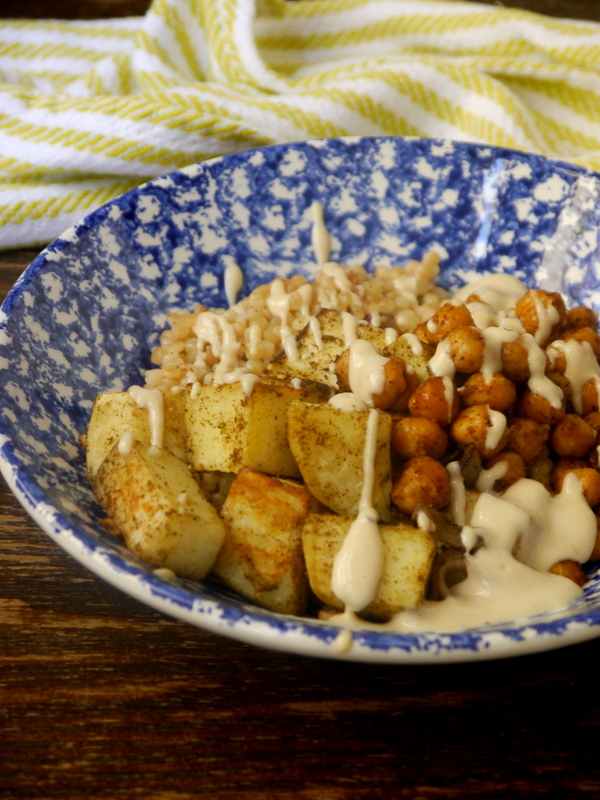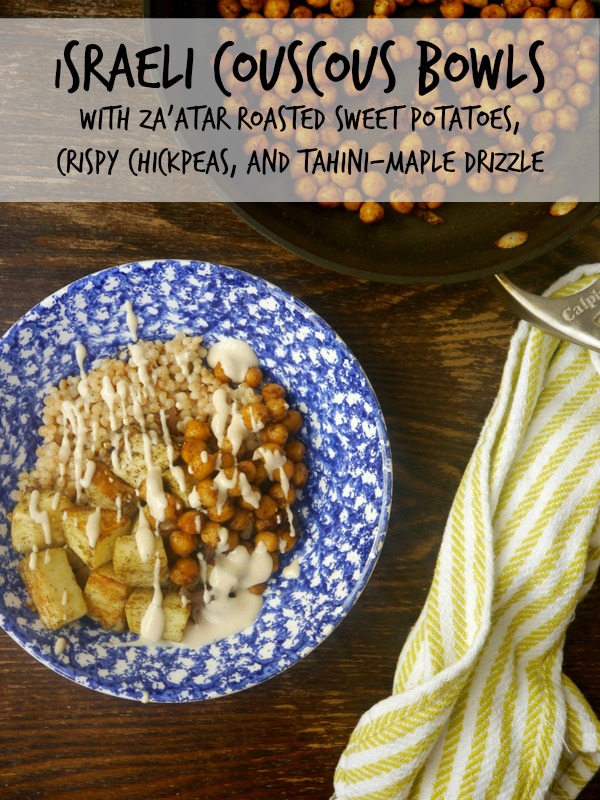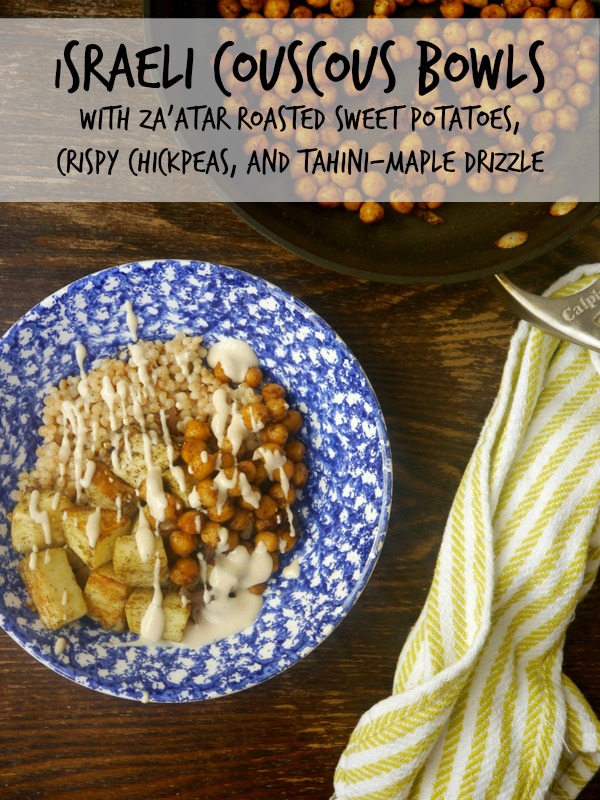 Israeli Couscous Bowls with Za'atar Roasted Sweet Potatoes, Crispy Chickpeas, and Maple-Tahini Drizzle
2015-10-18 15:03:59
Serves 4
These israeli couscous bowls are the perfect healthy, satisfying meal - topped with za'atar roasted sweet potato, crispy chickpeas, and the most incredible maple-tahini drizzle!
For the roasted sweet potatoes
2 medium-sized sweet potatoes, chopped
1 shallot, sliced thin
1 tbsp. olive oil
1 tsp. za'atar
For the crispy chickpeas
1 15-ounce can chickpeas, drained, rinsed, and patted dry
1 tsp. cumin
¾ tsp. chili powder
¼ tsp. kosher salt
¼ tsp. black pepper
1 tbsp. olive oil
For the Israeli couscous
1 cup uncooked Israeli couscous
1 tbsp. olive oil
2 cups low-sodium chicken broth (sub vegetable broth to keep it vegan)
For the maple-tahini drizzle
¼ cup tahini
1 tbsp. maple syrup
Juice from ½ lemon
2-4 tbsp. hot water, to thin (I used 3 tbsp.)
Instructions
To make the sweet potatoes: Preheat your oven to 400°F. Toss the sweet potatoes and shallot with 1 tbsp. olive oil and spread evenly on a large baking sheet. Bake for 20-25 minutes, until soft and browned. Remove from the oven, toss with 1 tbsp. za'atar, and toss to combine. Return the sheet to the oven to bake for 5 more minutes. Set aside.
To make the crispy chickpeas: Toss the chickpeas with the spices in a small bowl. Heat 1 tbsp. olive oil in a skillet over medium heat. Add chickpeas and cook until crispy and a bit browned, about 10 minutes. Remove from the heat and set aside.
To make the couscous: Heat 1 tbsp. olive oil in a medium heavy-bottomed saucepot over medium-low heat. Add the dry couscous and toast the couscous for a few minutes, stirring occasionally, until the couscous starts turning a bit brown and toasty. Add the 2 cups chicken broth, cover, and increase the heat to medium. Cook for about 12 minutes, or until all the broth is absorbed and the couscous is thick and fluffy.
To make the maple-tahini drizzle: In a small bowl, whisk together the tahini, maple syrup, and lemon juice. Add 2 tbsp. hot water and whisk to combine. If a thinner sauce is desired, add an additional 1-2 tbsp. to reach desired consistency.
To serve: Spoon ¼ of the couscous in each of 4 bowls. Top each bowl with ¼ of the chickpeas, ¼ of the sweet potato-shallot mixture, and a few spoonfuls of maple-tahini drizzle. Serve hot and enjoy!
My Bacon-Wrapped Life http://www.mybaconwrappedlife.com/

Sweet potatoes adapted from Naturally Ella and chickpeas and maple-tahini drizzle adapted from Minimalist Baker.

Looking for more awesome healthy dinner ideas?
Kitchen Sink Summer Farro Salad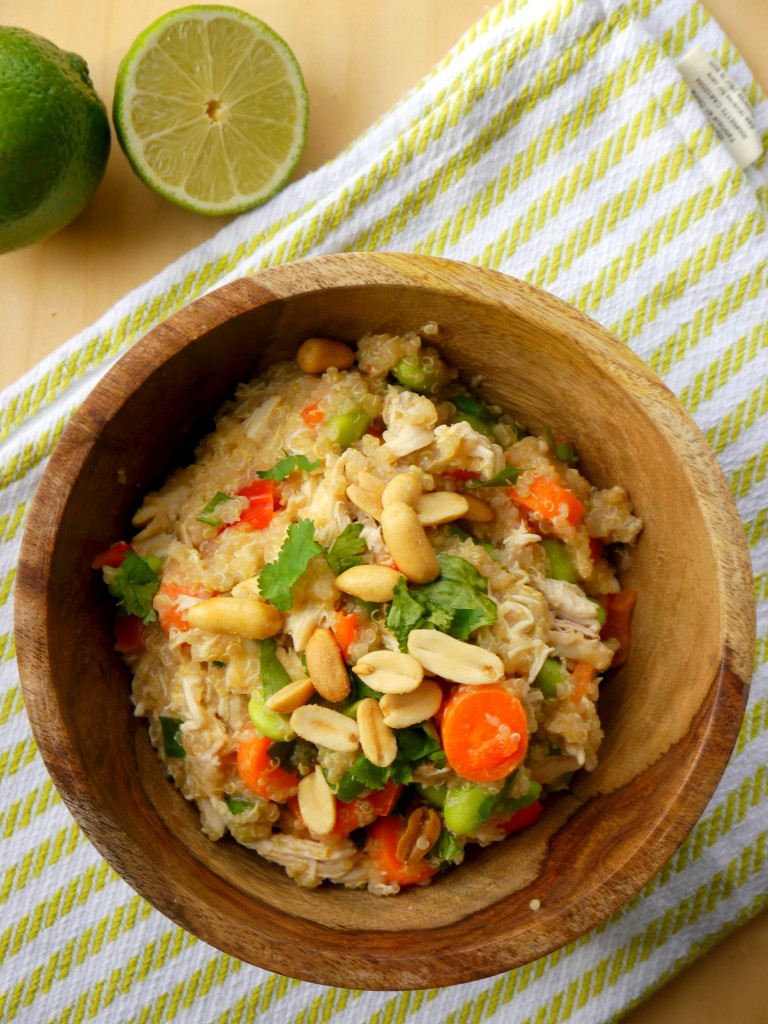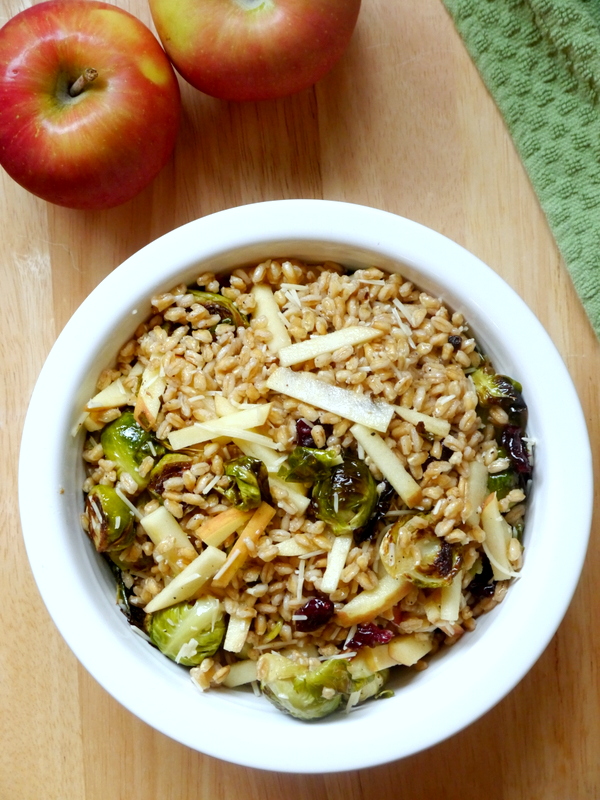 Apple Cider Farro with Brussels Sprouts and Dried Cranberries