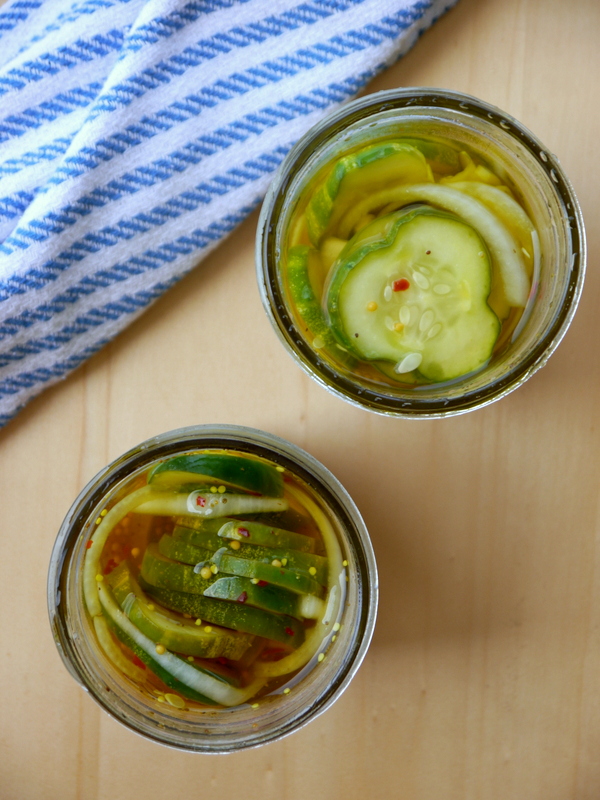 I think it has something to do with this crazy thing called September starting to show up on my calendar (I mean, what?!), but lately I have been extra obsessed with quintessential summer-y things. I've been devouring peaches and tomatoes like I'll never see another one again and just want to eat s'mores all day every day. My brain is all summer lovin' all the time, ya know?
Now, don't get me wrong – fall is definitely my favorite season, and there's nothing I love more than eating a bowl of chili or some pumpkin muffins after a blustery day of watching football. But when I started to see tons of pumpkin recipes pop up on food blogs this week, and when I went to order a beer on Friday night and saw that Sam Adams Oktoberfest was on the menu, I started to panic a little that my summer had slipped through my fingers just a bit too soon. And we can't be having that, right?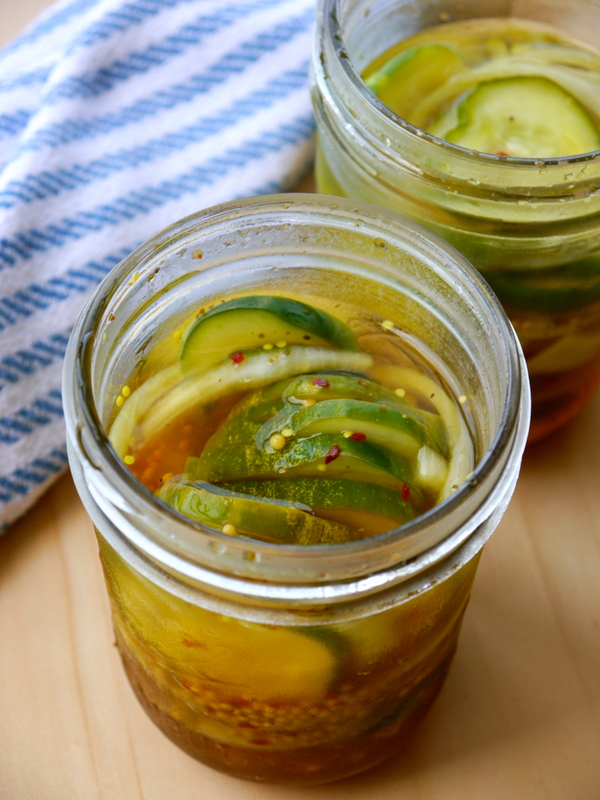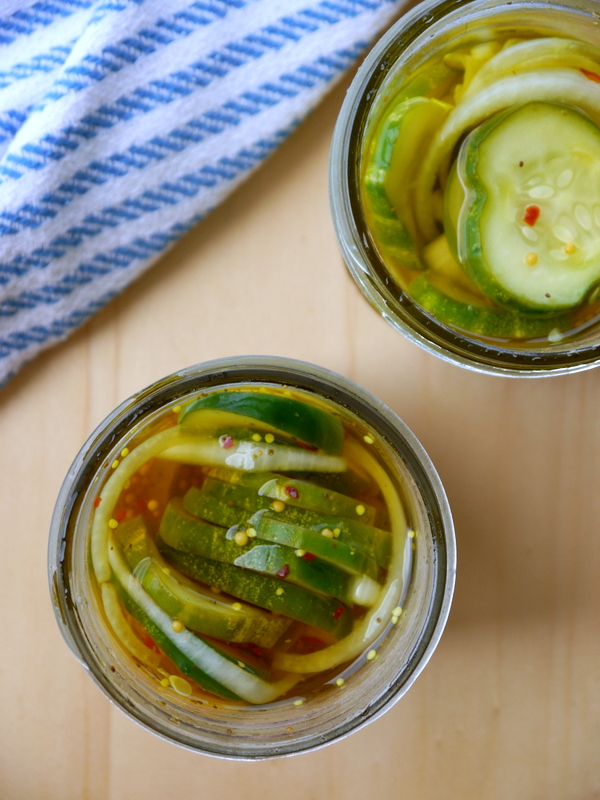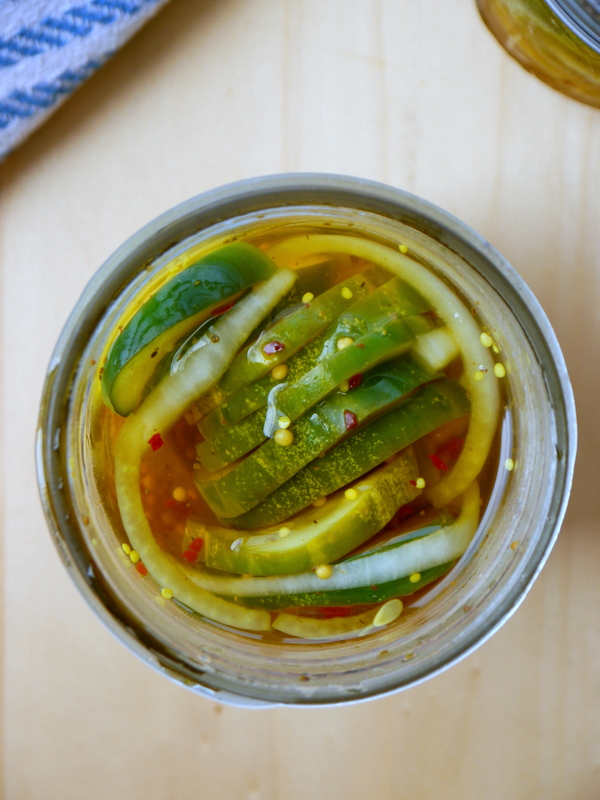 One thing I really wanted to do this summer was make my own pickles. Pickling feels so quintessentially summer, and I love the idea of making my own version of things I normally buy at the store. But between vacations and visitors and beach volleyball and beer fests, summer –as it tends to do—absolutely flew by, and I hadn't pickled a single thing.
Here's a little thing you might not know about me: I LOVE pickles. Like, more than most people. As a child, my favorite lunch sandwich was peanut butter and pickles (don't knock it 'til you try it, and if you do try it, this is how you do it right). Whenever people joke about pregnant women loving pickles and ice cream, I'm always secretly like "What's wrong with that? I'd get down with that anytime." I'm that girl who will borderline-aggressively ask if you're going to eat your pickle at a restaurant if you don't make moves before you're done with your burger. So making homemade pickles was a serious high-priority project for this pickle-lovin' gal.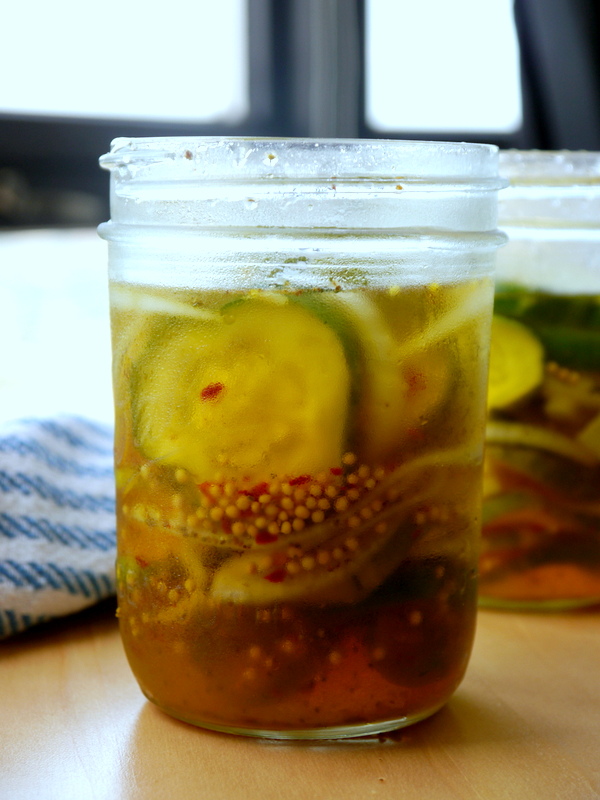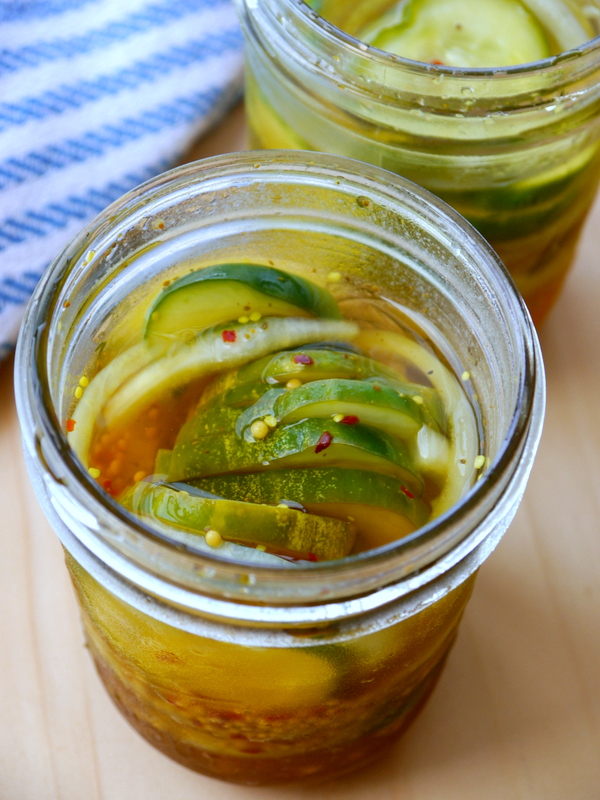 Luckily, I managed to snag a couple of the last remaining pickling cucumbers at my grocery store to make these babies happen just in the nick of time. And boy, am I glad I did. These sweet and spicy refrigerator pickles are truly awesome. They're a bread and butter version, loaded up with lots of vinegar and spices and a little sugar and just the right amount of heat from some red chili flakes. They're sweet and spicy and crunchy and just so full of flavor. What's more, they're so, so simple – just a couple of steps, then boom, boring old cukes become seriously incredible sweet-and-spicy pickles. We ate almost an entire jar by themselves, but I can't wait to throw them on burgers for Labor Day, fold 'em into some tuna salad, and probably continue to eat them straight out of the jar every time I walk by the fridge. Let's be real on that one.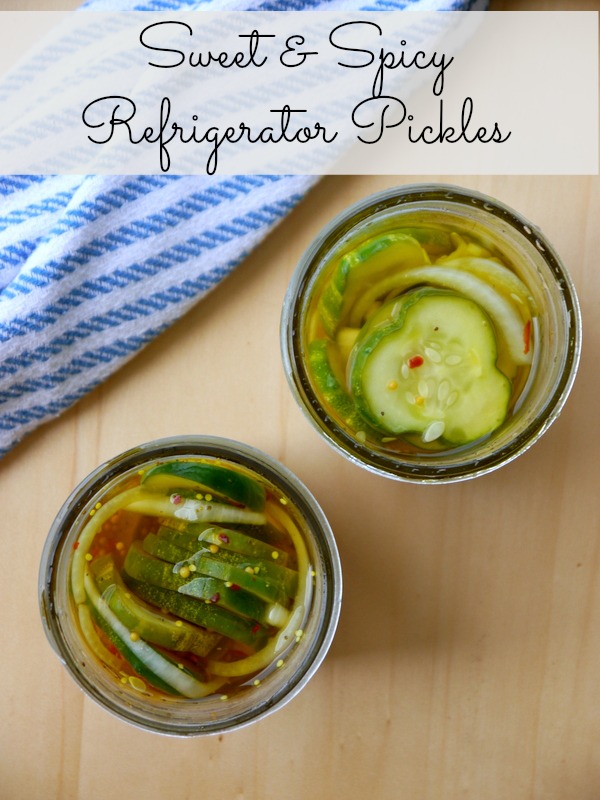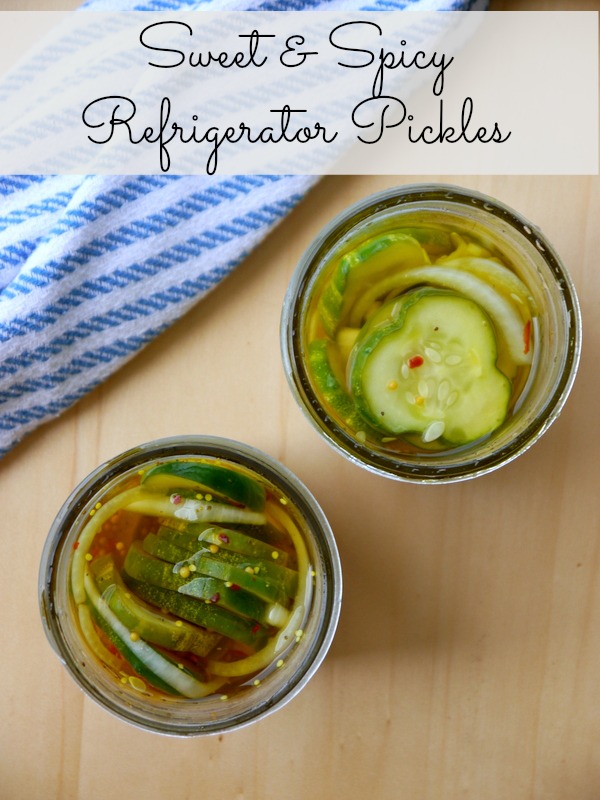 Sweet and Spicy Refrigerator Pickles
2014-08-24 16:07:27
Serves 12
These sweet and spicy bread-and-butter pickles are the perfect companion for your favorite burger or sandwich - or for just eating straight out of the jar! Sweet, spicy, vinegar-y, and crunchy, these are serious pickle perfection.
Ingredients
5 ½ cups thinly sliced pickling cucumbers (about 1.5 pounds at the store)
1 ½ tbsp. kosher salt
1 cup thinly sliced sweet onion
1 cup granulated sugar
1 cup white vinegar
½ cup apple cider vinegar
¼ cup brown sugar
1 ½ tsp. mustard seeds
½ tsp. celery seeds
1/8 tsp. ground turmeric
½ tsp. red chili flakes
Instructions
In a large bowl, combine the sliced cucumbers and the salt. Rub the kosher salt into the cucumbers. Cover with plastic wrap and refrigerate for 1.5 hours. Transfer the cucumbers to a colander and run cold water over them, rinsing thoroughly. Return the cucumbers to the original bowl and add the sliced onion.
At this point, make sure your cucumbers and onions are in a heat-safe container. I used 3 mason jars, but make sure whatever you're using is able to withstand high heat.
In a medium saucepan, combine the granulated sugar, vinegars, brown sugar, and spices. Bring the mixture to a simmer over medium heat, stirring until the sugars have dissolved. Pour the liquid over the cucumbers and onions (if your veggies are divided, also divide the liquid, making sure the veggies are submerged in each container). Let the pickles stand at room temperature for 1 hour, then transfer to the refrigerator. Refrigerate for 24 hours before eating. The pickles will last for up to 2 weeks in an airtight container in the fridge.
Adapted from Brown Eyed Baker
My Bacon-Wrapped Life http://www.mybaconwrappedlife.com/
Looking for more summer-y sides?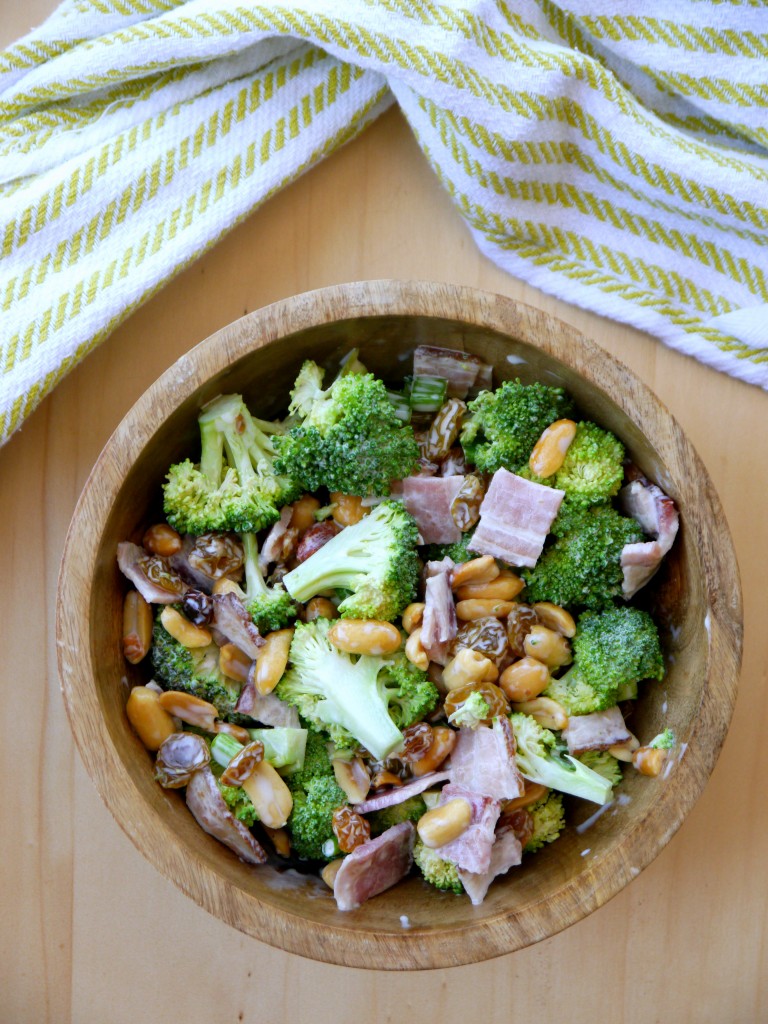 Bacon-y Broccoli Salad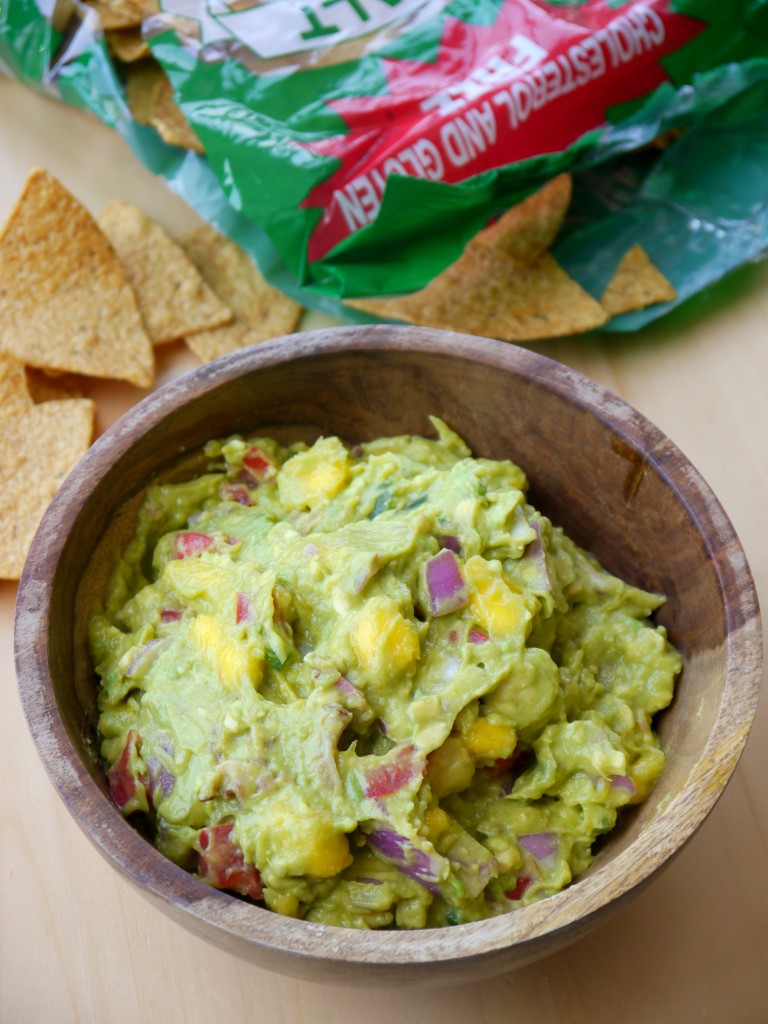 Mango Bacon Guacamole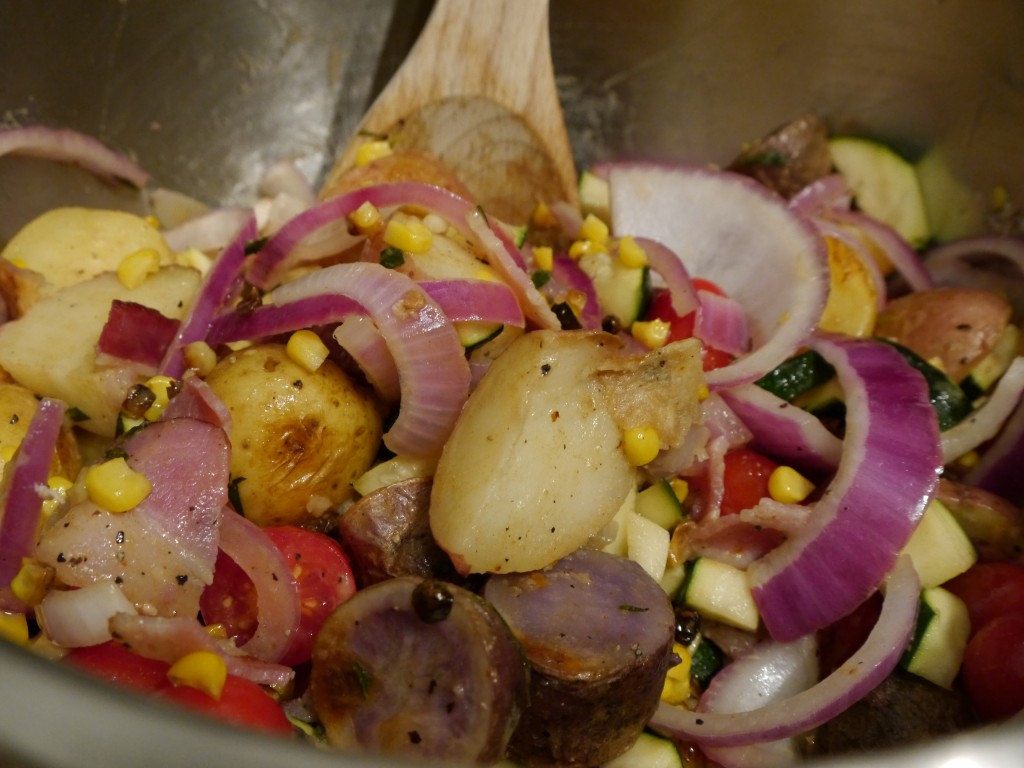 Farmers Market Potato Salad