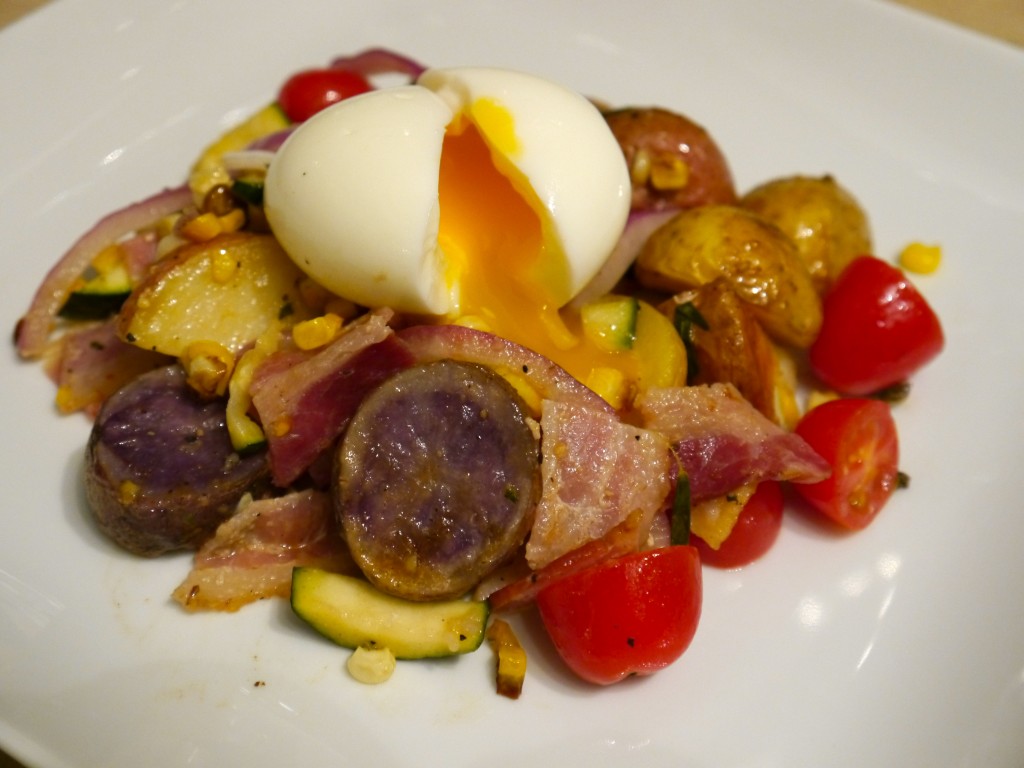 I have a confession to make: we live right across the street from one of the biggest and best farmers markets in the Chicago metro area and…we never go.
Crazy, right?
We've been a couple times, like, ever, but I haven't even motivated myself to make it once this summer. Maybe it's just that I haven't been in the right mood. Maybe it's that it directly conflicts with my favorite Saturday morning activities, which are either a) sleeping in, or b) starting off my weekend on a zen note with my favorite yoga class. Maybe it's that the place is always so full of babies, dogs, and Lululemon-clad moms who have managed to wake up, caffeinate, work out, and take their damn family to a farmers market before I can even fully blink my eyes awake. Also, one time we went and got spinach and egg sandwiches, and I'm 99% sure there was DIRT in my spinach. Shudder. Even I can't handle that much literal farm-to-table-ness. Anyways, no matter the reason, I've never been "inspired" the way I want to be at a farmers market, and I've been a die-hard grocery-store-shoppin' kind of gal.
So then why am I always, without fail, drawn to recipes that have "farmers market" in the title?
Something about those words evoke everything I love as a cook – freshness, seasonality, bright colors, healthfulness, satisfaction. Everything from kale to peaches to corn to artisan chocolate and breads to squeaky Wisconsin cheese (yeah, be jealous, non-Midwesterners) – heaven! So maybe, even though my own farmers market experiences have been less than what dreams are made of, this is my way of bringing those feelings to my food all the same.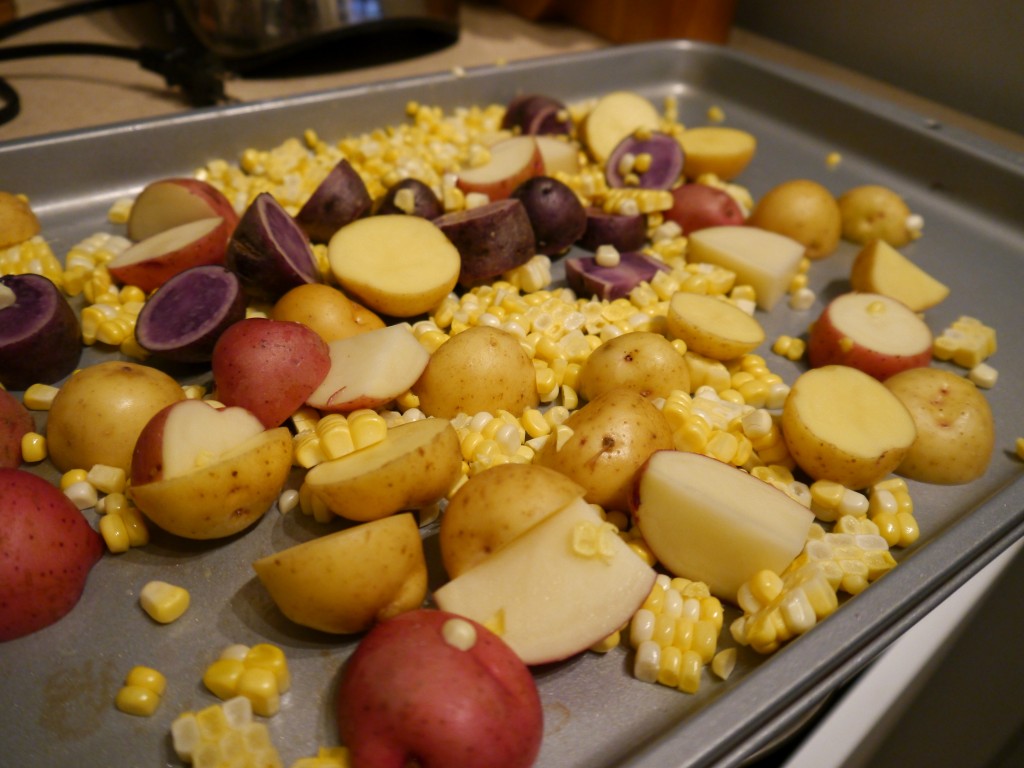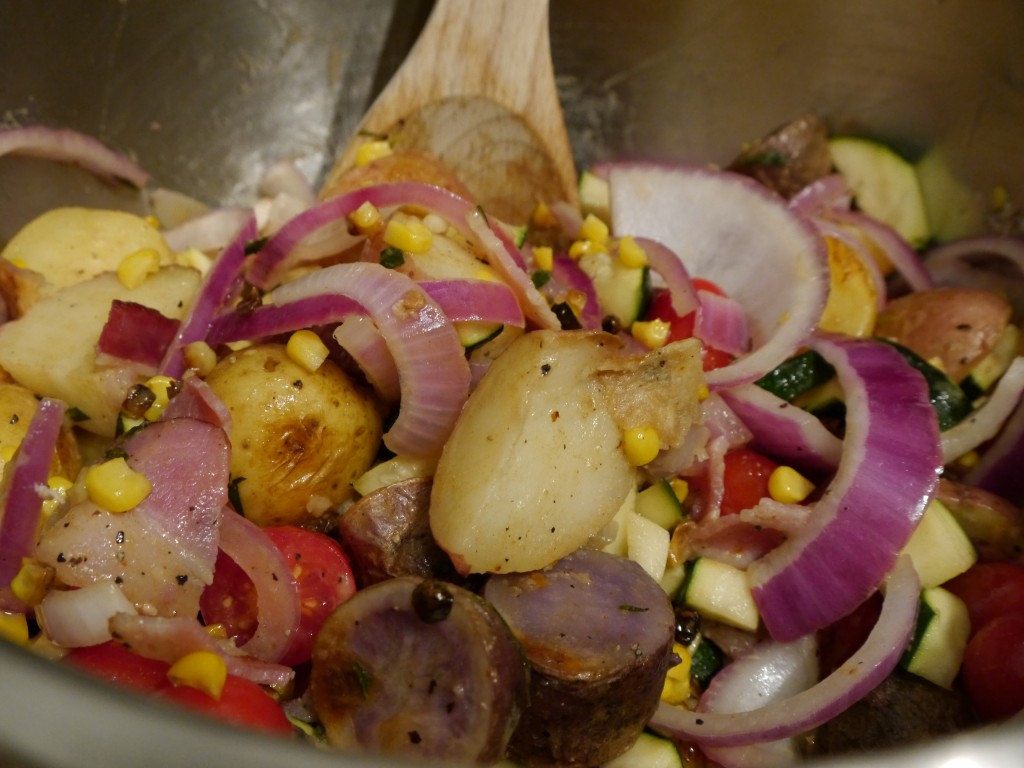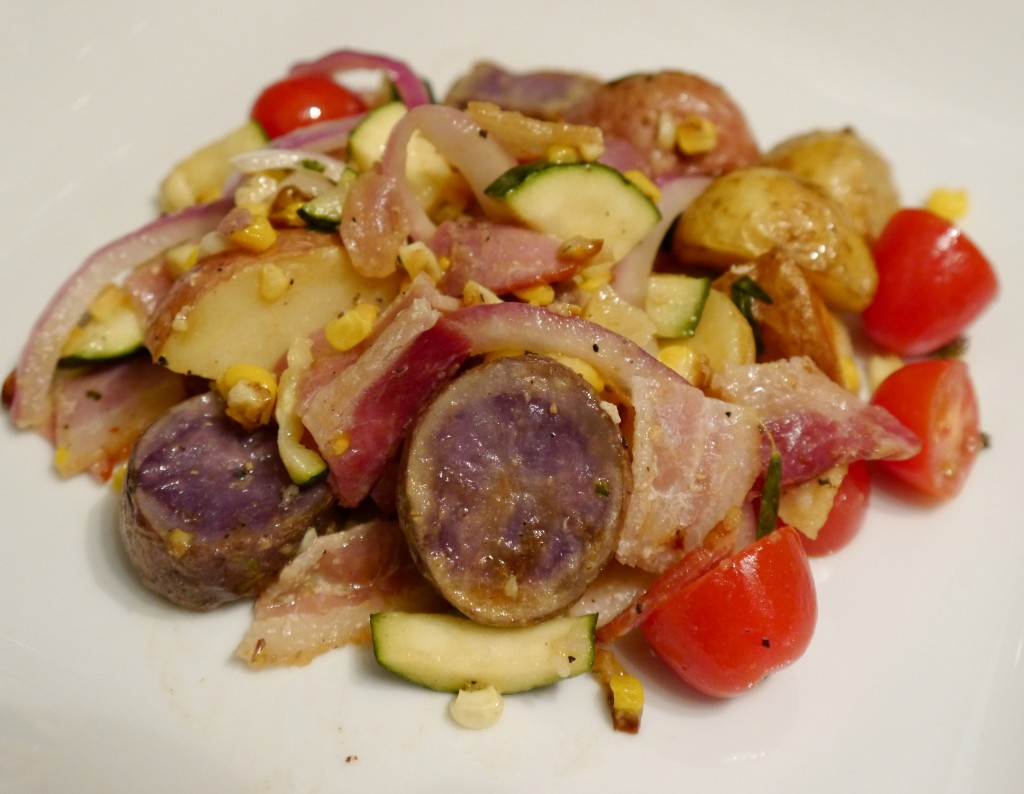 This "farmers market" potato salad embodies everything I love about summer – outdoor food, billions of bright colors, fresh produce picked at its peak, and a lightness that's just begging for a glass of wine, alfresco. I also love the vinegar-based dressing (mayo and I are not friends), as it gives the potatoes a perfect, zesty kick in the pants. It combines fresh corn, zucchini, cherry tomatoes, red onion with creamy colorful potatoes and manages to completely redefine boring old potato salad by making it fresh, healthy, and utterly delicious. Oh, and of course I added bacon. Are you surprised? I certainly hope not. Bottom line: try this, and I promise you you'll never return to the weirdly yellow, flavorless, mayo-laden potato salads of summers past.
Oh and PS – it's totally meal-worthy with a beautiful, runny egg on top.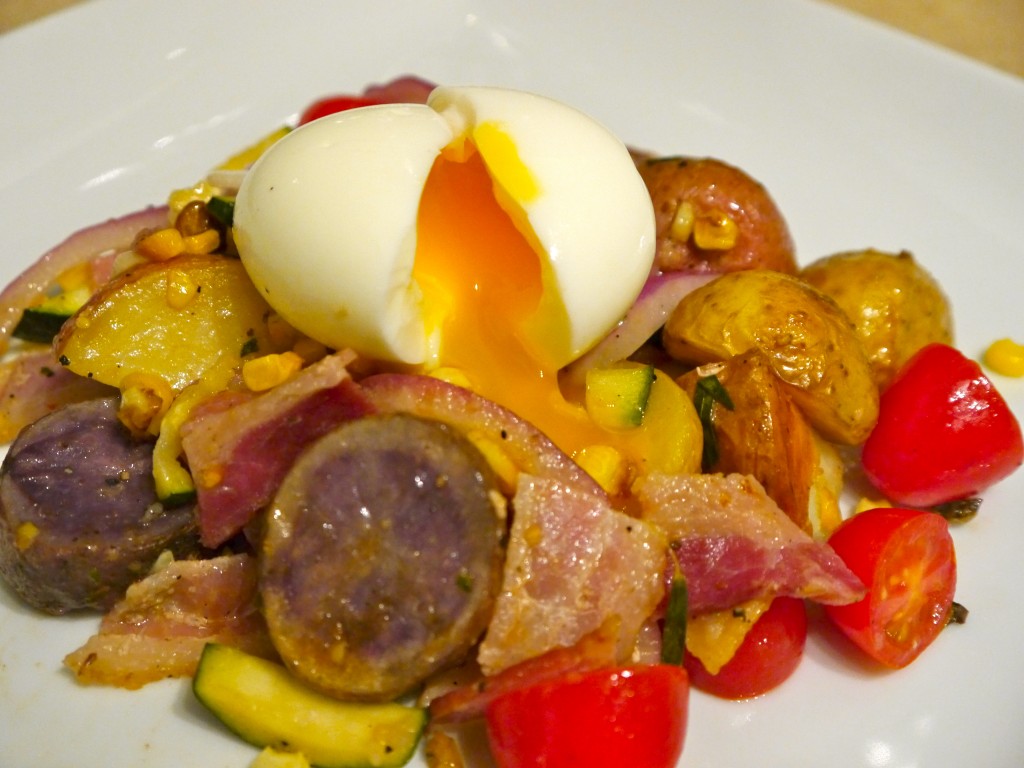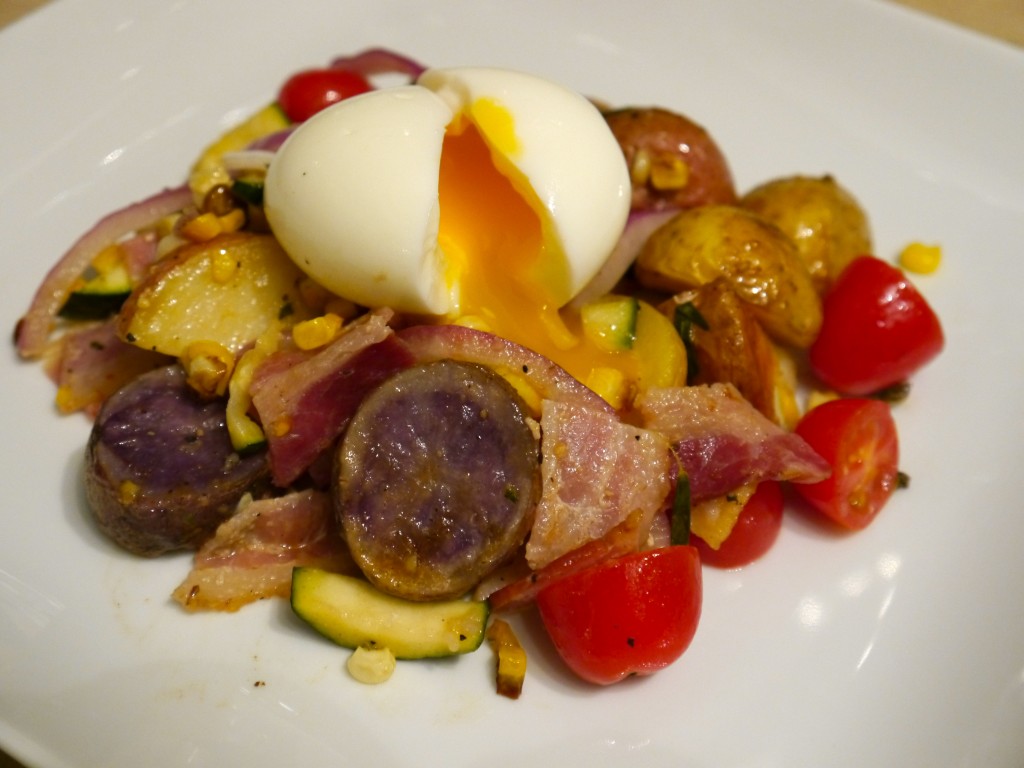 Farmers Market Potato Salad
2013-09-01 20:02:37
Serves 6
A beautiful potato salad that celebrates the best of summer - outdoor food, billions of bright colors, fresh produce picked at its peak, and a lightness that's just begging for a glass of wine alfresco.
Ingredients
1 cup fresh corn kernels, cut from 2 ears of corn
2 pounds fingerling potatoes (preferably multi-colored), cut into 1-inch chunks
2 ½ tbsp olive oil, divided
2 tbsp fresh tarragon, chopped
2 tbsp cider vinegar
2 tbsp whole-grain Dijon mustard
½ tsp hot pepper sauce (we used Cholula)
¾ tsp salt
½ tsp black pepper
Cooking spray
¾ cup red onion, sliced into half-moons
¾ cup zucchini, diced
1 cup cherry tomatoes, halved
2 slices thick-cut bacon, cooked and chopped
2-6 eggs (optional, for serving) - allow one per person, cooked to your liking (I soft-boiled mine)
Instructions
Preheat your oven to 425°F. Place the corn and potatoes on a jelly-roll pan. Drizzle with 1 tbsp of your olive oil and toss to coat, making sure you really coat all the vegetables as you are roasting at a very high heat and it's easy for them to burn. Bake for about 30 minutes or until potatoes are tender, watching closely to prevent burning.
Place the cooked corn-potato mixture into a large bowl. In a separate small bowl, combine tarragon, vinegar, Dijon, hot sauce, salt, and pepper; whisk to combine. Gradually add in the remaining 1 ½ tbsp. olive oil, whisking constantly to combine. Drizzle the potatoes and corn with the dressing and toss to coat.
Heat a large skillet over medium-high heat. Spray the pan with cooking spray and add zucchini and onion. Cook for approximately 4-5 minutes, or until lightly browned, stirring occasionally. Add the cooked zucchini and onions, cherry tomatoes, and cooked bacon to the big bowl and toss everything together.
To serve, place a soft-boiled (or poached, or fried, or sunny-side up…) egg on top of a mound of the potato salad, if desired. Break your yolk and eat immediately.
Notes
Since eggs get cold very quickly (and cold eggs are the death of a great dish), I recommend cooking your eggs after the potato salad is made, and serving right away. For a great and easy method for soft-boiled eggs, see here: http://smittenkitchen.com/blog/2013/04/spinach-and-smashed-egg-toast/.
Adapted from Cooking Light
My Bacon-Wrapped Life http://www.mybaconwrappedlife.com/