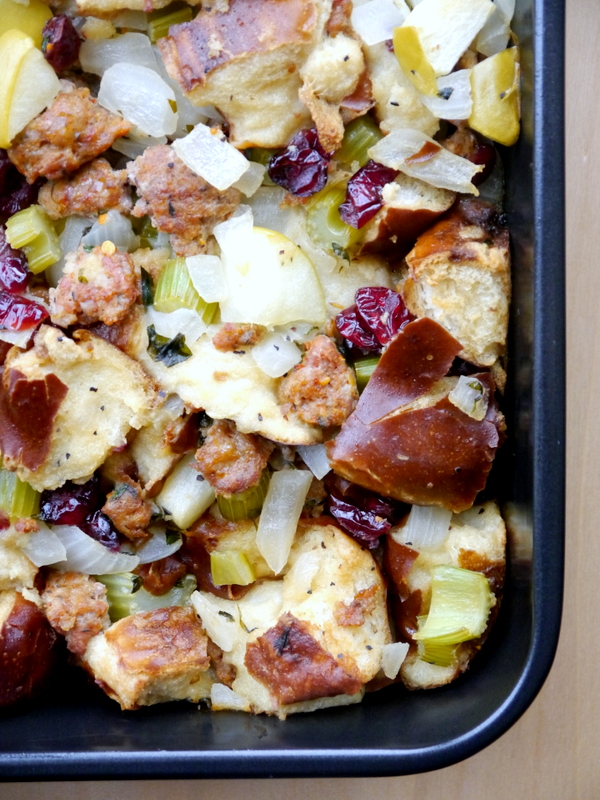 Another day, another pork-based Thanksgiving recipe. What can I say? It just makes everything better. I know you understand.
Last week we went a little non-traditional with some pancetta mac n' cheese and it was seriously delicious. This week's Thanksgiving side is definitely more traditional – a sausage and apple stuffing with all the fixin's – with one critical sassy twist: PRETZEL BREAD. And guys, it's so, so good. I can never go back.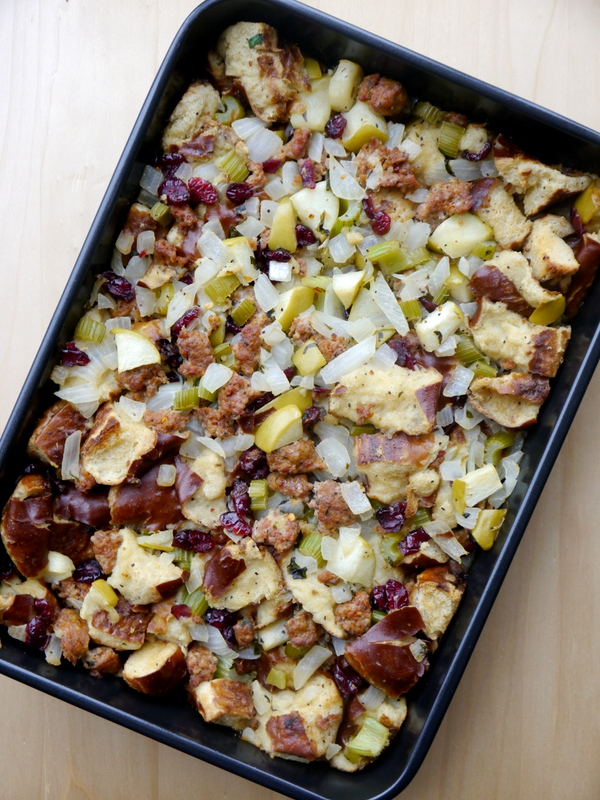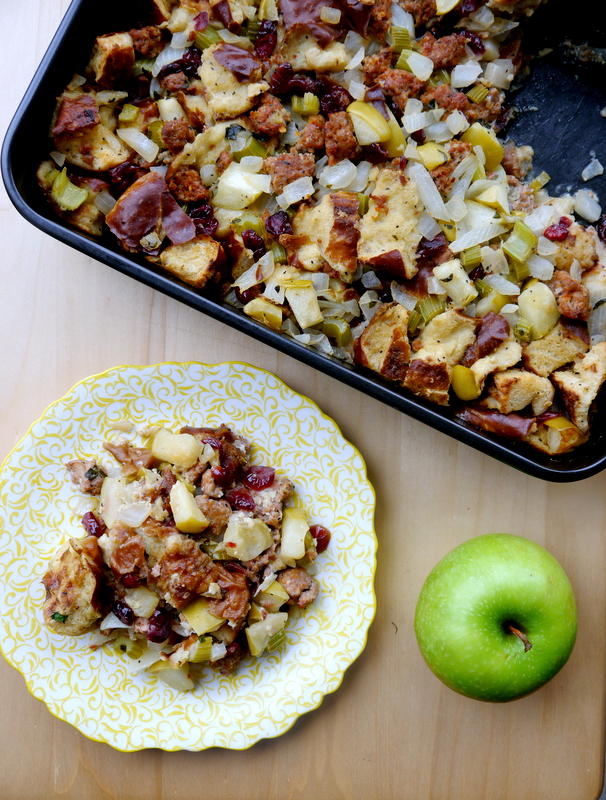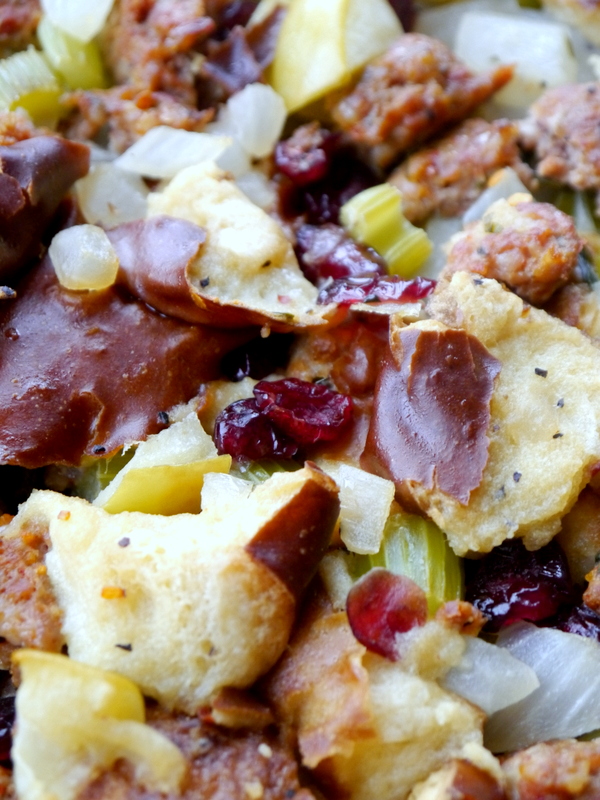 Stuffing has always been my #1 favorite part of Thanksgiving. (Well, tied with pumpkin pie. But I digress.) I've mentioned this before, but I was a vegetarian for many years (blasphemy, I know) and people would always be like, "Thanksgiving must suck for you!" I completely disagreed with that statement then, and I still disagree with that statement now. I think turkey is definitely the most overrated part of Thanksgiving – I can take it or leave it. The sides and pies are where it's at! Give me a big plate of stuffing, mashed potatoes, sweet potatoes, green beans, dinner rolls, and pumpkin pie and I'll be the happiest camper in the world. But what naïve vegetarian Meg didn't know is that every single side dish is made better with big ol' chunks of MEAT. So now I'm making up for lost time by loading in tons of sweet and spicy meaty flavor in all my Thanksgiving sides and making absolutely no apologies for it.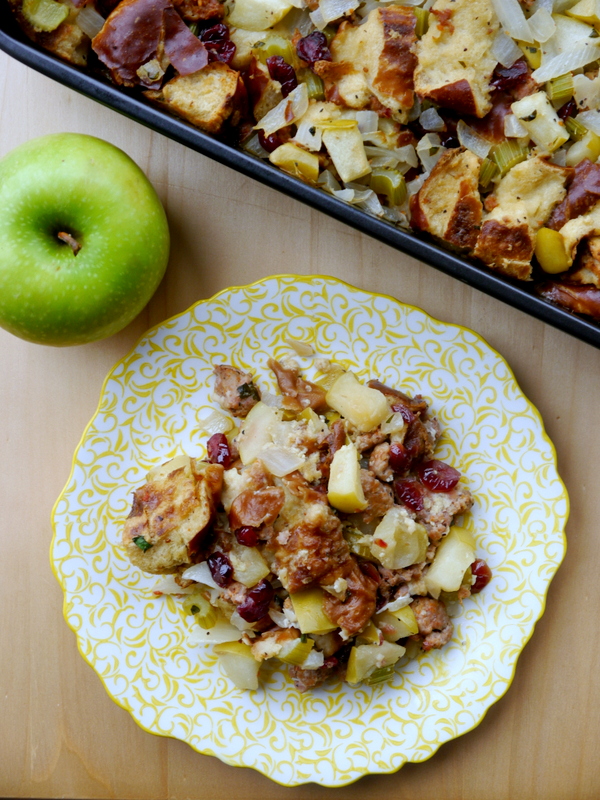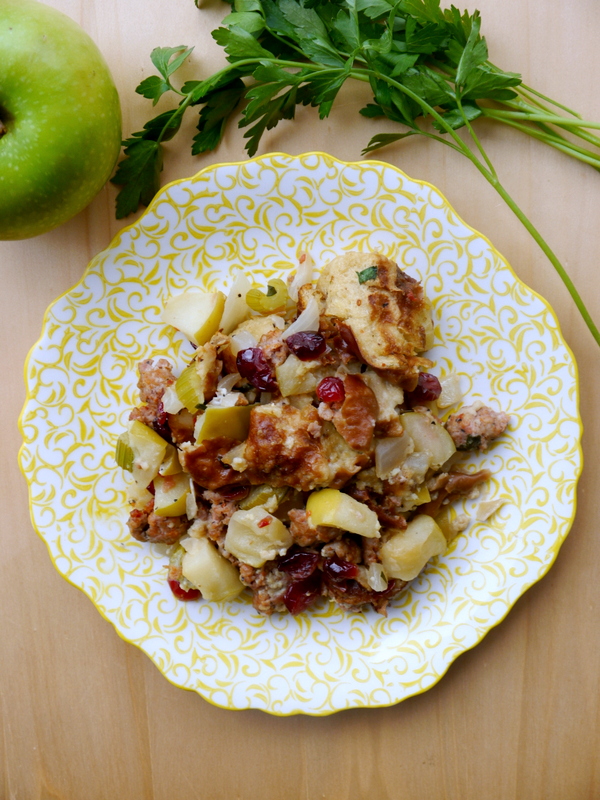 That leads me to this sausage and apple pretzel bread stuffing. Not to toot my own horn, but this is hands-down the best stuffing I've ever had. It's classic but filled with flavor, and it's a sweet-and-savory lover's dream: spicy Italian sausage and soft veggies, sweet-tart Granny Smith apples and dried cranberries, and soft and pillowy and salty pretzel bread that soaks up every drop of rich liquid. It also could not be easier – perfect for hectic Thanksgiving menus – and requires just about 30 minutes of hands-on time. This is absolutely going to be my go-to stuffing recipe for years to come, and I think your family would have absolutely zero complaints if you happen to decide the same.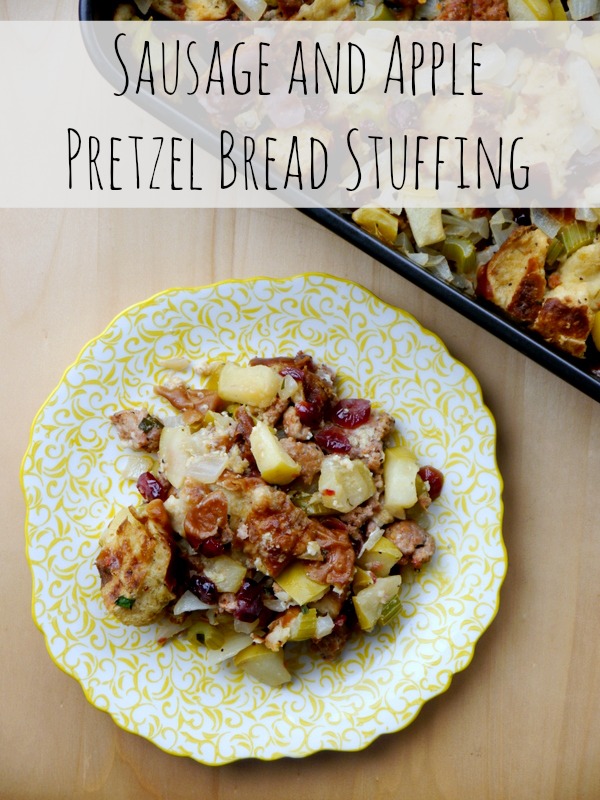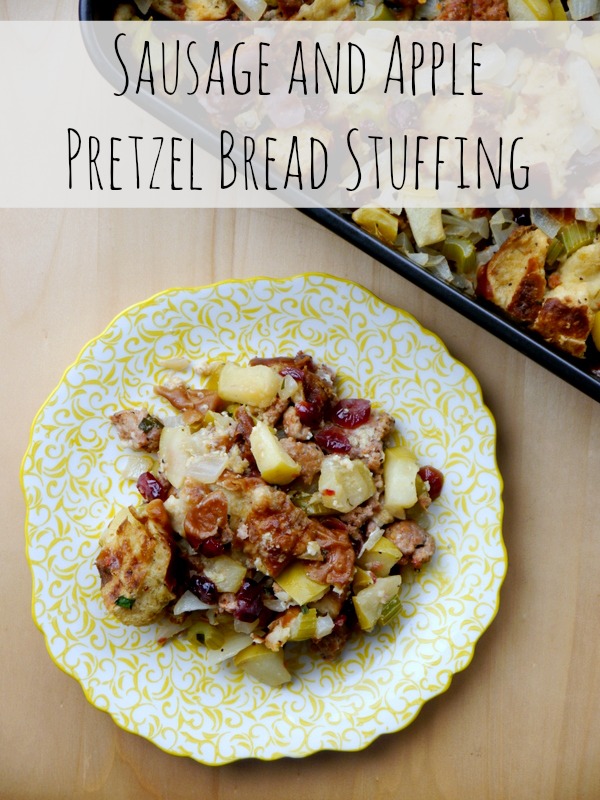 Sausage and Apple Pretzel Bread Stuffing
2014-11-16 12:46:50
Serves 8
This sausage and apple pretzel bread stuffing is the best stuffing I've ever had - it's so flavorful and perfectly moist. It will be the hit of your Thanksgiving dinner!
Ingredients
10 cups pretzel bread, cubed
¼ cup (half a stick) unsalted butter
1 large yellow onion, medium-diced
4 stalks celery, medium-diced
1 Granny Smith apple, unpeeled, cored, and medium-diced
¼ cup chopped flat-leaf parsley
1 tsp. kosher salt
½ tsp. freshly ground black pepper
3/4 pound spicy Italian sausage, casings removed
½ cup dried cranberries
2 cups chicken broth
2 eggs
Instructions
Preheat your oven to 300°F. Place the pretzel bread cubes in a single layer on a large rimmed baking sheet and bake for about 10 minutes, until starting to get a little crusty and dried out. Transfer the bread cubes to a very large bowl and bump the oven temp up to 350°F. Butter a 9 x 13" baking pan and set aside.
In a very large sauté pan, melt the ¼ cup butter over medium heat. Add the apples, onions, celery, parsley, salt, and pepper and cook for about 10 minutes, until all softened. Pour over the bread cubes in the large bowl.
Wipe out the same pan and cook your sausage for about 10 minutes, until no longer pink and cooked through. Remove the sausage with a slotted spoon and add to the bowl with the bread and the veggies. Add the dried cranberries and mix to combine.
In a medium-sized bowl, whisk together the 2 cups chicken broth with the two eggs. Pour over the bread mixture and mix well to combine. Pour the entire bowl into the prepared pan and smooth with a spatula to ensure even cooking.
Bake for 30 minutes, until cooked through. If the top is getting a little too well-done, you can tent with foil, but this was not a problem for me. Serve hot!
My Bacon-Wrapped Life http://www.mybaconwrappedlife.com/
Adapted from a mash-up of these this recipe and this recipe as well as my own preferences.
Looking for more Thanksgiving ideas?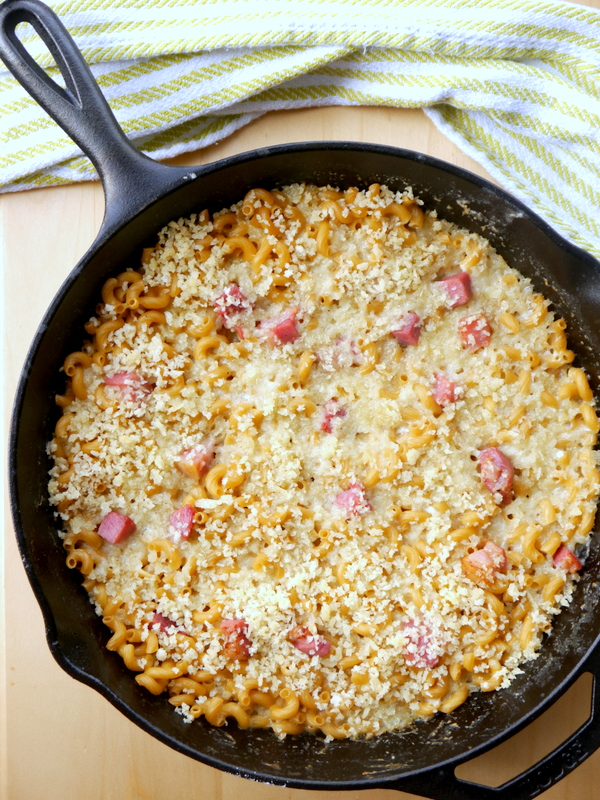 Skillet Baked Pancetta Macaroni and Cheese