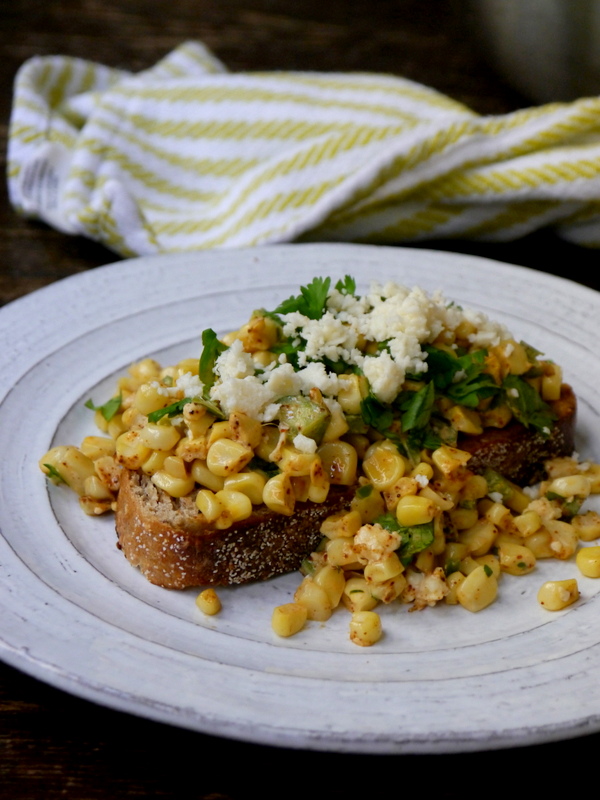 Are you ready for some corn porn?
Hey, it's my blog. I can say "corn porn" if I want to. I mean, just look at those bodacious, bright, insanely summer-y kernels, yo. I speak the truth.
There is little I love more in the summertime than fresh sweet corn on the cob. It's truly one of the most quintessentially summer things there is, isn't it? I totally have the classic childhood memories of just going to town on cob after cob at a picnic or bbq, with nothin' but a little butter required. But I also have a less traditional, but perhaps even stronger, childhood corn-chowing memory stemming from my LA upbringing. We would absolutely love eating the whole corn cobs, slathered in mayo and cheese and spices, sold alongside soccer games and public pools in the summer by the O.G. street-cart vendors – you know, before food trucks were trendy and fancy. And guys, that kind of corn was so, so good – it was one of my first tastes of real, authentic Mexican food, and I absolutely loved it, massive mouthful of kernels in my teeth and all.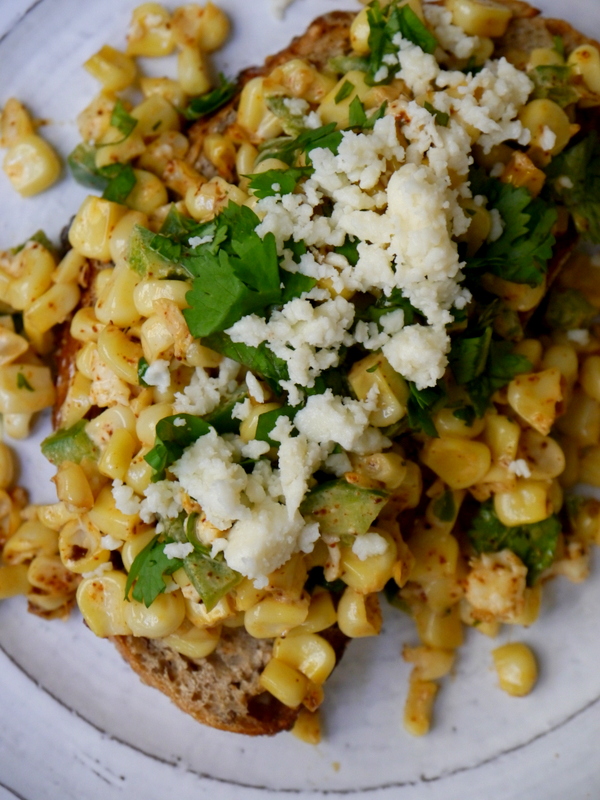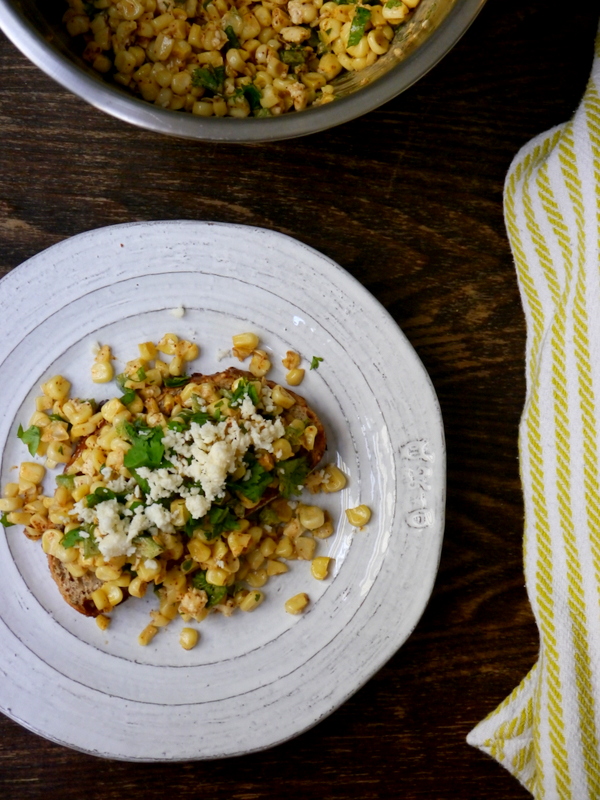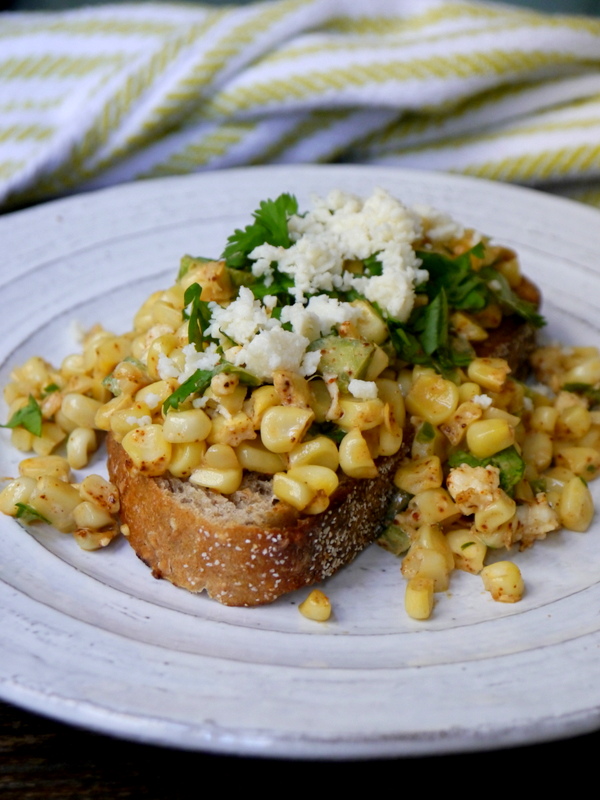 Now that I know a little more about food, I know that that Mexican street corn of my youth soccer game snack dreams is called elote, and it's still freakin' awesome. I wanted to do a little twist on the flavors of elote by making it off the cob (well, really, because #nogrill) and putting it on my favorite trendy veggie-vehicle, TOAST. Enter: elote toast (!!!!), my new favorite way to eat corn.
These elote (mexican street corn) toasts are so fresh and flavorful and hearty, and they could not be easier to throw together, which is a must in my life these days. We sauté some corn and mix it all up with the classic elote flavors of jalapeño, cilantro, chili powder, lime juice, a little mayo, and (the best part) salty, tangy Mexican cotija cheese. Then we spoon it all over perfectly toasted seedy wheat bread (my favorite hearty toast vehicle), and the result is incredibly satisfying and flavorful, rich and light all at the same time. It's filling enough to be a meal, but light enough to not weigh you down too much – it's bathing suit season, after all!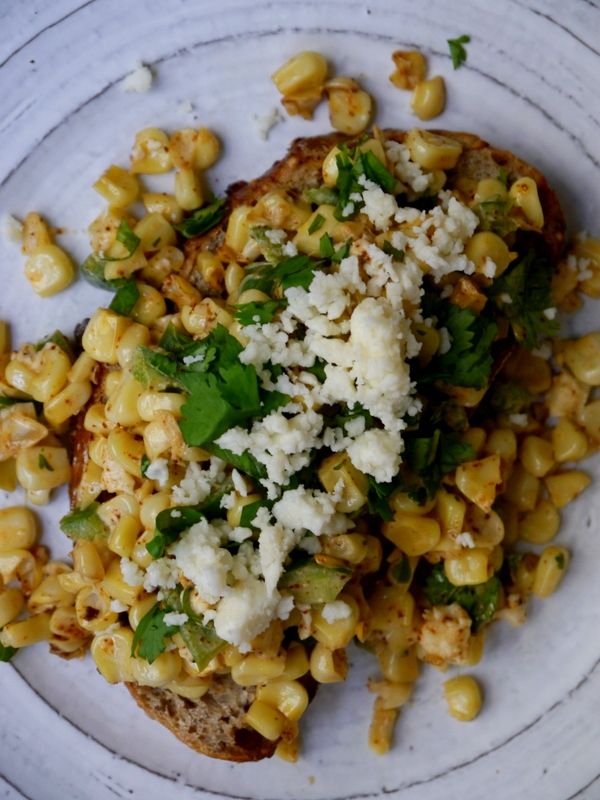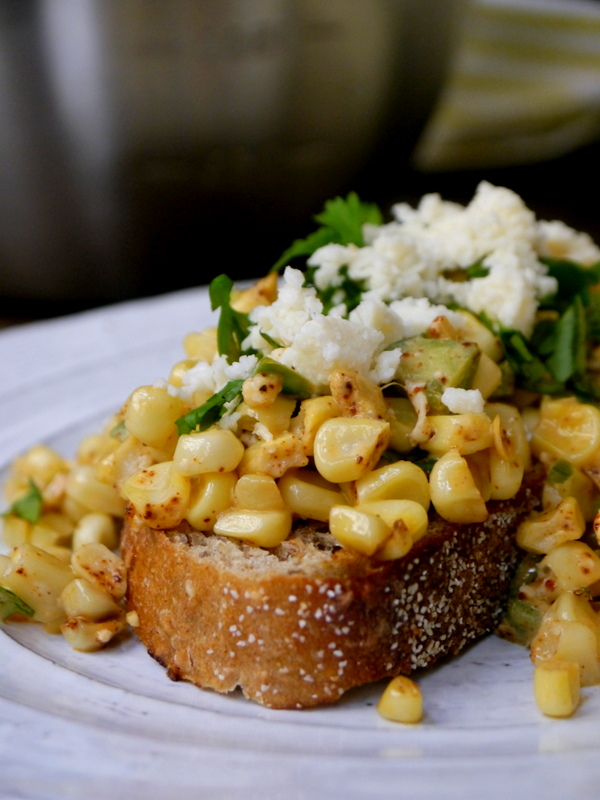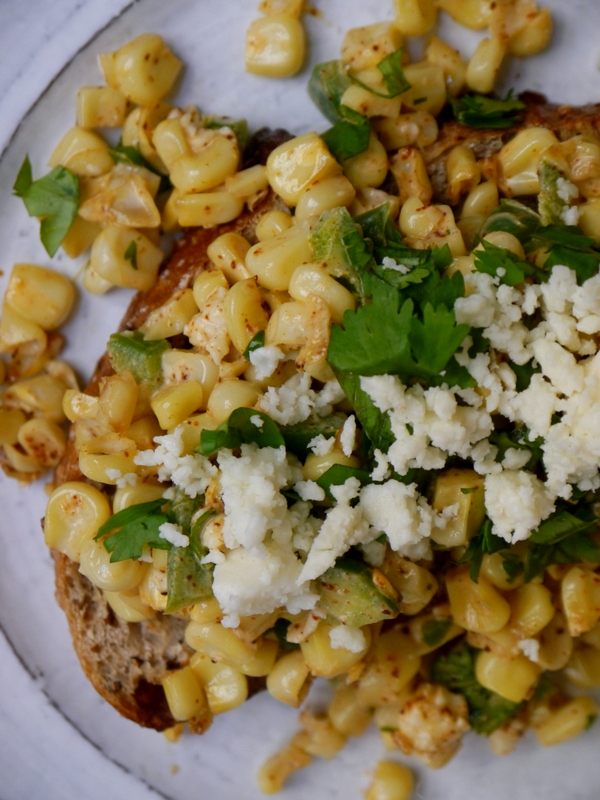 For my version, I kept the mayo on the light side – anyone who knows me well knows I have a serious aversion to mayo flavor on its own, so I had to make sure that it would be overwhelmed with all the other flavors – but feel free to add a bit more if you want a more traditional elote flavor goin' on. Bottom line? Feel free to make this your own – jack up the spice by leaving the seeds in the jalapeño, amp up the cheese because, uh, why not? – do whatchu gotta do, just make these elote toasts ASAP before the summer's over, taking all that gorgeous sweet corn away with it. You won't regret it!!
Elote (Mexican Street Corn) Toast
2015-07-27 21:25:08
Serves 4
Mexican street corn gets a modern twist by taking it off the cob and scooping it onto crunchy toast! This creamy, spicy elote toast is my new favorite way to eat corn!
Ingredients
3 tbsp. coconut oil, divided (See Note below)
About 2 cups fresh or frozen corn kernels (I cut the corn off 3 ears)
1 garlic clove, minced
1 jalapeño, seeded and minced
1-2 tbsp. mayonnaise
2 tbsp. crumbled cotija cheese, plus additional for garnishing
Big handful cilantro, thick stems removed, roughly chopped
1 tsp. chili powder
Juice from 1 lime
Kosher salt, to taste
4 thick slices seedy bread
Instructions
Heat 1 tbsp. coconut oil in a large skillet over medium heat. Add the corn kernels and sauté until golden brown and toasty but not burned, about 15 minutes. Add the garlic and cook for another 30 seconds, then remove from the heat. Set the corn aside to cool for a few minutes.
In a medium-sized mixing bowl, add the jalapeno, mayonnaise, cotija cheese, cilantro (reserve a little for topping), chili powder, lime juice, and a big pinch of kosher salt. Add the corn, taste, and add more salt or mayo if desired.
Meanwhile, heat 2 tbsp. coconut oil in the skillet you used to cook the corn. Add the bread and cook until toasted on both sides, working in batches if necessary. Transfer to a plate and top each with ¼ of the corn mixture (there will definitely be some spilling off the sides). Top with additional crumbled cotija cheese and chopped cilantro. Enjoy immediately!
Notes
I love the way coconut oil tastes with corn – it plays off its natural sweetness so perfectly – so I used it here. It's obviously a bit untraditional, so feel free to use olive oil or canola oil instead!
Adapted from The Kitchn
My Bacon-Wrapped Life http://www.mybaconwrappedlife.com/
Looking for more ways to enjoy corn this summer?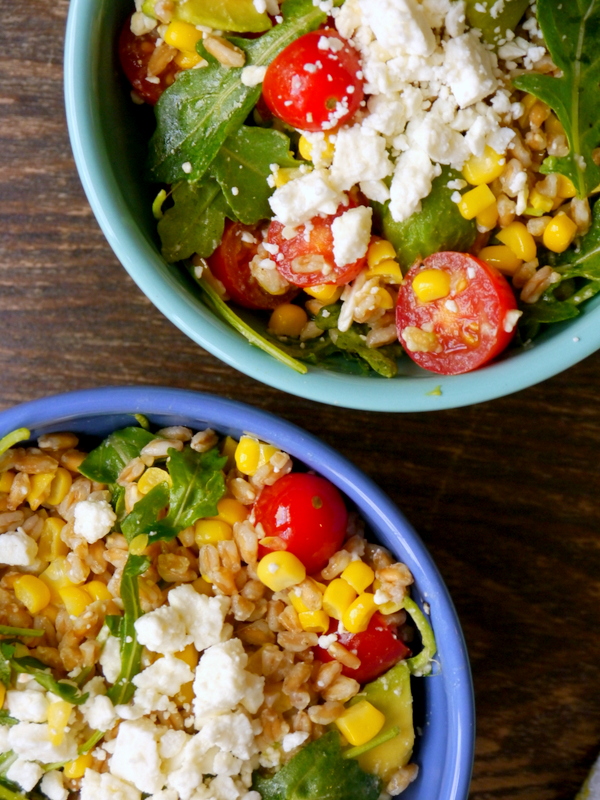 Kitchen Sink Summer Farro Salad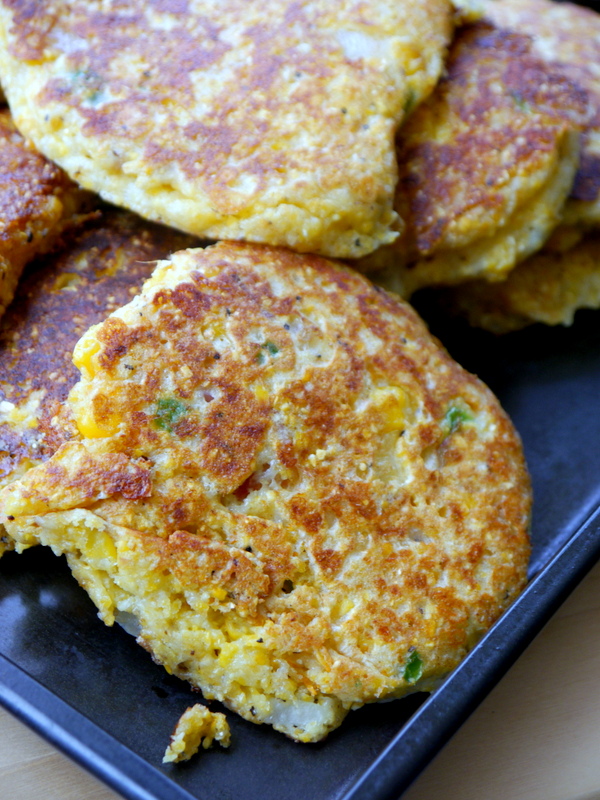 Cheesy Jalapeño Bacon Corn Cakes