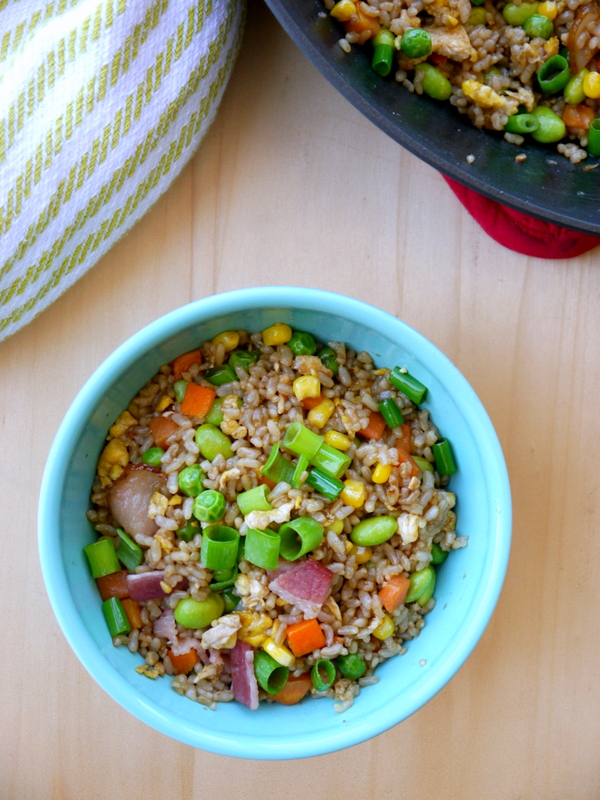 I'm still having trouble believing it's September, and the incredibly summer-y hot and stormy weather we've been having lately isn't helping things one bit. But somehow it is, and the days keep creeping by so I'm just going to roll with it. From this point on, it's warm and comforting Fall food all day every day, people. Get pumped!
Let's roll slow into this whole Fall thing, though. Pumpkin feels a little crazy when it's so freakin' hot out. I thought we could start with the perfect quick, comforting, and insanely flavorful weeknight meal for all you back-to-school-ers out there. Because really, is there anything worse than coming home starving and stressed and having to make a long tedious dinner? If you're anything like me, you'll end up eating half a bag of tortilla chips while you're cooking and then totally ruin your appetite for the main event. It's a sad and inevitable fact.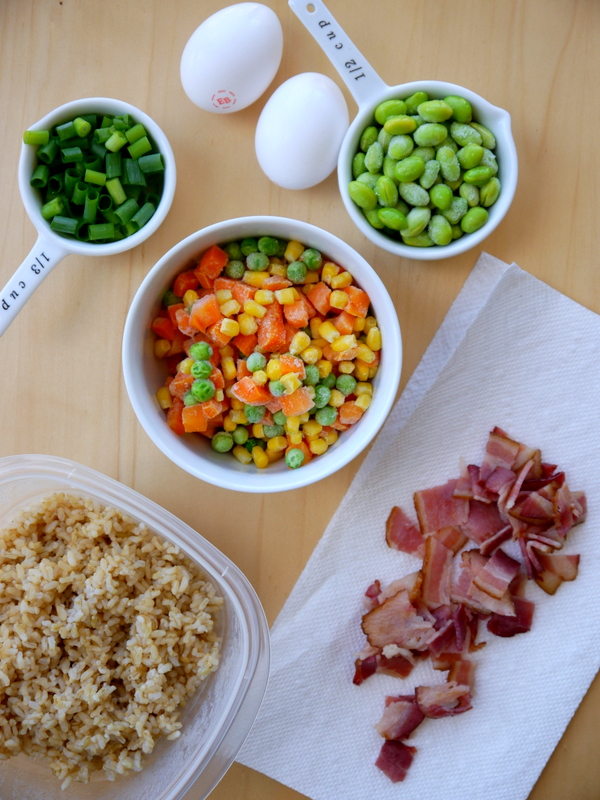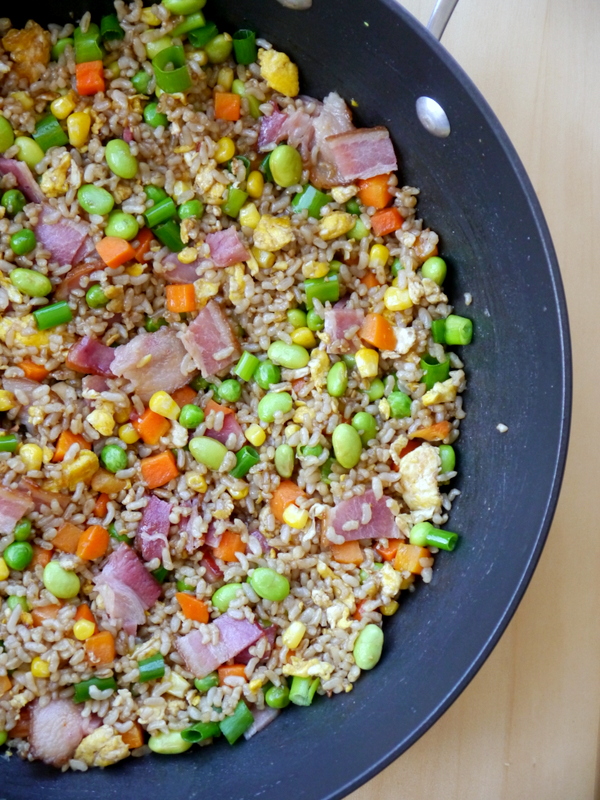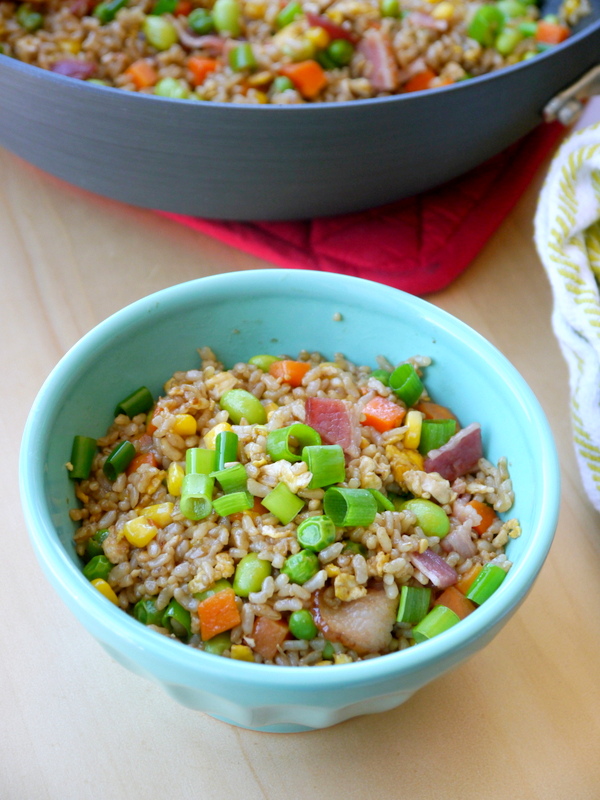 I may not be dealing with the whole back-to-school thing, but I sure as hell have busy weeknights that require busy-gal meals. This meal represents my weeknight cooking philosophy perfectly – it's gotta be fast, relatively un-labor-intensive, healthy, and full of flavor. It's a tall order, but there's just nothing like a home-cooked meal that's not only warm and comforting and fantastic but also filled with healthy, real ingredients that we can feel great about eating.
Oh, and a little bacon doesn't hurt anything.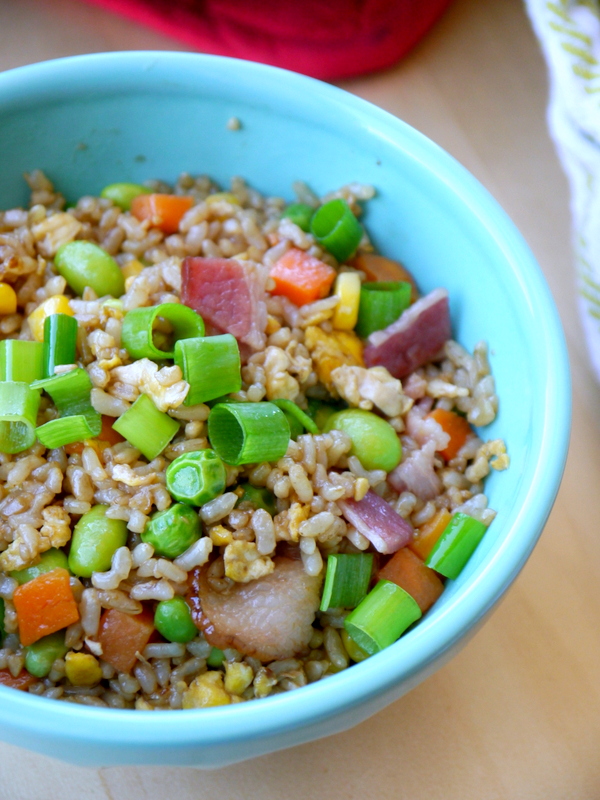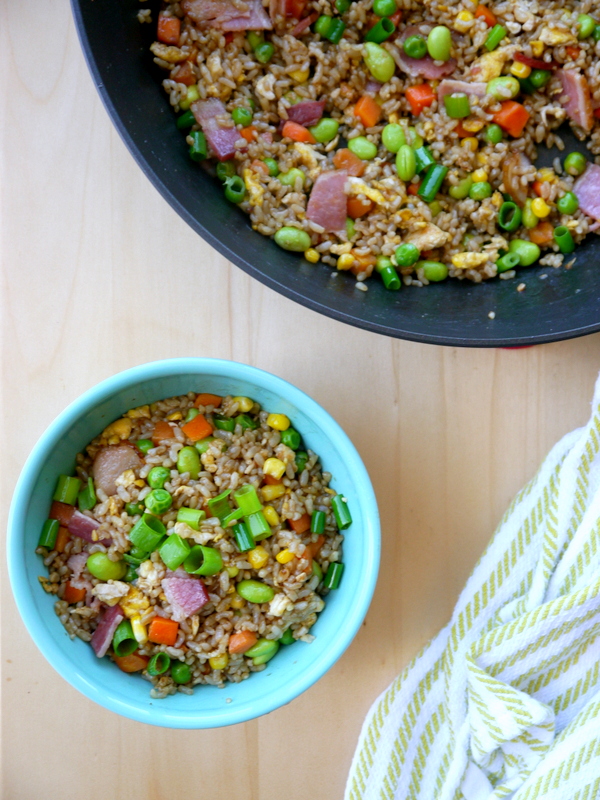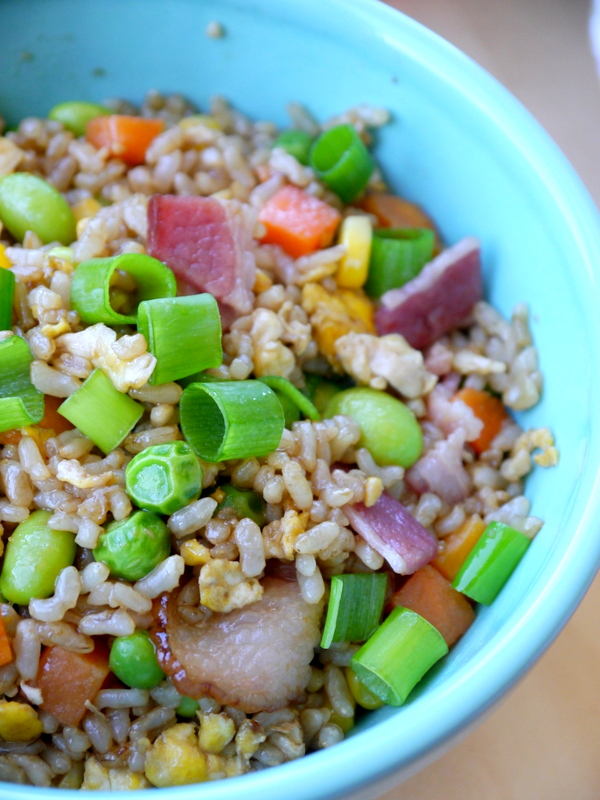 I'm absolutely in love with this edamame bacon fried rice. Including the time spent cooking the bacon, it comes together in less than 30 minutes, and it is so full of flavor, texture, and color. We lightly scramble some eggs for that traditional fried rice feel, sauté 'em up with some refrigerator-cold leftover rice, then add in all the veggies and bacon we want. It's warm and creamy from the rice and the eggs, sweet and crunchy from the veggies, and a little salty from the bacon and the soy sauce. The result is a one-pan dish so incredibly fragrant, flavorful, and satisfying that you won't believe that you could whip up such a weekend-worthy meal on a regular old weeknight. Such a weeknight win!
Best of all? It's totally customizable to whatever you have on hand. Leftover shredded chicken or even pulled pork? Throw it all in there. Prefer a different kind of rice? Substitute away! Don't like edamame? Wait, everyone likes edamame. Never mind.
**One thing to note: brown rice is obviously not the traditional rice used in authentic fried rice. I used it here because a) I was trying to be a bit healthier, and b) I found the 24 hours in the refrigerator genuinely provided the clumpy, sticky texture required for excellent fried rice. My half-Japanese best friend Emily, who is an expert on all things fried rice and was my main source of information when creating this recipe, is probably shaking her head at my white girl-ness. If you'd like to be more authentic, she says to go with a Calrose rice!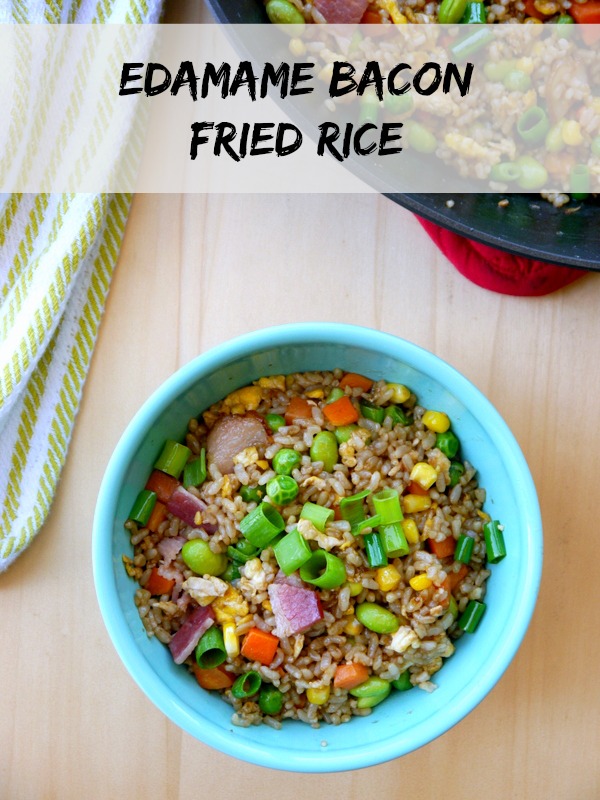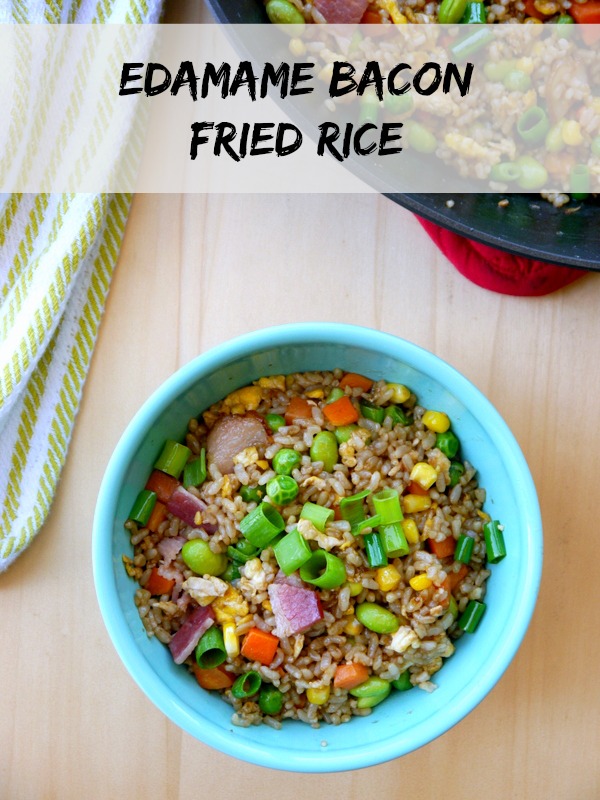 Edamame Bacon Fried Rice
2014-09-07 12:28:22
Serves 3
This edamame bacon fried rice is the perfect weeknight dinner - quick, healthy, and insanely flavorful!
Ingredients
2 tbsp. sesame oil, divided
2 cloves garlic, minced
2 eggs
3 cups leftover brown rice (cooked and cooled in the refrigerator for at least 24 hours)
1 ½ cups frozen mixed veggies (peas, corn, carrots)
½ cup frozen shelled edamame
½ tbsp. rice vinegar
2 tbsp. soy sauce
3 slices bacon, cooked and chopped
1/3 cup green onion, chopped, divided
Instructions
Preheat a large skillet on medium-high heat. Add 1 tbsp. sesame oil and the garlic and cook, stirring, for about 1 minute.
Next, add the eggs. You can crack them directly into the pan or crack them into a small bowl and then slide them in. Cook, stirring constantly, for 1-2 minutes or until set but not completely cooked through.
Next, add the cold rice and the remaining 1 tbsp. sesame oil. Cook for 2-3 minutes, stirring frequently. Finally, add the frozen veggies and edamame, as well as the rice vinegar and soy sauce. Stir-fry for another 2 minutes or so, stirring to make sure everything is well-incorporated. Remove from the heat and stir in the bacon pieces and half of the green onions.
Serve immediately, topped with the reserved green onions for some crunch on top.
Notes
Fried rice moves very fast once you start cooking, so make sure to have all your ingredients completely prepped and ready before you start frying the eggs!
My Bacon-Wrapped Life http://www.mybaconwrappedlife.com/
Adapted from a mashup of this quick fried rice and my best friend Emily's tips.
Looking for more quick and easy weeknight meals?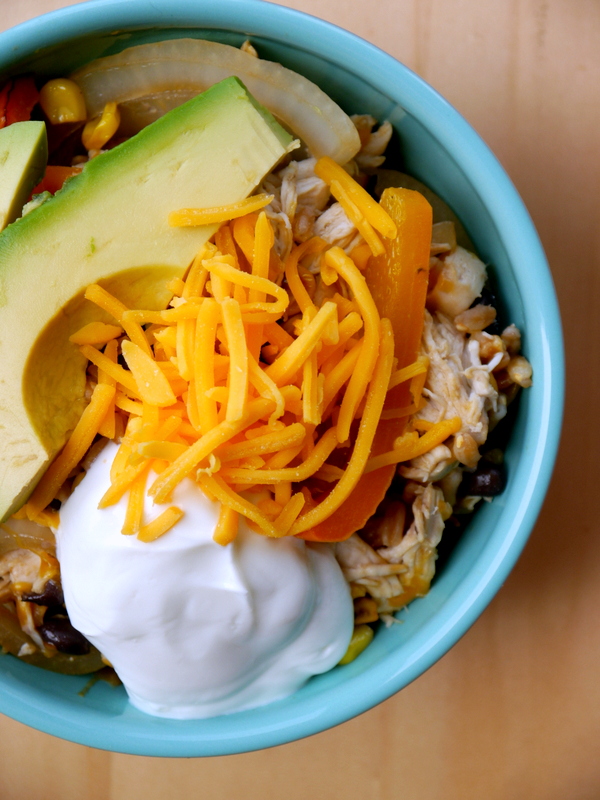 Farro and Black Bean Burrito Bowls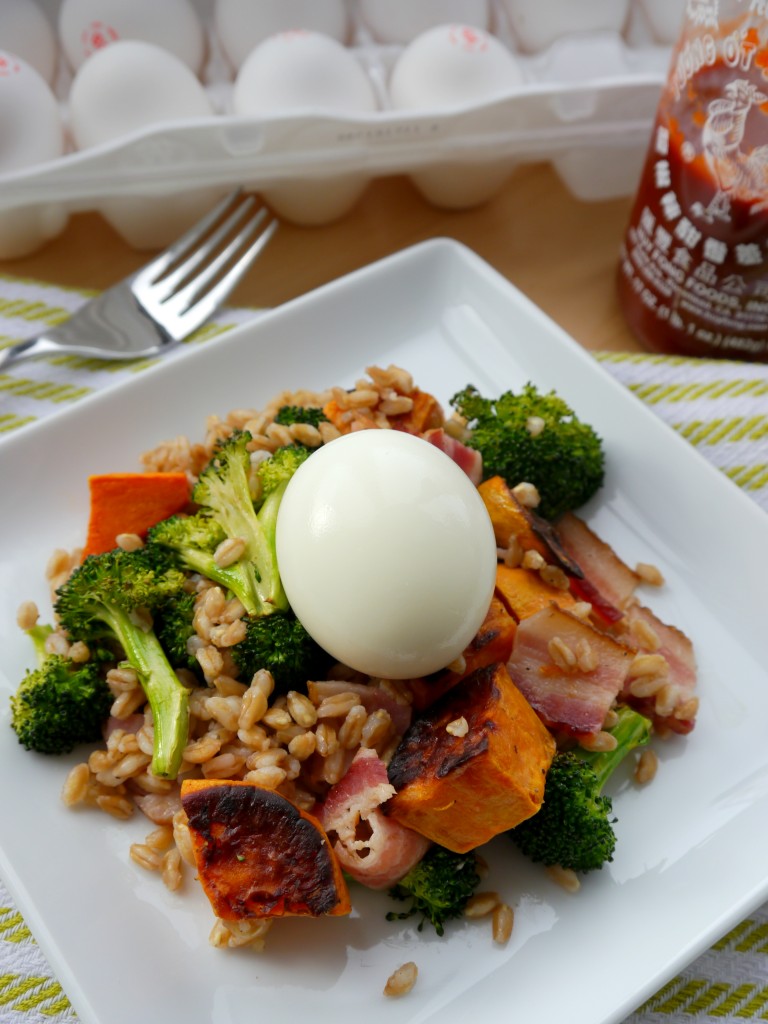 Bacon and Egg Farro Salad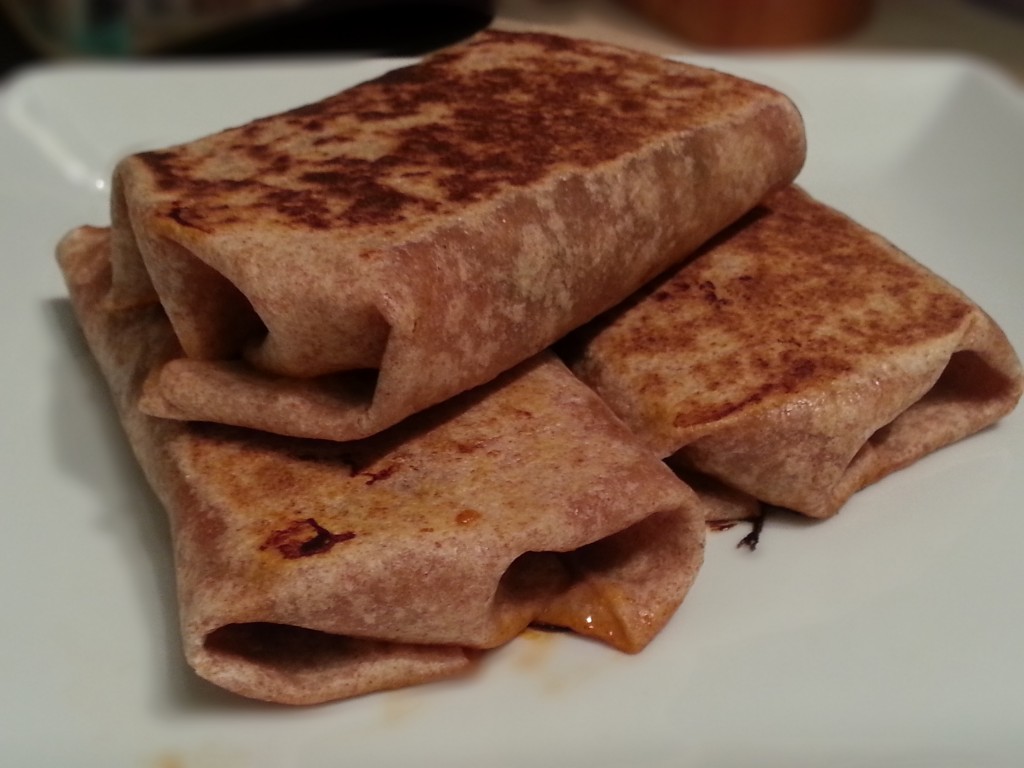 Quick Chicken Burritos
(please ignore the offensive photos, these are so delish!)