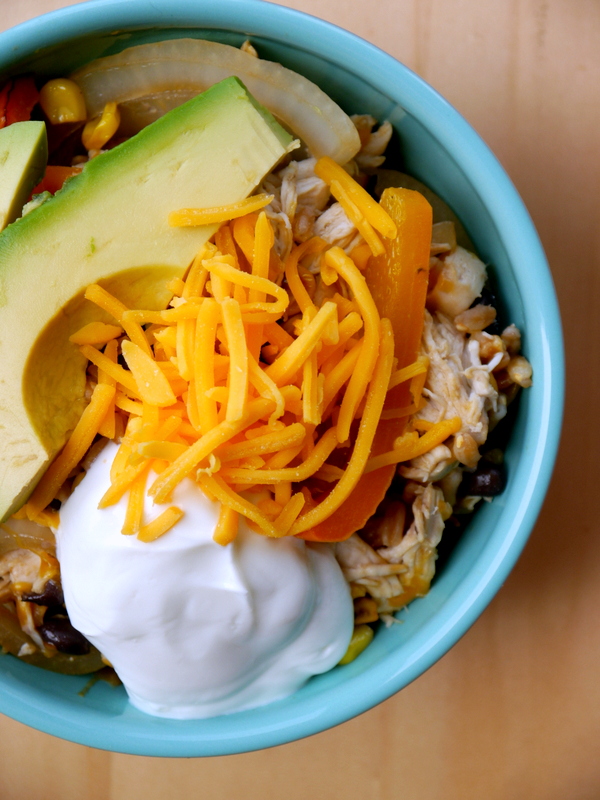 Phew. I don't know about you guys, but this weekend was a BIG eating weekend. And a big beer-drinking weekend. And a big happy-times-outside-not-too-productive weekend. It was totally awesome and exactly how a holiday weekend is supposed to be, but as always after a vacation or holiday, I am feeling greatly in need of a few days that don't involve stuffing my face with enormous oatmeal chocolate chip cookies. We all need a few of those days every now and then, even those of us (ahem) who write food blogs about bacon. It's all about the balance here.
When I feel like eating healthy, I refuse to eat anything that leaves me hungry, unsatisfied, or both. We've discussed this before, but I can't say it enough. My standards for healthy food are as high as my standards for pizza or mac n' cheese: it needs to be full of flavor, color, and texture, and it needs to fill me up good. Or else I'll shortly be turning back to those oatmeal chocolate chip cookies (which still perch menacingly on my counter).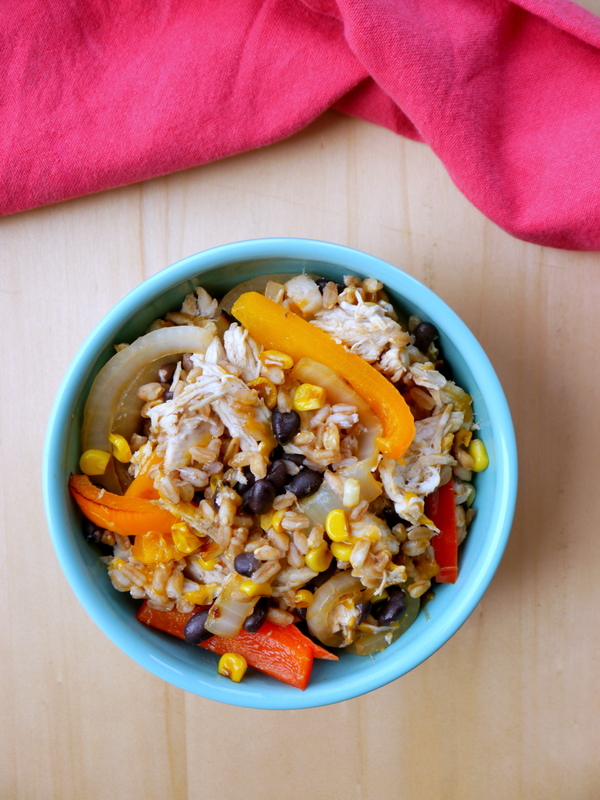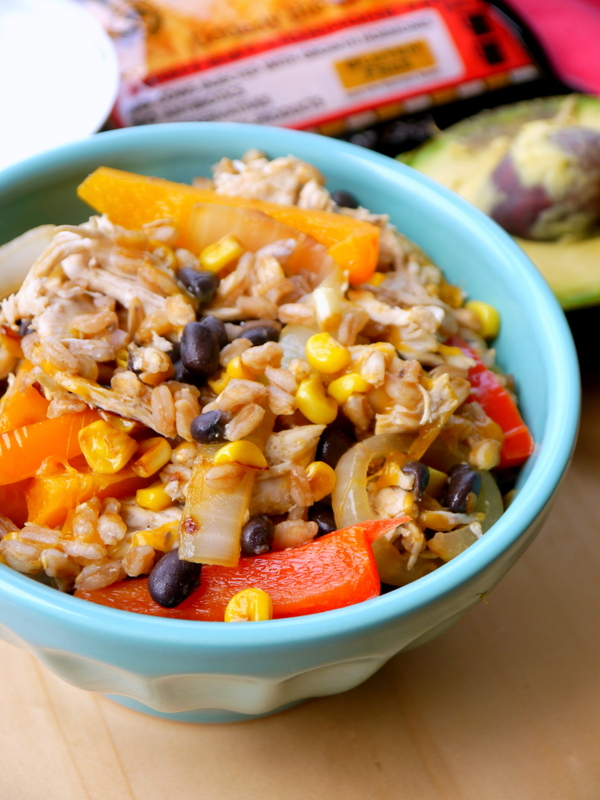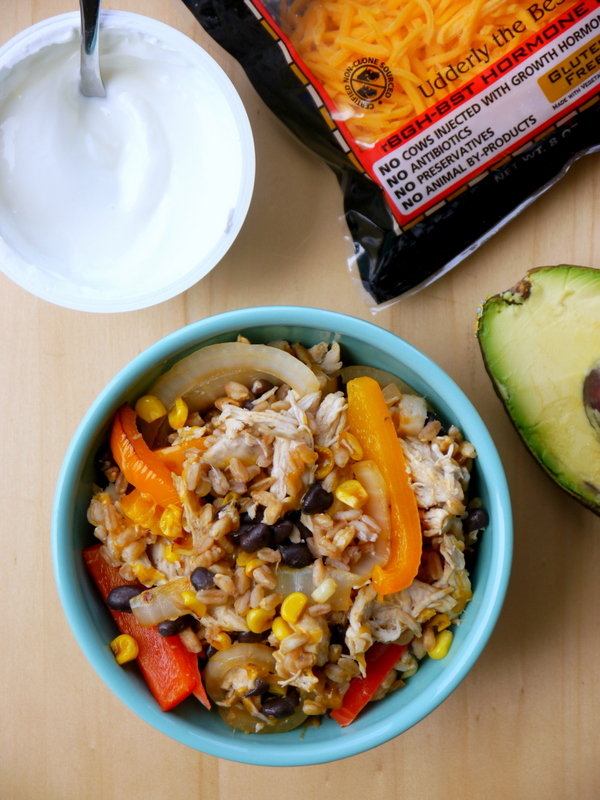 These farro and black bean burrito bowls are exactly what I wanted after a decadent weekend. They're first and foremost absolutely delicious – I mean, they're inspired by a Chipotle burrito bowl, one of the greatest fast foods known to man. But they're also filled with tons of high-protein, vitamin-rich, good-for-you foods: farro, black beans, shredded chicken, tons of fresh veggies, and just a little cheddar cheese for that gooey stringy flavor. We top it all off with heart-healthy avocado, plain Greek yogurt (try it, I promise you'll never miss the sour cream), and a little more cheddar cheese because a little cheese never hurt anyone. It's the perfect post-vacay meal: super healthy but also so freakin' delicious and satisfying that you'd never know you're being totally virtuous. Now if that's not the perfect way to celebrate the end of a fantastic holiday weekend, I don't know what is. Victory!!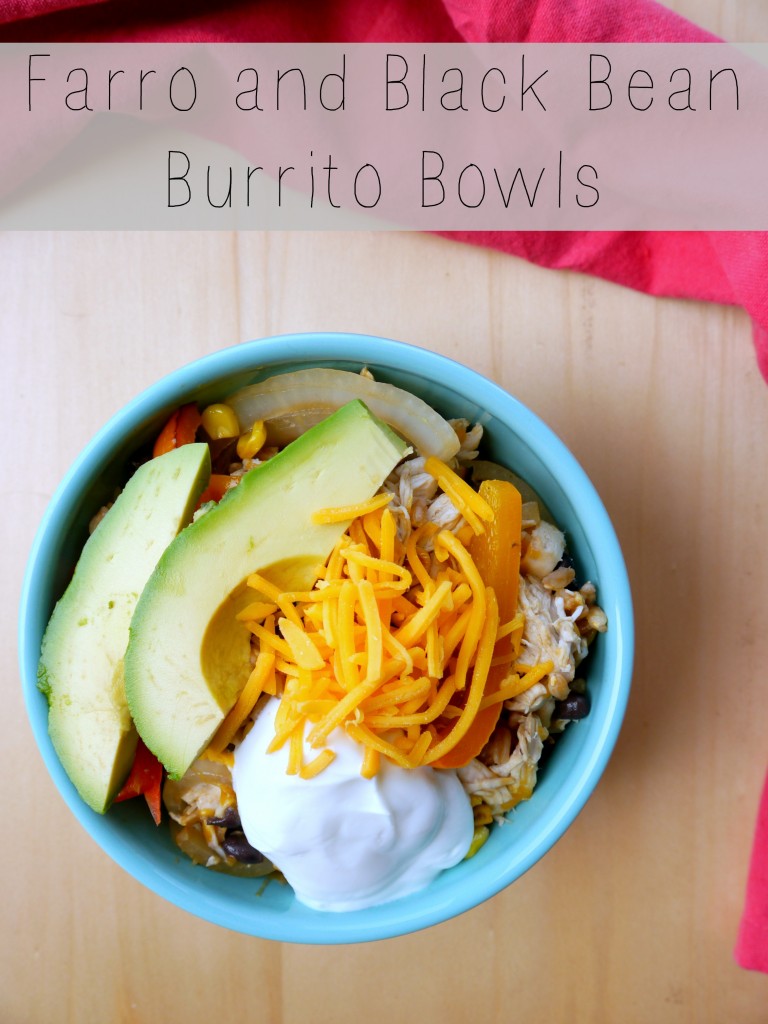 Farro and Black Bean Burrito Bowls
2014-07-06 17:15:57
Serves 4
These lightened up burrito bowls are hearty, cheesy, and super flavorful - you'd never know they are packed with tons of good-for-you ingredients and so much protein!
For the burrito bowls
1 lb. chicken breasts, cooked and shredded
1 cup farro, rinsed (see Note)
1 tbsp. olive oil
2 bell peppers, thinly sliced
1 white onion, thinly sliced
2 ears fresh corn kernels
1 can black beans, rinsed and drained
½ cup shredded cheddar cheese
For the toppings
Plain Greek yogurt
Avocado slices
Shredded cheddar cheese
Instructions
Cook your farro according to package directions. While the farro is cooking, heat a large skillet over medium-high heat. When the skillet is nice and hot, add 1 tbsp. olive oil and the sliced onion. Sauté for a few minutes, until the onion is starting to get some char and cook down a bit. Then add the sliced peppers and corn kernels. Cook, stirring every so often, for about 5-7 minutes, until the veggies are softened and a little charred.
When the farro is done cooking, drain the farro and pour into a large bowl. Add the black beans, shredded chicken breast, and sautéed veggies. Mix to combine. Add ½ cup shredded cheddar cheese and mix to combine again, melting the cheese. Divide into four bowls and top with avocado, Greek yogurt, and more cheese!
Notes
Farro, like many other whole grains, has a very bitter taste if it is not properly rinsed before cooking. I put whatever amount I'm going to be cooking into a large, fine sieve and run water over it for about 30 seconds before cooking - this does the trick!
Another note: I buy the Italian/pearled farro, which cooks quickly (15 minutes). Choose whichever version you like, just make sure to budget time for cooking based on what kind of you buy.
My Bacon-Wrapped Life http://www.mybaconwrappedlife.com/
Looking for more healthy and hearty eats?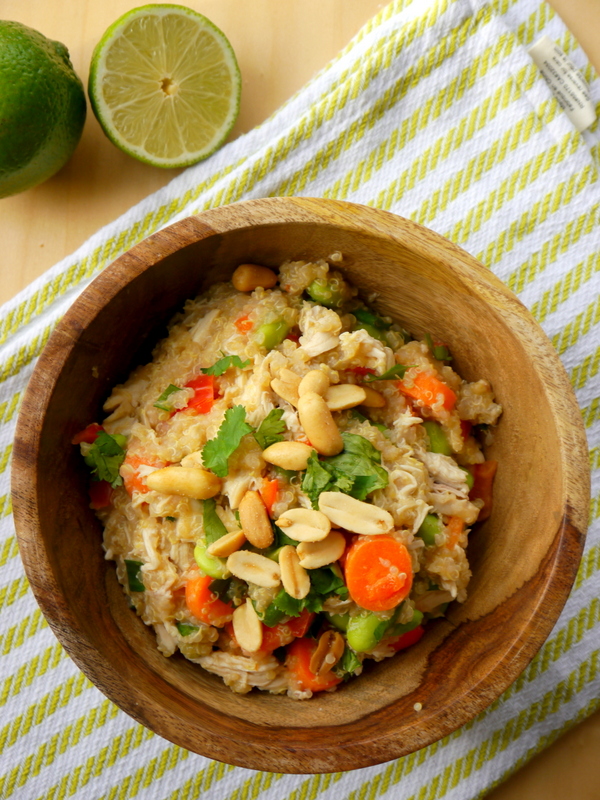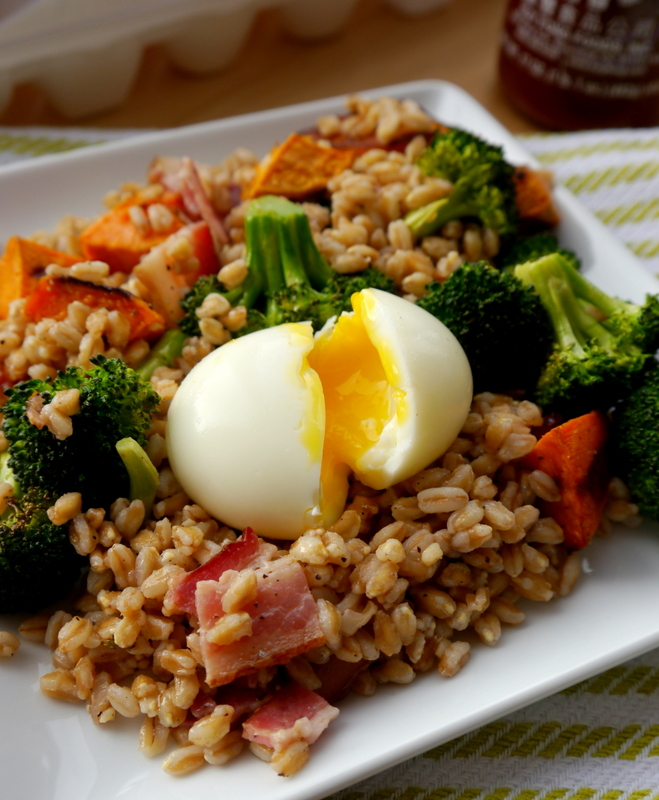 Bacon and Egg Farro Salad