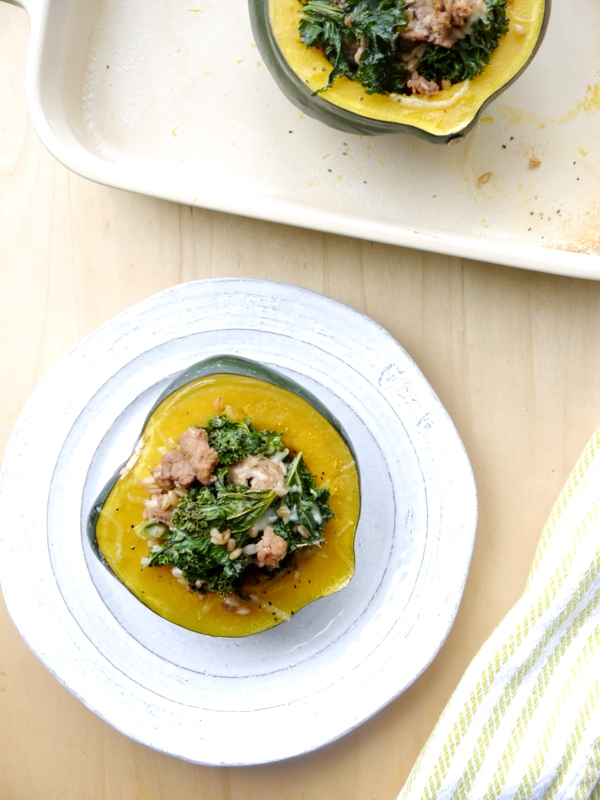 This right here is totally my middle-of-Februrary dregs-of-winter love food.
It has so many warm and hearty winter-y things all in one (Spicy sausage! Kale! Whole grains! Squash!) and it's so comforting and filling and cozy and actually quite healthy. Because we've all been sitting around in the cozy indoors on our couches watching movies and drinking wine and eating pizza in our sweatpants for weeks on end, right? And maybe we could all use some healthy comfort food love? (Please, please tell me it's not just me?!)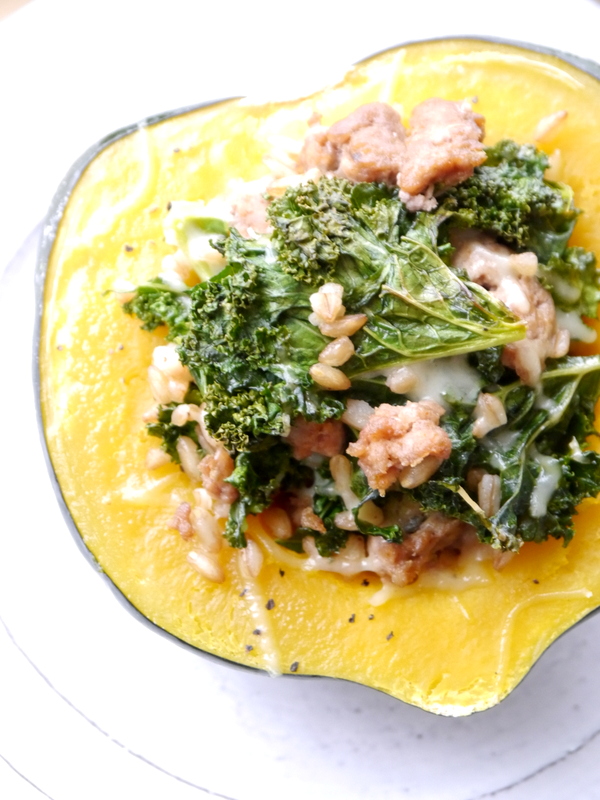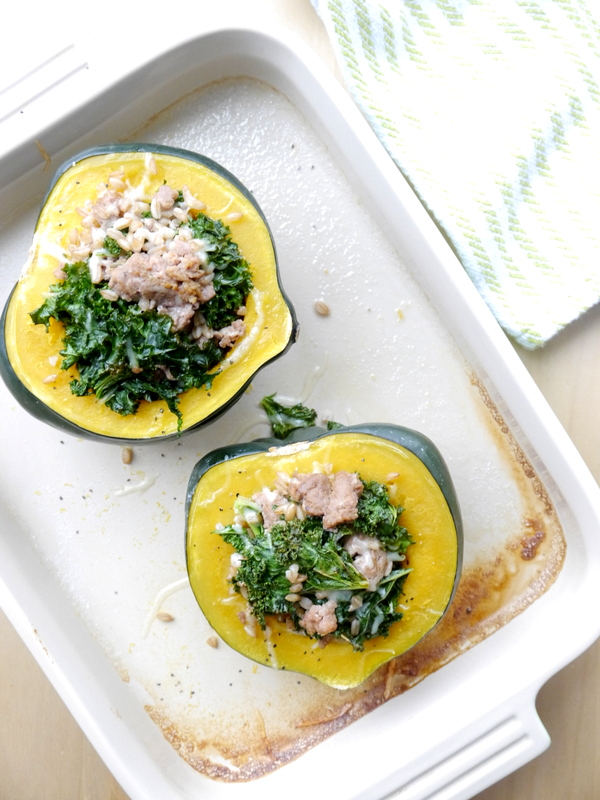 This spicy sausage, kale, and farro stuffed roasted acorn squash is all that and so much more. It is one of my favorite dishes I've made in recent months—it's incredibly flavorful, has so many of my favorite things, and really just hits the spot at this time of year. It's quick and healthy enough to make on any weeknight after a long day at work, but special enough to serve for company if you're having some friends over (or, ahem, for a romantic Valentine's Day candlelit dinner). And can we talk about that gorgeous squash color?! It's sometimes so hard to cook with color in the winter with so many of the best veggies and fruits completely AWOL until the warmer months. I mean, we're not trying to fit into any bikinis anytime soon (phew), but we need nutrients to get us through these cold and windy and dreary days of winter. Squash is our winter veggie superhero, people.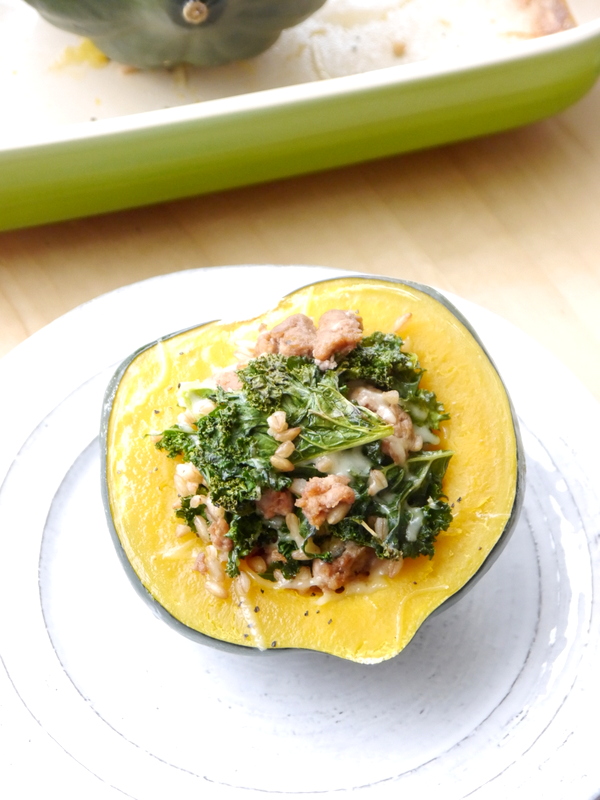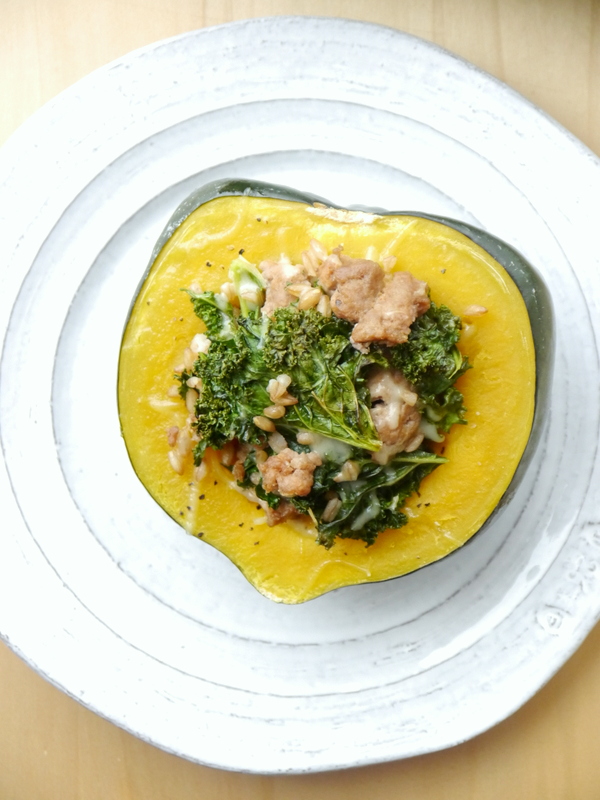 OK, now for some real talk. The best (ONLY) way to eat these babies is to take a fork and scrape away the sides of the squash and mix it all up together with the filling for a little bit of everything in each bite. It's SO good. I hope you love all up on this warm, healthy, and colorful winter dish as much as we did!
Spicy Sausage, Kale, and Farro-Stuffed Roasted Acorn Squash
2015-02-08 10:13:08
Serves 2
This incredibly flavorful sausage, kale, and farro-stuffed roasted acorn squash is the perfect healthy and hearty winter dinner!
Ingredients
1 acorn squash
1 link hot Italian sausage, cooked and crumbled
2 big handfuls chopped kale, sautéed until slightly wilted in 1 tbsp. olive oil, ¼ tsp. chili flakes, and salt and pepper to taste
½ cup cooked farro
½ cup shredded Parmesan cheese
Instructions
Preheat your oven to 375°F.
Cut your squash in half from root to stem. Scoop out the seeds and discard. Transfer the squash halves, cut side-down, to a large baking dish. Pour in enough hot water to cover the bottom of the dish by about 1/4-inch. Cover the baking dish loosely with a layer of foil and bake for about 30 minutes, until the squash is very tender and soft. (If your squash is particularly large, it might take a bit longer.)
When the squash is finished roasting, flip over the squash halves in the baking dish so the cut side is facing up. Rub the inside of the "bowls" with olive oil, and sprinkle with salt and pepper to taste. Combine the cooked farro, Italian sausage, sautéed kale, and shredded Parmesan in a medium bowl. Divide the filling evenly into the two squash halves, pressing it in and mounding it up on top of each "bowl".
Re-cover the pan with aluminum foil and return it to the oven. Bake for an additional 15-20 minutes, until the filling is hot and the cheese is melted. Serve warm!
Adapted from The Kitchn
My Bacon-Wrapped Life http://www.mybaconwrappedlife.com/