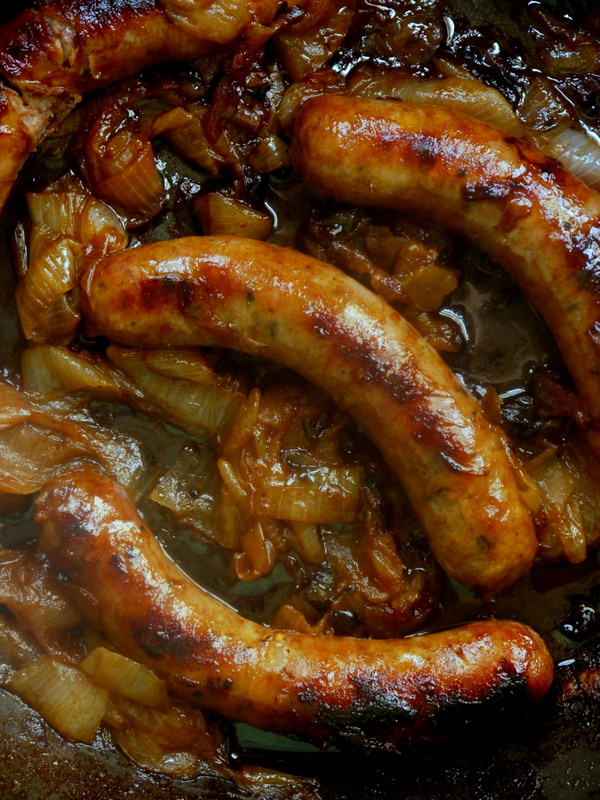 At this time last year, we were dressed up in our dirndls and leiderhosen, drinking liters and liters of beer and chowing down on bratwursts, spaetzle, schnitzel, and strudel. It was the absolute best.
This year, I'm on my couch in our little apartment-cave, getting slightly drunk by myself in the middle of the day because I am drinking the gigantic beer I used as a prop in these photos. I think this would be considered a significant downgrade. At least there's still beer?
This recipe is my tribute to our fantastic Oktoberfest trip last year. Brad and I are total Euro-philes (is that a thing?) and have been fortunate enough to take some awesome trips across the pond in the Fall for the past few years. This year, with Brad being in school and lots of weddings and other travel obligations, we weren't able to take our little annual Eurotrip, so I'm doing my best to bring the vacay to us the only way I know how – with food!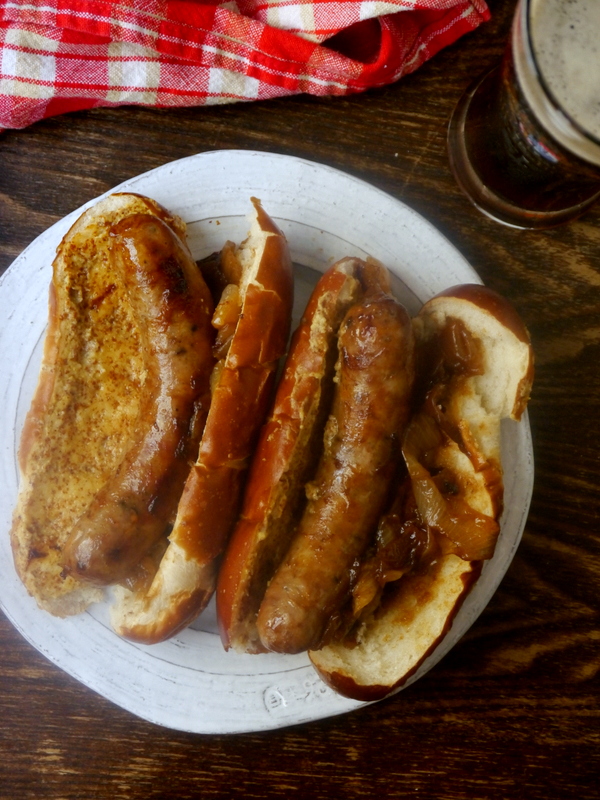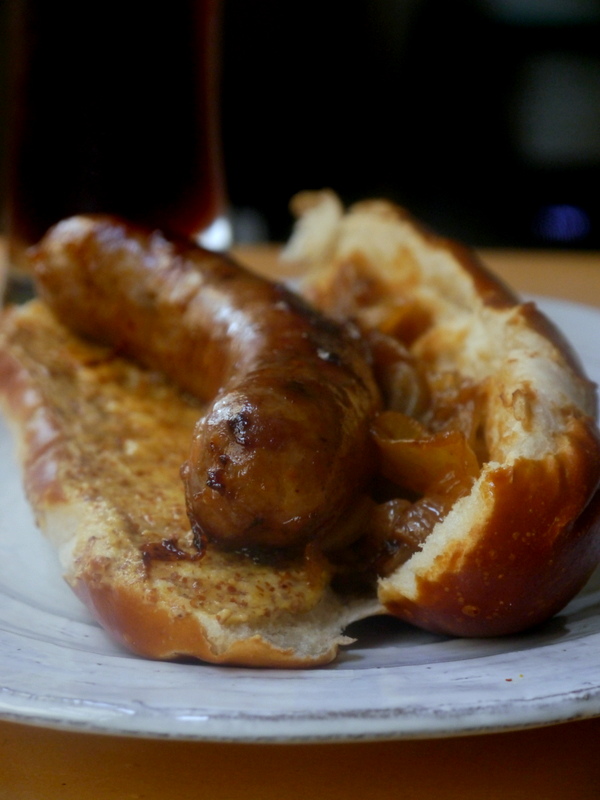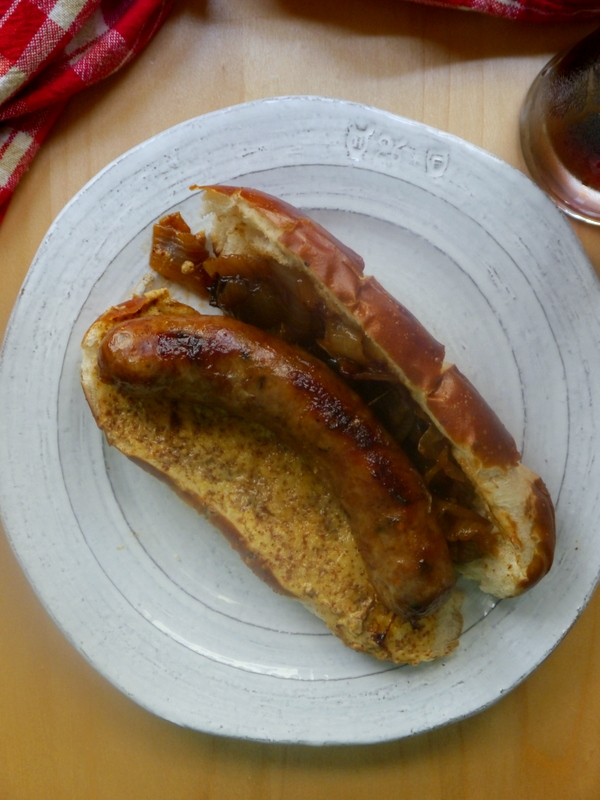 These German-style beer brats were just the ticket for our major vacay nostalgia. They came out fantastic, browned in butter and cooked in beer and loaded up with tons of beer-caramelized onions. The flavor is out of this world, and they could not be easier to throw together. We both agreed this is one of the best things that has come out of my kitchen in a long time, and considering I've been making lots of nachos and cookies, that's saying something, yo.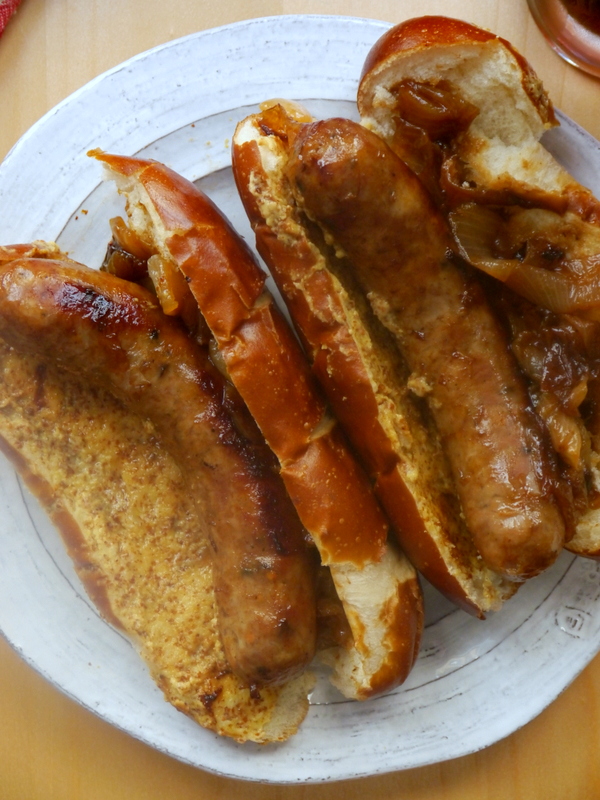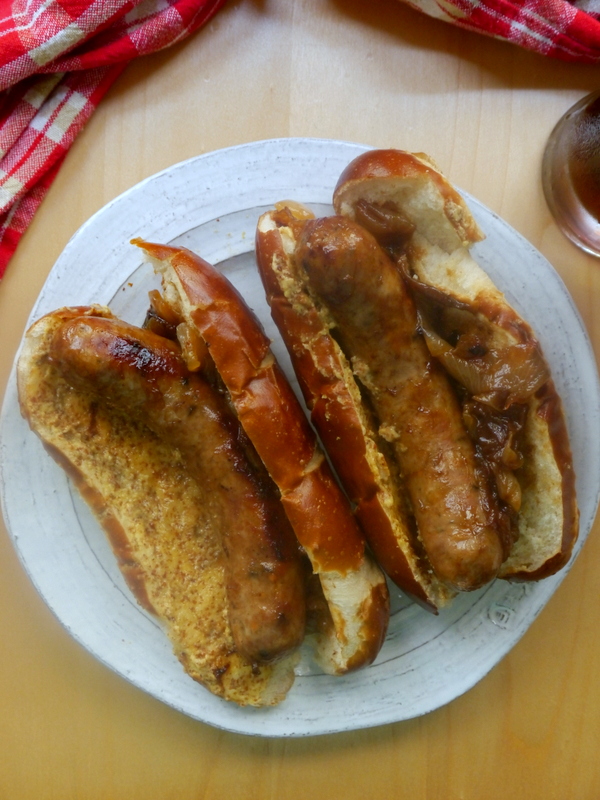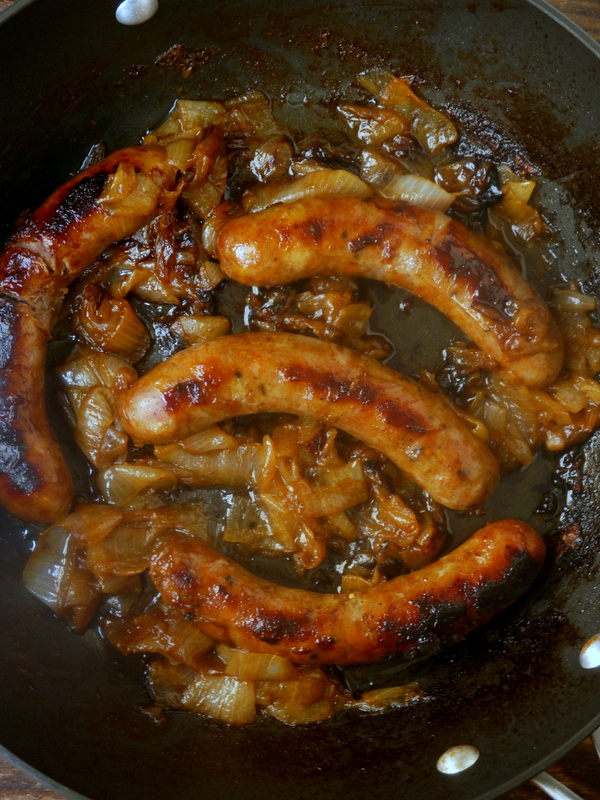 Now, I'm not going to pretend like these beer brats are super authentically German. For one, I think any German would slap me for using pretzel rolls. But since pretzels are ALSO an Oktoberfest thing, I thought I could get away with it (plus, pretzel rolls rock my world, so whatever). I also used a local California brown ale, and I loaded these babies up with caramelized onions instead of sauerkraut. But the vibe was spot on, the flavors were insanely delicious, and we'll just call it my little Americanized spin on the classic. Because that's what it's all about, right?
Whether you're celebrating Oktoberfest from afar this year, or just looking for some awesome game-day grub, you must try these German-style beer brats. I can't imagine a better way to spend a wanderlust-filled lazy Sunday than chowin' down on these babies!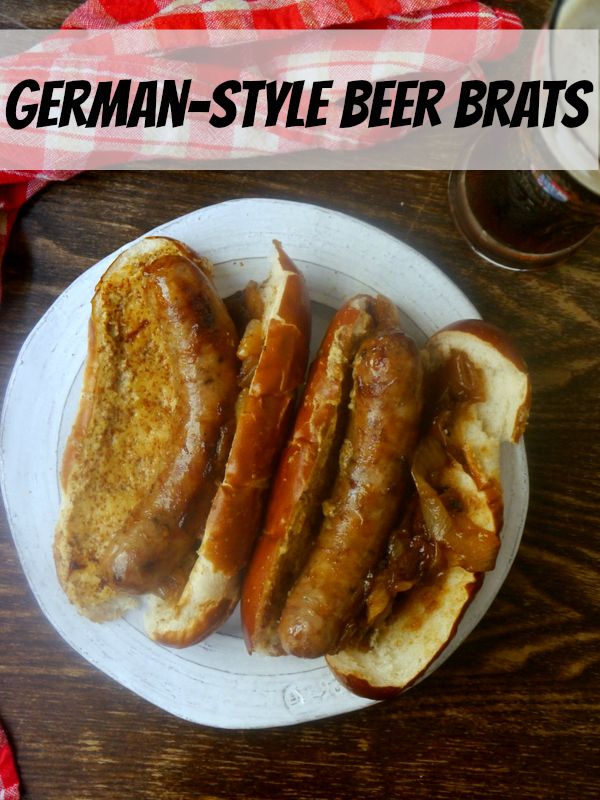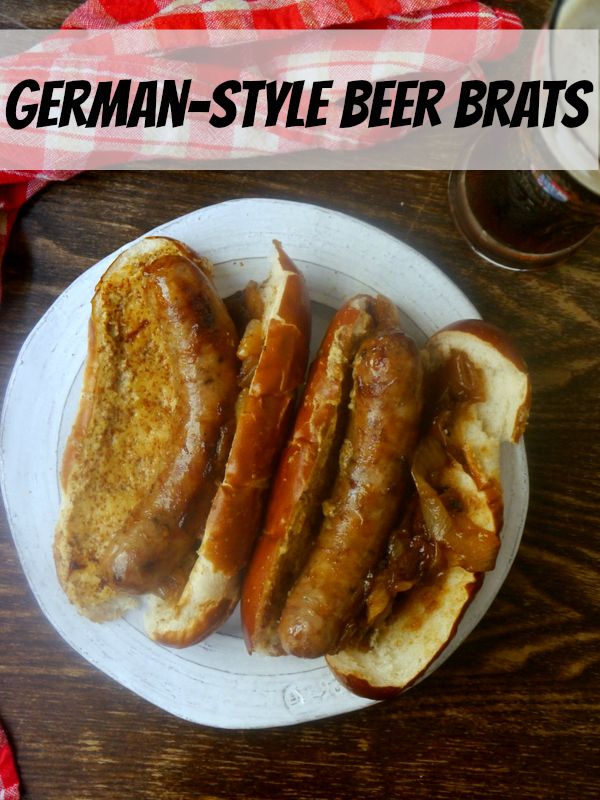 German-Style Beer Brats
2015-09-27 15:06:19
Serves 4
These brats are braised in beer, topped with beer-caramelized onions and grainy mustard, and loaded up on pretzel buns. Perfect for an Oktoberfest celebration at home or a game day treat!
Ingredients
2 tbsp. butter
2 small white onions, sliced thick
4 bratwursts
1 12-ounce bottle brown or amber ale
4 pretzel hot dog rolls
Grainy mustard, for serving
Instructions
In a large skillet, melt the butter over medium heat. Add the onions and cook, stirring occasionally, for 5-7 minutes, until the onions start to soften. Add the bratwursts to the pan, nestling them among the onions. Pour in the beer and bring to a boil. Reduce heat to a simmer and cook for 30-40 minutes, stirring the onions and flipping the sausages a few times, until the beer is evaporated.
Using a slotted spoon, transfer the onions to a bowl and turn up the heat to medium-high. Cook the sausages for a few minutes on each side until browned and crispy on the outside. Serve in pretzel rolls with lots of grainy mustard!
Adapted from FoodieCrush
My Bacon-Wrapped Life http://www.mybaconwrappedlife.com/
Oktoberfest wanderlust like me? Check out last year's trip pics!