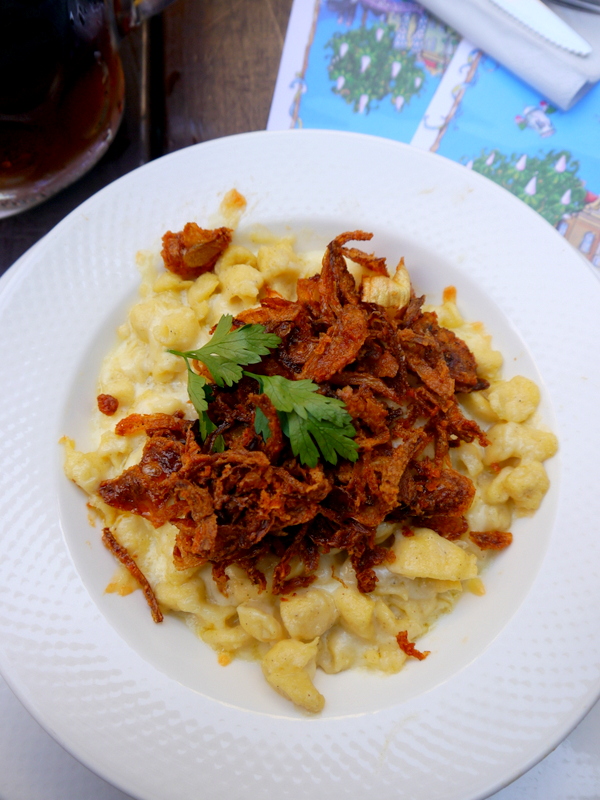 Cheese spaetzle at the Hofbräuhaus in Munich, Germany. O-M-G.
OK, I'm not going to lie. Calling this post a "restaurant review" is a wee bit of a stretch. Can I just call it "lots of pictures of German food and also humans drinking beer" and we can call it a day?
Here's the thing about German food: it's soooo good but also very similar everywhere you go. So I can't be like "THIS ONE PLACE has the best bratwurst and THIS ONE PLACE has the best spaetzle" because after just a week, I am nowhere near the authority on that. So let's just love up on in the cuisine in general and relive vacation goodness! Aaaaaaand go.
Like all Munich tourists in late September, our primary purpose was singular: hitting up Oktoberfest. After dropping off our stuff at the hotel, we hightailed it over to the fest to maximize boozing time. We were a bit worried about the weather, but the rain mostly held off and the dreary skies ended up working to our favor – the fest wasn't THAT crowded and we were able to get a spot to sit down at two separate tents (quite a feat most days). Oktoberfest is just so cool – it's like a giant carnival, with rides and sweets and souvenir huts…and copious amounts of beer. All major German breweries have a tent, which I previously thought just meant…like…a tent. I was wrong. These tents are like enormous covered restaurants that seat thousands of people, and they are SERIOUSLY done up with décor. Also, there are crazy-awesome German bands playing in every one. And almost every single person there is completely done up in the authentic garb – hats, accessories, and all! It's just so fun and lively, and I totally think everyone should go experience the debaucherous atmosphere at least once in their lives!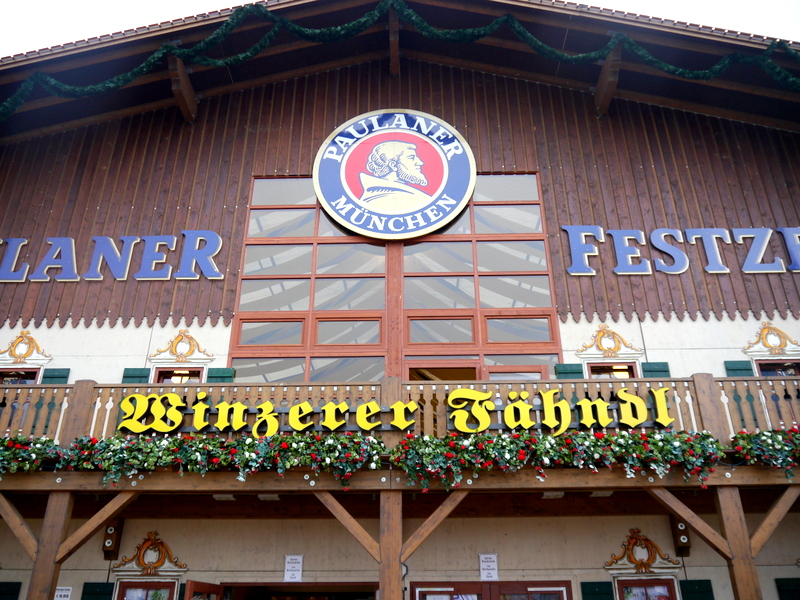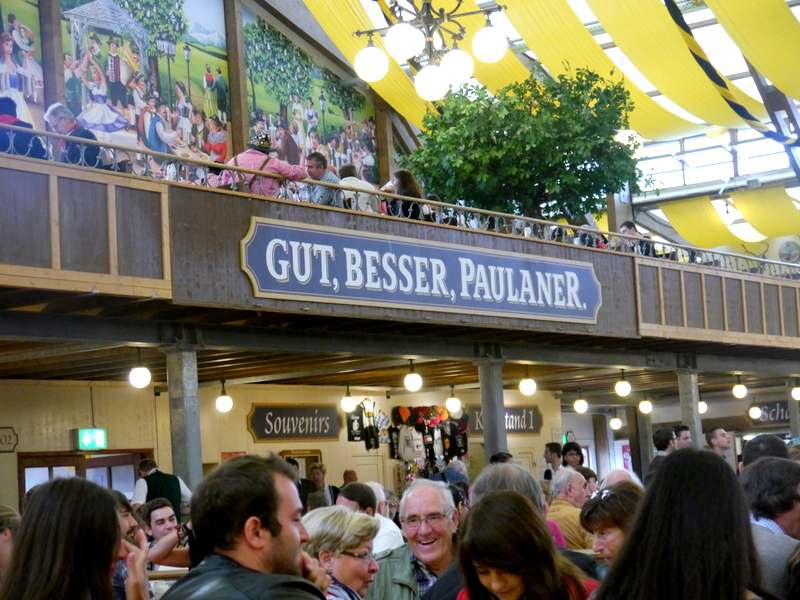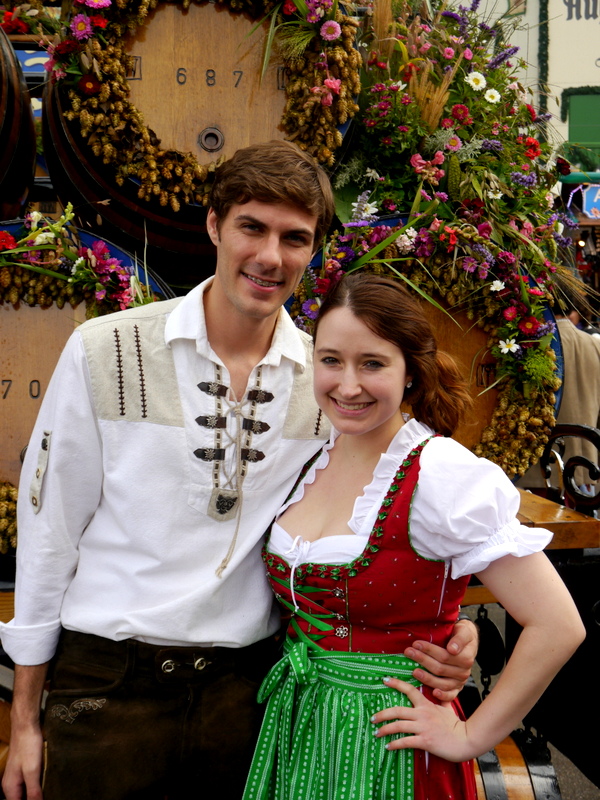 OK, back to the food and bevs. We started off at the Paulaner tent, where we ordered up some beers and indulged in some incredible half-chickens. The chicken was delicious, so tender and hearty – the perfect food to pair with a few liters of beer. You can see them roasting up hundreds of little chickens on the side of each tent, so clearly it was the thing to order! We also ordered a giant potato dumpling, which came bathing in a salty, beefy broth and topped with some fresh herbs. It was also delicious! (This was my first beer, so I swear it was not just the beers talking.)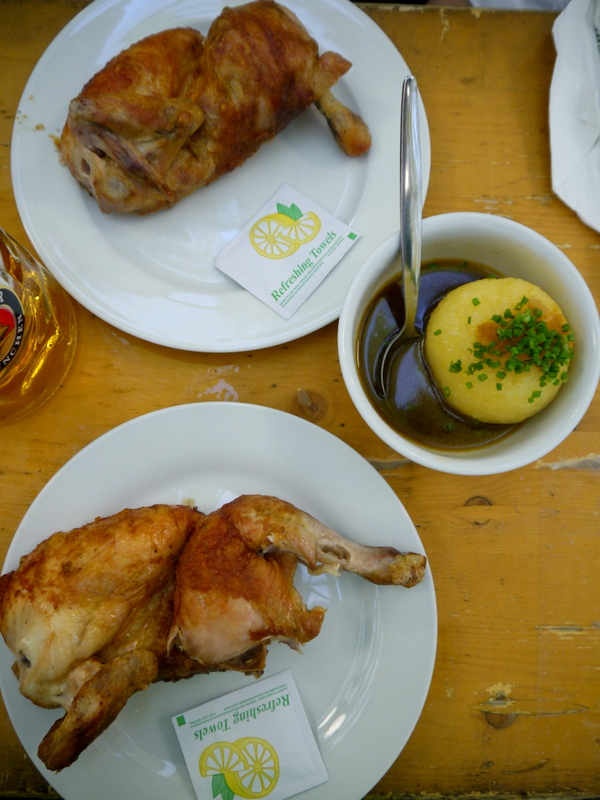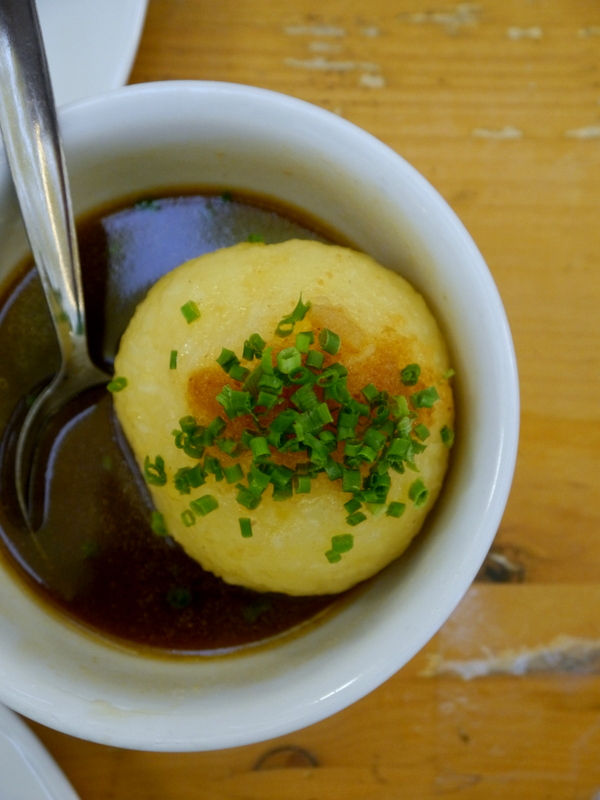 Now let's look at some pictures of us drinking beers.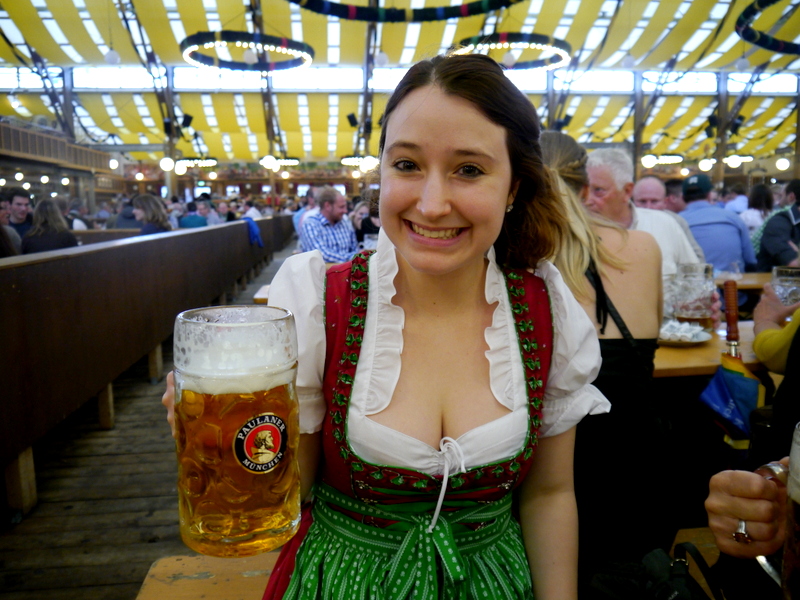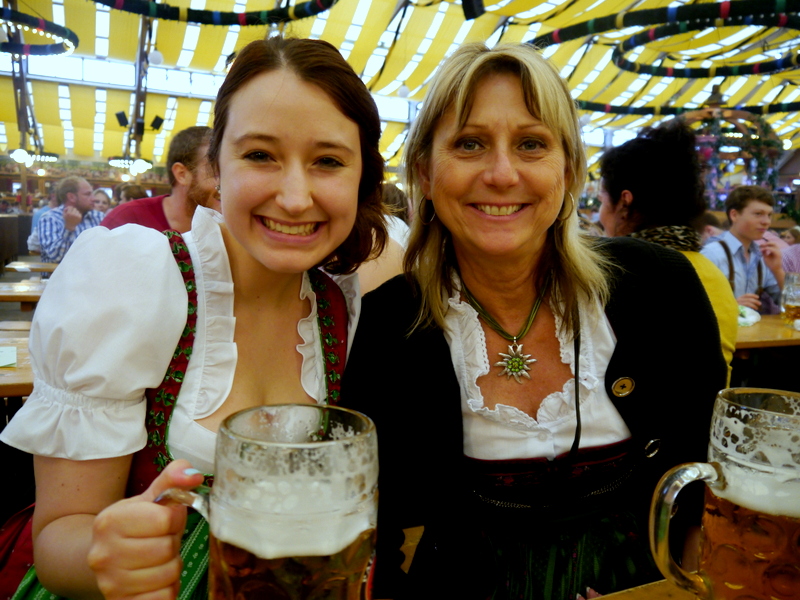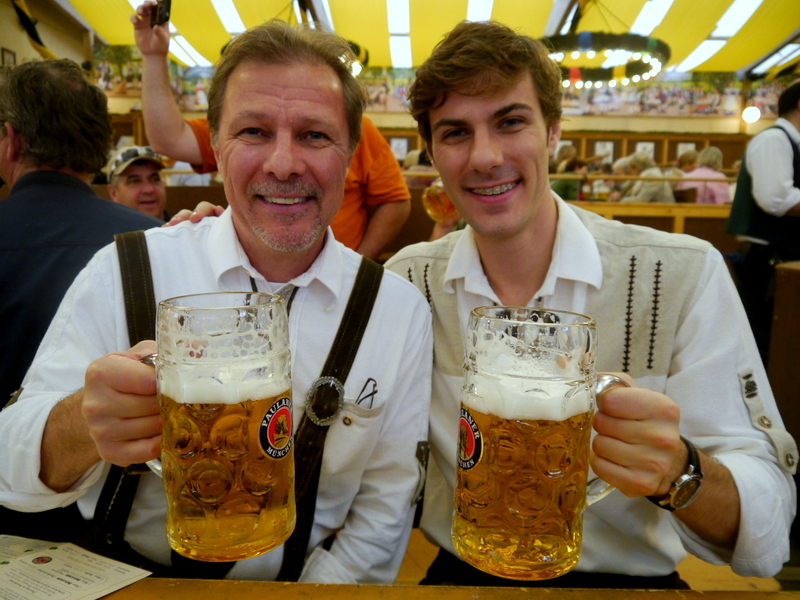 OK fine I'll stop.
Next, we made a stop at the Hofbräuhaus tent, which was more crowded but also more lively. Those are hops hanging from the ceiling!!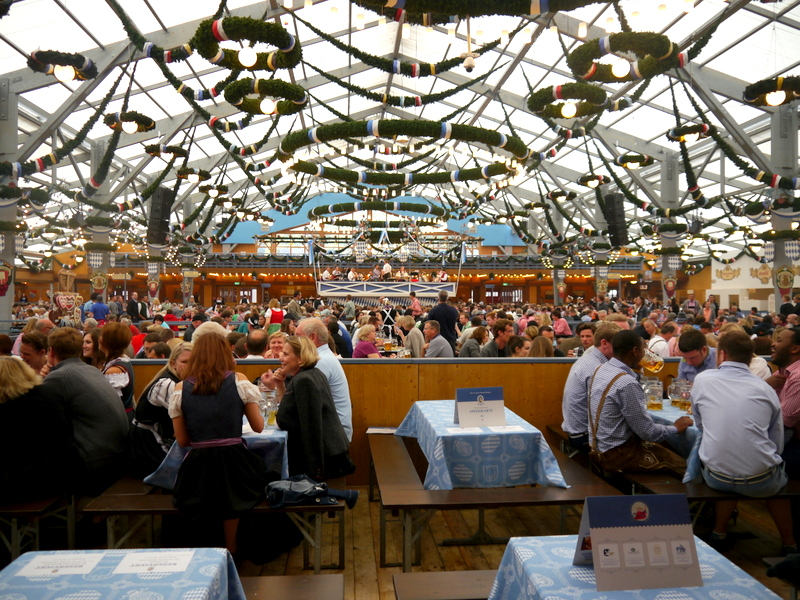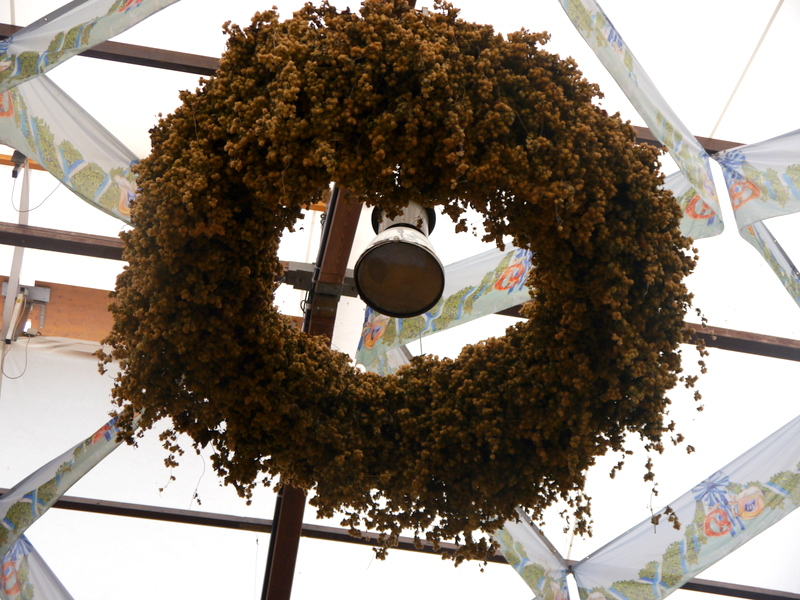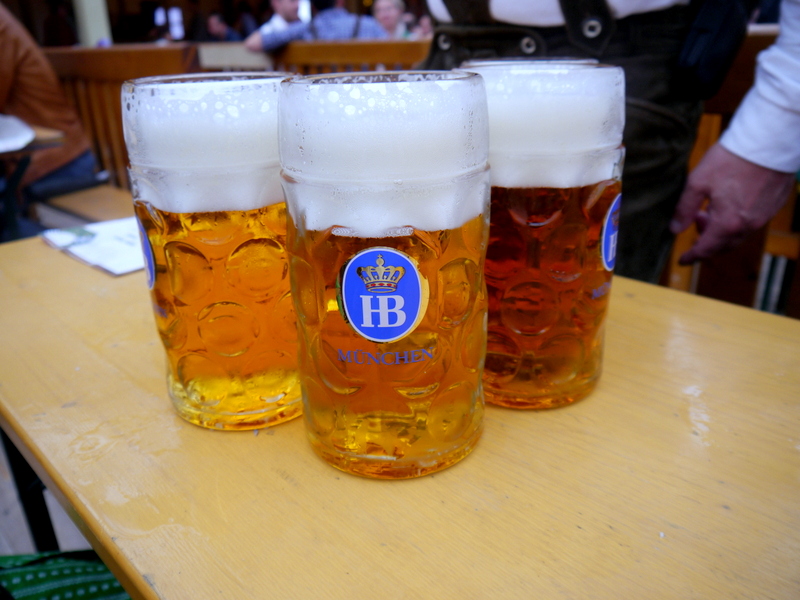 This is also where I watched a small blonde German girl stand up on a table and chug an entire liter of beer while the crowd cheered her on. This is a big thing at Oktoberfest, but it's generally men doing the chugging, so I'm really mad I didn't get a picture of this badass girl absolutely killing it. Instead, we can look at some bros finishing their chug, which admittedly is impressive even for a well-trained German manly man: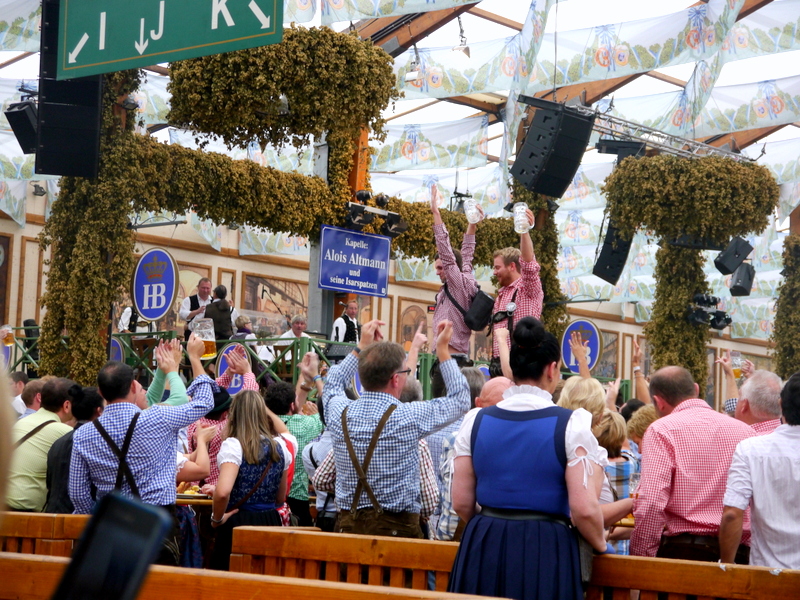 I think I would die if I tried to do that.
After we were ready to be done with the fest for the day, we went to the actual Hofbräuhaus, which I was super pumped about. For those who don't know, the Hofbräuhaus is a beer hall built in 1589 that is a major historic building in Munich. It's absolutely huge, admittedly a bit touristy but also definitely a place where local Germans frequent as well. It also has a great food menu of traditional German fare (noticing a trend?).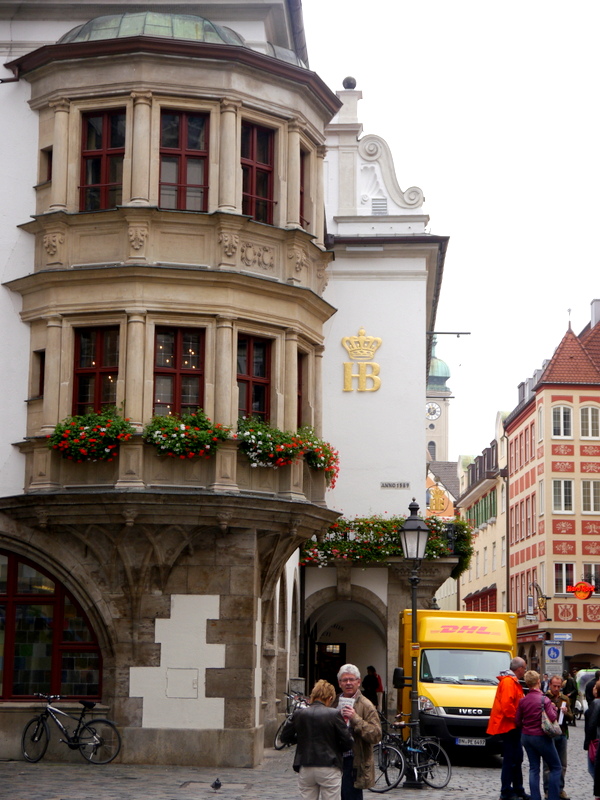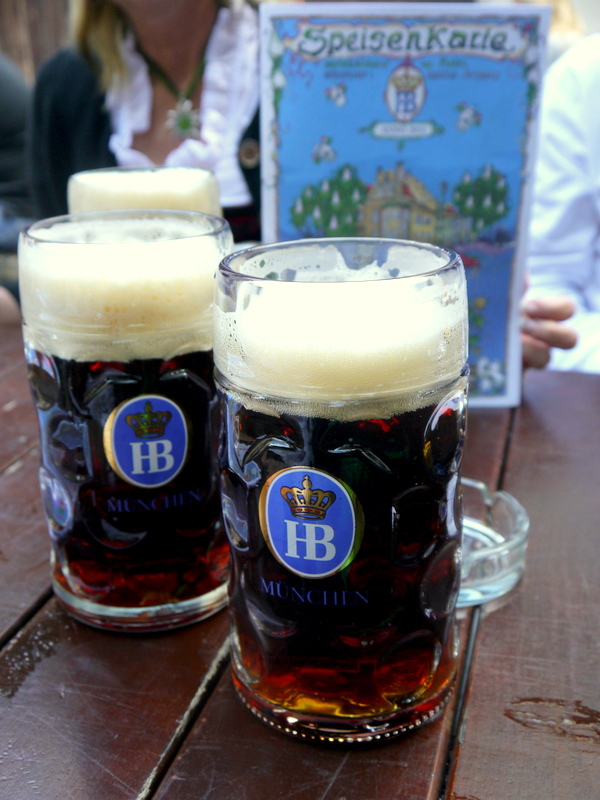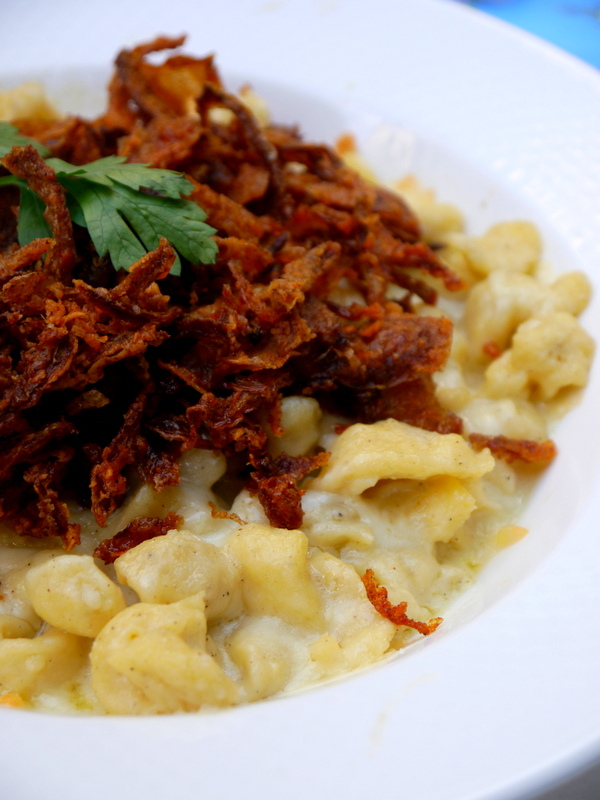 We ordered up some dunkles (a.k.a. dark beers, my fave!) and continued the eating spree, of course. I ordered cheese spaetzle, which is basically the Bavarian version of mac n' cheese – tiny little pasta-y dumplings are tossed in a hearty cheese sauce and topped with fried onions (!!) – and it's to die for. Brad ordered a pickled pork knuckle, which of course I freaked out about and thought was totally weird. As usual, the joke was on me – it was completely delicious and not at all pickled-tasting. Check it out!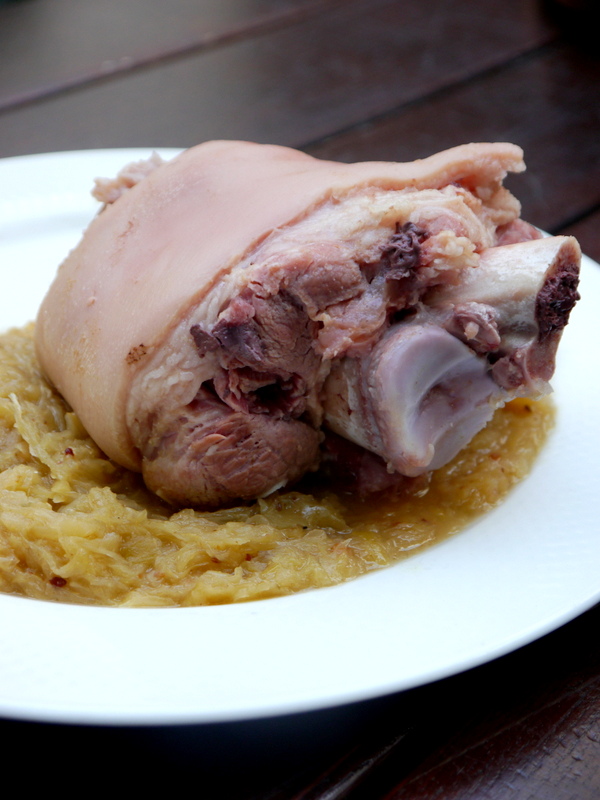 (It looks weird, I know, but I promise it was super tender and flavorful. The Germans know what's up.)
This post barely begins to scratch the surface of how awesome the trip was, and I am missing Germany so much typing this up! The rest of my food pictures were pretty low-quality (thanks, dark moody Italian joints and cozy German restaurants) but to give you an idea of how we spend the rest of the time, it mostly consisted of eating items off the below list.
Other things eaten and not photographed:
bratwurst & sauerkraut (every. single. day)
currywurst (my fave!)
pork on pork on pork (I can't stress enough.)
apple strudel (soooo good with vanilla ice cream)
authentic doner wrapped in pita with alllll the toppings (this was AMAZING)
italian food (it's everywhere, and we had some really delicious pizza)
In conclusion, it was such an incredible trip. Thank you for reliving it with me!
…And now I'm off to find a place to get cheese spaetzle here in the U.S. of A. Any ideas?
Restaurant Information:
Oktoberfest:
http://www.oktoberfest.de/en/
Hofbräuhaus Munich:
Platzl 9, 80331 München, Germany
http://www.hofbraeuhaus.de/en/index_en.html