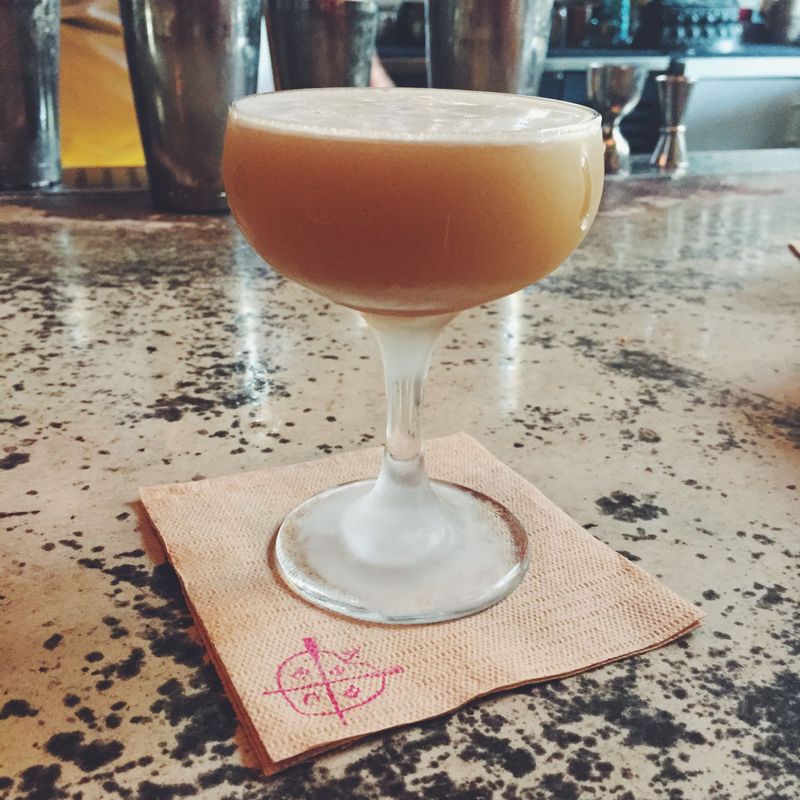 My absolute favorite cocktail right now, from East Bay Spice Company in Berkeley. These babies are dangerously good!
Hey guys! I am more than overdue for a Foodie Favorites post…I can't believe it's been four freakin' weeks! This month has absolutely flown by – in September I've been to Los Angeles, Denver, Charlotte, and New York for both wedding fun and work travel. It's been a blast, but I am excited to be grounded at home for a whole two weeks – and, of course, catch up on Foodie Favorites! Here are my favorites from around the inter-webs lately:
These PB&J sandwich donuts look like basically the most amazing thing in the entire world. I mean…woah. Just woah.
Pumpkin season is finally here!! I am the giddiest about it. I think this pumpkin crumb cake looks like a pretty great place to start, don't ya think?
This Greek farro salad is so fresh and flavorful! I'm always looking for new ways to use my favorite grain, and Greek flavors are always a winner.
I am totally craving this gorgeous brown butter walnut crumb cake. Yes, more crumb cake. Let's just round up alllllll the crumb cakes in the world and send them my way, shall we?
This chocolate pumpkin spice granola looks fantastic. We all know I'm a total granola fiend, and this just might have to be my next homemade version!
These cinnamon streusel French toast cups are such a good idea! I love the idea of taking a decadent, messy brunch staple and making it portable. More French toast for everyone!
Hope you enjoyed this week's Foodie Favorites! I promise, I won't stay away for a month again 🙂 have the best week! XOXO