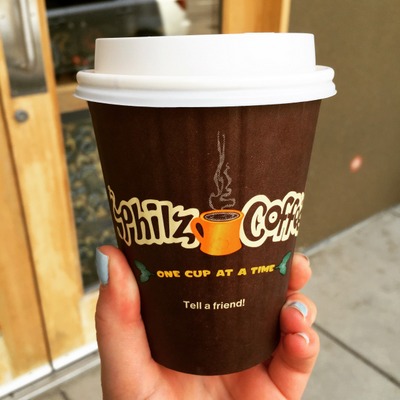 Finally got around to trying Philz Coffee in Berkeley (and yes, it was awesome!)
Hello everyone! How was your Memorial Day weekend? As much as I looooove 3 day weekends, coming back to work and errands and real life after them is always so tough! Our weekend was (happily) incredibly lazy but (sadly) mostly spent inside due to some June gloom-y weather here in the Bay Area. But I wasn't complaining – I did a ton of cooking, cleaning, and reading, so I was a happy girl. (Please ignore how old-lady that sentence sounded.) Let's ease back into real life with some Foodie Favorites!
These peanut butter gooey bars basically made my eyes bulge out of my head. Throw sweetened condensed milk on anything and I am there!
This strawberry cookies and cream cake is so rustic and beautiful and HELLO cookies and cream?! I'm in love!
I'm craving these super crispy-looking falafel bites like woah. Few things beat a perfect greasy, crunchy falafel in my mind!
This vegan nutella banana bread looks seriously insane. Next vegan baking adventure, perhaps?
This bourbon and brown sugar ice cream is basically all of my favorite things. Can I just put bourbon in everything and call it a day?
I am really into this healthy chicken parmesan – what a good weeknight dinner idea! (Minus the zoodles. I just can't do it, guys.)
I am totally in love with anything and everything quintessentially British, so just the words "steamed chocolate pudding" make me swoon. I mean, look at that gooey goodness!
That's it for this week's round-up. Hope you guys have a wonderful week! XO