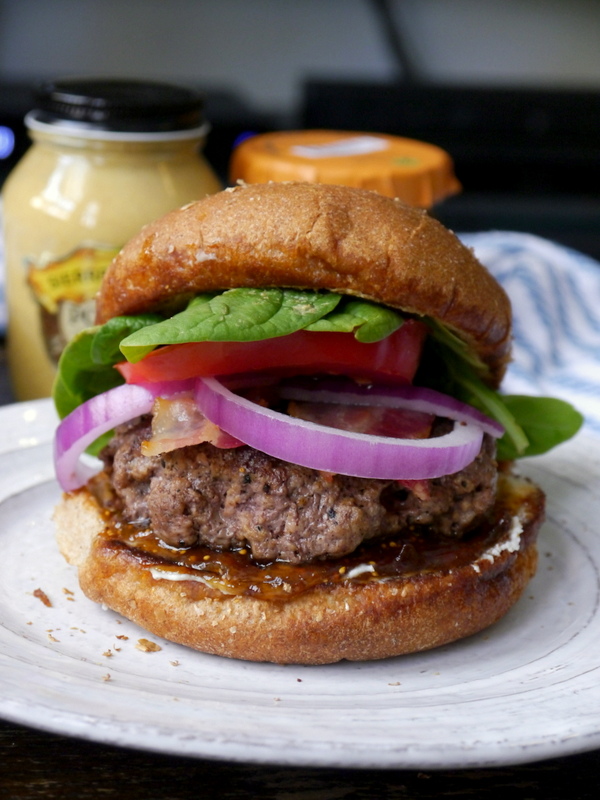 Guys, it's been too long since we REALLY did it up with bacon.
I mean, sure, we've had some bacon. We've eaten lots of ham. Bacon consumption is surely not down in my life in general. But it's been way too long since we really went whole hog (pun 100% intended) and made a whole meal dedicated to highlighting our beloved bacon.
That's what today all about. I present you: the ultimate bacon burger. This sexy thang is based on a burger I had at Eureka in Berkeley. I ordered it thinking it sounded cool and unique, but wasn't expecting MY FAVORITE BURGER EVER or anything. But as soon as I took a bite, I was like…um…holy moly. I kinda kept quiet about it for a little while everyone was eating, but then eventually I turned to Brad and was like, "I think this is the best bacon burger I've ever had." He probably thought nothing of this, since I am always proclaiming that this or that is "my favorite" or "THE BEST EVER". But then the next day, he ate my leftover burger remains (COLD FROM THE FRIDGE) and said, "Holy shit, this burger is amazing." I repeat: he ate this cold. The next day. From the fridge. And thought it was still amazing.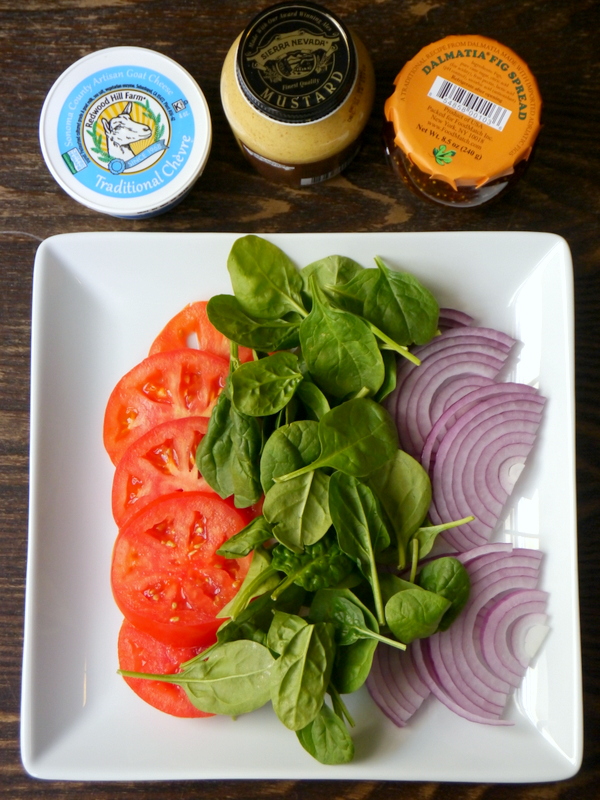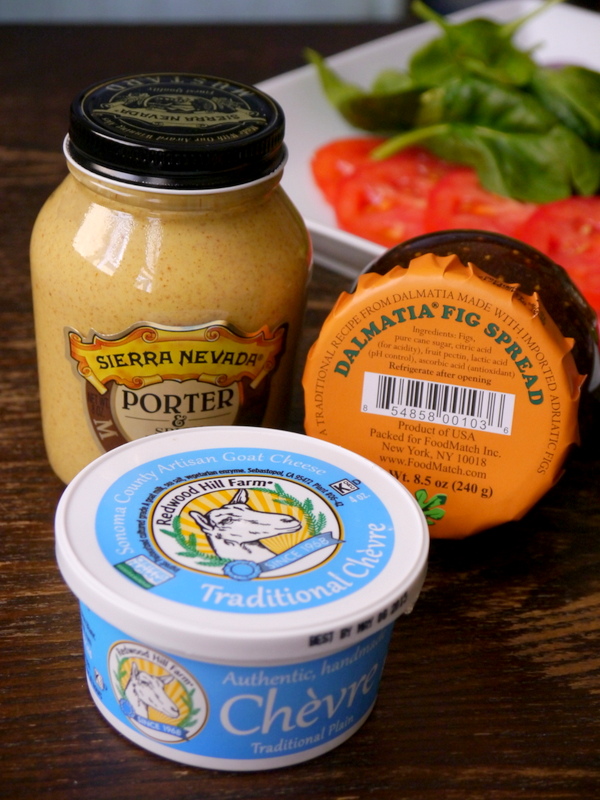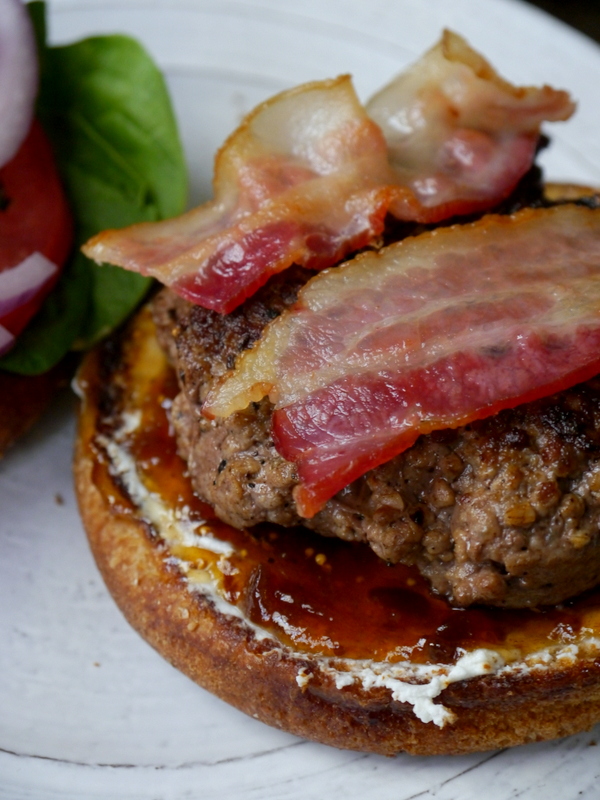 Now, I know it may not sound like anything ground-breaking. Bacon on a burger? Been there, done that. Even the bacon and fig combo is nothing revolutionary. But this burger is about the incredible marriage of these carefully chosen ingredients – the smoky bacon; the tangy, creamy goat cheese; the sweet fig jam; the spicy porter mustard. Guys, it just works. SO MUCH. It's a combo that is so much more than the sum of its parts, and I can't stress how perfectly the goat cheese, fig jam, and spicy mustard compliment the bacon. This burger is a tribute to how complex, flavorful, and compelling bacon is, and that's why I love it! Sorry to go full bacon-nerd on you, but I CAN'T HELP IT.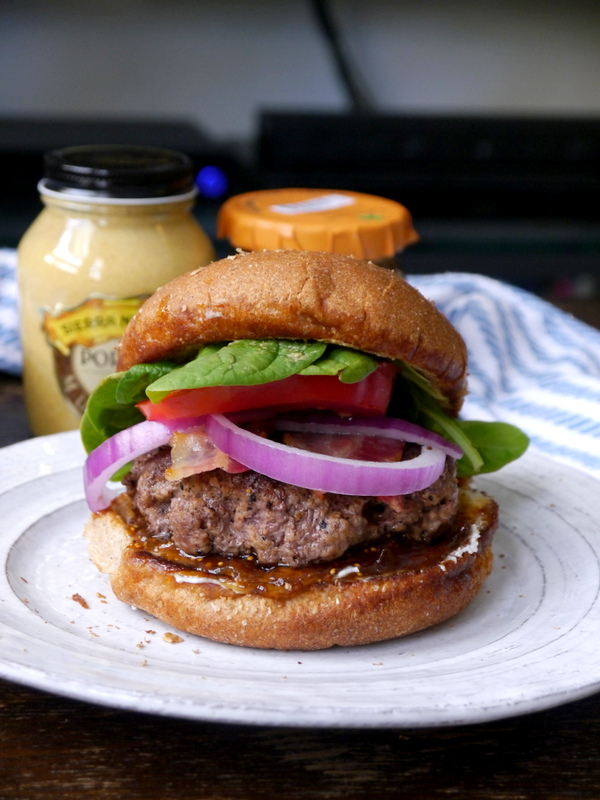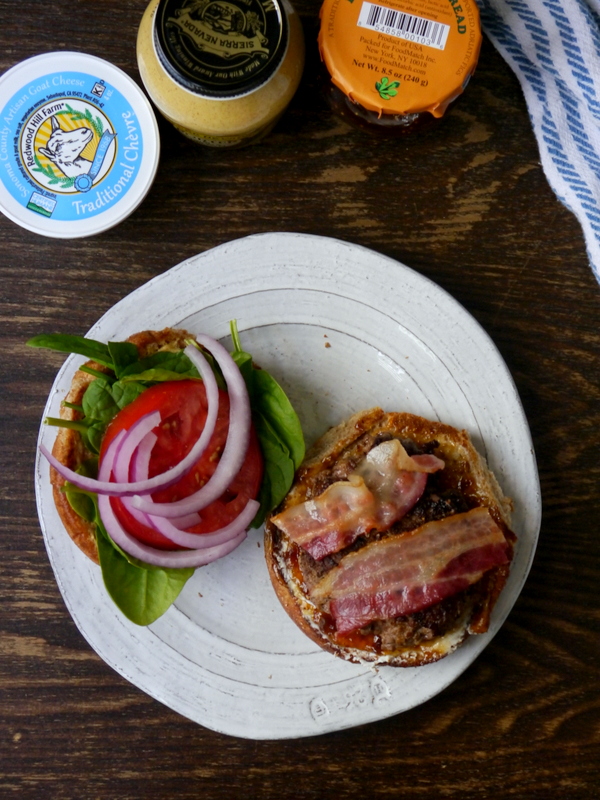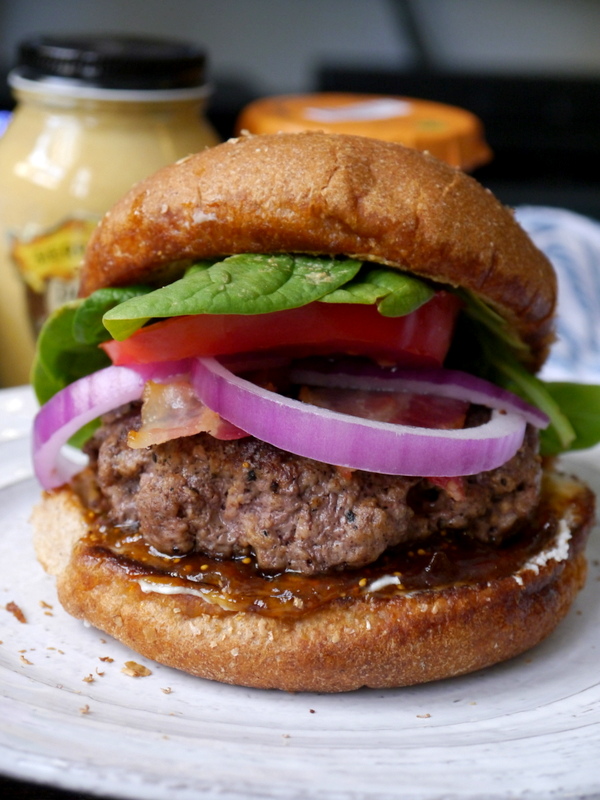 Other critical elements: a perfectly cooked burger (I use Bobby Flay's method in a cast-iron skillet for perfect results every. single. time.), a fluffy bun toasted in leftover bacon grease (or butter, if you're feeling less wild), and all the fresh toppings burgers require: spinach or lettuce, thinly sliced tomatoes, and tangy red onion. The whole thing is sky-high, weekend-treat bacon burger perfection. I hope you love this burger as much as I do!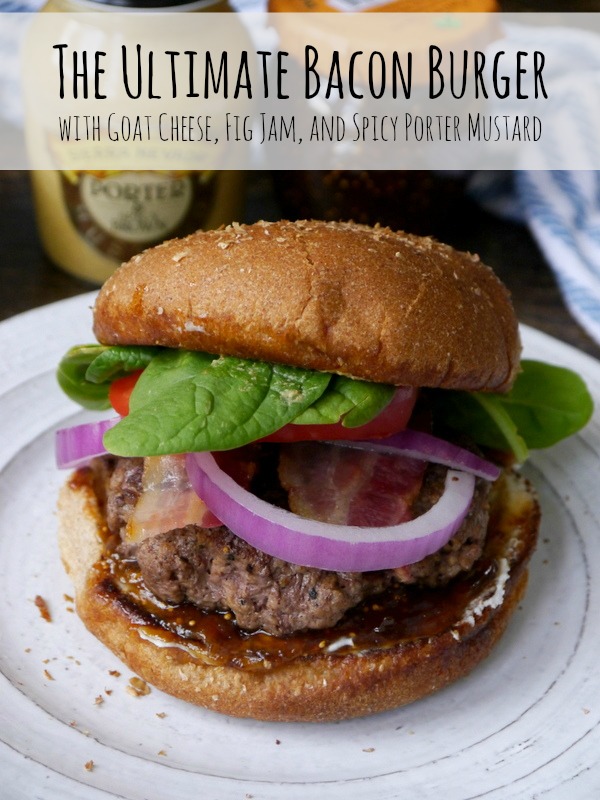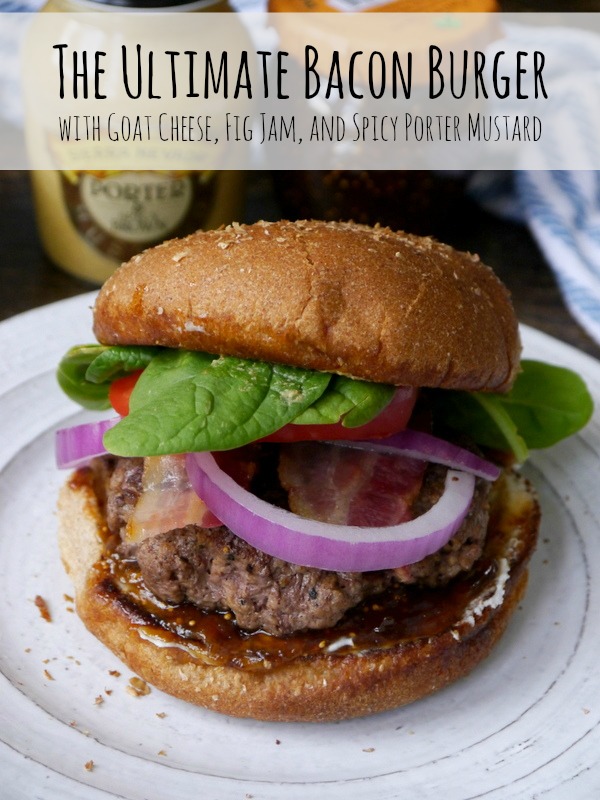 The Ultimate Bacon Burger with Goat Cheese, Fig Jam, and Spicy Porter Mustard
2015-04-19 14:14:33
Serves 4
With creamy goat cheese, sweet fig jam, and spicy porter mustard, this really is the ultimate bacon burger. Everything goes together so incredibly well and the flavors are out of this world!
For the burgers
4 slices thick-cut bacon
1 1/3 pounds ground chuck (80/20. Do it.)
Kosher salt and fresh-cracked black pepper
1 ½ tbsp. canola oil or butter
4 hamburger buns
For the toppings
Spreadable goat cheese
Fig jam/preserves
Spicy porter mustard (regular spicy mustard will work fine)
Spinach or arugula
Sliced tomatoes
Sliced red onion
Instructions
In a large non-stick skillet, fry your bacon. When the bacon is done, transfer to a paper towel-lined plate to drain. Reserve bacon drippings in pan for toasting your buns.
Meanwhile, form your meat into 4 equal-sized (1/3 pound) patties. Season both sides with salt and pepper, then use your thumb to create a deep indentation in the center of each (this prevents the burger from getting puffy in the middle and ensures even cooking).
In a cast-iron skillet, heat the canola oil over high heat until shimmery. Two at a time, add your burgers to the skillet. Cook for about 3 minutes on the first side, until charred on the bottom. Do NOT press down on the burger with the spatula. Flip and cook for an additional 4 minutes. (This will yield a burger that is somewhere between medium-rare and medium, which I strongly recommend.) When the burgers are done, transfer to a clean plate and cook the other two.
While the burgers are cooking, start toasting your buns in the leftover bacon grease. Toast over medium-low heat until golden brown. If the bacon grease runs out, just add a little butter to the pan.
To assemble, shmear goat cheese on the bottom half of the bun. Then shmear with fig jam. Top with one burger and one bacon piece, cut in half. On the other side of the bun, spread spicy mustard. Top with spinach, tomato, and red onion. Smoosh the two halves together and DIG IN.
Notes
I'm begging you, don't get lean ground beef for the burgers. It just won't taste the same. I strongly believe burgers are meant to be made with 80/20 chuck. It's a burger - live a little!! That's what I say, at least. 🙂
My Bacon-Wrapped Life http://www.mybaconwrappedlife.com/
Burger inspired by the Fresno Fig Burger at Eureka. Burger method adapted from Bobby Flay.