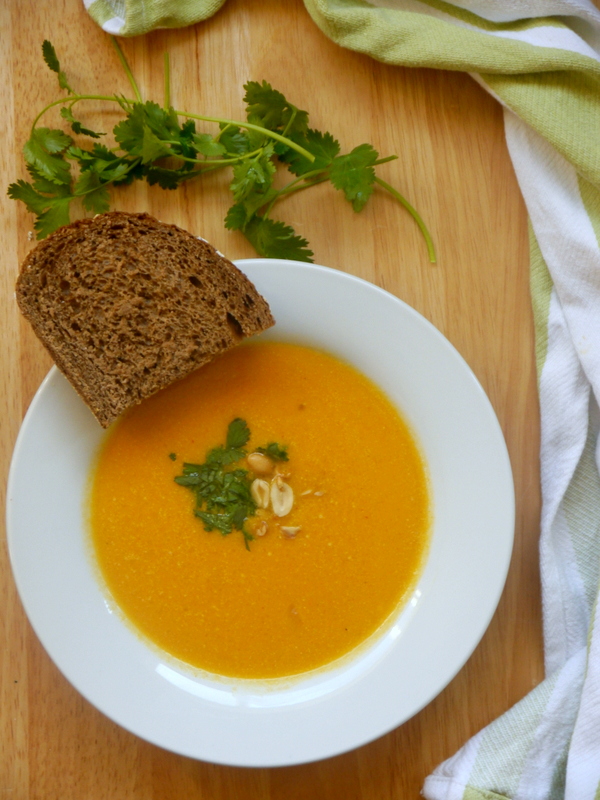 This is juuuuuust about the perfect January meal.
I mean, it's warm and cozy, healthy, a little spicy, and most importantly, freakin' delicious. What more do we need?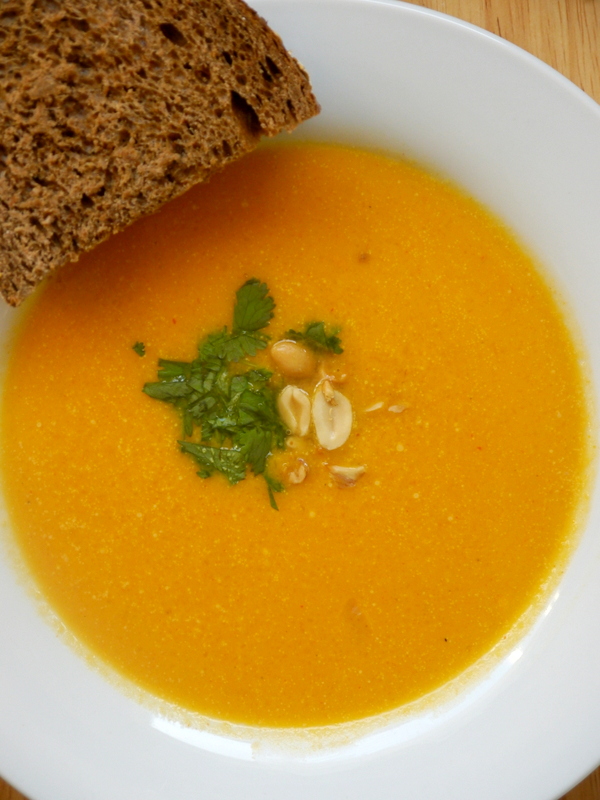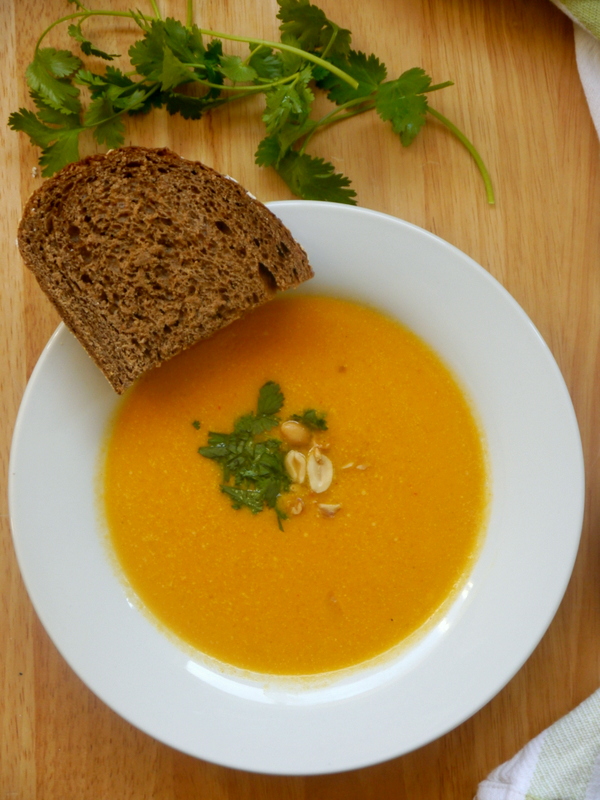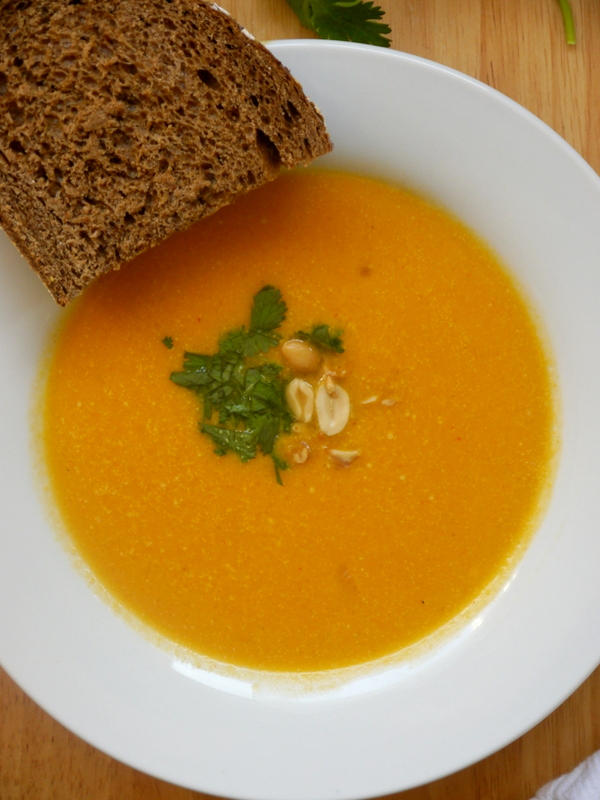 So every year, I tell myself that I will NOT go crazy at the holidays and eat truffles for every meal and drink a million glasses of wine. And every year, I'm like, "Shut up brain, it's VACAY!!" and proceed to do just that. So this year, just like all others, I'm coming off of 10 days of nonstop eating, drinking, laughing, relaxing, and spending incredible time with family and friends with absolutely no regrets but a simultaneous deep desire to get back into my regular routine. I'm not into the whole crazy-January-diet thing, but I do like pushing the reset button with a bit more veggies and a bit less booze, at least for a few weeks!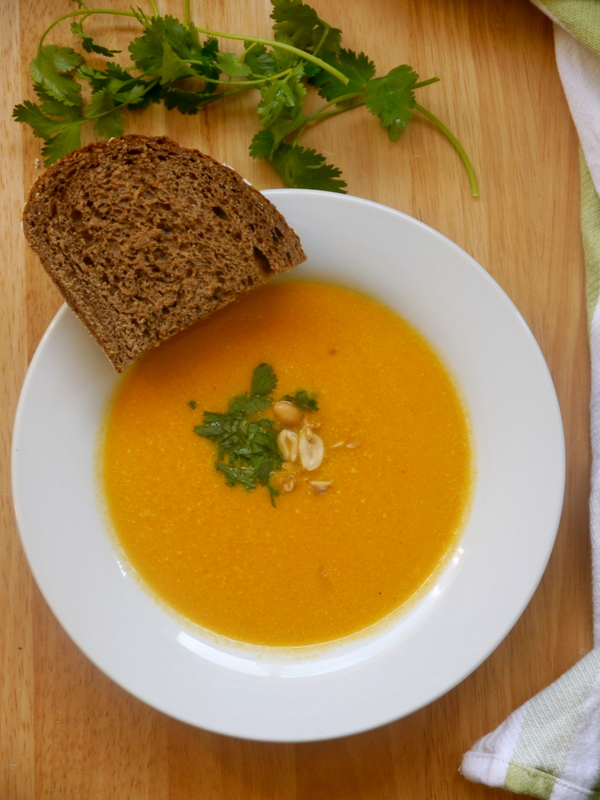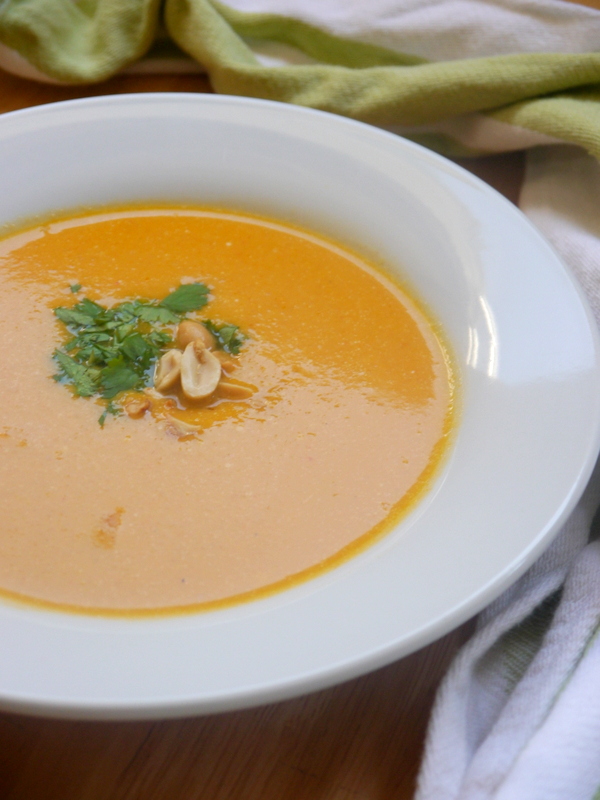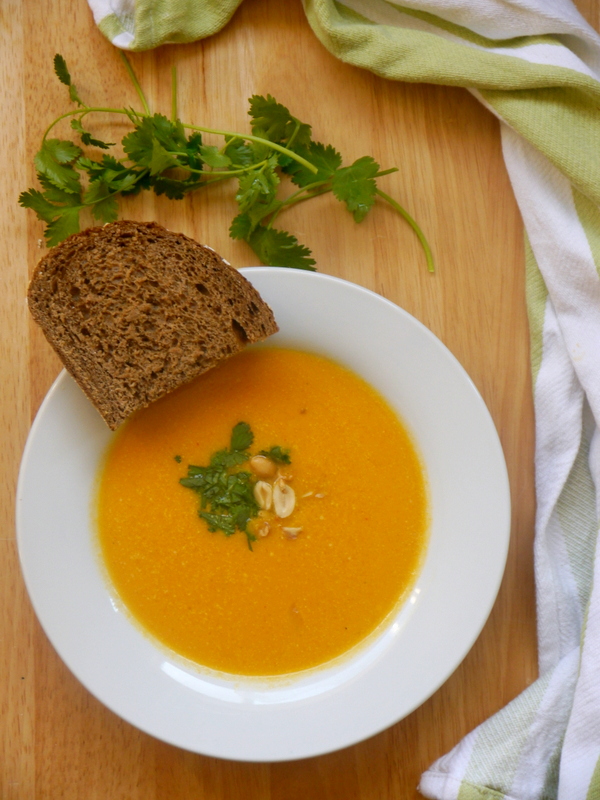 That's where this incredible thai curry butternut squash soup comes in. I don't do boring healthy food, and this soup is definitely not that – it's light but hearty and satisfying, with subtle spice from the thai red curry paste and a cooling creaminess from coconut milk. It's not too spicy, but it's also decidedly savory, which is what I was looking for – I'm not into the typical sweet butternut squash soup at all. (If I want dessert, I'll have dessert, not SOUP!) We all loved this soup, especially when served with some delicious fresh bread (whole wheat for extra healthy points) and a sprinkle of cilantro and chopped roasted peanuts for color and texture. This is the best healthy, cozy winter meal for this month of new beginnings! Happy 2016, friends!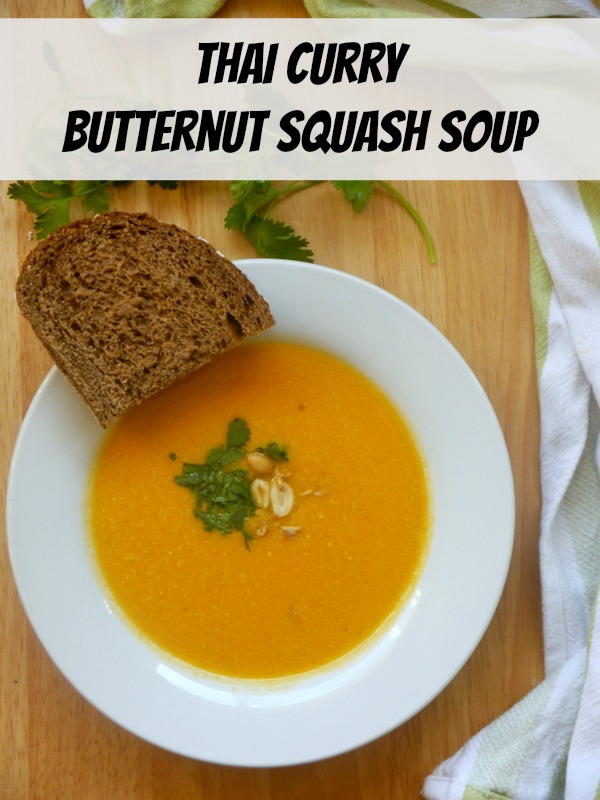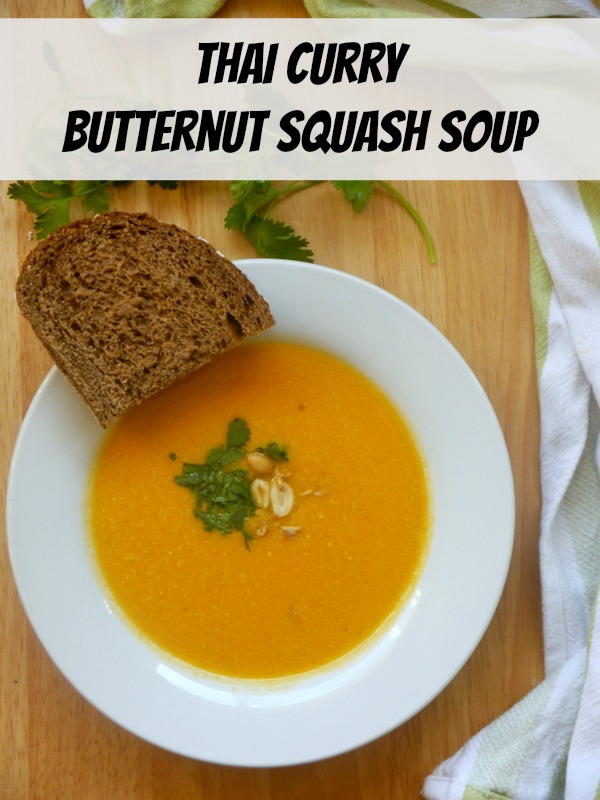 Thai Curry Butternut Squash Soup
2016-01-03 12:16:47
Serves 4
A light and healthy vegan soup that's full of flavor! This thai curry butternut squash soup is the perfect healthy lunch or dinner.
Ingredients
3 tbsp. coconut oil
1 white onion, diced
4 garlic cloves, minced
½ tsp. ground ginger
2 tbsp. red curry paste
3 cups low-sodium chicken or vegetable stock (use vegetable stock if you'd like to keep it vegan)
4 cups uncooked butternut squash cubes (about 1-inch), from about 1 small butternut squash
1 (14-ounce) can coconut milk
Juice from 1 lime
¼ tsp. kosher salt
¼ tsp. black pepper
½ cup fresh cilantro, roughly chopped
¼ cup roasted salted peanuts, roughly chopped
Instructions
Heat a large heavy-bottomed pot over medium-low heat. Add the coconut oil to the pan and allow to melt. Once it's melted, add the chopped onions, garlic, and a pinch of kosher salt. Cook, stirring occasionally, until the onions are soft, about 5 minutes. Add in the ginger and curry paste and stir to combine. Cook for 5 more minutes, continuing to stir occasionally. Add the stock and butternut squash cubes and stir to ensure the squash is covered. Increase the heat to medium and cook until the squash is soft and cooked through, about 20 minutes.
Next, turn off the heat and carefully ladle or pour the mixture into a blender (or use an immersion blender in the pot) and blend until the soup is completely smooth and pureed. Return to the pot if you used the blender, and turn the heat back on to medium-low. Add the coconut milk, lime juice, salt, and pepper, and stir to combine. Cover and cook for about 10 minutes to warm through. Ladle into four bowls and top each with equal amounts of cilantro and peanuts. Enjoy immediately!
Adapted from How Sweet It Is
My Bacon-Wrapped Life http://www.mybaconwrappedlife.com/
Looking for more healthy, delicious dinner ideas?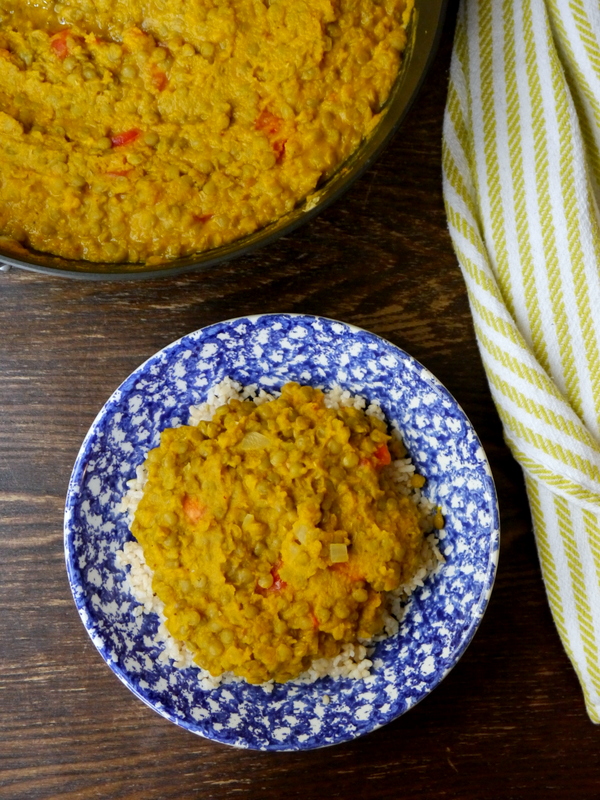 Coconut Milk Butternut Squash Lentil Curry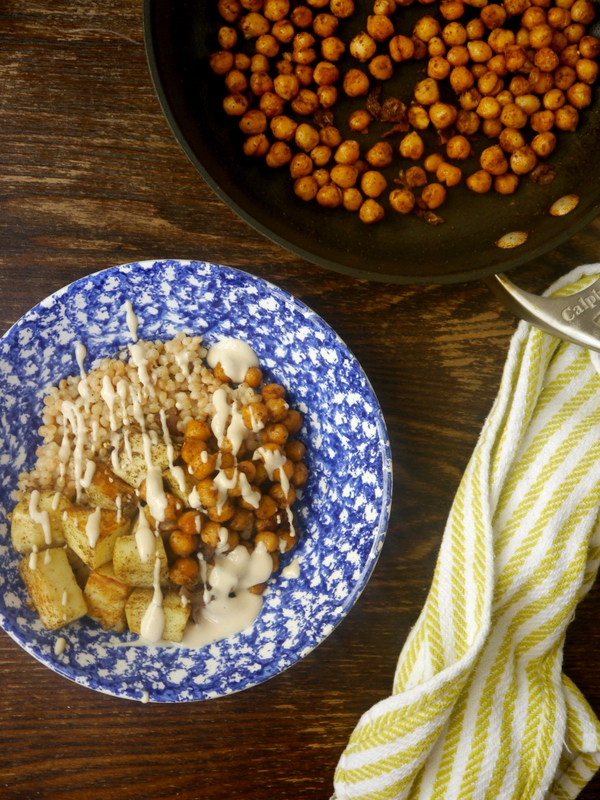 Israeli Couscous Bowls with Za'atar Roasted Sweet Potatoes and Maple-Tahini Drizzle