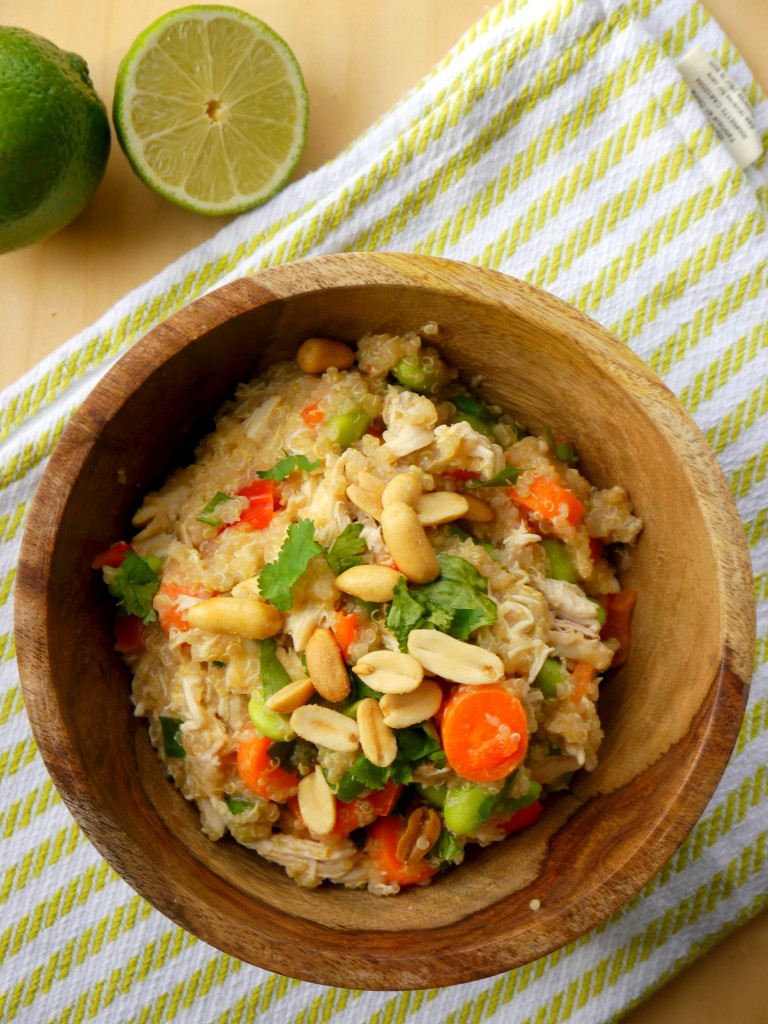 I'm still on this wholesome-but-totally-hearty-and-delicious kick, and it seems like most of the Internet is on board, too. As I mentioned, I'm not really into New Year's Resolutions because I think it's best to just eat in moderation all of the time, but after an entire month+ of pure decadence over the holidays, my body is still like, "Yo Megan, cool it on the mac n' cheese and bread pudding, okay?" Besides, it's fun trying to make good-for-you ingredients taste awesome and not leave you hungry in 45 minutes.
This week, my best friend Emily (yes, the same one that requested these babies) requested that I make something with quinoa. She said something along the lines of, "I've had some really delicious quinoa, and I've had some really shitty quinoa." Hear, hear, sister. Quinoa can be a totally awesome, perfectly fluffy base for pretty much any protein/veggie combination, or it can be a mushy, bland bowl of goop. Luckily, there are tons of resources out there on how to make a fabulous quinoa dish, one that has oomph and spice and crunch and everything you want in a meal.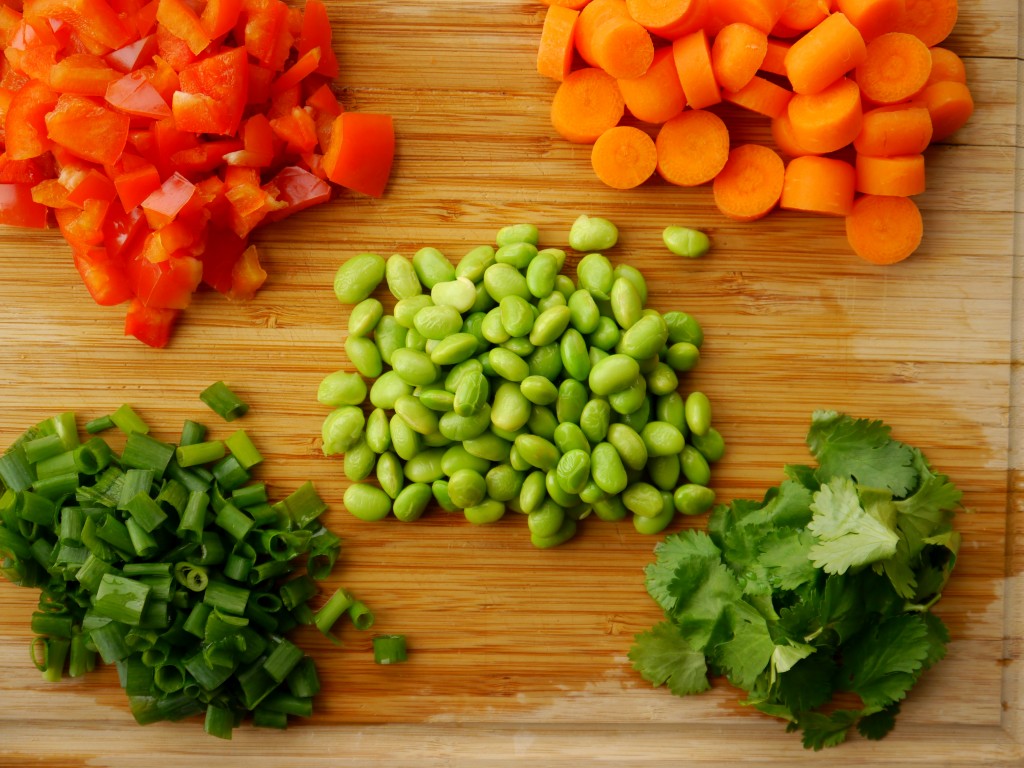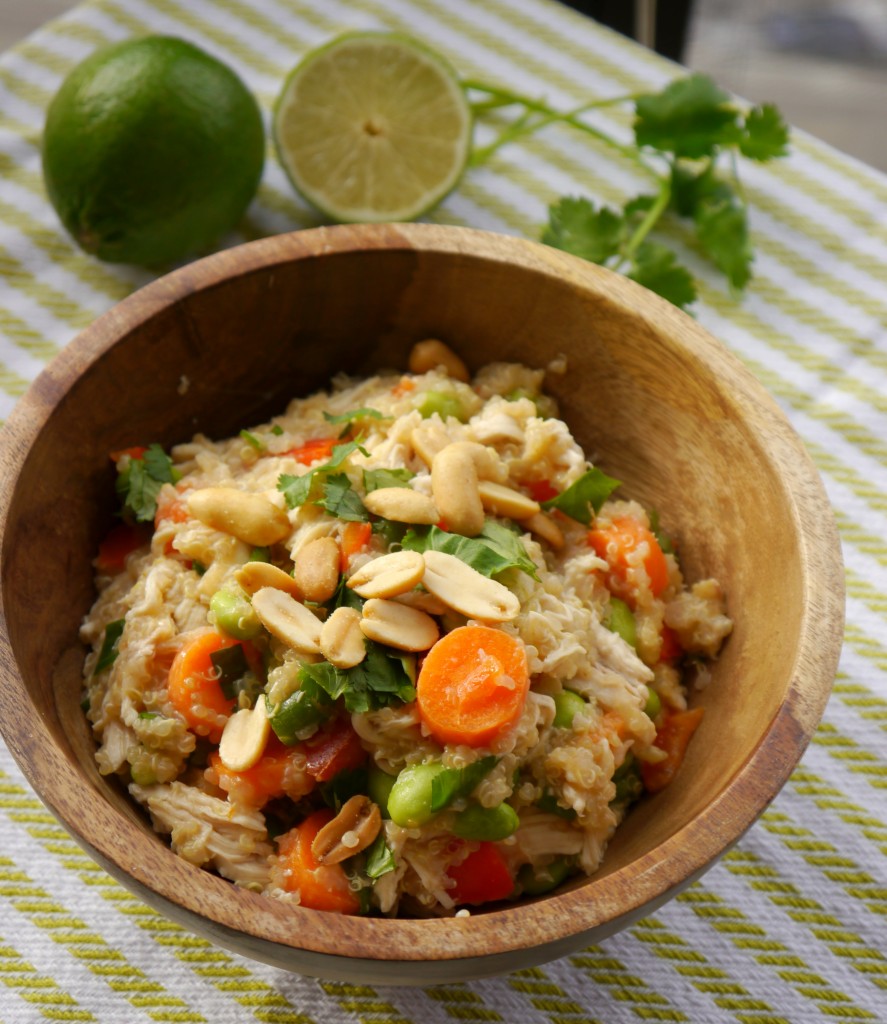 I saw a version of these Thai chicken quinoa bowls on one of my favorite food blogs, and I knew I'd be making it before long. Just as I expected, the results were fantastic. Shredded chicken, a variety of chopped-up veggies, edamame, fresh cilantro, and peanuts are mixed up with some fluffy quinoa and coated in a sweet-and-tangy Thai sauce, and then of course topped with some more peanuts for that critical first-bite crunch. It's incredibly flavorful, chock-full of protein and veggies, and has great texture from the crunchy edamame and peanuts. Best of all, it can be totally customizable with whatever combination of protein and veggies you have around. Make these bowls, and you'll never doubt the delicioso power of quinoa again.
P.S. I've included a link in the "Notes" section to a really great method for preparing perfectly fluffy quinoa!
P.P.S. It may be an excellent idea to hit these up with a serious amount of Sriracha.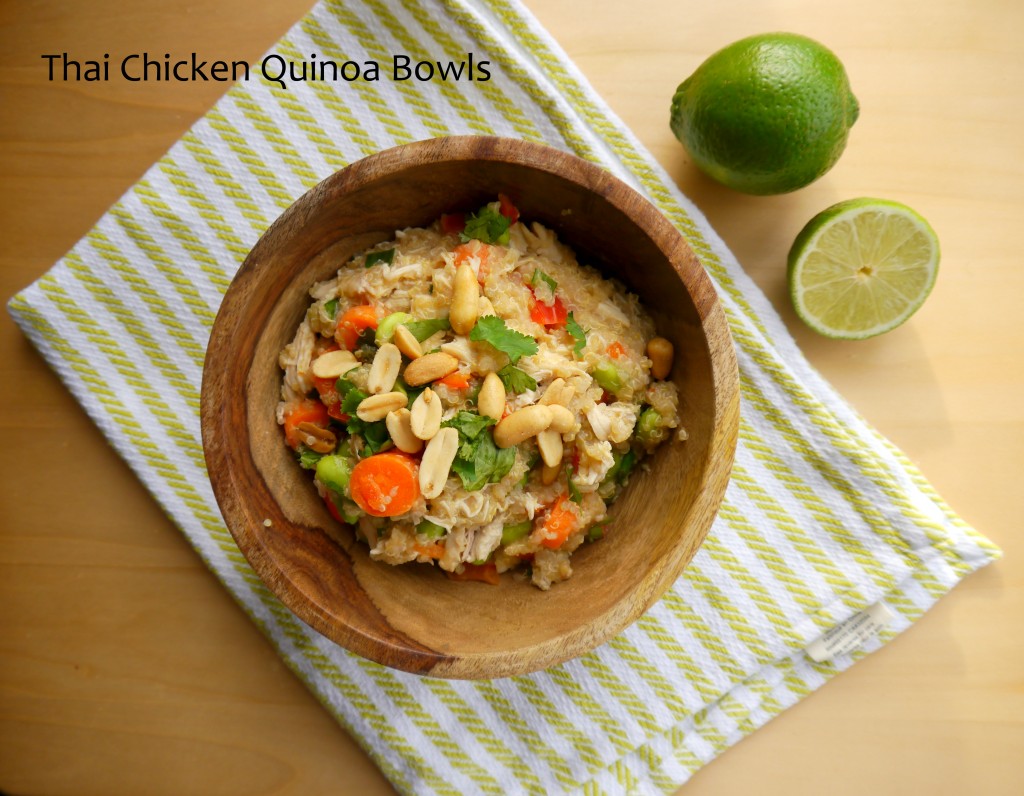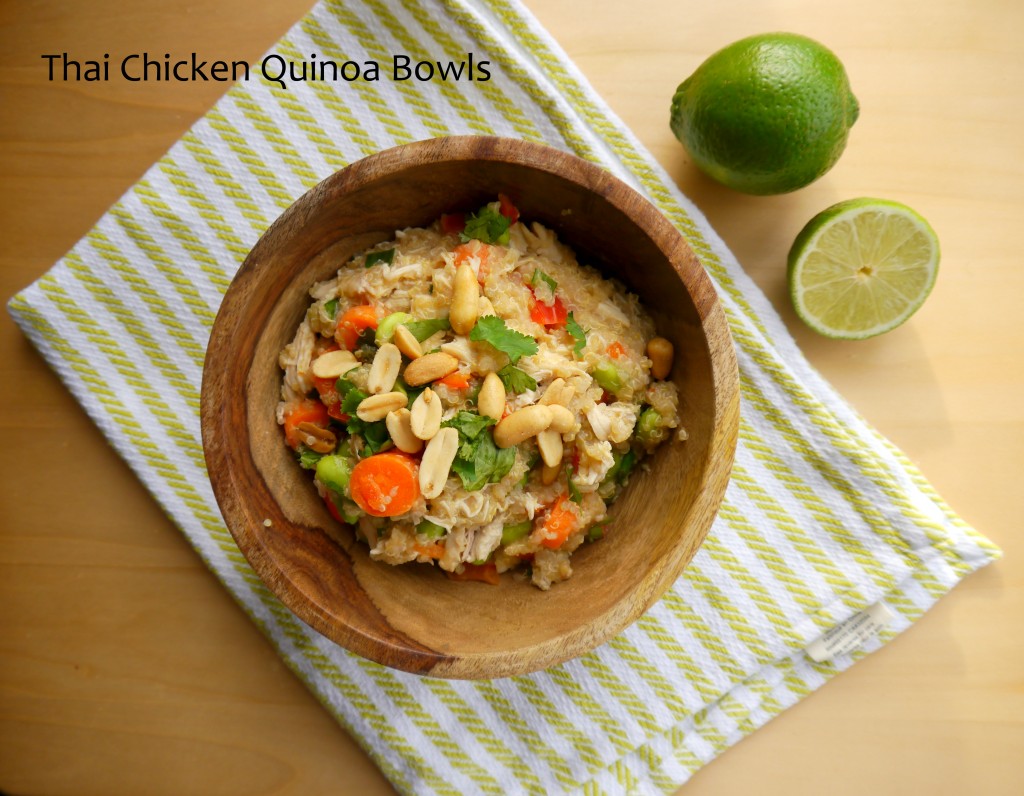 Thai Chicken Quinoa Bowls
2014-01-12 13:43:40
Serves 4
These Thai chicken quinoa bowls combine whole grains, protein, tons of veggies, and a sprinkling of nuts with a fantastic Thai-inspired sauce for a delicious healthy meal!
For the bowls
1 cup uncooked quinoa, rinsed
1 lb. boneless skinless chicken breast, cooked and shredded
¾ cup chopped carrots
1 red pepper, chopped
2/3 cup frozen shelled edamame, cooked according to package instructions
2/3 cup chopped green onions
½ cup roasted peanuts
½ cup chopped fresh cilantro
For the sauce
¼ cup sweet chili sauce
2 tbsp. rice vinegar
2 tbsp. canned coconut milk
1 tbsp. brown sugar
2 tsp. creamy peanut butter
1 tsp. minced garlic, or 2 garlic cloves, minced
Juice of ½ lime
¼ tsp. ground ginger
Instructions
Prepare quinoa according to the directions on the package (or see below for the method I used). While the quinoa is cooking, combine all the sauce ingredients in a small bowl; whisk to combine. When the quinoa is ready and all the liquid is absorbed, stir in the sauce and toss well. Add the chicken, carrots, red pepper, edamame, and green onions; combine. Add half the peanuts and cilantro; mix again. Serve topped with the remaining peanuts and cilantro.
Notes
Here's a great method for making delicious quinoa: http://chocolatecoveredkatie.com/2013/09/16/how-to-cook-quinoa/. One note, it took my quinoa a little longer (closer to 25-27 minutes) for all the liquid to absorb, so don't panic if the water is taking a little longer to absorb!
Adapted from How Sweet It Is
My Bacon-Wrapped Life http://www.mybaconwrappedlife.com/