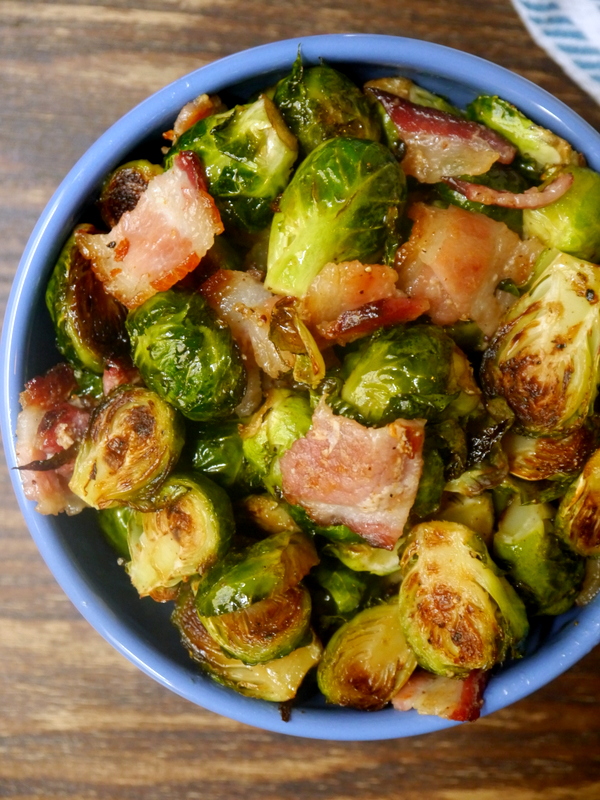 It's officially November, and you know what that means….
THANKSGIVING!!!
I can barely contain my Thanksgiving excitement until the calendar flips over to November. It's just the best, smushiest holiday ever and I love all Thanksgiving food so much. (Besides cranberry sauce. Cranberry sauce can go.) I look forward to our family's Thanksgiving literally all year, so by the time November comes around, I already have visions of stuffing and sweet potatoes and pumpkin pie dancing in my head. It's a tad embarrassing, but I don't care – I know I have some Thanksgiving-dork soulmates out there, right?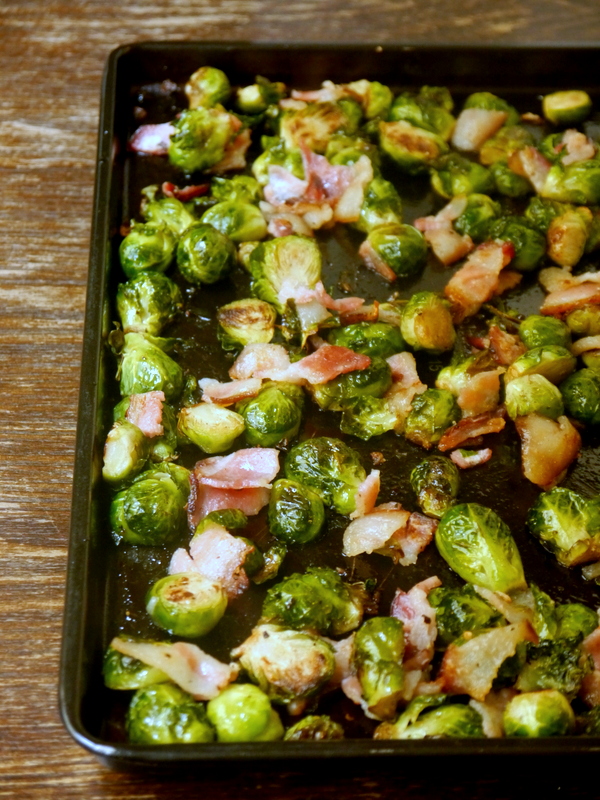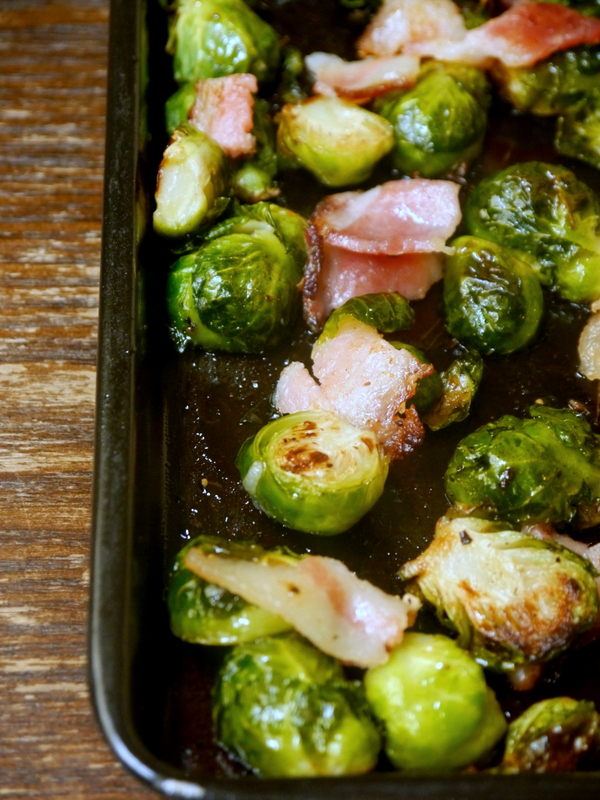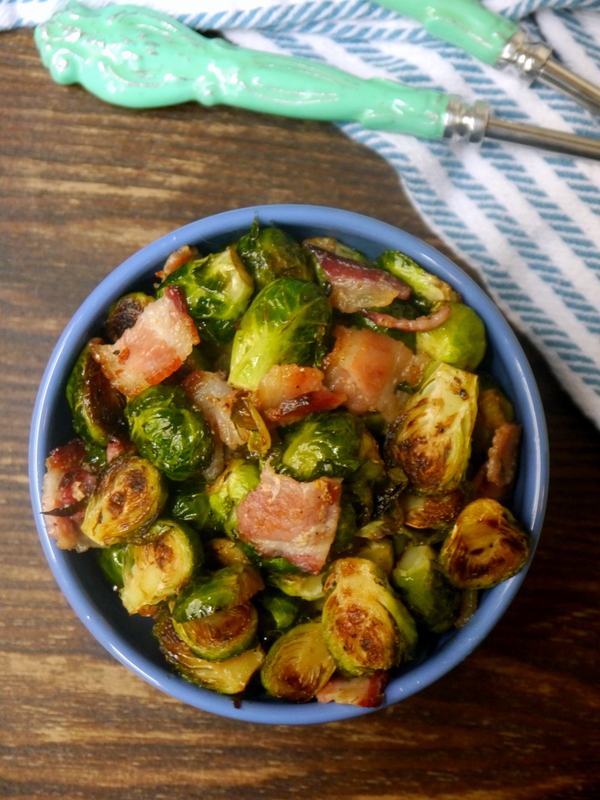 I've said it before and I'll say it again – to me, the best part of Thanksgiving is the sides (and pumpkin pie, of course). In the years of my life when I was a vegetarian, people would be like, "oh, Thanksgiving must suck for you!" and I'd look at them like they were crazy. Didn't they know if you don't eat the turkey, you have more valuable plate real estate for stuffing and mashed potatoes and rolls and green beans and sweet potatoes and gravy? It totally didn't compute for me. Flash forward to today, when I am very much a carnivore (with, ya know, a bacon blog): I still think the turkey is one of the less-exciting parts of Thanksgiving, but now I put meat all up in all my sides, because non-vegetarian Megan knows bacon is what's up.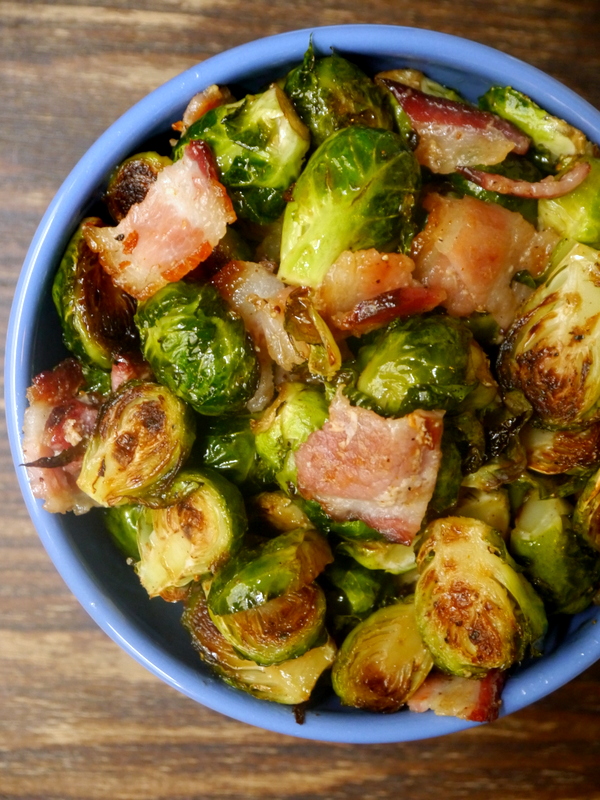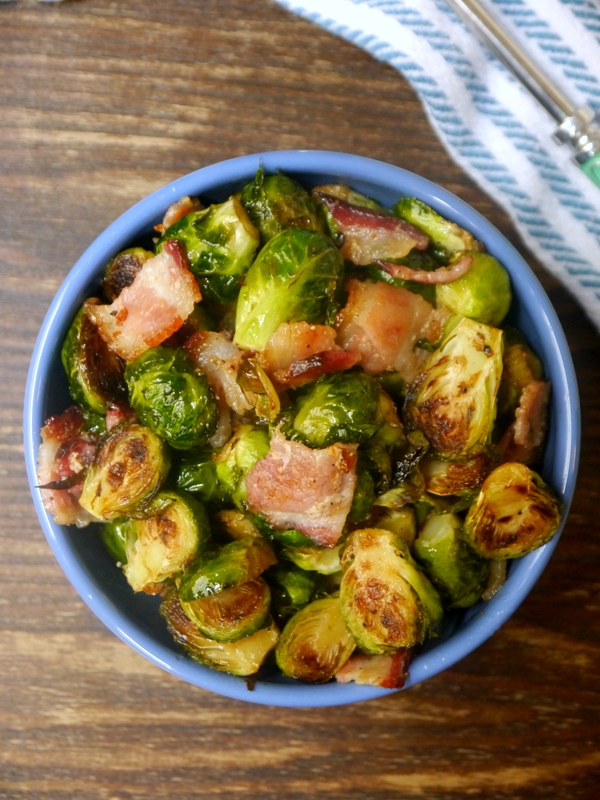 These sweet and spicy bacon Brussels sprouts are a seriously awesome addition to this year's Thanksgiving recipe collection. I can never resist a crispy-on-the-outside roasted Brussels sprout dish, and this one combines maple syrup with cayenne for the most incredible sweet-spicy kick. The spice isn't in your face, but it creeps up on you over time in the way warm, homey spicy foods so often do. We toss the soft and crispy roasted Brussels with big chunks of thick-cut bacon, and the result is an insanely simple, straightforward Thanksgiving side that is totally loaded with flavor and hits that perfect sweet and salty and spicy balance. I absolutely loved these Brussels, and I know you and your family will too! Happy Thanksgiving dreaming/planning/prepping, everyone!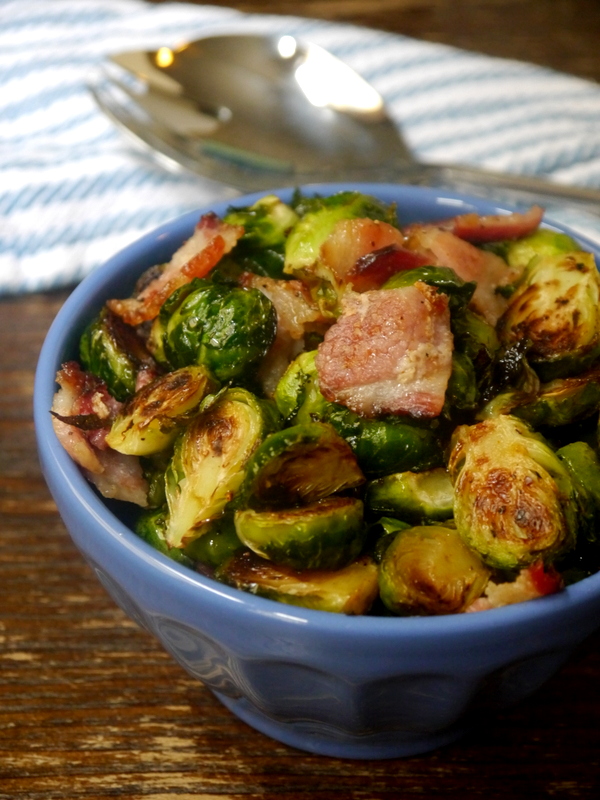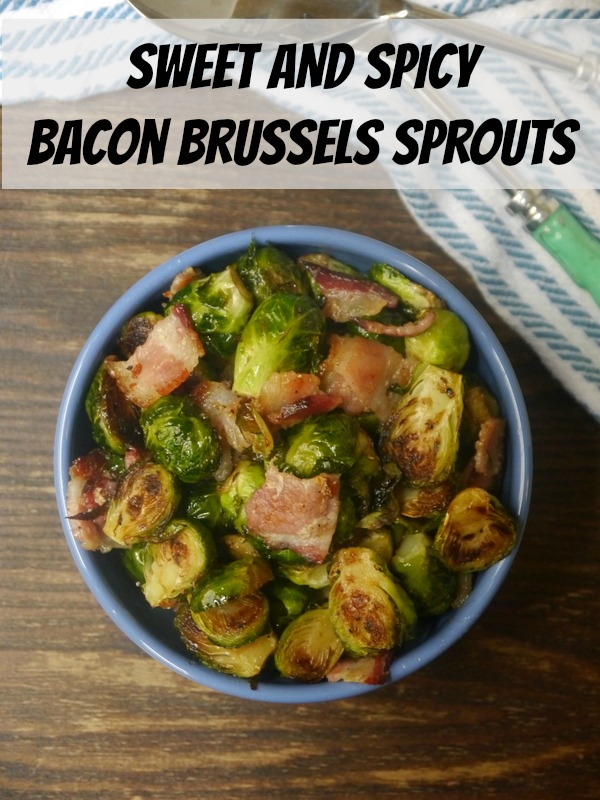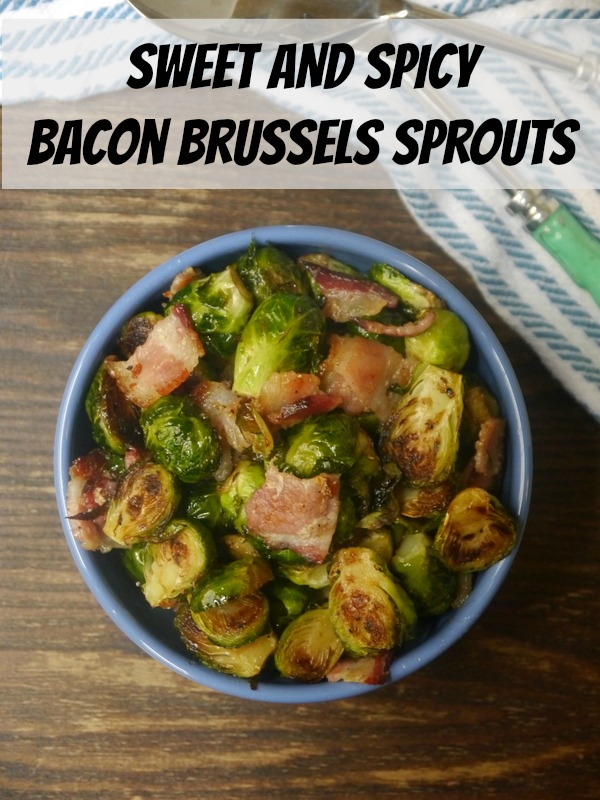 Sweet and Spicy Bacon Brussels Sprouts
2015-11-08 18:29:36
Serves 4
These brussels sprouts are the perfect combination of sweet, spicy, and salty. They also come together super fast and would be the perfect veggie for your Thanksgiving table!
Ingredients
2 pounds Brussels sprouts, hard ends trimmed and halved lengthwise
1 ½ tbsp. olive oil
Kosher salt and fresh cracked black pepper
1 ½ tbsp. maple syrup
Generous 1/8 tsp. cayenne pepper
4 slices thick-cut bacon, cooked and chopped
Instructions
Preheat your oven to 400°F. Arrange the Brussels sprouts on an even layer on a baking sheet. Drizzle with olive oil and season with salt and pepper; toss to coat evenly. Roast for about 15-20 minutes, stirring halfway through to make sure nothing sticks. Meanwhile, combine the maple syrup and the cayenne pepper in a small bowl. Drizzle the spicy syrup over the Brussels sprouts, stir until evenly coated, and return to the oven to roast for one more minute. Remove from the oven and stir in the bacon. Serve warm!
Adapted from Martha Stewart
My Bacon-Wrapped Life http://www.mybaconwrappedlife.com/
Looking for more Thanksgiving inspiration?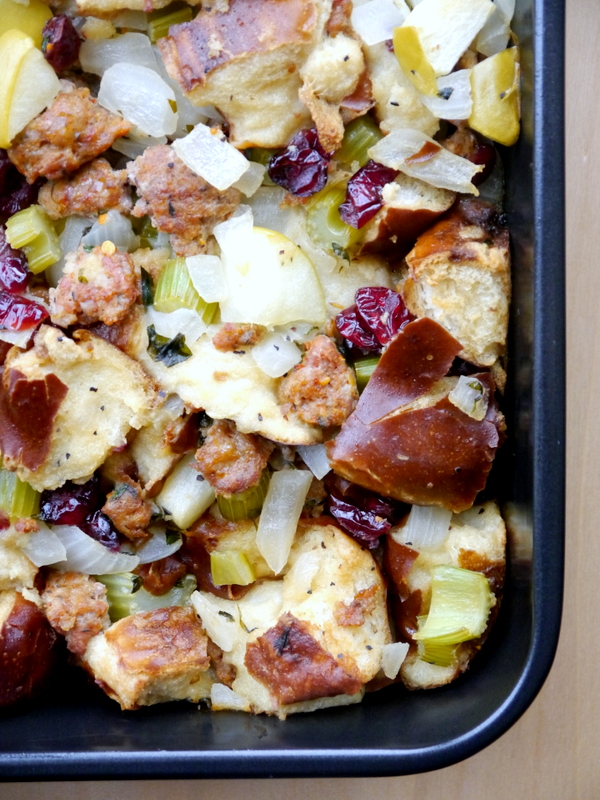 Sausage and Apple Pretzel Bread Stuffing (my fave!!)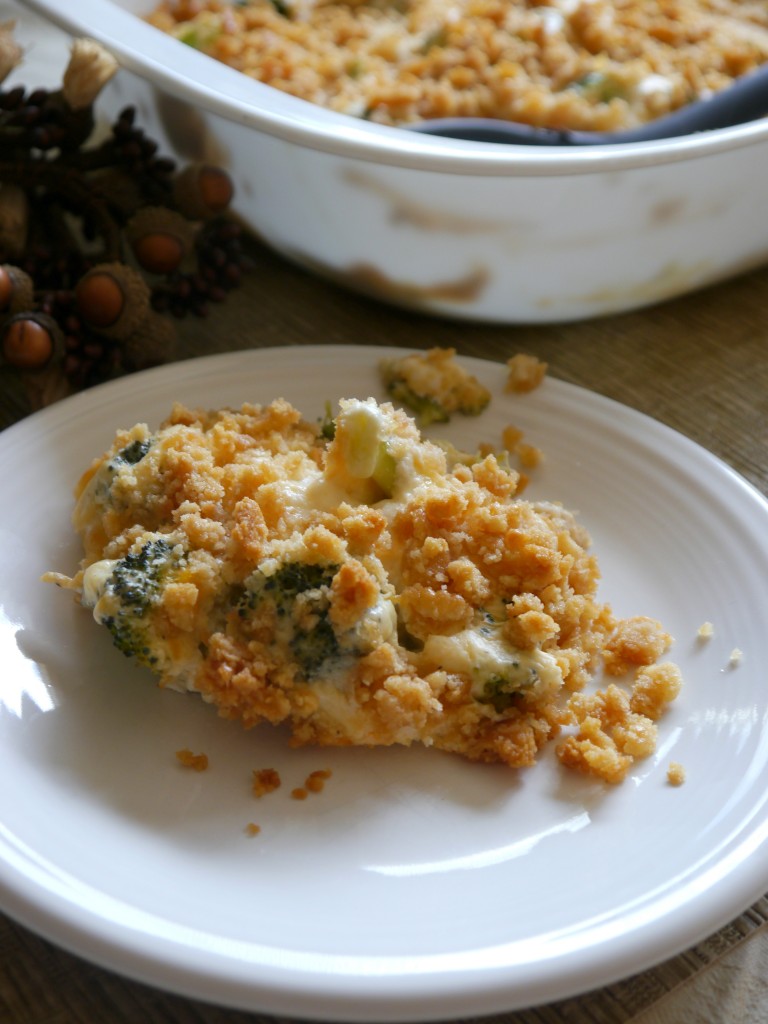 Cheesy Broccoli Casserole (my other fave!!)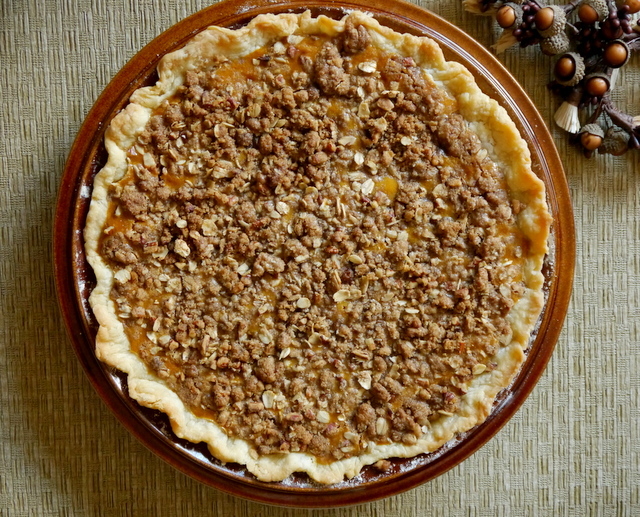 Streusel-Topped Pumpkin Pie