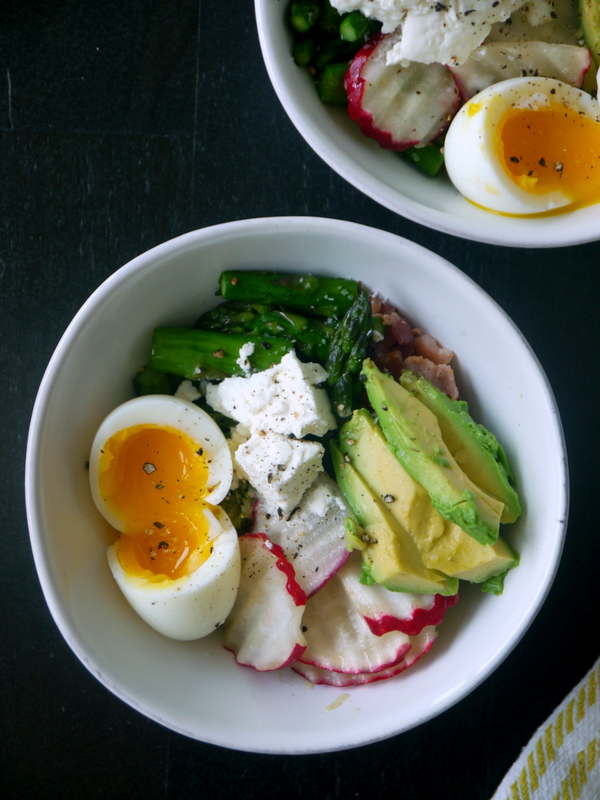 Despite growing up in Los Angeles and going back 4-5 times per year to visit family and friends, I never seem to really make a dent in my list of restaurants I'm dying to try. Every trip we'll maybe squeeze one new stop in, but the vast majority of the time, we end up defaulting to our family faves over and over again. Not a terrible problem to have, but when I saw that Jessica Koslow of Sqirl (maybe #1 on my must-try LA restaurant list) published a cookbook full of recipes from her restaurant, I decided to finally take matters into my own hands and bring a little LA to the Bay myself!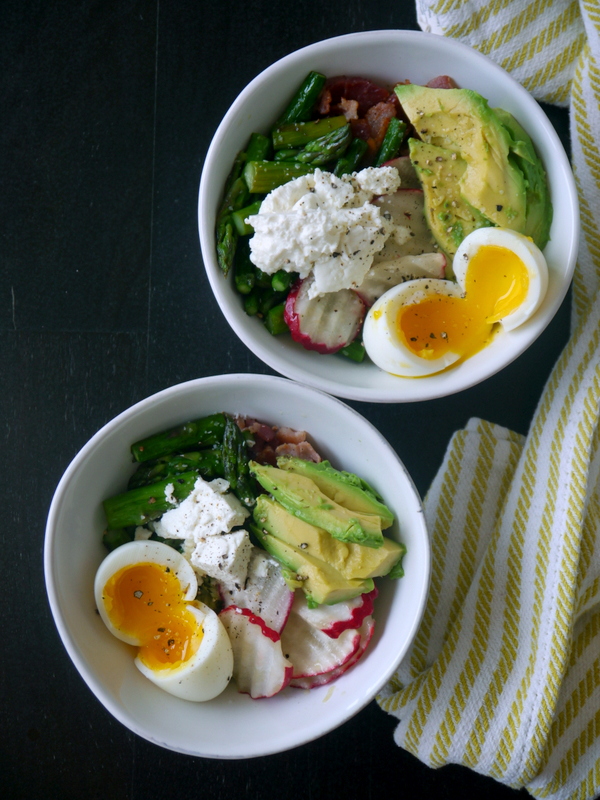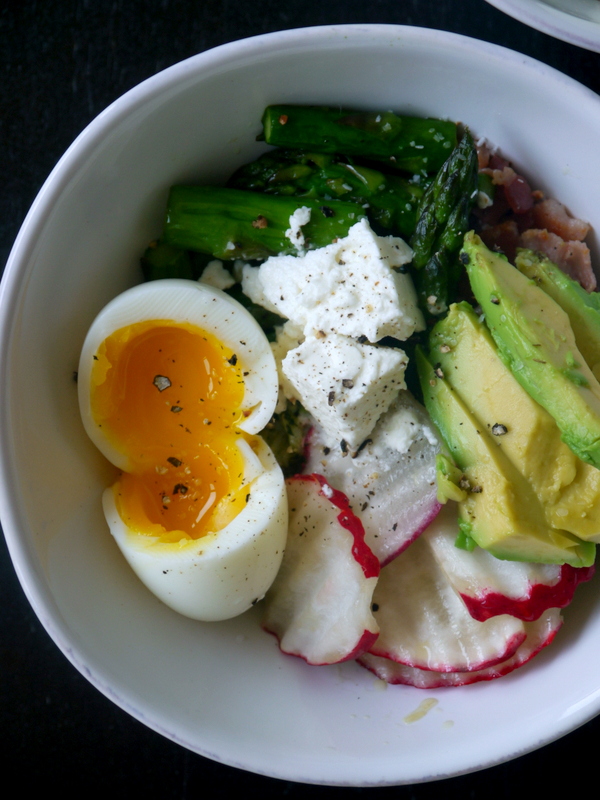 This pesto brown rice bowl is one of the most iconic (and instagrammable) items on her menu, and I felt like it was only right to start with it. (Plus, if you couldn't tell, I'm on a bit of a breakfast bowl kick.) Oh man, you guys. For a recipe that looks super virtuous (well, besides the bacon…) the flavor was so complex, fresh and spring-y – perfect for this time of year! Warm brown rice is tossed with a lemony kale pesto (the recipe calls for sorrel, but there was none to be found in my grocery store), dill, and preserved lemon peel. Then come the toppings – crunchy radishes marinated in olive oil and lemon juice, a silky runny egg, tangy sheep's milk feta cheese, and creamy avocado. I also added some cooked bacon (because, duh) and some asparagus that I cooked in the bacon fat (also, duh) to up the spring factor and was so, so happy with how it turned out. We couldn't stop exclaiming about how good this was!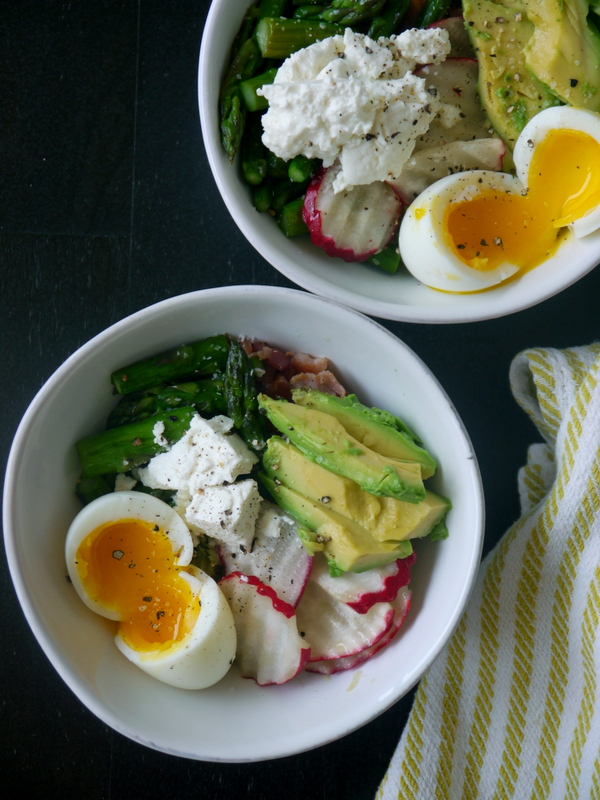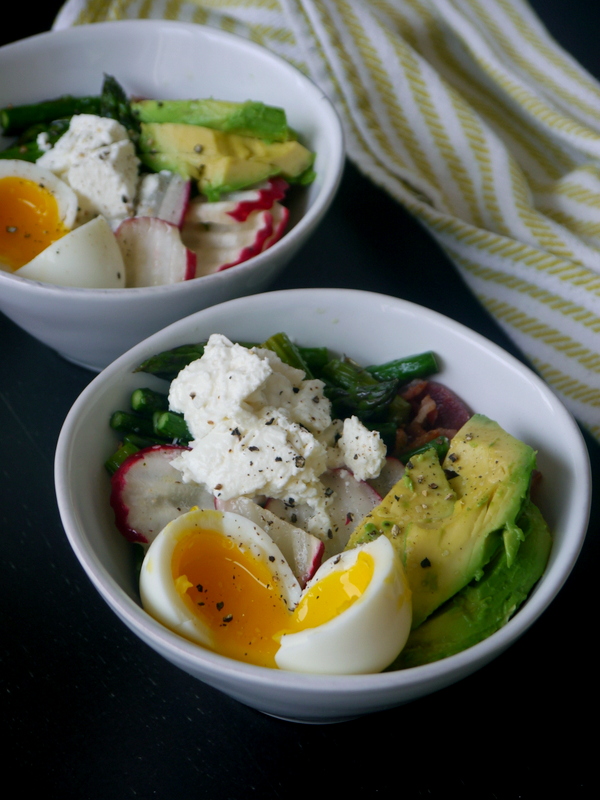 One note here – yes, this recipe has a lot of stuff goin' on. I'm always a bit wary of restaurant-chef cookbooks because the recipes tend to be quite complicated and filled with a number of sub-recipes, and this one was no exception in that regard. I was tempted to skip a few of the seemingly "extra" parts (the preserved lemon, the marinated radishes, the fancy sheep's milk feta), but was determined to make this as close to as-written as possible to get the full Sqirl experience. I'm so glad I did, because I truly think every element was necessary in this case to make it as great as it was. It's a bit of a project for a brunch dish, but I promise it's well worth it! (Also, it totally makes you appreciate the work that goes into such a seemingly simple dish.) I still can't wait to try Sqirl for myself, but in the meantime, I'll be here eating this incredible pesto brown rice bowl!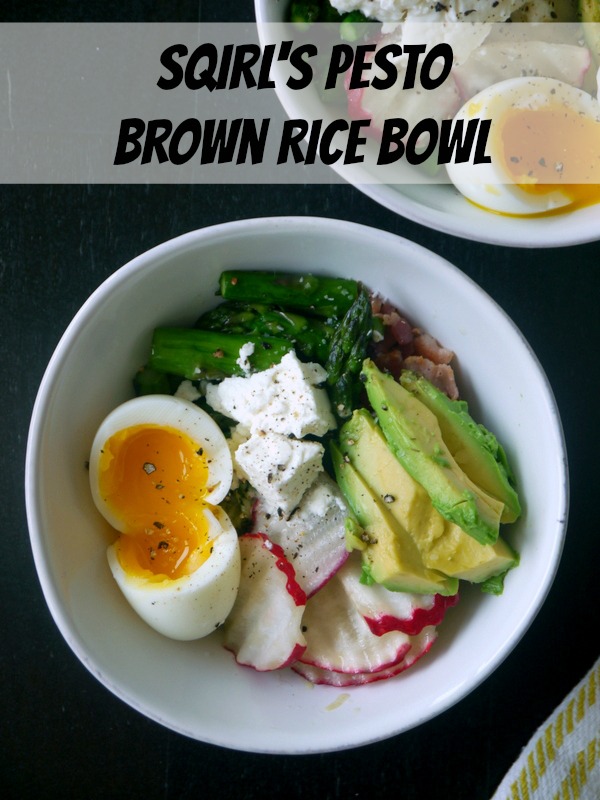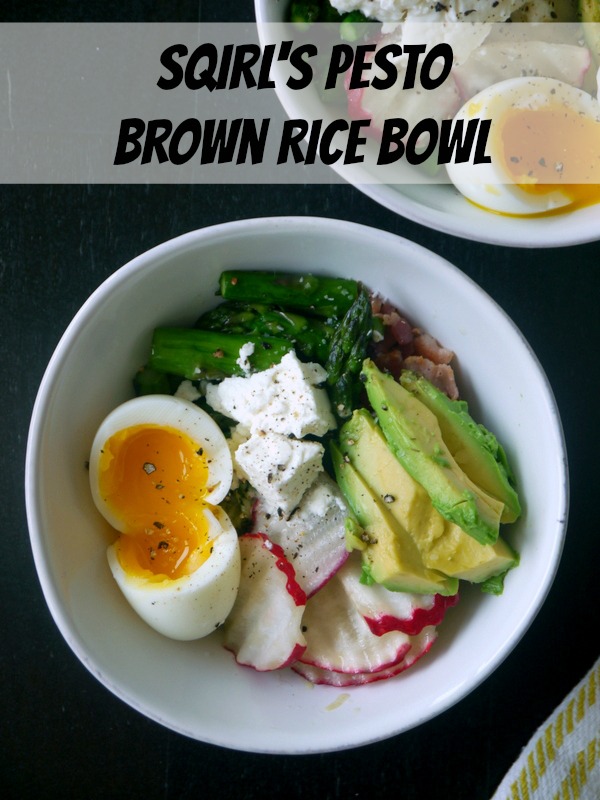 Sqirl's Pesto Brown Rice Bowl
2017-04-09 17:52:35
Serves 4
This savory breakfast bowl is loaded up with brown rice, lemony pesto, tons of spring veggies, runny eggs, and bacon. A fresh, healthy, but insanely flavorful breakfast dream come true!
For the pesto (makes a bit extra)
3 cups loosely packed kale (or, if you can find sorrel, use 2 cups sorrel and 1 cup kale)
½ cup olive oil
1 tbsp. fresh lemon juice
Kosher salt, to taste
For the bowls
8 slices bacon, diced
1 small bunch asparagus, cut into 1-inch pieces
2 cups cooked brown rice
2 tbsp. chopped dill
Peel from 1 preserved lemon, finely chopped (I used store-bought)
2 tbsp. fresh lemon juice, divided
4 radishes, very thinly sliced
1 tbsp. olive oil
1 avocado, sliced
½ cup crumbled sheep's milk feta
4 eggs, cooked to your liking (I love a six-minute egg, link in Notes below)
Your favorite hot sauce
Kosher salt + fresh cracked black pepper
Instructions
First, make the pesto by combining the kale, lemon juice, and olive oil in a blender or food processor until combined. Season with kosher salt to taste and set aside.
Cook the bacon in a large skillet over medium heat until crispy. Remove with a slotted spoon and set on a plate lined with paper towels to drain. Heat the reserved bacon fat on medium and add the asparagus. Cook for about 5 minutes, stirring occasionally, until softened a bit but still crisp. Remove from the heat and set aside.
While the bacon cooks, add the sliced radishes to a small bowl and add olive oil and 1 tbsp. of lemon juice. Stir to combine and allow the radishes to marinate while you assemble the rest of the bowls.
Add the cooked brown rice to a large bowl. Add two-thirds of the prepared pesto (save the remaining third for another use). Stir to combine. Add in the dill, 1 tbsp. of lemon juice, and the preserved lemon peel and stir to combine. Divide among four bowls.
Top each brown rice bowl with one-quarter of the marinated radish slices, avocado slices, sheep's milk feta, bacon, and asparagus. Right before serving, top each with a runny egg. Top each bowl with kosher salt, fresh cracked black pepper, and your favorite hot sauce. Serve immediately!
Notes
Recipe time does not include cooking the rice and eggs or chopping all the veggies. I note this because all of this stuff takes a long time! I'd budget about an hour and a half total.
I always use this method from Smitten Kitchen for cooking the perfect runny egg: https://smittenkitchen.com/2013/04/spinach-and-smashed-egg-toast/.
Adapted from Everything I Want to Eat: Sqirl and the New California Cooking
My Bacon-Wrapped Life http://www.mybaconwrappedlife.com/
Looking for more breakfast bowls? I can't get enough!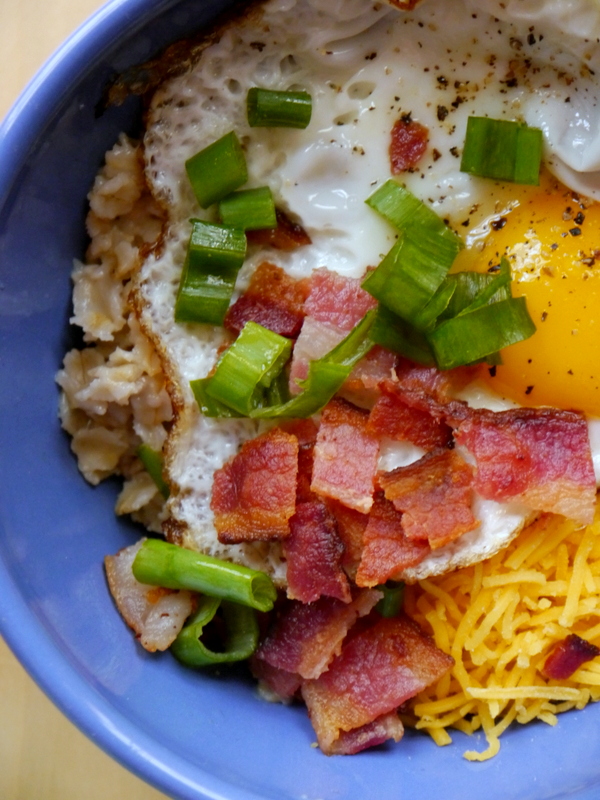 Savory Oatmeal Breakfast Bowls