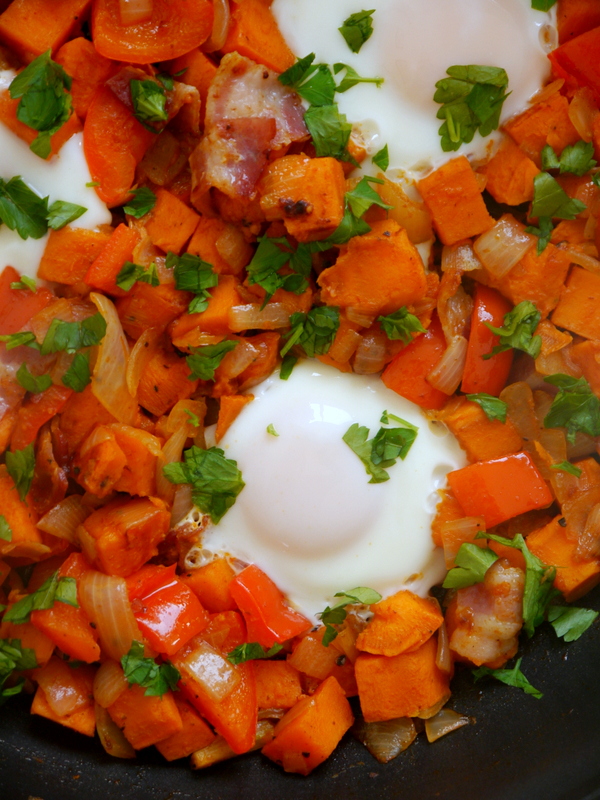 One of my New Year's resolutions this year is to bring more "vacation" to everyday life – to purposefully take time to make the ordinary weeks feel special, and to develop little rituals of self-care and fun to break up the week. We've been trying to get in bed early to snuggle up with our books instead of mindlessly watching TV or scrolling through Instagram. We've been making more homemade cocktails to fancy up our Saturday night dinners at home. And perhaps my favorite new little ritual is that we've been having lovely little Sunday brunches – nothing fancy, usually just at home, but just taking the time to make a nice meal in the morning and linger over coffee and the newspaper. Somehow, dedicating time to cooking a real meal for myself and Brad on a slow weekend morning feels like the most decadent, lovely way to honor the weekend and make it feel special.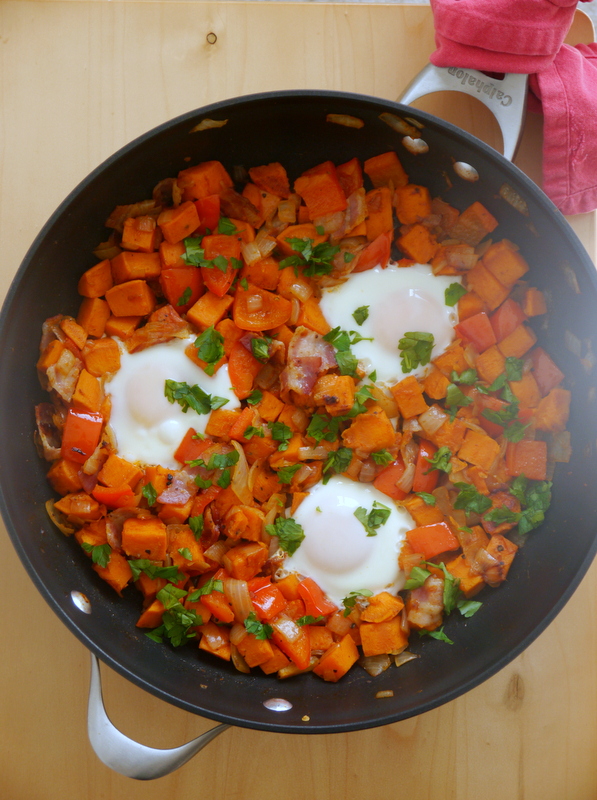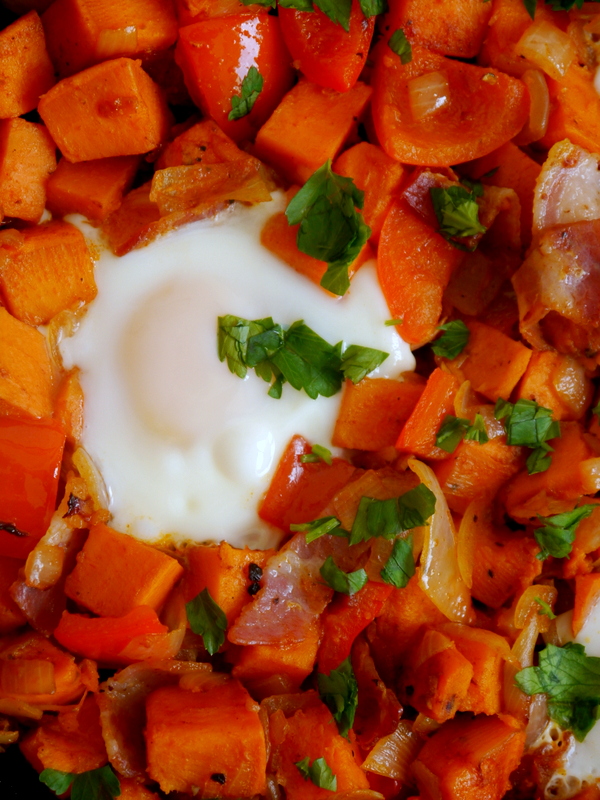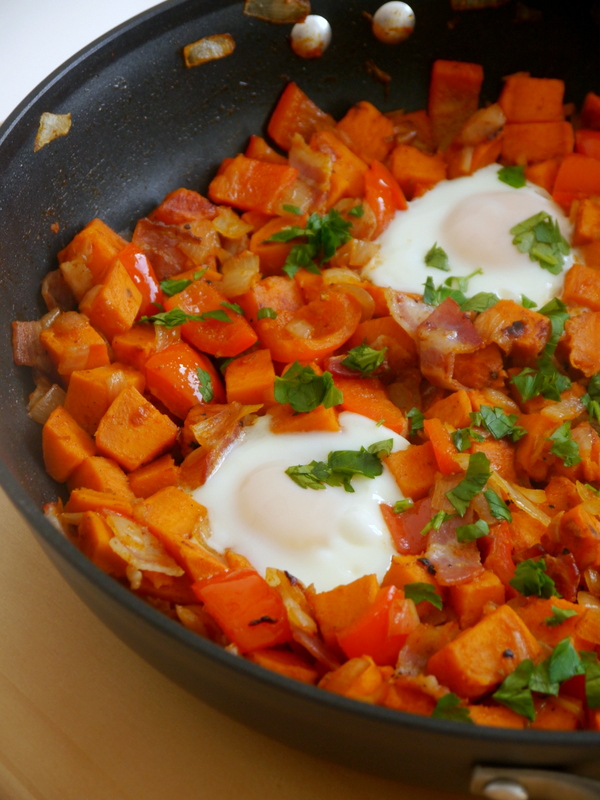 The rules of Sunday brunch are: no stress or rush, lots of coffee, pajama-chic attire, and – usually – no recipe. This smoky sweet potato bacon breakfast skillet was one of those Sunday brunch throw-a-bunch-of-shit-in-a-skillet happy accidents, and I loved it so much that I've made it a few times now and just had to share it with you. We first cook up some bacon in a large skillet, then use the bacon fat to crisp up diced sweet potato, onion, and red bell pepper that get a little extra smoky flavor from a solid dose of smoked paprika (one of my all-time favorite spices!). Once everything is all cooked through, we make little wells in the mixture and crack in a few eggs, cook them until the whites are cooked and the yolks are still runny, and voila! It's a breakfast that is so much more than the sum of its parts, and just about the perfect easy, delicious, and completely soul-satisfying breakfast for savoring on a slow Sunday morning.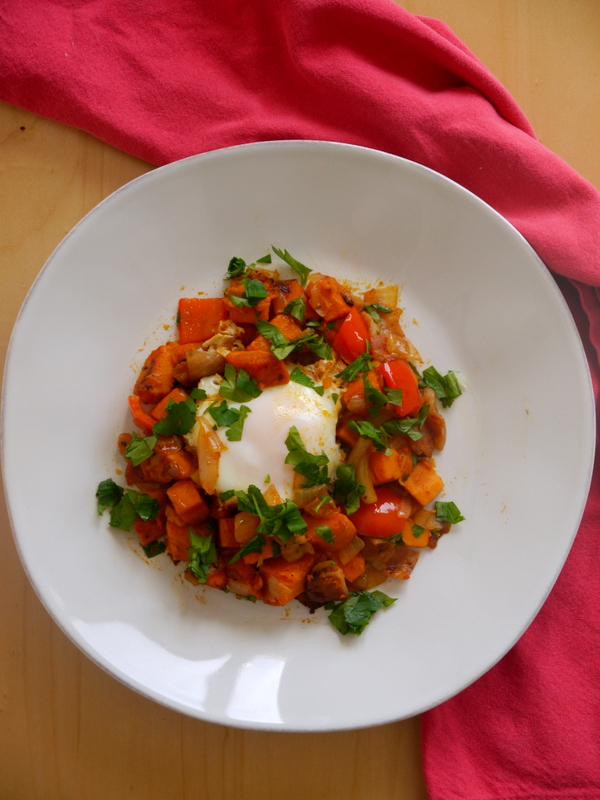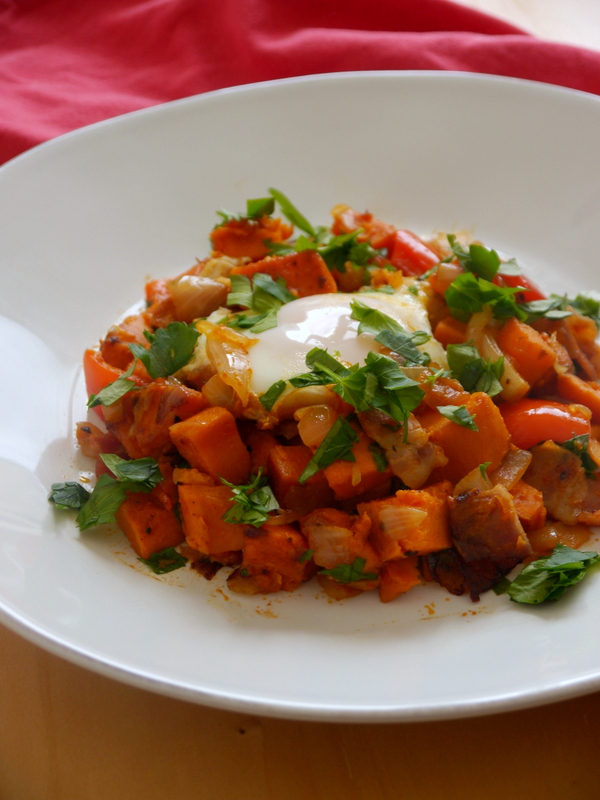 I included a recipe below to use as a guide, but really, the beauty in this skillet is all about simplicity and flexibility. Feel free to use whatever veggies and spices your heart desires – you can't go wrong with smoky bacon, seasonal veggies, and – the best part – those incredible runny eggs. Here's to home-cooked meals, no-recipe recipes, and bringing some of the luxurious slowness and calmness of vacation to our busy lives. We ALL deserve it!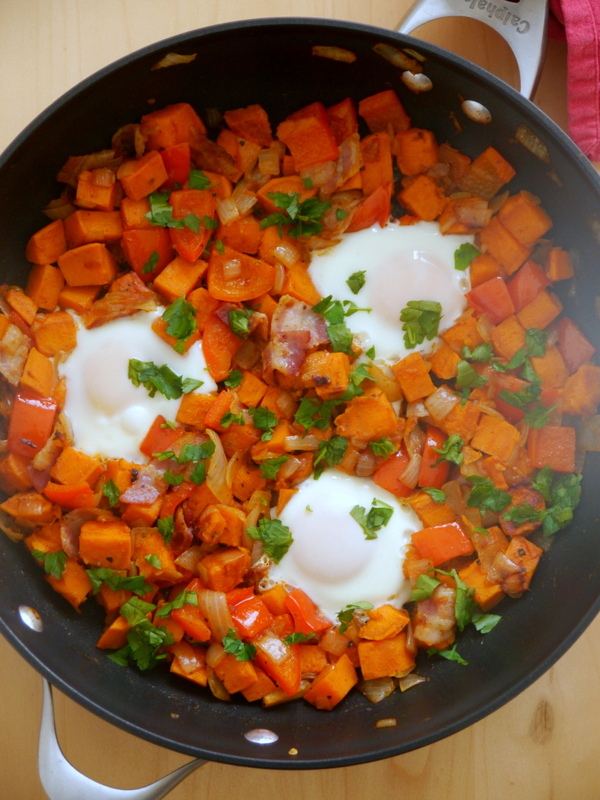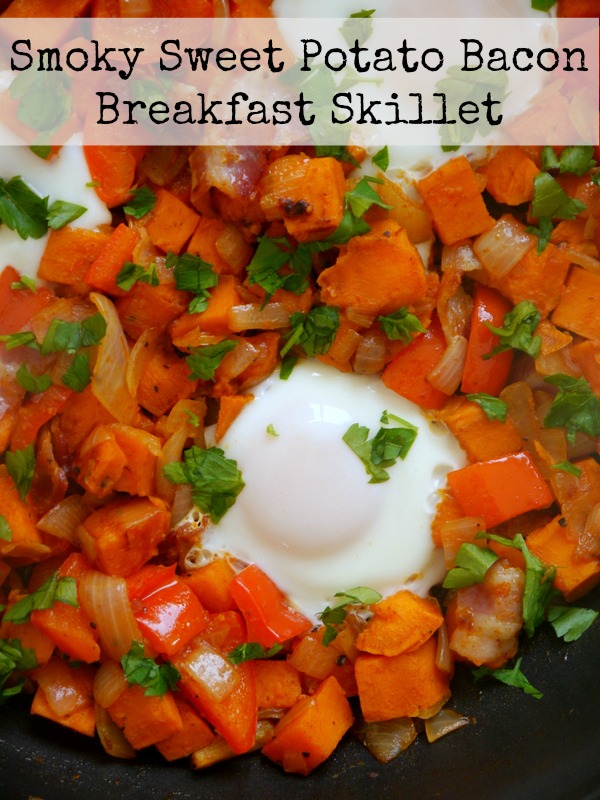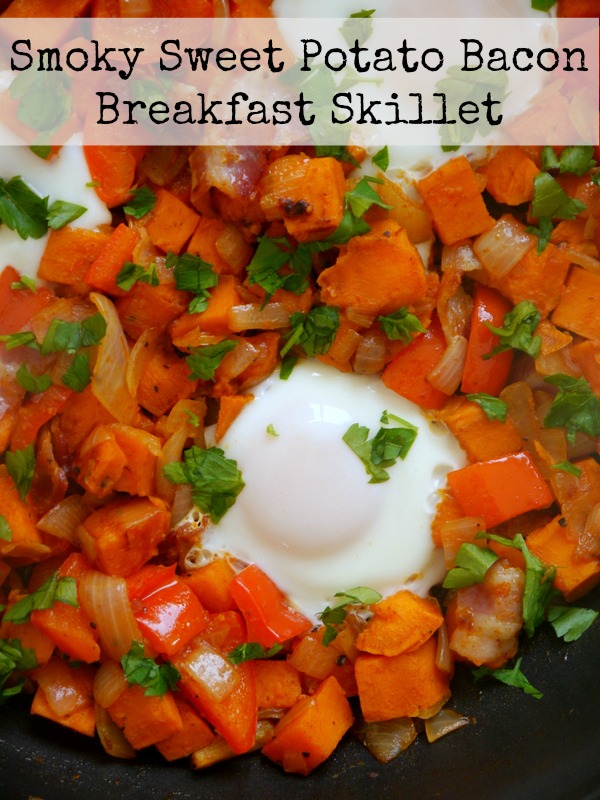 Smoky Sweet Potato Bacon Breakfast Skillet
2017-02-12 16:27:29
Serves 2
An easy veggie-filled breakfast skillet that's absolutely loaded with flavor! Sweet potatoes, bacon, and runny eggs are the Sunday brunch dream team.
Ingredients
4 slices thick-cut bacon
1 sweet potato, peeled and diced into ½-inch pieces (make sure to cut it small or else it will take forever to cook)
1 small onion, chopped
1 red bell pepper, chopped
Kosher salt and fresh cracked black pepper
1 tsp. smoked paprika
2-3 eggs, depending on how hungry you are
Small handful Italian parsley, chopped
Instructions
Cook the bacon in a large skillet to desired degree of crispiness. Transfer to a plate lined with paper towels to drain, making sure to leave the fat in the skillet. When cooled a bit, chop the bacon into bite-sized pieces.
Heat the bacon fat on medium and add the sweet potato, onion, and bell pepper. Add kosher salt and black pepper to taste, then sprinkle the smoked paprika over the mixture and mix to combine. Cover and cook for about 15 minutes, stirring occasionally, until the onions are browned and the sweet potatoes are cooked through. Add the bacon pieces back in and stir to combine. Make "wells" for each of your eggs and crack the eggs directly into each. Cover and cook until the whites are set but the yolks are still runny. Sprinkle with the chopped parsley and serve immediately.
Notes
Feel free to substitute in whatever veggies and spices you like - this is a super flexible recipe that can be built to your tastes!
My Bacon-Wrapped Life http://www.mybaconwrappedlife.com/
Looking for more no-stress breakfast recipes?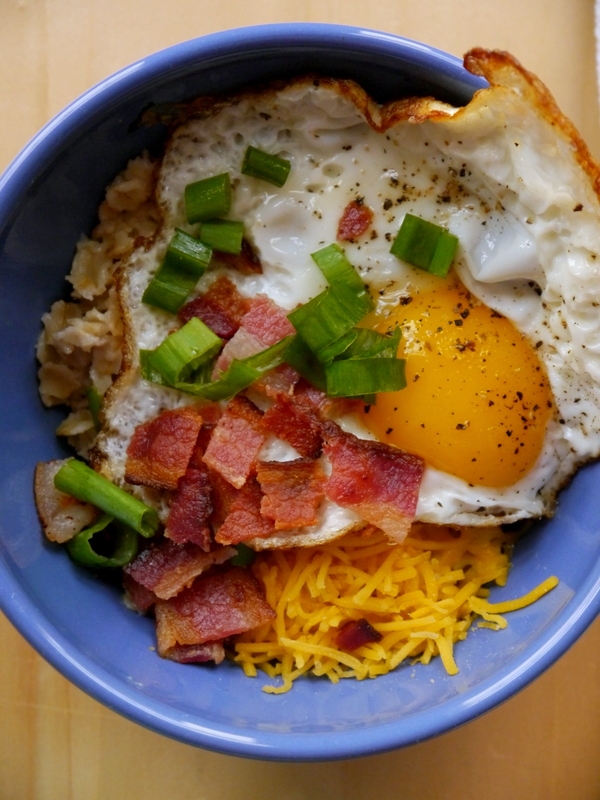 Savory Oatmeal Breakfast Bowls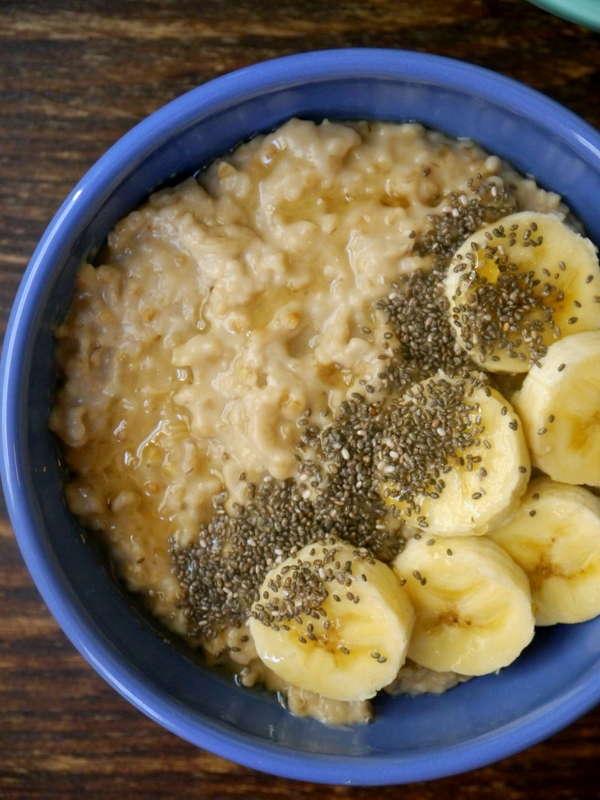 Peanut Butter, Banana, and Honey Steel-Cut Oats