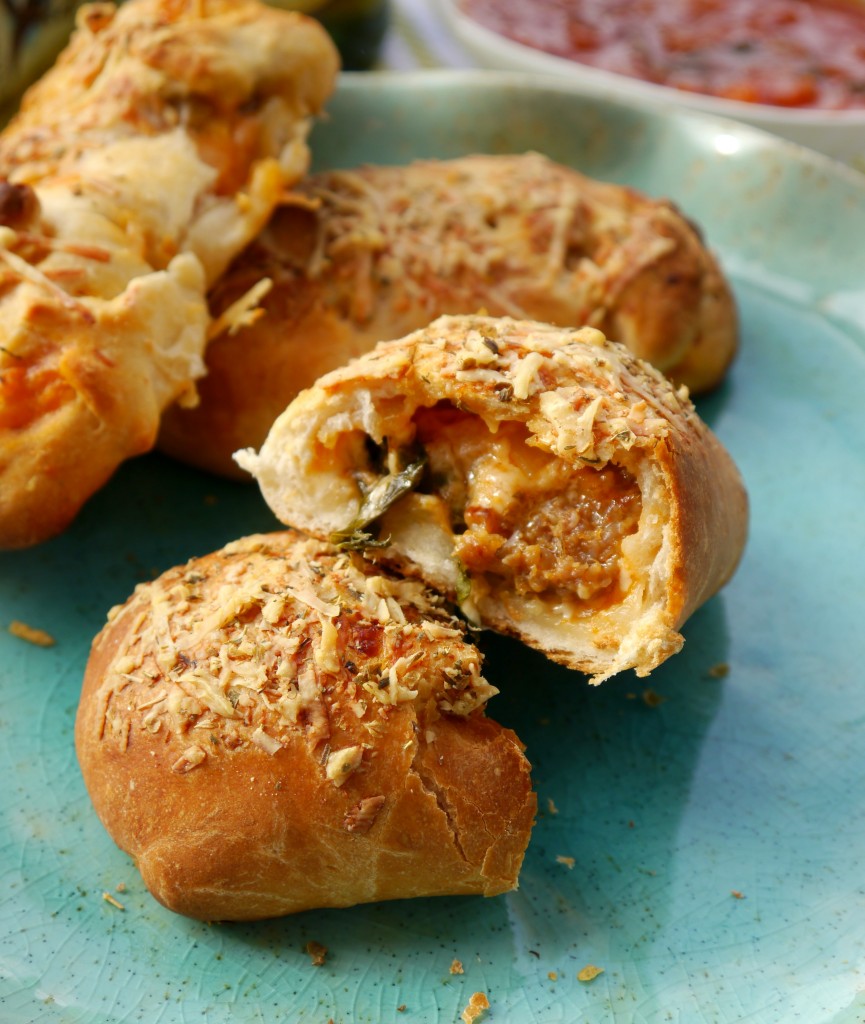 The Super Bowl is exactly 2 weeks from today, and I could not be more excited! I love sports. Not playing them, of course, just watching them while eating. Duh.
In honor of the ultimate sports (ahem, food) event of the year, I have 2 recipes – one savory and one sweet – comin' atcha before the big day for you to whip up for your Super Bowl party. Let's kick things off with these sausage pizza rolls. Homemade pizza sauce, hot Italian sausage, creamy shredded cheese, and fresh basil are rolled up into an awesome hand-held pocket of deliciousness. Guys, it's pretty much a homemade Hot Pocket. It's game day food at its very best.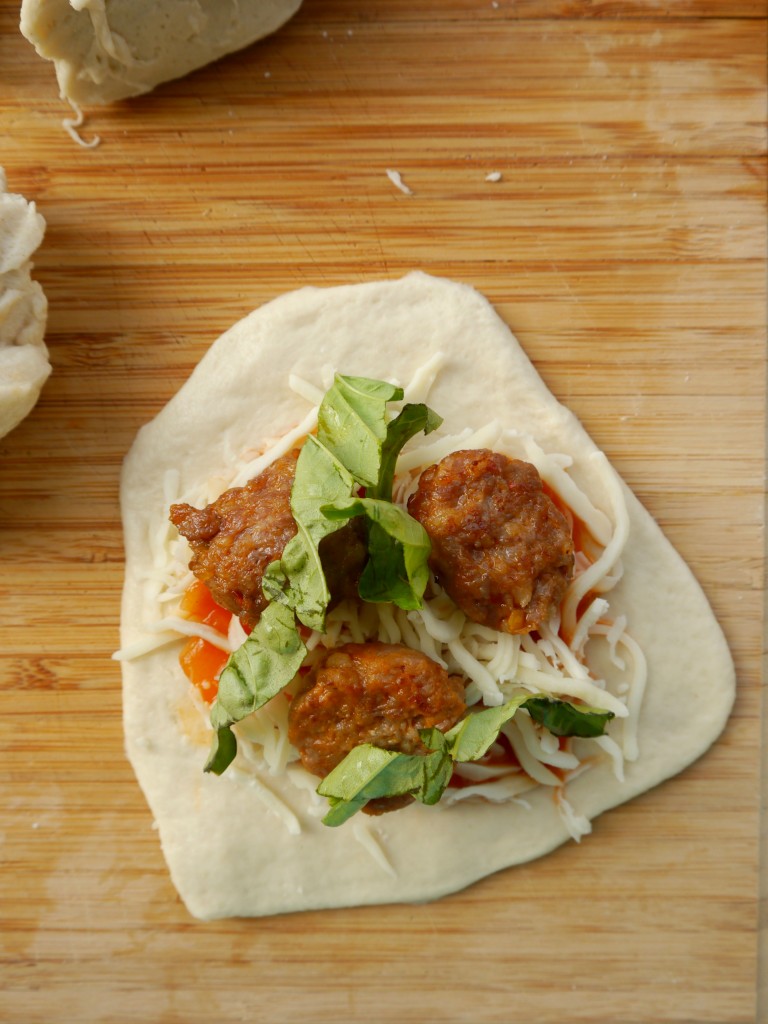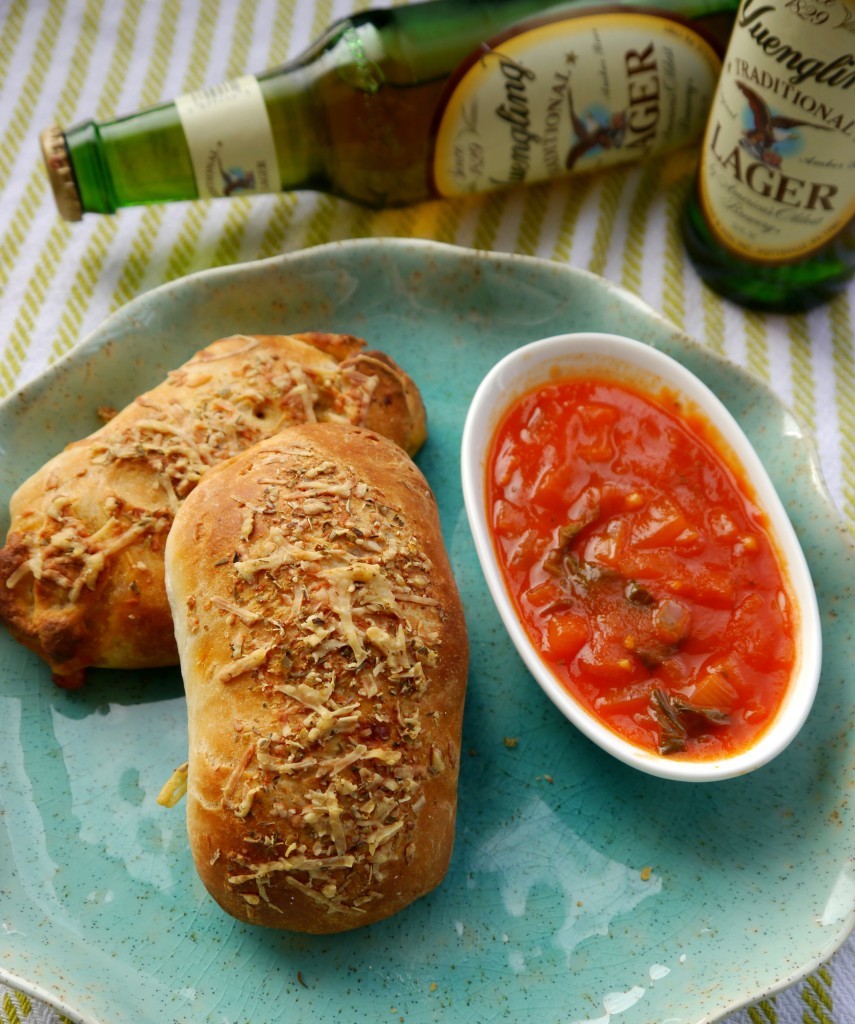 I'm not going to lie. These bastards almost didn't happen. I first attempted to use a homemade pizza dough that had been frozen and defrosted, but when I started to form the dough around the filing, shit just fell apart. I'm not sure if it was too hot in my kitchen, or the dough was too old, or what, but WOW. I'm talking giant mounds of raw dough and sauce all mixed up together in a hunk of misery and crushed dreams. Cue frustrated screaming and amazing boyfriend running to the store to pick up some Pillsbury refrigerated pizza dough. Round two, I changed things up a lot, increasing the proportion of dough to filling to make them easier to roll up. It worked like a charm, and homemade Hot Pockets were born.
These sausage pizza rolls are truly the perfect football-watching food. They're warm, spicy, cheesy, and HAND-HELD, people. They're literally meant to be held in one hand with a beer in the other, screaming at the TV (or at least watching some hilarious commercials). What could be more patriotic? I mean…nothing screams Amurrica like a hand-held pizza. Just saying.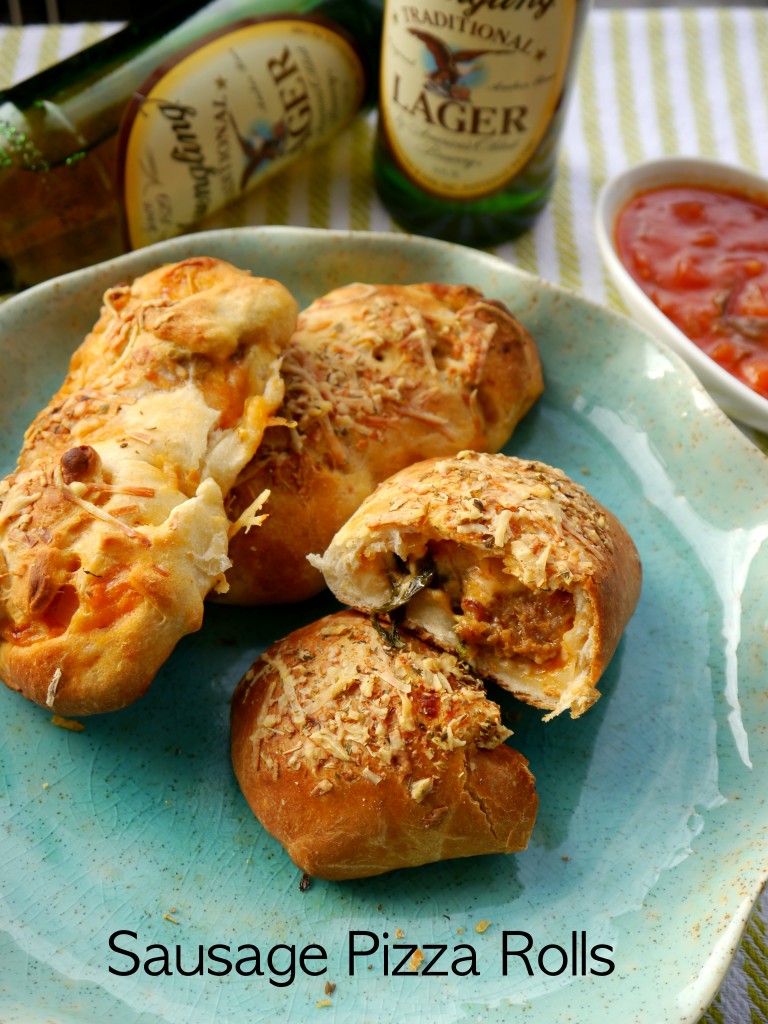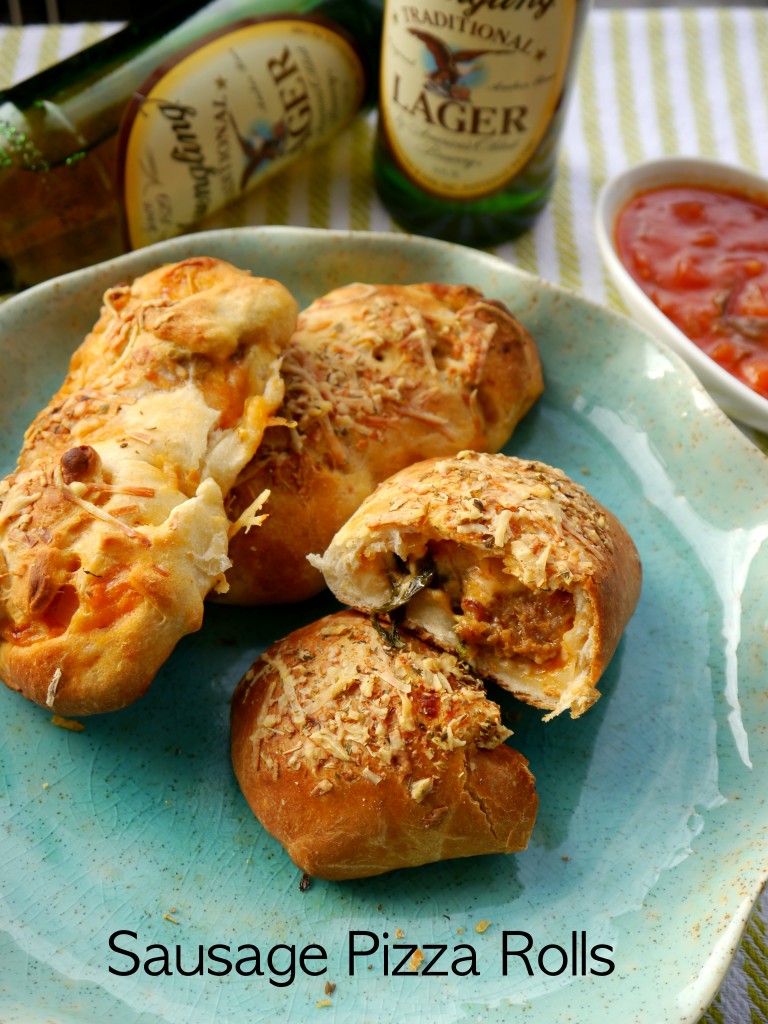 Sausage Pizza Rolls
2014-01-19 16:07:34
These sausage pizza rolls are the perfect game-day food: spicy, cheesy, and totally hand-held to leave plenty of room in the other hand for a cold beer!
Ingredients
2 tbsp. olive oil, plus more for brushing rolls
1 small white onion, diced
1 tsp. dried oregano, divided
Kosher salt
1 clove garlic, minced
1 15-oz can tomato puree
10 large fresh basil leaves, cut into a chiffonade
Pinch of red pepper flakes
Black pepper
8 oz. Italian sausage, sliced into 1/4-inch thick rounds
2 tbsp. shredded Parmesan cheese
1 package Pillsbury refrigerated pizza dough, or about 14 oz. homemade pizza dough
¾ cup Italian blend shredded cheese
Instructions
Preheat your oven to 425°F. Prepare a rimmed baking sheet by lining it with parchment paper.
Heat 1 tbsp. of olive oil in a medium saucepan over medium heat. Add the onions, ½ tsp. oregano, and ½ tsp. kosher salt and cook, stirring occasionally, for about 5 minutes. Add the garlic and cook 1 more minute. Add the tomato puree, ¼ cup of water, half of the chopped basil, and the red pepper flakes. Bring the sauce to a simmer and cook for about 4 minutes, or until slightly thickened. Taste and season with additional salt and pepper if desired.
Next, heat the second tbsp. of olive oil in a large skillet over medium-high heat. Add the sausage rounds and cook until browned on both sides, about 4 minutes. Transfer to a plate lined with paper towels to drain. Meanwhile, mix the Parmesan with the remaining ½ tsp. oregano in a small bowl.
Divide the dough into 6 equal portions. Roll each into a square-ish shape about 4 inches wide. Working one at a time, spoon 1 tbsp. of sauce on each square. Top with about 2 tbsp. of shredded cheese, 3 sausage rounds, and some basil. Wrap the dough around the filling, being careful to pinch the ends together completely so the filling doesn't leak out. I folded the top down, then the bottom up, then the sides in to seal the filling in tightly. Place seam side down onto the prepared baking sheet and repeat for the remaining 5 rolls.
Lightly brush the rolls with olive oil and sprinkle evenly with the Parmesan/oregano mixture. Bake until gold and bubbly, about 20 minutes. Serve right away, with the remaining sauce on the side for dipping.
Notes
If your dough tears, don't panic - just patch it up with a piece of dough from a thicker area. I promise, it'll still look fatntastic once it's baked up!
Adapted from Food Network Kitchens
My Bacon-Wrapped Life http://www.mybaconwrappedlife.com/