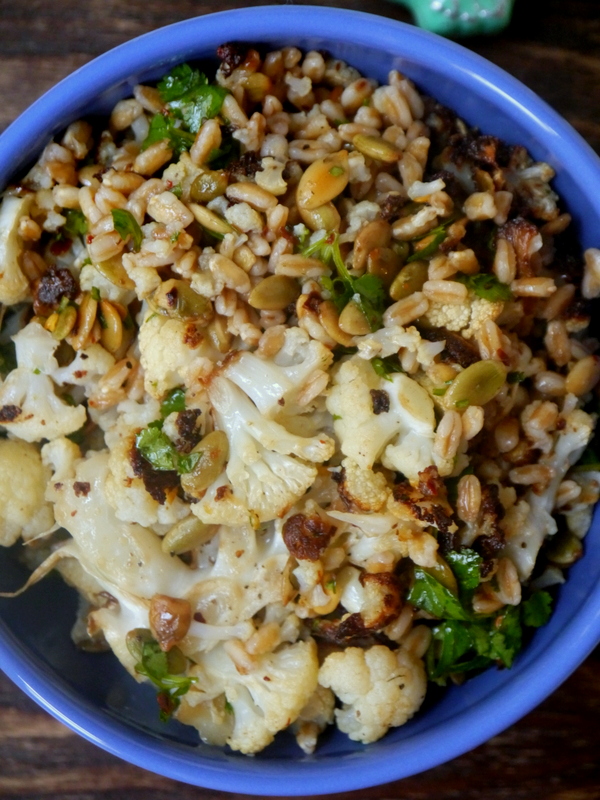 Another rainy, dreary January Sunday, another bowl o' winter love food. I just can't get enough.
I have been having so much fun in the kitchen the past few weeks, guys. January has no holidays, no expectations, no food blogger deadlines to meet. As much as I love this blog and how it forces to me to cook seasonally and food-celebrate every holiday (albeit one week early, always), sometimes it's nice to just cook whatever the hell I want, without foresight or planning or thinking about it altogether too much at all.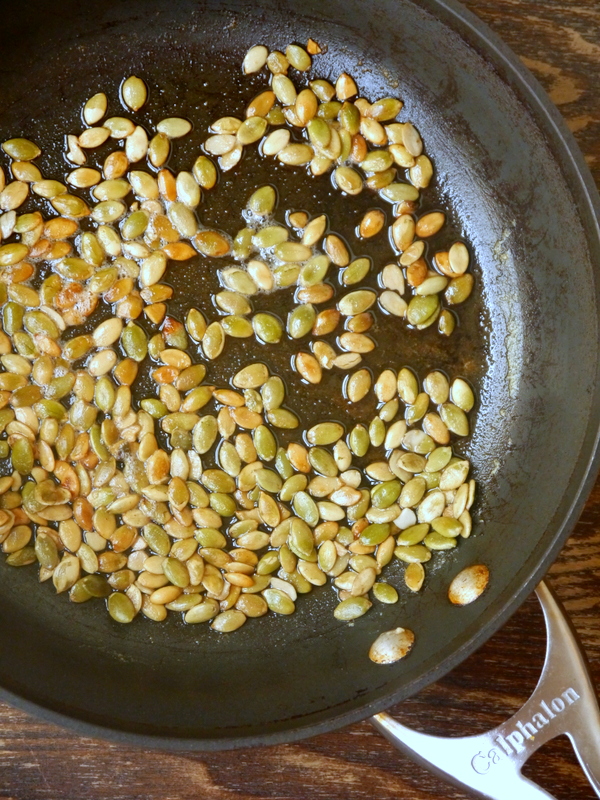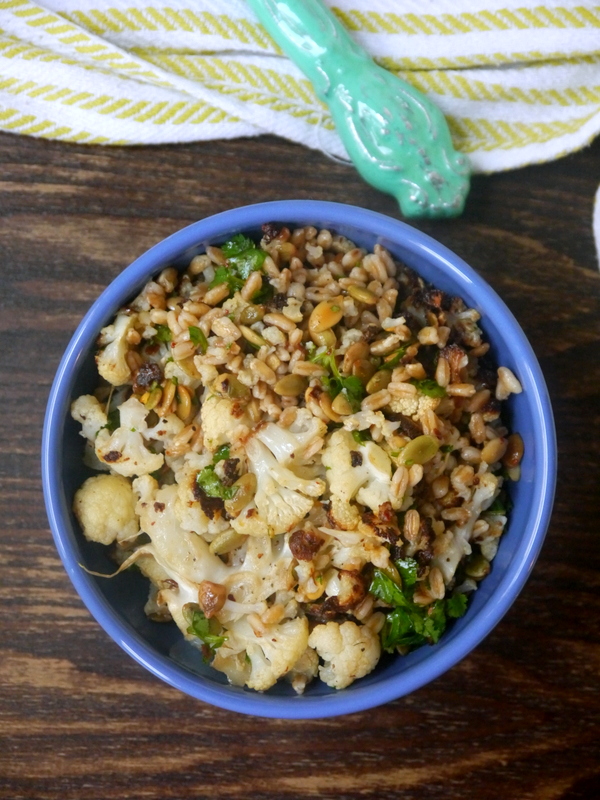 This roasted cauliflower with farro, pumpkin seeds, and brown butter is so complex, interesting, and full of flavor and texture. I originally spotted the roasted cauliflower recipe in the December issue of Bon Appetit, and it called out to me so much I couldn't resist making it for too long. The flavor combo sounds so weird – brown butter, lime, cilantro, pumpkin seeds – but it goes together so incredibly well. It's creamy and acidic and fresh and roast-y at the same time, with a spice at the back of your throat that builds over time in the best way.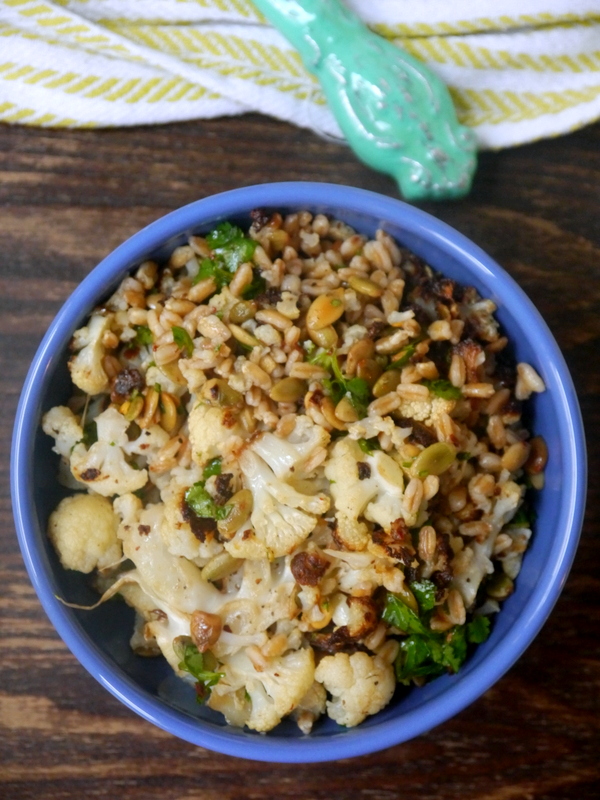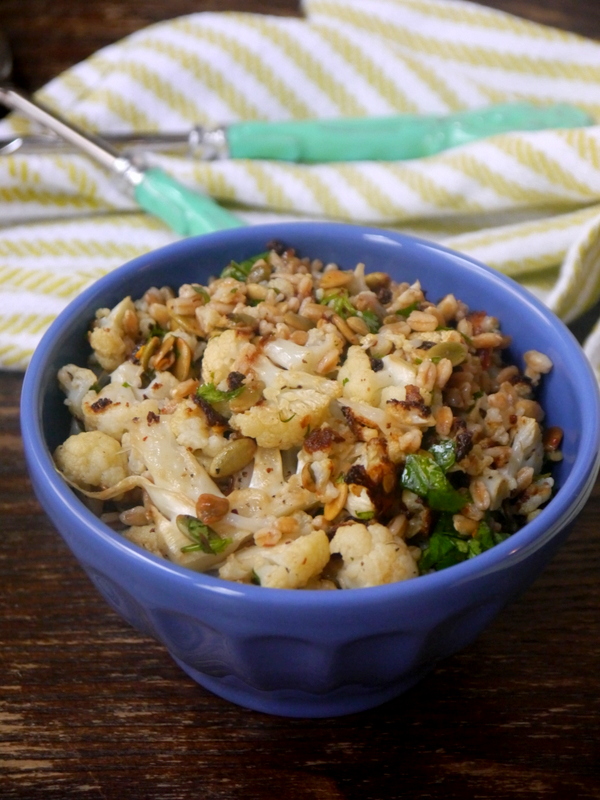 I added farro to the original recipe because, well, I always need carbs, and I am so glad I did. My favorite whole grain adds the best hearty chew and makes this more of a light meal than a side dish, which is a total win in my book. We ate this with a side of roasted chicken sausages for potentially the fanciest football-watching lunch of all time, and it was just the best antidote to the perpetually gloomy skies we've been having this here January. This dish is a dream, guys!!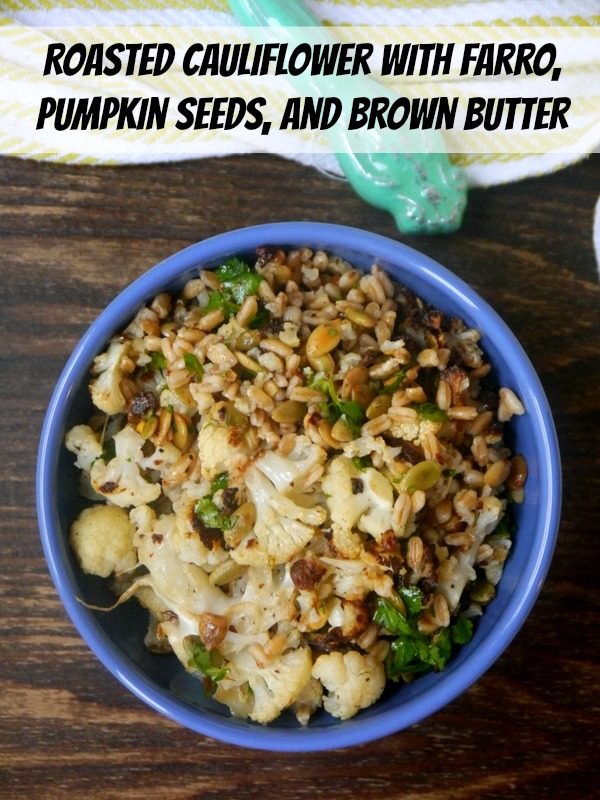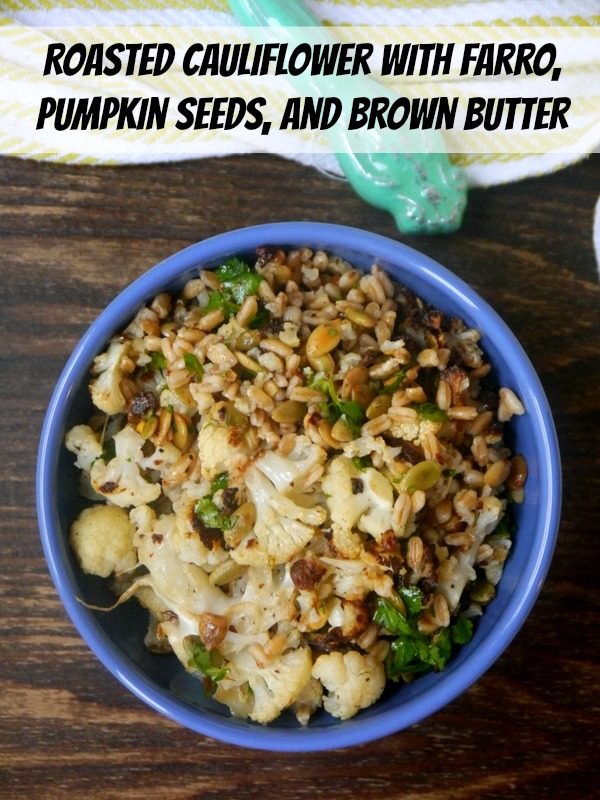 Roasted Cauliflower with Farro, Pumpkin Seeds, and Brown Butter
2016-01-17 14:42:55
Serves 4
This roasted cauliflower with farro, pumpkin seeds, and brown butter is incredibly flavorful and filled with texture - the perfect side dish or light meal!
Ingredients
2 tbsp. olive oil, divided
1 large head of cauliflower
Kosher salt and fresh black pepper, to taste
¼ cup dry farro
2 tbsp. unsalted butter
¼ cup shelled raw pumpkin seeds
½ tsp. crushed red pepper flakes
¼ cup chopped fresh cilantro leaves
1 tbsp. fresh lime juice
Instructions
Preheat your oven to 450°F. Stand your cauliflower head up by the stem, then slice down in ½-inch thick slices (it's okay if it crumbles a bit, but the slices should be thin to allow more browning and crisping). Coat a rimmed baking sheet with 1 tbsp. olive oil, then lay the cauliflower flat in a single layer. Drizzle with the remaining 1 tbsp. olive oil and sprinkle with kosher salt and fresh black pepper. Roast for 20 minutes, then flip the cauliflower over and cook for an additional 5-15 minutes, until both sides are very crisp and browned but not burned.
While the cauliflower is roasting, rinse the farro and cook according to package directions. Set aside.
In a small skillet, melt the butter over medium heat. Add the pumpkin seeds, bring to a simmer, and toast until the butter browns and smells nutty and incredible (about 6-8 minutes). Make sure to watch it really closely, as you don't want the butter to burn! Remove from the heat, stir in the red pepper flakes, and set aside to cool for 10 minutes. Once cool, stir in the cilantro and lime juice, then gently mix in the farro and the roasted cauliflower. Serve warm or cold – it's delicious both ways!
Notes
This serves 4 as a side, 2 as a light meal.
Adapted from Bon Appetit December 2015
Adapted from Bon Appetit December 2015
My Bacon-Wrapped Life http://www.mybaconwrappedlife.com/
Looking for more healthy and delicious veggie dishes?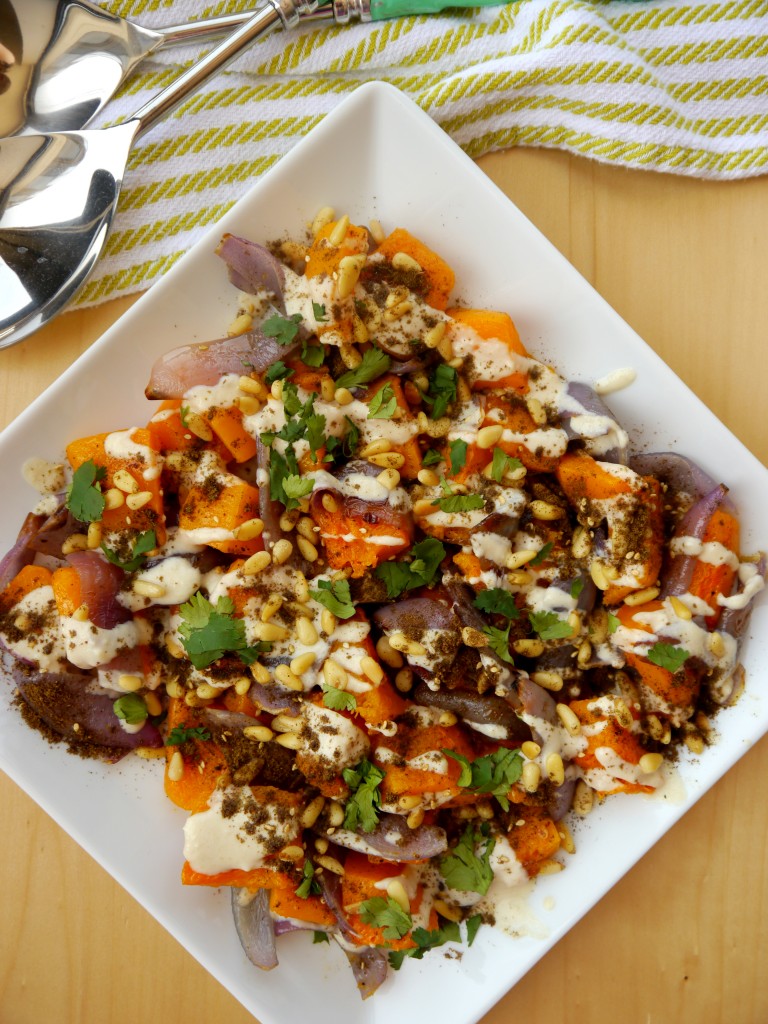 Roasted Butternut Squash with Tahini, Toasted Pine Nuts, and Za'atar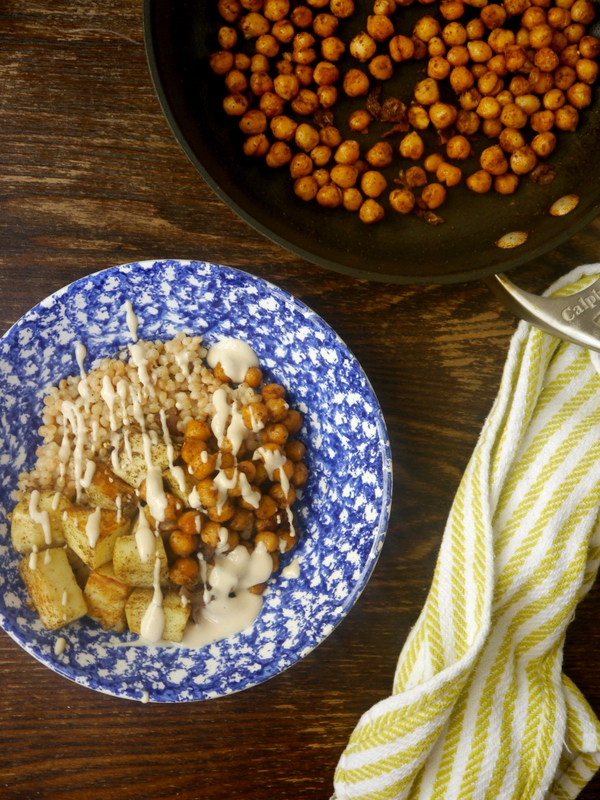 Israeli Couscous Bowls with Za'atar Roasted Sweet Potatoes, Crispy Chickpeas, and Maple-Tahini Drizzle