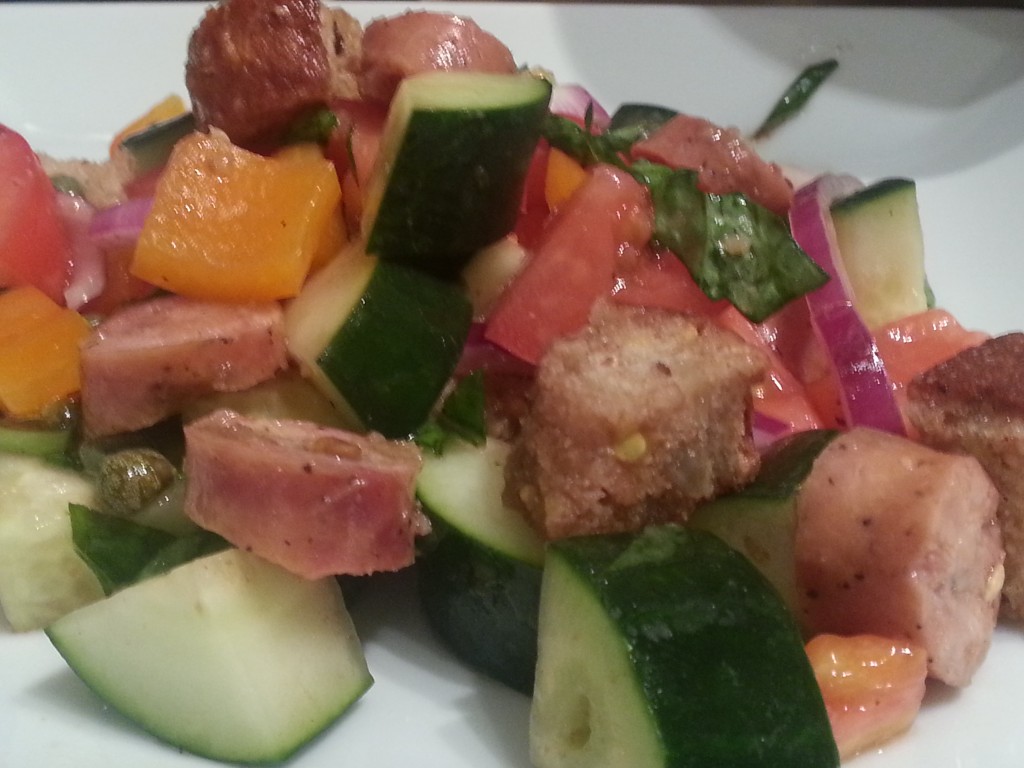 Guys, GUYS. I have a problem. I'm totally, completely, and helplessly addicted. To a SALAD.
What's wrong with me?
Before you all start freaking out, taking my temperature, and generally worrying that I've lost my mind, let me clarify. Panzanella is a bread salad. ("Ohhh," you say. "That explains it.") You take hunks of fresh bread, fry 'em up in a skillet with olive oil/butter/both (insert sheepish grin) and toss those babies with fresh veggies, some protein if you want, and homemade vinaigrette. It's my new favorite summer meal, a perfect blank canvas with a whole world of possible combinations and customizations. Sometimes it is a struggle to make anything else for dinner, because I just. Want. Panzanella.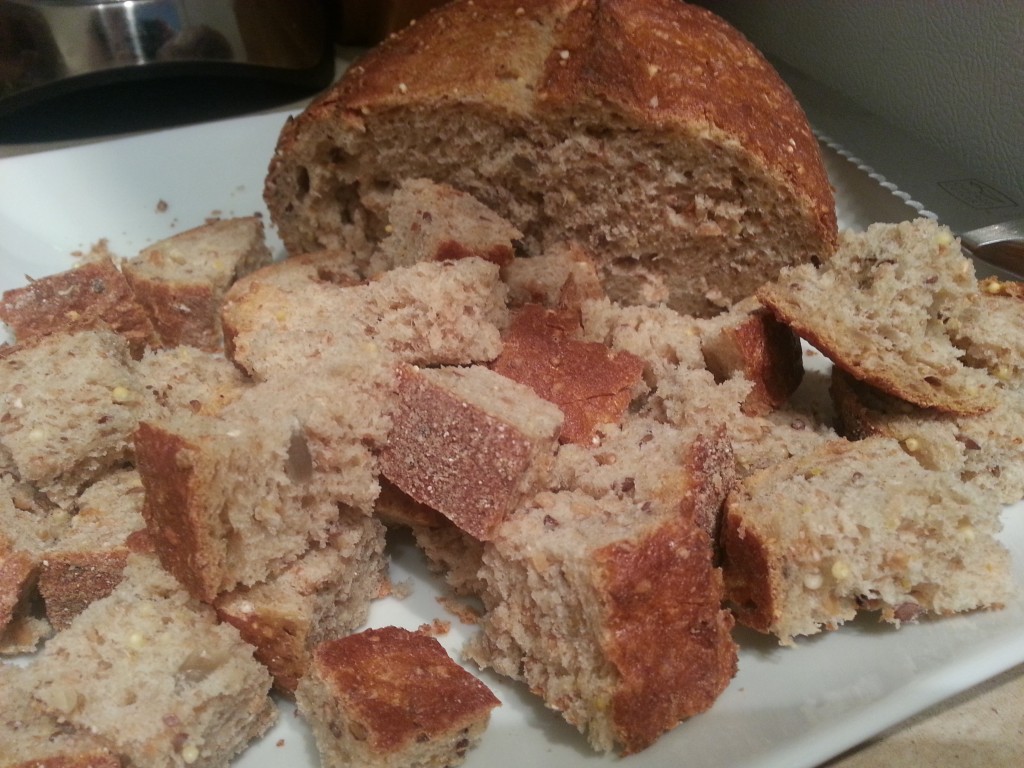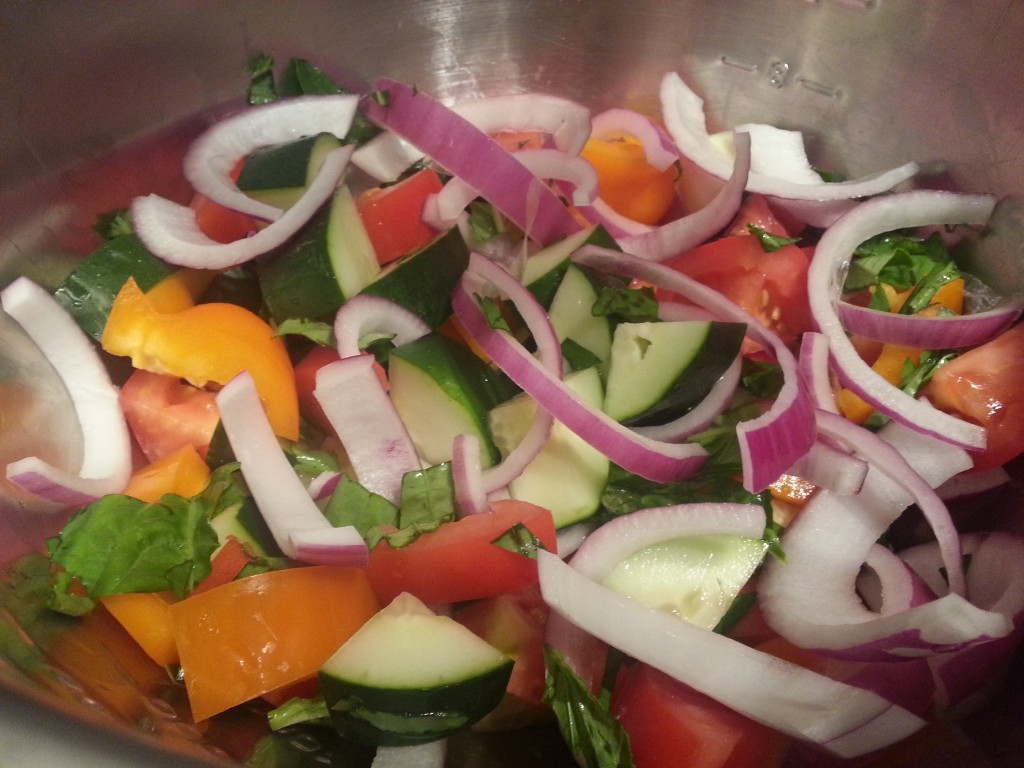 This recipe is for a simple, straightforward version from my go-to gal, Ina Garten. Ever since I first made this panzanella with my friend Kate in the initial throes of summer, I've been slightly obsessed. I've so far made it three times in as many weeks, twice pretty much right along with the recipe and once with a couple of my own twists and tweaks (recipe to come soon!). I love that this recipe incorporates some of the best summer produce – tomatoes and bell peppers – things that just taste so, so much better at their peak, especially when served raw and mostly unadorned. During the summer, these veggies 100% deserve to be the star of the show. I also like to add protein (chicken sausage, in this case, or chicken thighs, steak, etc.) to make it more of a hearty meal, but it's absolutely not necessary if you'd prefer to serve it as a side or simply have an all-vegetarian meal. In short, the formula for a perfect panzanella salad is simple: a few pieces of your favorite fresh summer produce, cut into big, imperfect, rustic chunks + fried bread + simple vinaigrette = awesomeness. Now, why couldn't we learn useful equations like that in Econ class?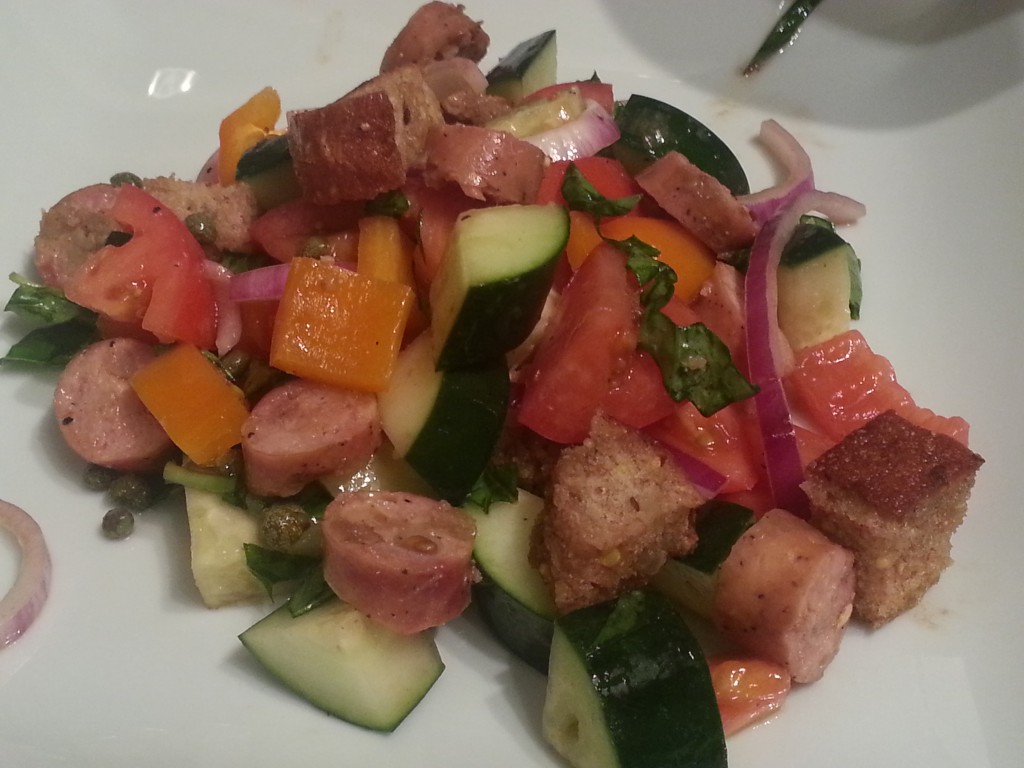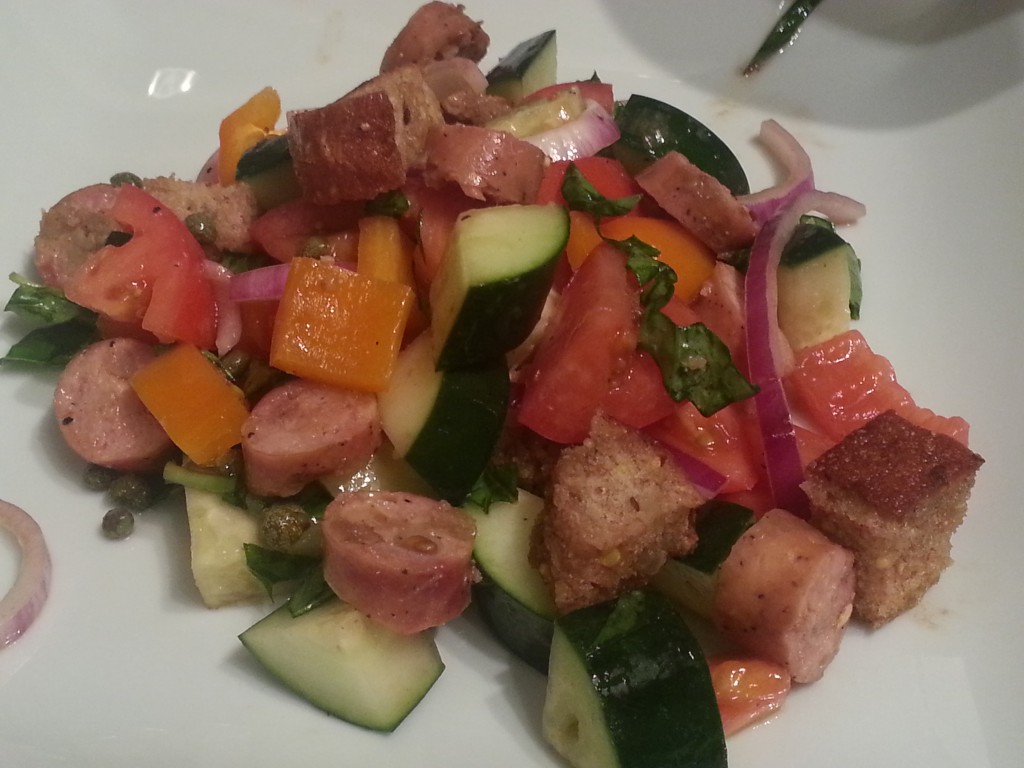 Perfect Panzanella Salad
2013-08-09 20:50:46
Serves 2
A crisp and delicious main-dish salad that highlights the best of summer produce (and, let's be honest, bread).
For the panzanella
1 tbsp olive oil
1/3 of a loaf of fresh multi-grain or whole wheat bread, cubed (about 2 cups)
Pinch of salt
1 large tomato, cut into 1-inch cubes
1 orange bell pepper, seeds removed and cut into 1-inch pieces
1 cucumber, unpeeled and sliced into ½-inch thick pieces
½ red onion, cut horizontally in half and then sliced thinly to get half-moons
10 basil leaves, cut into a chiffonade
2 tbsp capers, drained
2 chicken sausages, cooked (optional) (I use a delicious all-natural pre-cooked chicken sausage our grocer carries)
For the vinaigrette (makes double what you need)
1 tsp minced garlic
½ tsp Dijon mustard
3 tbsp balsamic vinegar
½ cup olive oil
½ tsp kosher salt
¼ tsp black pepper
Instructions
First, make the vinaigrette. This part is easy. Whisk the vinaigrette ingredients together in a small bowl and set aside.
Next, heat the olive oil in a large sauté pan. Add the 2 cups of bread, sprinkle with salt, and cook over medium heat for about 10 minutes until the cubes are browned, turning frequently. If you have to do this in batches, add more oil to each batch.
In a large bowl, combine the veggies – tomatoes, cucumber, orange pepper, red onion, and basil. Add the capers and mix all together. Add the fried bread cubes, toss with ½ the vinaigrette, and season to taste with salt and pepper.
Serve immediately, unless you're into that whole soggy-bread thing. Then, feel free to let it sit for about a half hour and let the flavors meld. Although I'm not sure how you could stare at this beauty for 30 minutes without diving in!
Notes
Save the other half of the vinaigrette for later - it's a great all-purpose salad dressing recipe!
Adapted from Ina Garten
My Bacon-Wrapped Life http://www.mybaconwrappedlife.com/