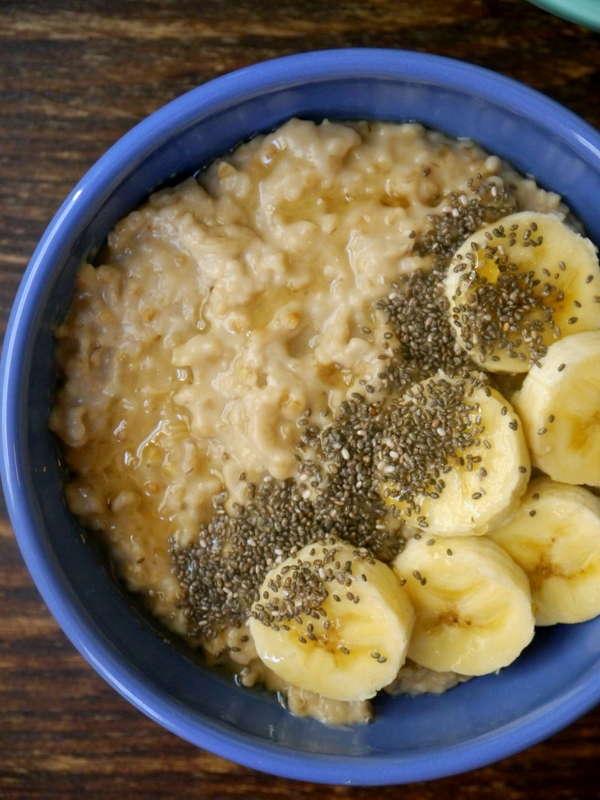 So…this is basically a super-fancy version of the breakfast I eat every single morning in the winter.
My go-to weekday morning routine: microwave a packet of instant oats. Stir in a spoonful of peanut butter or sunbutter. Top with banana slices. BOOM. It's been my winter breakfast routine since high school, because it's so easy, cozy, healthy, and filling. And for Monday through Friday, it's great. But the weekend calls for something a little more special, something that might take a little more than 2 minutes and 30 seconds to make, but rewards you with much more flavor and satisfaction. So this weekend, when I was craving something special but still wanting to keep things at least relatively healthy, I decided to dial my average oatmeal breakfast up a notch with slow-cooked steel cut oats, a lightly sweet touch of honey, and a sprinkle of chia seeds. And I must admit, these peanut butter, banana, and honey steel-cut oats can barely be considered in the same food group as my regular quickie oatmeal breakfast.
I've never made steel-cut oats before, and I'm now completely smitten. They're so creamy, hearty, and much more porridge-y (words are hard, guys) than your average bowl of oatmeal, and I absolutely love the texture. With an ample dose of protein and flavor-packed peanut butter, a touch of honey for sweetness, and some sliced bananas, chia seeds, and honey drizzled on top, these peanut butter, banana, and honey steel-cut oats were the healthy but still special weekend breakfast bowl of my dreams.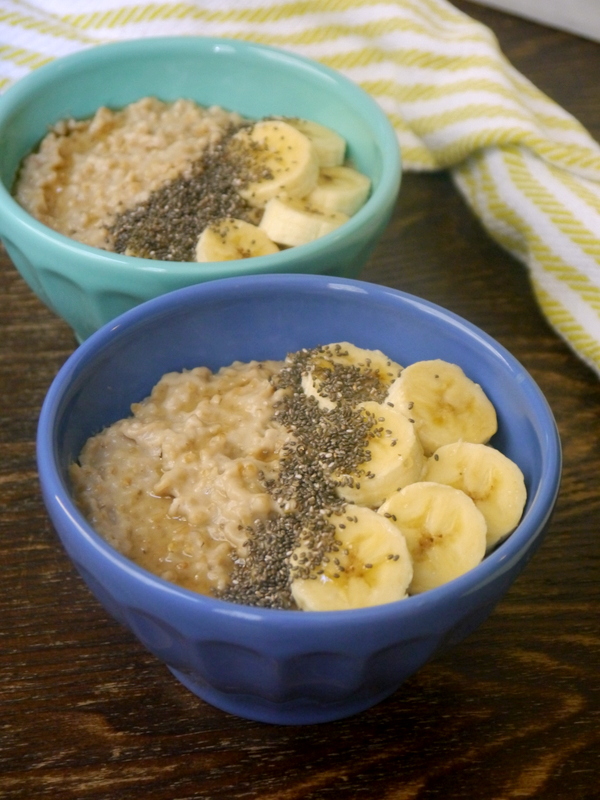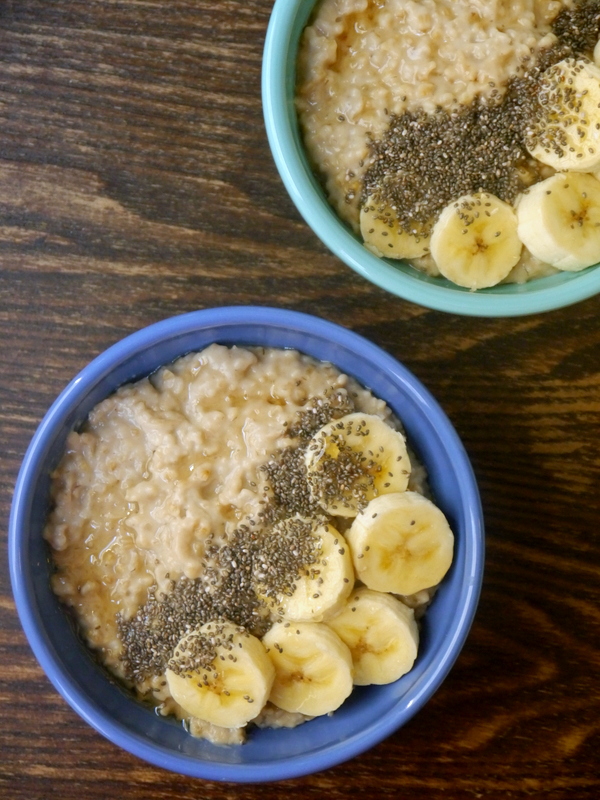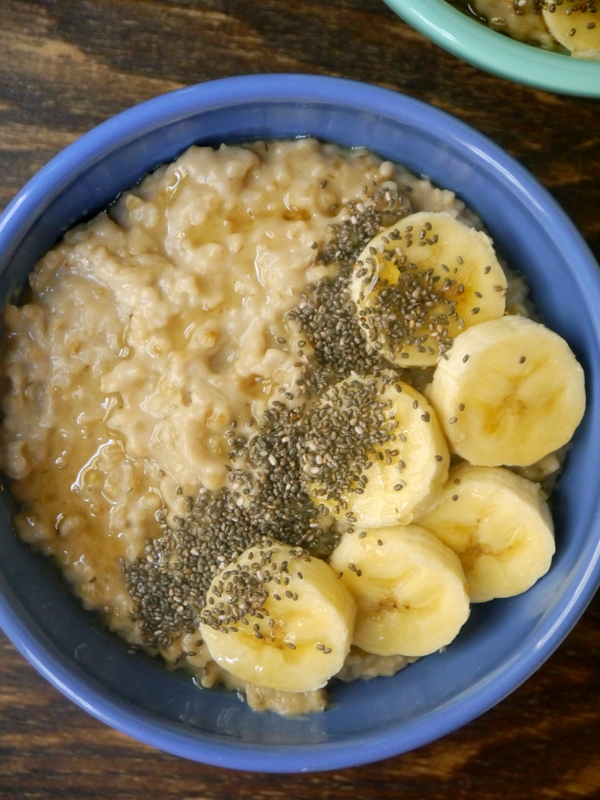 This recipe would be absolutely perfect for making up a big batch on Sunday and portioning into individual servings for a dynamite breakfast during the week – just prep through stirring in the peanut butter and honey and add your toppings right before eating. Because January is cold and rainy/snowy, and we're supposed to be eating healthy – let's make it a little more fun, right? With breakfasts like these, we totally got this whole January thing!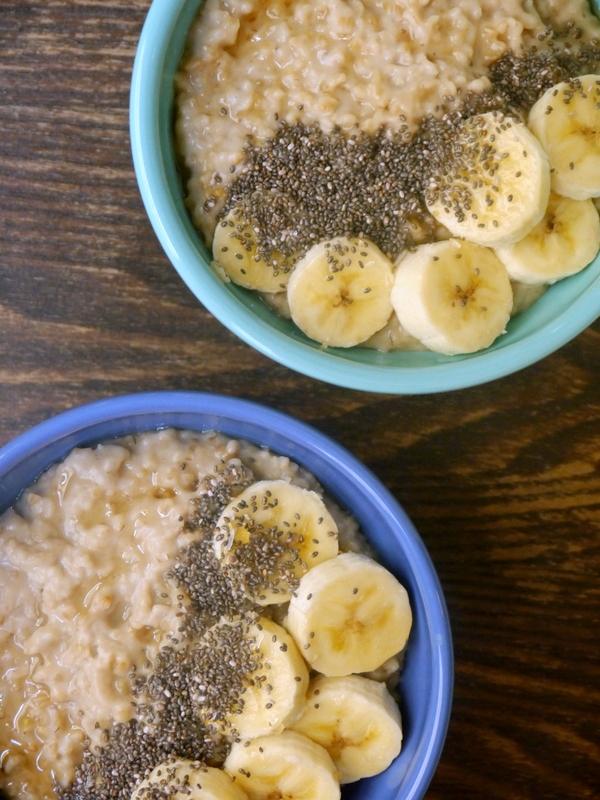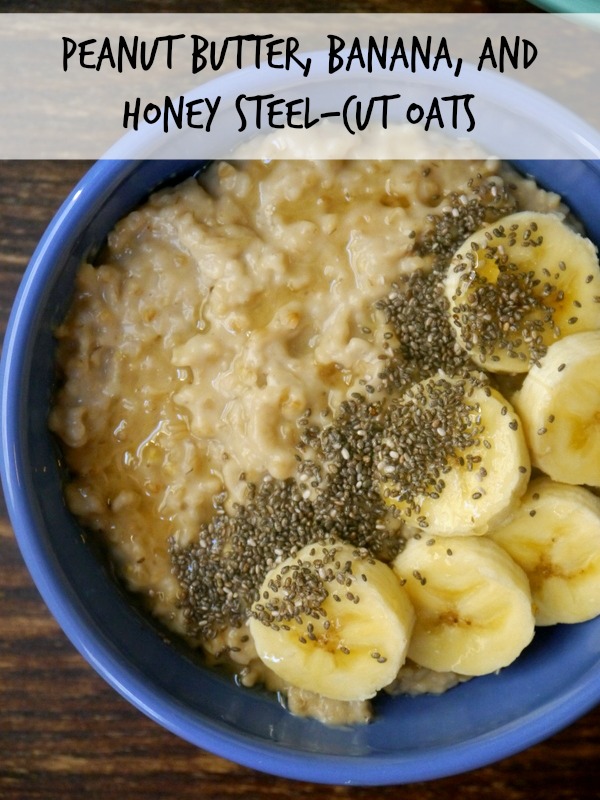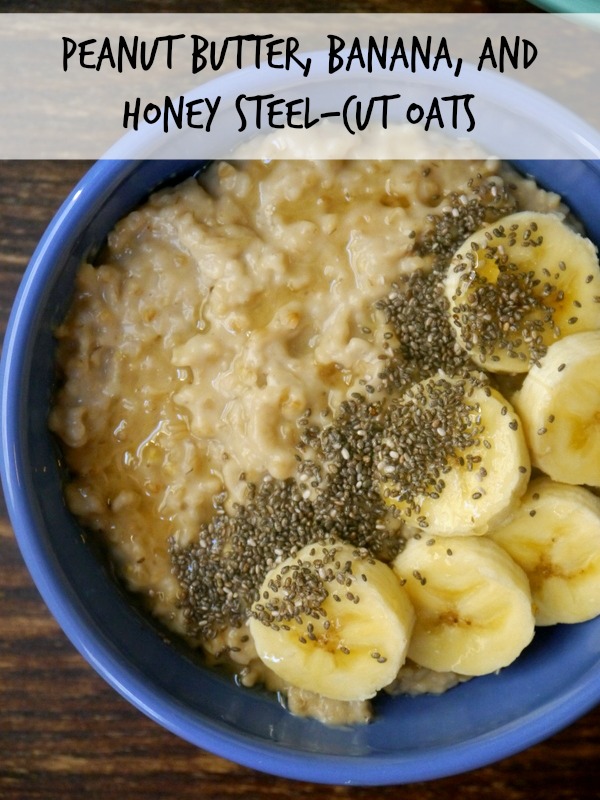 Peanut Butter, Banana, and Honey Steel-Cut Oats
2016-01-10 17:10:01
Serves 4
These peanut butter, banana, and honey steel-cut oats are so creamy, hearty, and absolutely packed with peanut butter flavor! A special but still totally healthy weekend breakfast.
Ingredients
1 tbsp. coconut oil
1 cup steel-cut oats
3 cups water
1 cup unsweetened vanilla almond milk
¼ tsp. salt
Generous ¼ cup peanut butter
2 tbsp. honey, plus more for drizzling
Sliced bananas
Chia seeds (optional)
Instructions
Preheat a large skillet over medium heat. Add the coconut oil in the pan and add the steel-cut oats. Toast the oats for a few minutes, until golden and fragrant. Turn off the heat and set aside.
In a large saucepan, add the water and milk. Bring to a simmer over medium heat, then stir in the toasted oats and reduce heat to medium-low. Cook the oats for 20 minutes, stirring occasionally, and keeping an eye on the heat to prevent burning.
Next, add the salt, and continue to cook for about 5-10 more minutes, stirring frequently now, until all the liquid is absorbed and the oats are thick and porridge-y. Remove from the heat and stir in the peanut butter and honey. Allow to sit for 5 minutes, then portion into 4 individual bowls. Top with banana slices, chia seeds (if using), and another drizzle of honey. Serve immediately!
Notes
If you'd like to prepare this ahead, prepare the oats through stirring in the peanut butter and honey. Allow to cool completely, then portion into 4 covered containers and refrigerate until ready to use. In the morning, reheat the oats in the microwave, then top with desired toppings!
My Bacon-Wrapped Life http://www.mybaconwrappedlife.com/

Steel-cut oats adapted from Cookie and Kate.

Looking for more healthy breakfast ideas?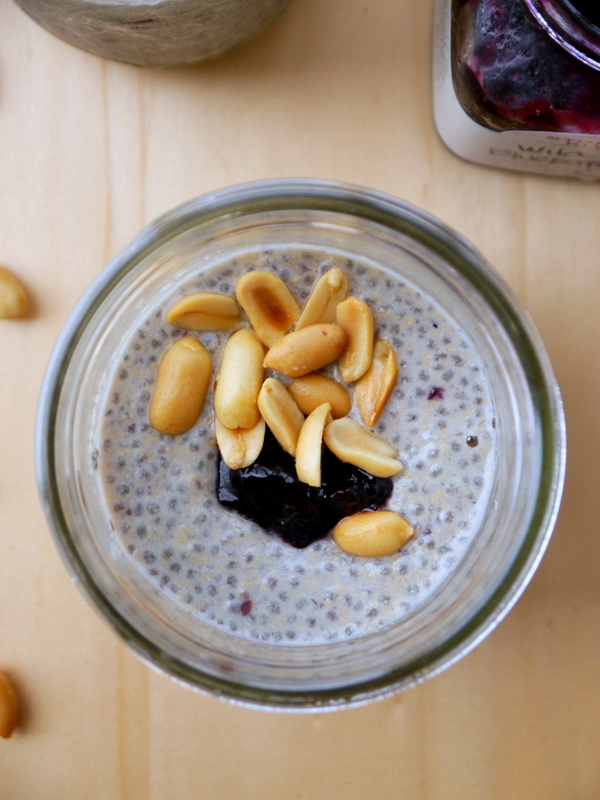 Peanut Butter and Jelly Chia Seed Pudding