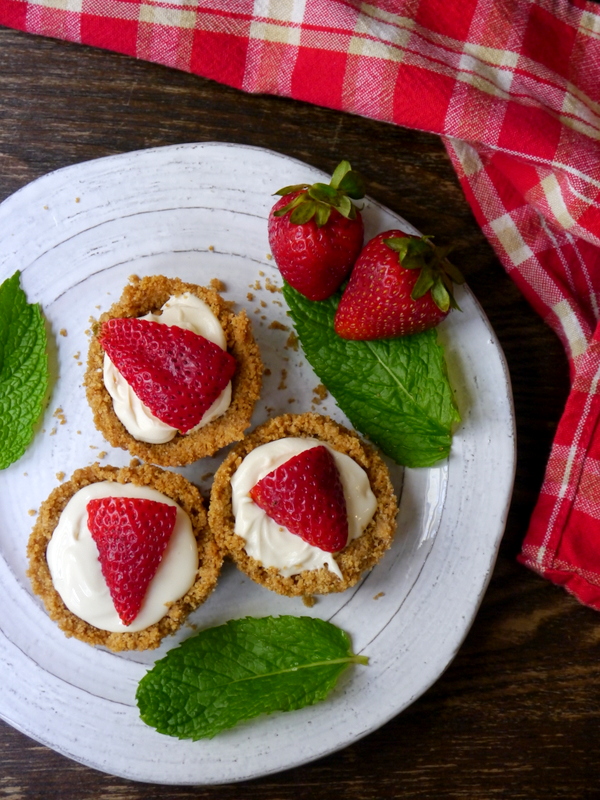 …Because it's a three-day weekend. Because strawberries are here, and they are glorious. Because it's the unofficial start of summer, and summer isn't officially official without some decadent, buttery, fruity dessert.
Also because: do we really need an excuse to eat mini strawberry mascarpone tarts with a buttery graham cracker crust and tons of fresh mint on top?
No, no we do not, my friends.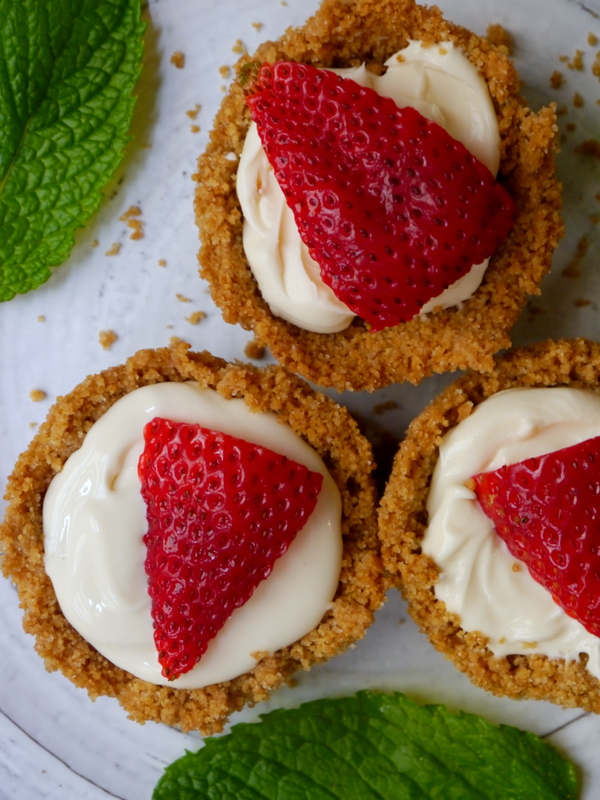 These mini strawberry mascarpone tarts just scream summer to me – they're an incredible way to highlight arguably the best fruit of summer (that would be those gorgeous bright red strawberries right up there). Strawberries don't need much to shine, but paired with some sweetened (and bourbon-ed) up mascarpone, a crunchy graham cracker crust, and a touch of fresh mint for freshness, they are truly sublime.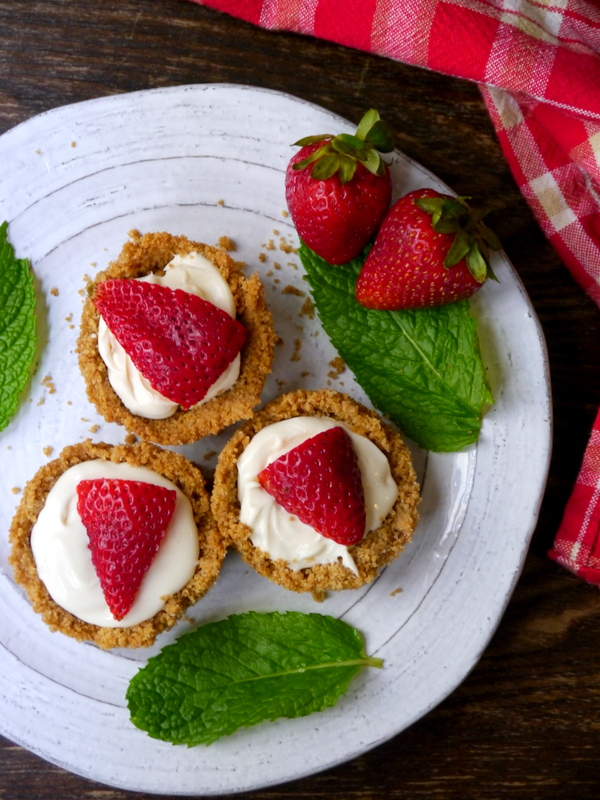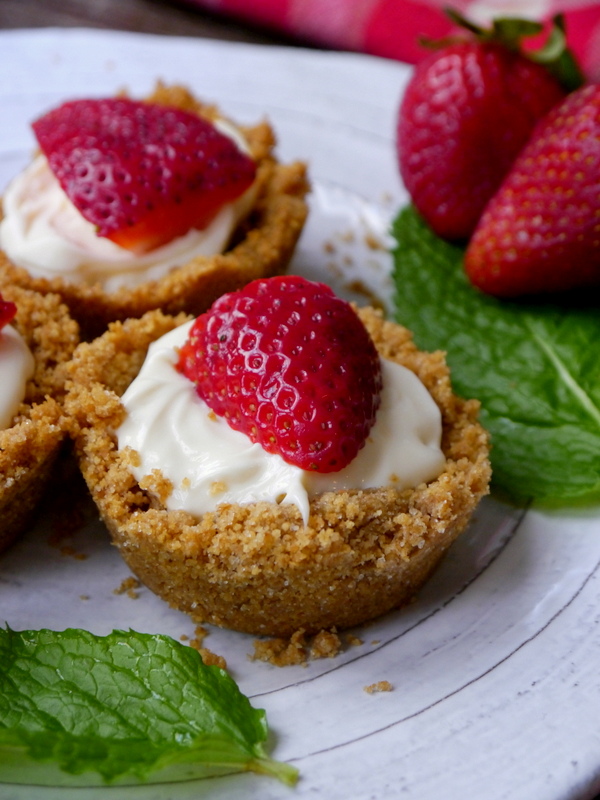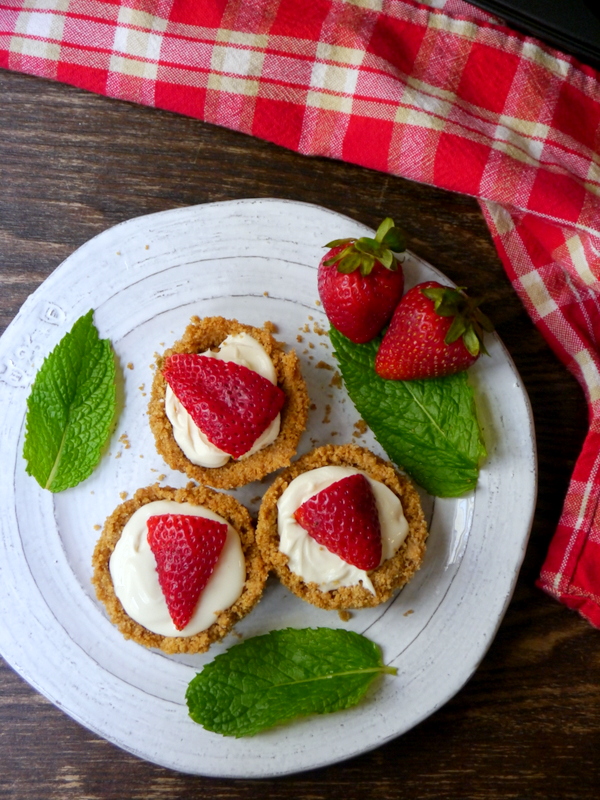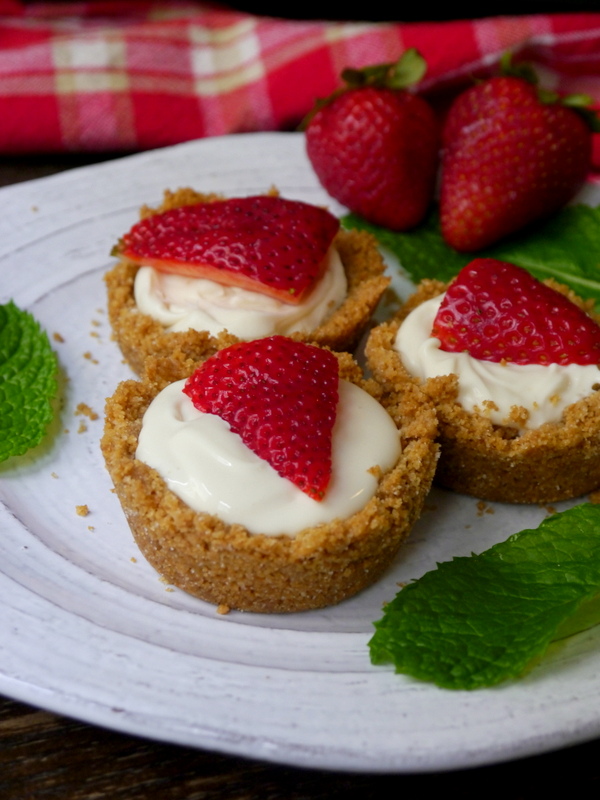 In accordance with the unwritten rules of summer desserts, they're mostly no-bake, incredibly rustic (I mean, do you see those crumbly graham cracker sides??), and meant to simply highlight the fruit flavor. The mascarpone filling is the perfect bed for the berries – it's lightly sweetened, flavored with vanilla and bourbon, whisked until glossy, and piped into graham cracker crust shells. And don't forget the mint, people! Mint and strawberry is a dream pairing, and along with the slight bourbon flavor in the filling, it brings to mind a wonderfully refreshing mint julep-y feeling that I absolutely love. It's summer in a little cup, and that's what it's all about, in my book. Your next summer picnic needs these little beauties!!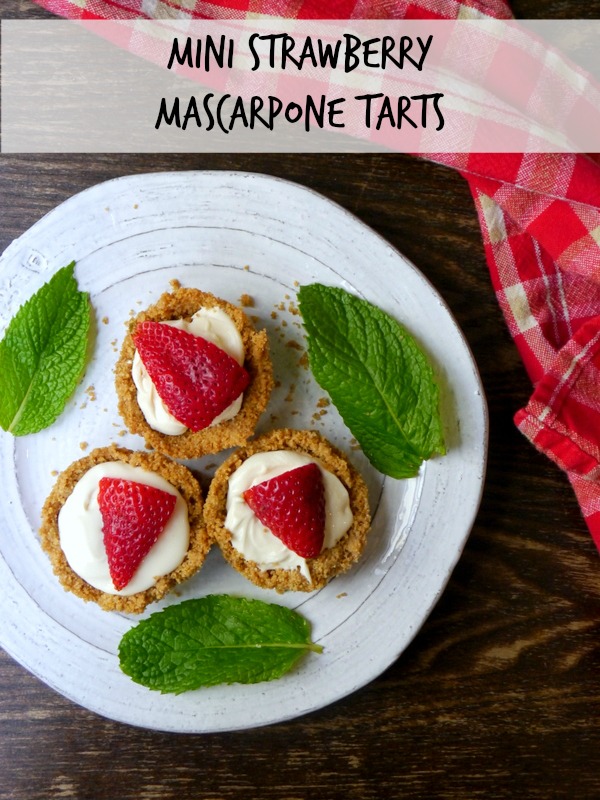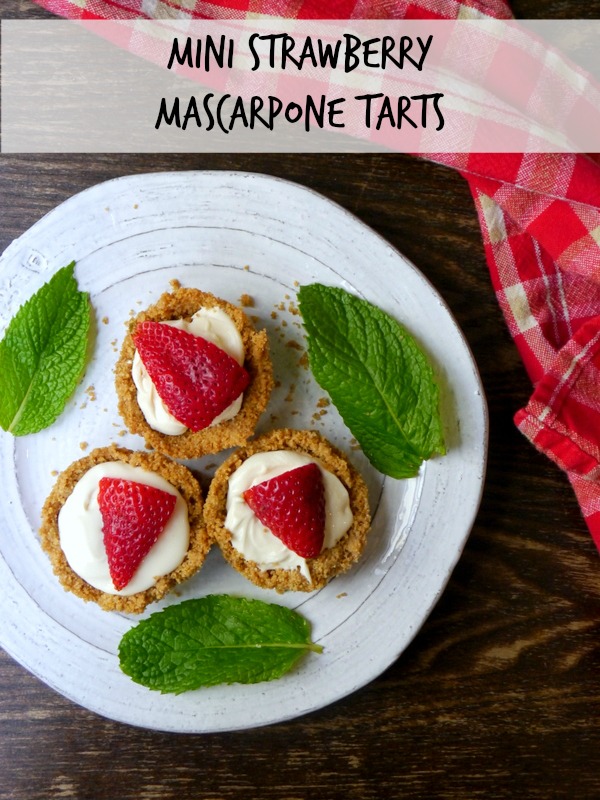 Mini Strawberry Mascarpone Tarts
2015-05-24 14:59:47
Serves 8
These mini strawberry mascarpone tarts combine gorgeous strawberries with a bourbon-vanilla mascarpone filling and a crunchy graham cracker crust. Summer dessert perfection!
For the Graham Cracker Crust
10 sheets honey-flavored graham crackers
6 tbsp. unsalted butter, melted, plus more for greasing the cups
¼ cup granulated sugar
For the Strawberry Mascarpone Tarts
8 ounces cold mascarpone cheese
2 tbsp. granulated sugar
1 tbsp. bourbon
1 tsp. vanilla
4 strawberries, tops trimmed and cut in half lengthwise
8 sprigs fresh mint
Instructions
First, make your tart shells. Preheat your oven to 300°F. Butter 8 muffin cups and set aside.
In a food processor, process the graham crackers until ground into fine crumbs. In a medium bowl, combine the graham cracker crumbs, melted butter, and sugar. Stir together until combined (it should be the texture of wet sand).
Using a spoon, press the crust TIGHTLY into the prepared muffin cups. Make sure there is a thick layer on the bottom to hold the filling, and mound it up the sides as much as possible. Again, it's critical to keep this packed tight so it holds together when baked.
Bake the crusts for 8-10 minutes in the preheated oven until lightly golden brown. Cool in the refrigerator for at least an hour before filling.
While the crust cools, make the filling. In a medium bowl, add the 2 tbsp. sugar, vanilla, and bourbon; whisk to combine. Next, add in the cold mascarpone (it's critical that the mascarpone is refrigerated right up until it is added to the mixture). Whisk to combine until glossy. Taste and add more sugar if desired. If not filling the cups right away, return the filling to the refrigerator until ready to serve.
Using a knife, lightly pry the crusts from the muffin pan (you should just need to loosen them a little bit and then they should come out easily). Use a pastry bag (or do what I do and make your own by snipping off the corner of a Ziploc bag) to pipe the filling into the graham cracker crusts. Top each with half of a strawberry and a sprig of fresh mint. Serve immediately. Leftovers will keep in the refrigerator for a day or so.
Notes
Just a warning: the crusts are very crumbly and will crumble a bit when taking them out of the muffin cups. To save yourself a bit of hassle (and less wasted crust-crumbs), you can absolutely bake this as one big tart in a tart pan or as a pie in a pie pan and just cut slices!
My Bacon-Wrapped Life http://www.mybaconwrappedlife.com/
Graham cracker crust adapted from Sally's Baking Addiction and mascarpone filling adapted from Food52.
Looking for more summer desserts?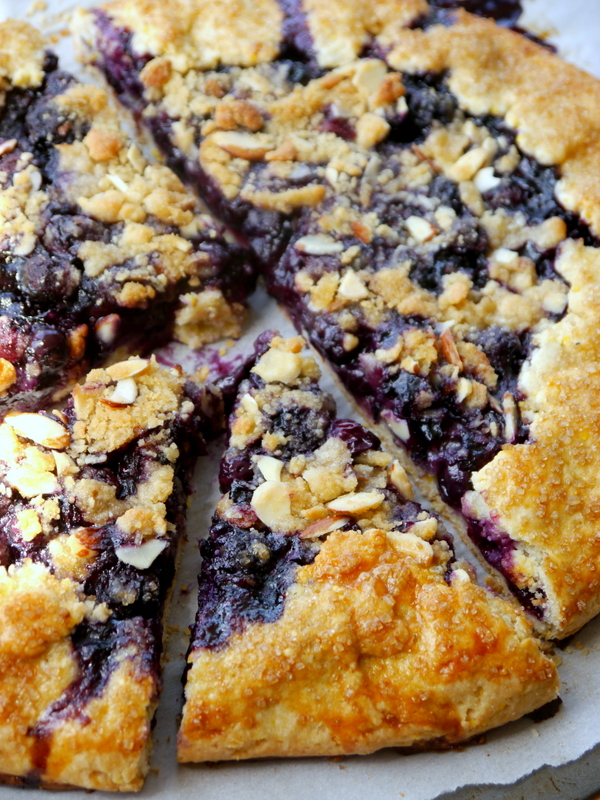 Almond Streusel-Topped Blueberry Galette