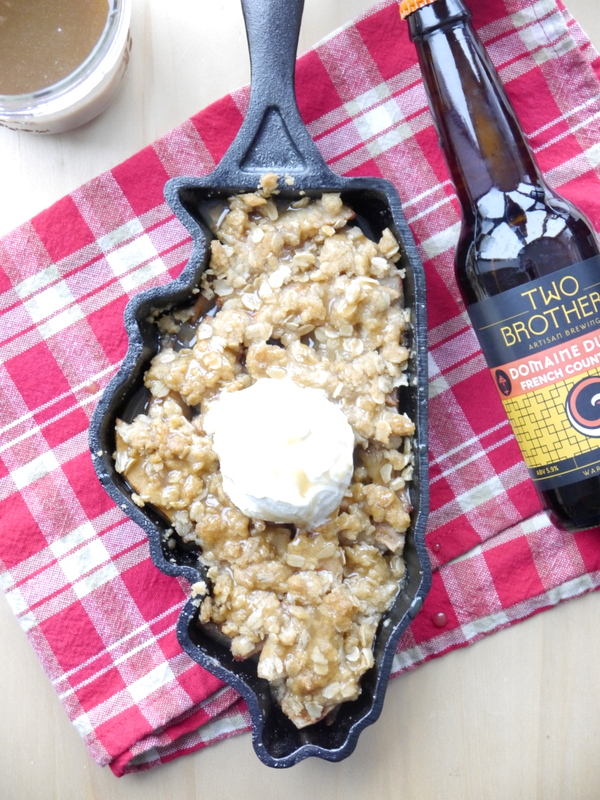 Are we ready for some real talk today? Some happy/sad/nervous/excited real-life real talk? I hope so, because I am basically in a glass case of emotion.
This right here is my last post as a Chicagoan. Brad and I are packin' up and doing the whole move-across-the-country thing, because in just a few short weeks he'll start grad school at UC Berkeley. While so many parts of me are incredibly thrilled and excited for this next chapter in our lives (and, uh, 75-degree winters), thinking about leaving the people I love, this city I call home in every sense of the word, and the wonderful life we have here makes me feel super squeamy inside. Technical term.
Chicago, and the Midwest in general, has become home to me more than I could have ever hoped or expected. It's the city where I became the woman I am today, where I met the person I'm going to spend the rest of my life with, where I made the best friends a girl could ever ask for, where I started my professional career, and where I launched my personal baby, this blog right here. It's where I learned to love craft beer, where I learned how to cook and first really experienced the joy that comes in cooking for others. It's where I learned that there is literally nothing better than a football game on a gorgeous Fall day or deep dish pizza and a movie on a blizzard-y winter night. I will cherish these years in Chicago, and I truly hope that we can come back someday (although you may have to remind me of this after a few California winters).
Phew. Now that I'm all good and teary-eyed, can we talk about this recipe please? Thanks.
A few months ago, American Skillet Company approached me to collaborate by using one of their incredible hand-crafted cast-iron skillets in a recipe. After one glance at their gorgeous products, I was all in, baby. I can't imagine a better way to celebrate Chicago than with a seriously literal tribute to this state I love so much.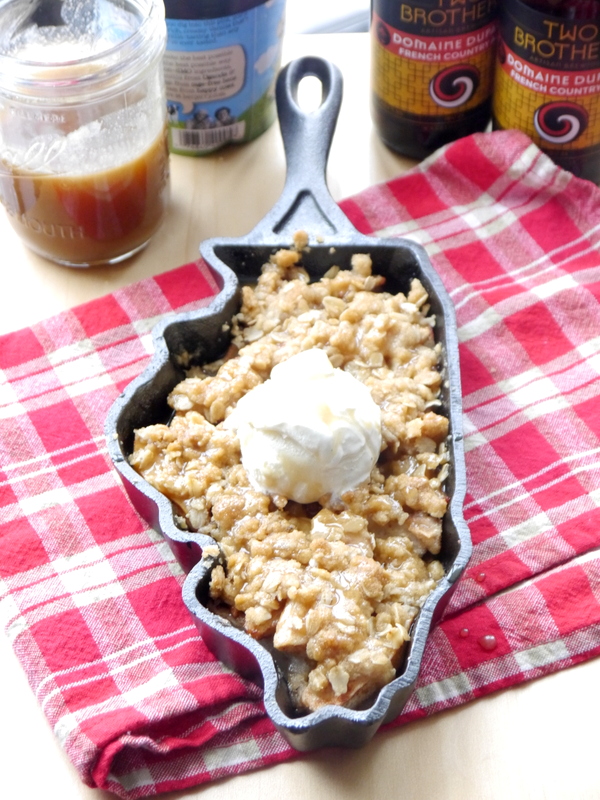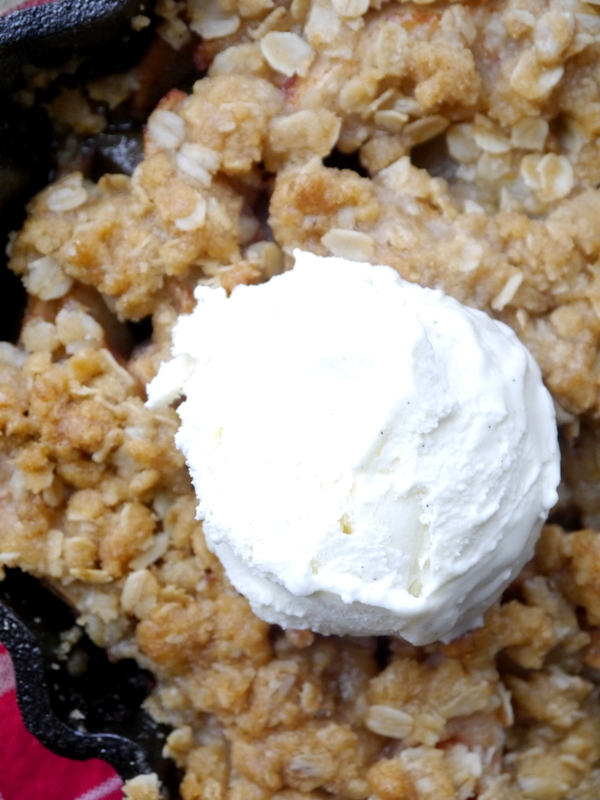 Coming up with a worthy recipe was the hard part. After much deliberation, I focused in on two of my favorite things about living in Chicago: cozy winter food and the incredible craft beer here. I'm a total beer snob after living in the Midwest, so I knew I had to incorporate beer in some way. And to me, there are few better things than a hot-from-the-oven fruit crisp topped with vanilla ice cream when it's too cold to go outside. The cozy feeling of eating soul-satisfying, heart-warming food in the middle of winter is one of the absolute best feelings, and one I will definitely miss next year.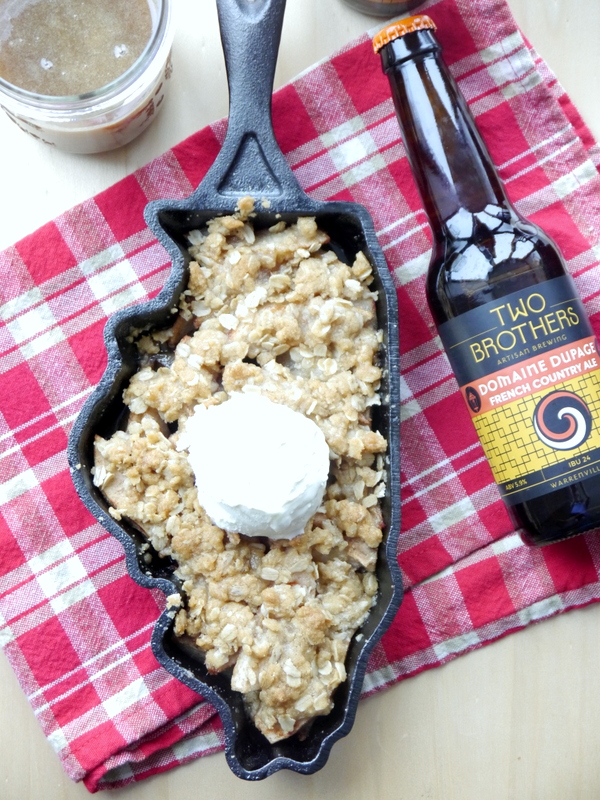 This pear crisp with beer salted caramel sauce satisfied all of my Midwestern winter cravings and then some. It's so simple – just cut up some ripe pears, toss 'em with some sugar and cinnamon, and top with a classic cinnamon-y, butter-y, crumble-y oat topping for the best flavor and texture combination EVER. In addition to the non-debatable scoop of vanilla ice cream, we topped these with my new favorite thing: beer salted caramel sauce. For the caramel, I used one of my all-time favorite local beers, Domaine Dupage from Two Brothers Brewing in Warrenville, IL. It's a roasty-toasty brown French country ale with caramel notes, so I knew it would be absolutely perfect in my caramel sauce. It's barely discernable, but it adds a slight bitterness and depth of flavor that super-sweet caramel often needs. With a big pinch of salt to round it out, this beer salted caramel sauce was the absolute perfect match for the pear crisp. I could seriously eat food like this every single day, and I'm so glad I got to showcase such a wonderful recipe with the most gorgeous pan in my collection. I hope that no matter where you call home, you can be inspired to cook what you love about that place, and #cookwithpride – which is what American Skillet Company is all about!
So with that I say, good-bye for now, Chicago. I will be back very soon for deep dish, too many beers, and serious cuddles with all my favorite people. XOXO!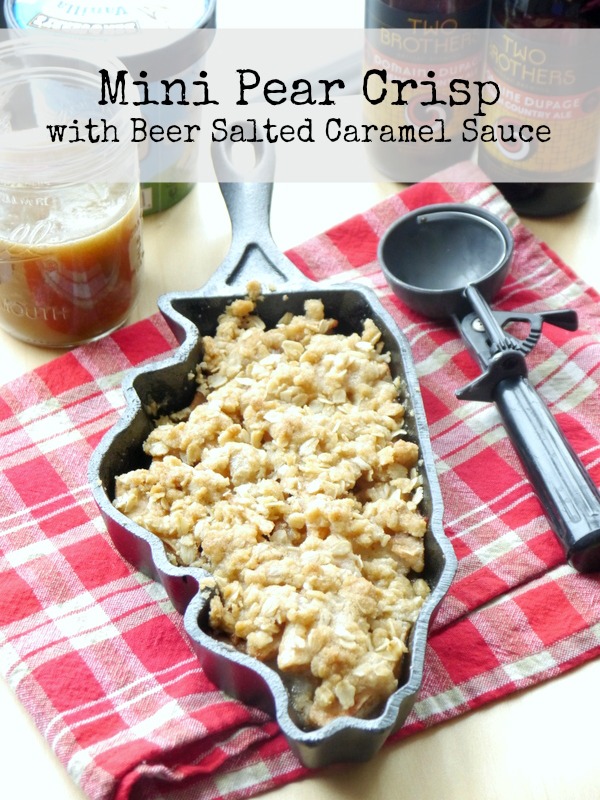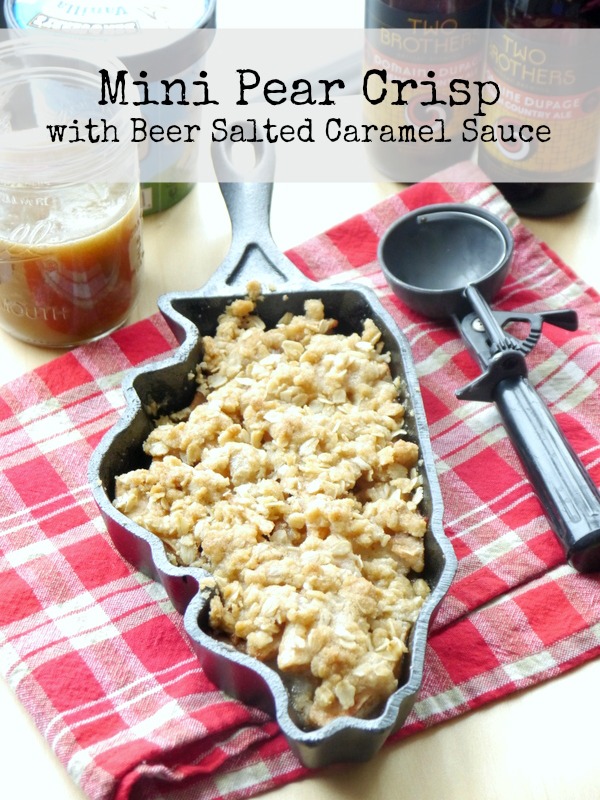 Mini Pear Crisp with Beer Salted Caramel Sauce
2015-02-23 14:06:56
Serves 2
This mini pear crisp with beer salted caramel sauce is the perfect cozy winter dessert - warm, homey, and perfectly balanced. I'm in love!
For the mini pear crisp
2 ripe pears, peeled, cored, and sliced thin
1 tbsp. granulated sugar
¼ tsp. cinnamon
¼ tsp. kosher salt, divided
¼ cup packed light brown sugar
¼ cup old-fashioned oats
2 tbsp. all-purpose flour
2 tbsp. unsalted butter, cold, cut into small chunks
Good-quality vanilla ice cream, for serving
For the beer salted caramel sauce
1 cup packed brown sugar
1/2 cup heavy cream or half-and-half
4 tbsp. unsalted butter
Big pinch of kosher salt
1 tbsp. vanilla
1-2 tbsp. amber or brown beer, such as Two Brothers Domaine Dupage
Instructions
First, make the beer salted caramel sauce. In a medium skillet, combine the brown sugar, heavy cream, butter, and salt and cook over medium-low heat, whisking gently every so often, for about 5-7 minutes. The mixture should be a bit thickened by this point. Add the vanilla and beer and cook for another minute to thicken a bit more, then remove from the heat. Once the caramel sauce has cooled for a bit, transfer to a heat-safe jar and refrigerate until fully cooled.**
**Note: this can be done a day ahead of time.
When you're ready to make the crisp, preheat your oven to 350°F. Coat your skillet or baking dish with butter.
In a medium bowl, combine the pears, granulated sugar, cinnamon, and 1/8 tsp. kosher salt; toss to coat evenly. Transfer the mixture to the prepared skillet.
In the same bowl, add the brown sugar, oats, flour, and remaining 1/8 tsp. kosher salt; mix to combine. Add the butter chunks and quickly work them into the mixture with your fingers until well-incorporated and the mixture comes together. The biggest butter chunks should be about the size of small peas.
Sprinkle the topping on top of the pears and bake for about 50 minutes, or until the top is browned and crispy and the pear mixture is bubbling. Allow to cool for about 30 minutes, then serve warm, topped with vanilla ice cream and drizzled heavily with beer salted caramel sauce.
Notes
I used a small skillet to make this recipe; I would think you could easily double it to fit in a regular cast-iron skillet or an 8x8-inch baking dish.
This recipe makes a lot of salted caramel sauce, so plan to re-purpose in the next few days!
My Bacon-Wrapped Life http://www.mybaconwrappedlife.com/
Pear crisp loosely adapted from Chow and salted caramel sauce adapted from The Pioneer Woman.
Disclaimer: American Skillet Co. was kind enough to gift me a sample product. I was not in any way compensated to write positive reviews. As always, all opinions expressed are entirely my own.
Looking for more salted caramel goodness?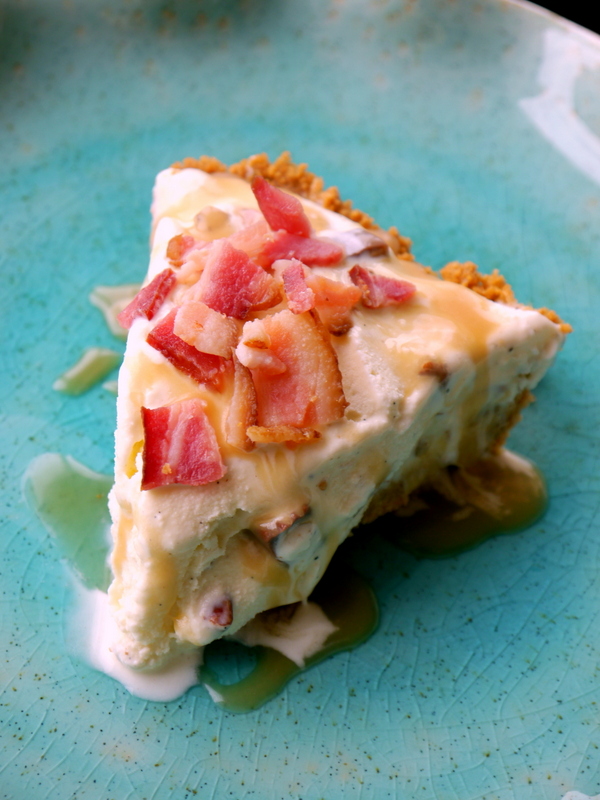 Salted Caramel Bacon Ice Cream Pie