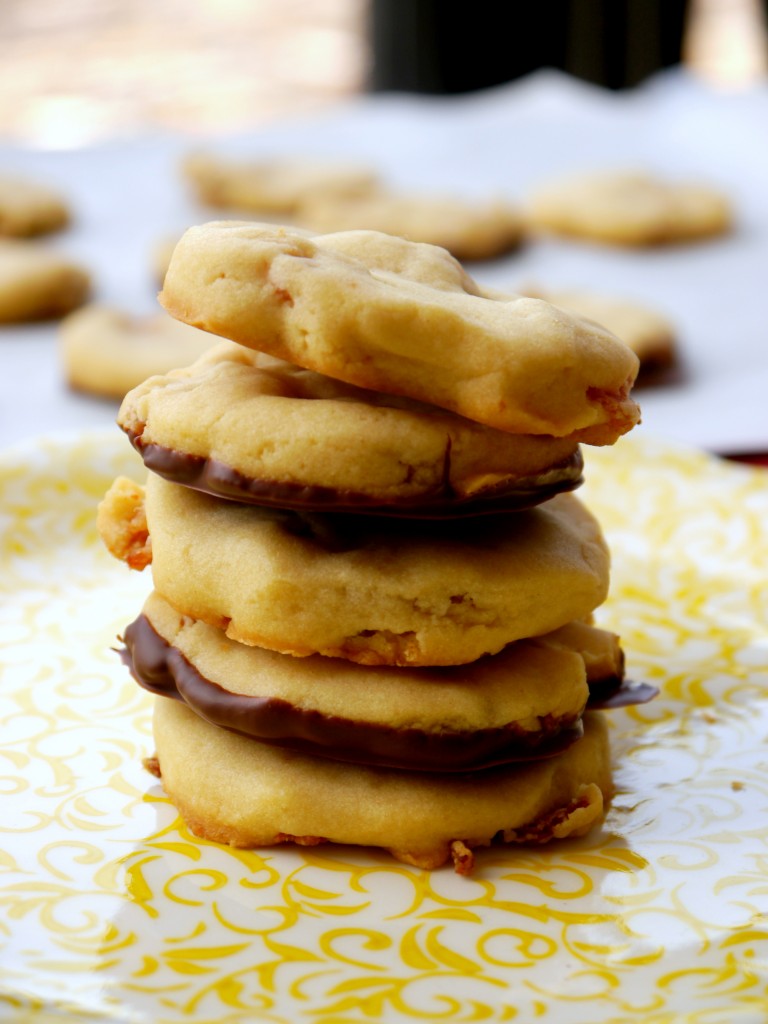 Guys. I finally did it.
I put bacon in a baked good and it's exactly as so-wrong-it's-right as I wanted it to be.
Bacon in baked goods has been a little food trend for a while now, but I've always been skeptical. I obviously love bacon in just about everything, but I just feel that there is a time and a place for bacon baked goods. I didn't want to just add bacon to my brownies just BECAUSE. I wanted to find something sweet that the bacon flavor would really complement, a baked good that was just screaming for some smoky MEAT, ya know?
Sorry if that sounds weird. I hope you know what I mean.
In any case, shortbread stood out to me as the perfect base for my first foray into bacon baking because it's so simple and pure and yet entirely delicious. Shortbread is simply a combination of sugar (or in this case, maple syrup), a hell of a lot of butter, and little else. What better base for some bacon-y goodness?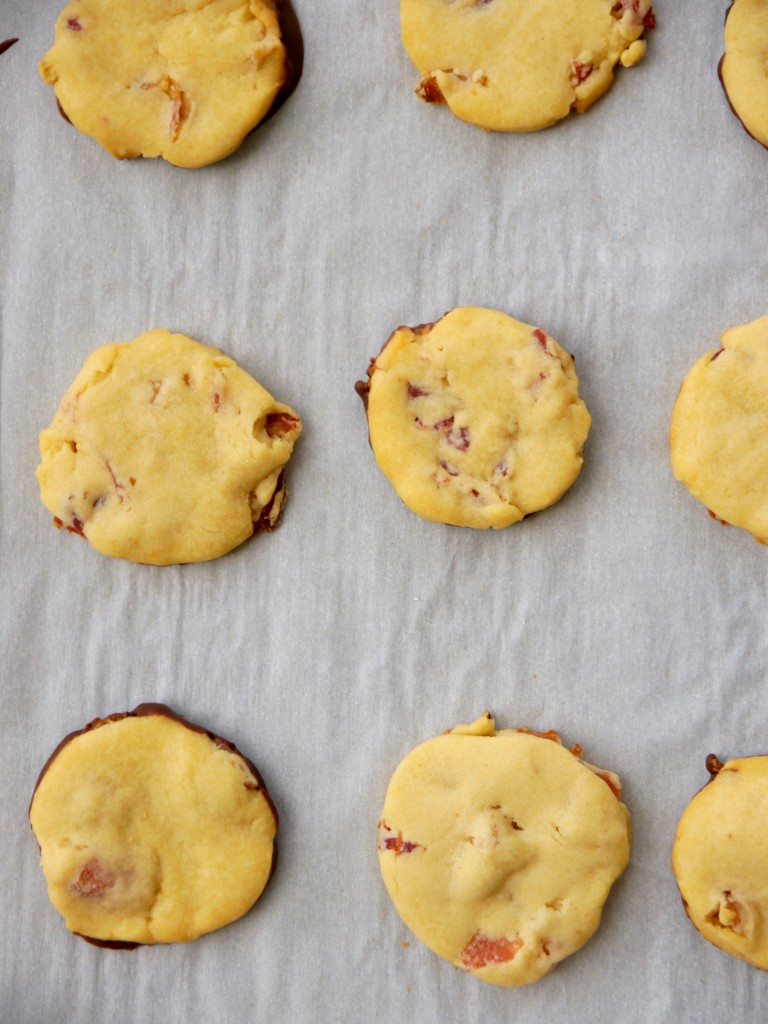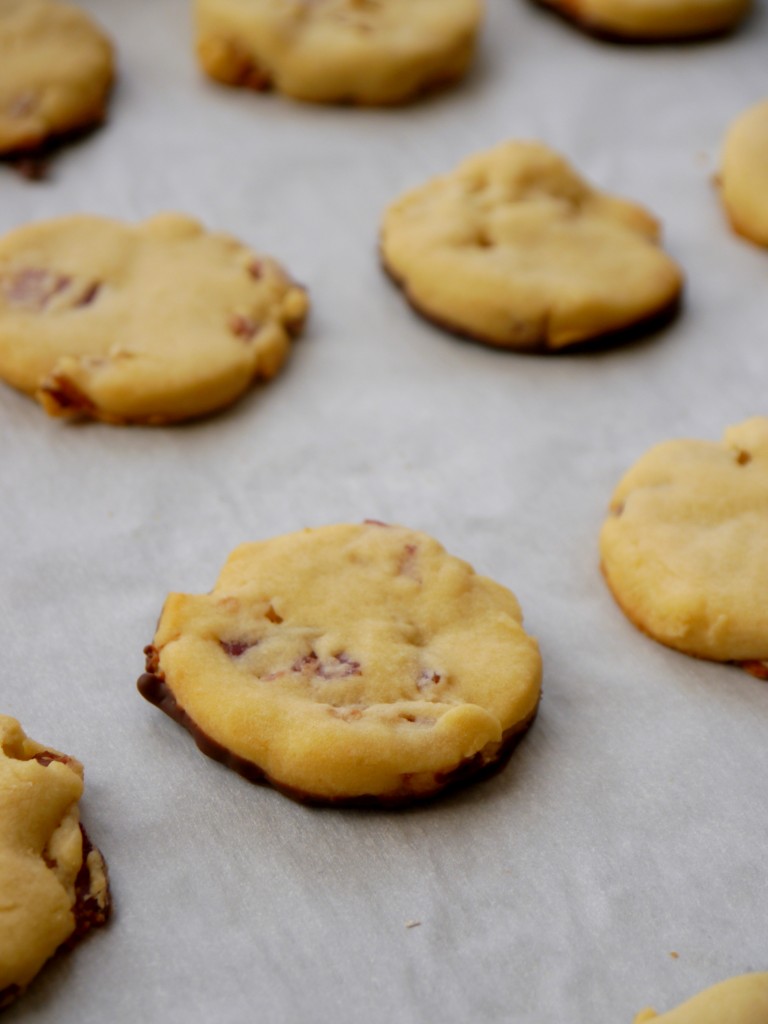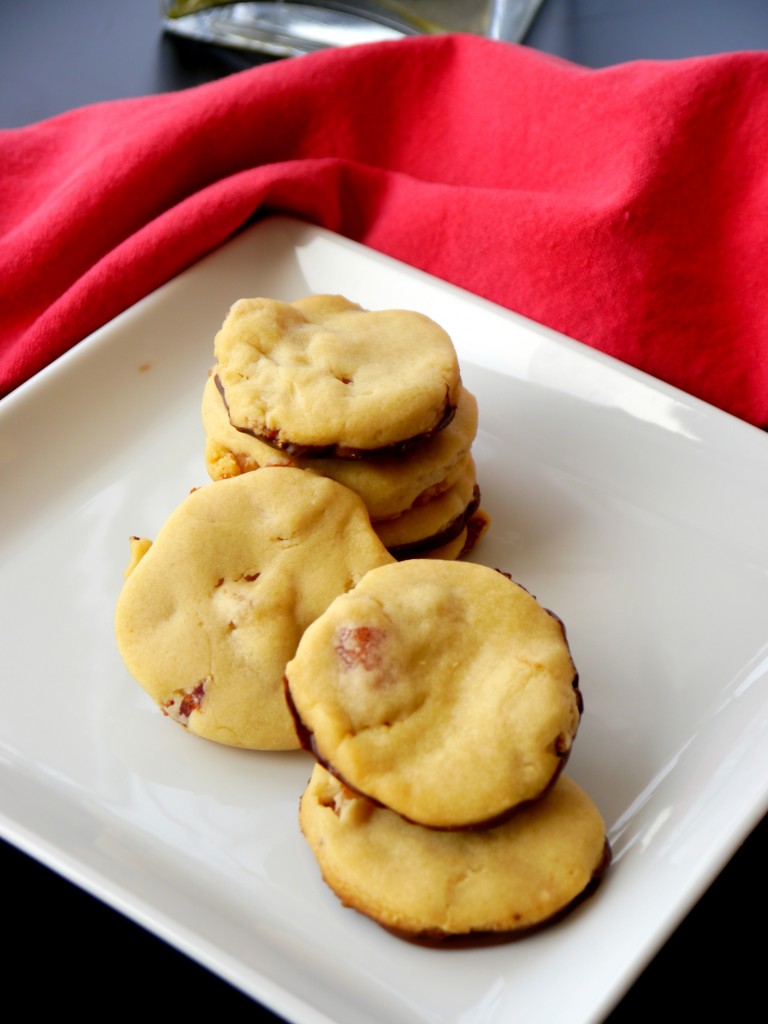 I gotta say, these maple bacon shortbread cookies did NOT disappoint. The shortbread was indeed the perfect buttery base for major bacon flavor and the sweet and salty goodness is out of this world. They are soft and lightly sweet from the maple syrup, with a little texture from the bacon pieces that takes them to a whole other level. As if bacon cookies aren't enough, I dipped half of the cookies in chocolate, so if you're feeling majorly decadent, go that route. I will say – I assumed I would flip out over the chocolate-dipped ones (it's me we're talking about here), but after some robust scientific testing (and by this I mean eating copious amounts of bacon cookies) Brad and I both agreed we liked the plain version better. The chocolate-dipped version is also delicious, but it's almost like an entirely different cookie as the chocolate flavor is so dominant. In the plain shortbread, the bacon is the star! You can't go wrong though – both versions are absolutely fantastic.
I have a feeling bacon may be popping up in my desserts a lot more in the near future. You and your arteries have been warned.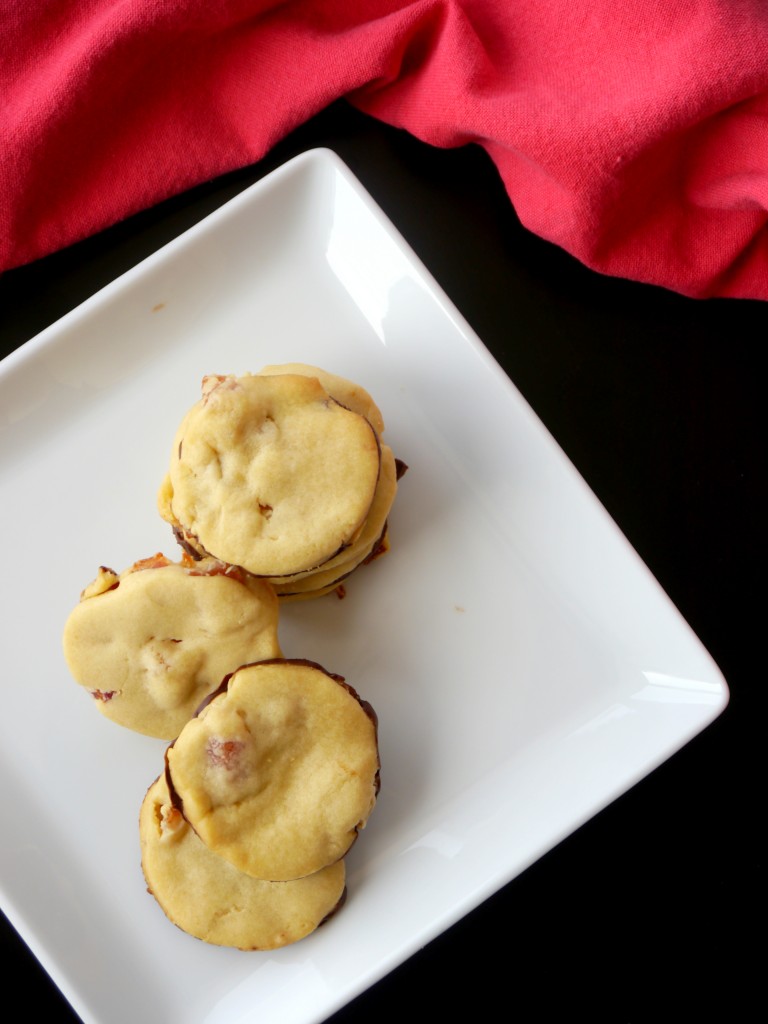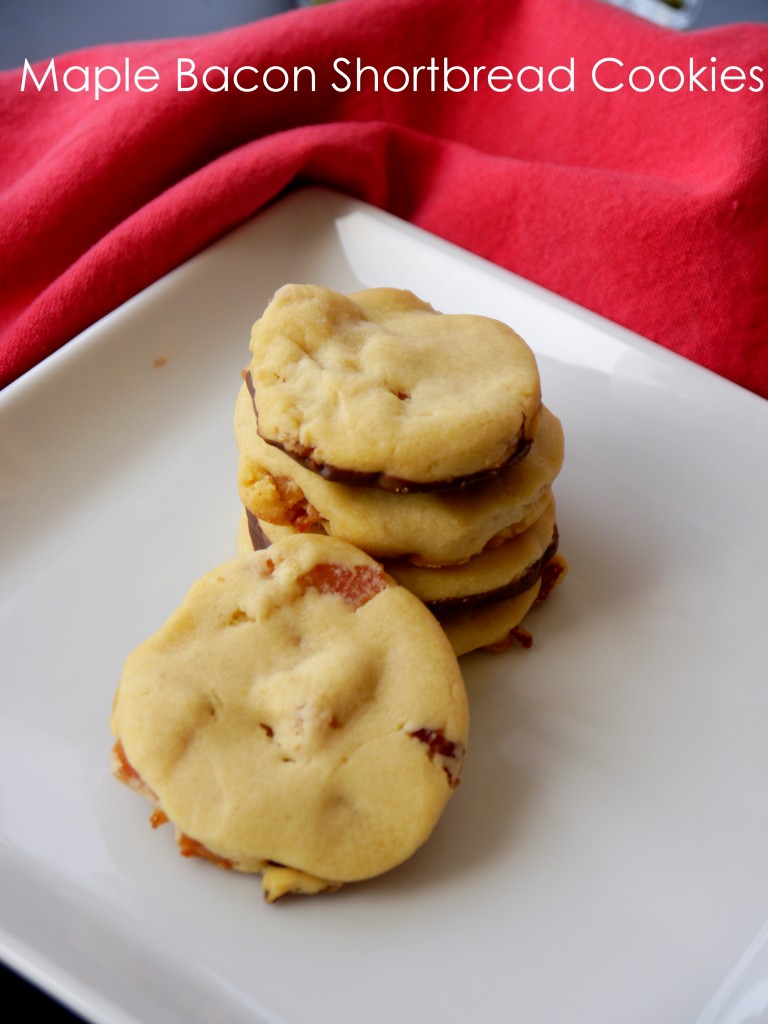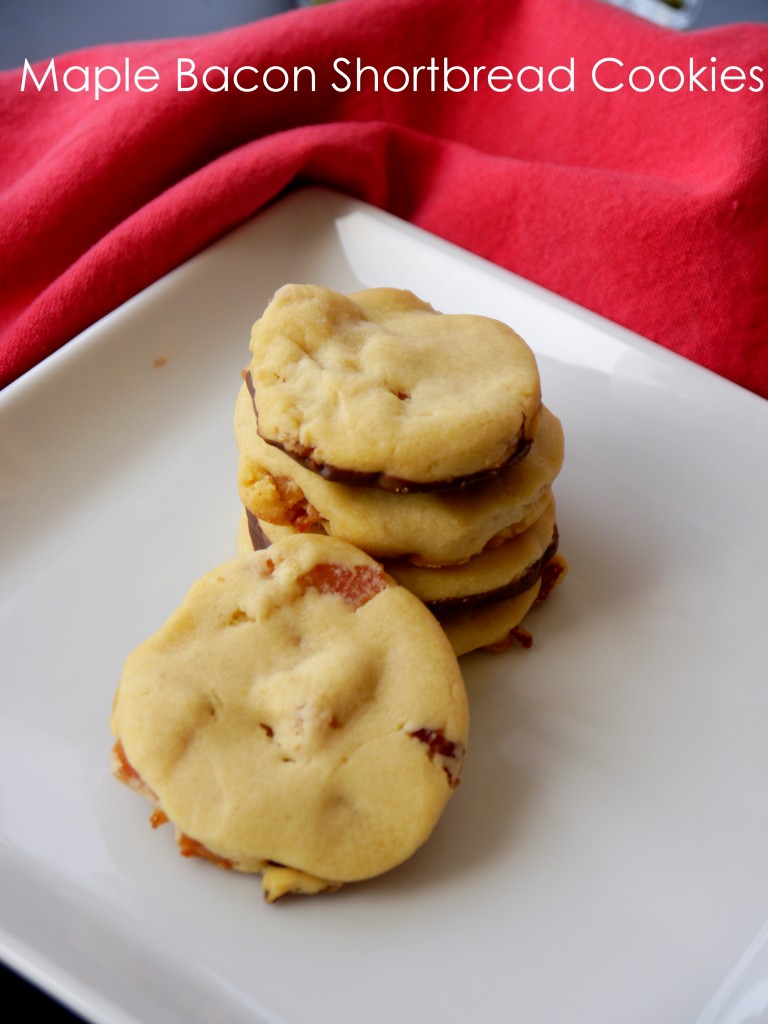 Maple Bacon Shortbread Cookies
2014-04-27 10:30:55
The classic shortbread cookie is taken to the next level with BACON! These cookies are lightly sweet, buttery, and major sweet and salty perfection!
Ingredients
4 strips bacon
½ cup butter, softened to room temperature
¼ cup maple syrup
1 ¼ cup flour
2 tbsp. cornstarch
¼ tsp. salt
3-4 oz. of your favorite chocolate chips (optional)
Instructions
First, cook your bacon the way you like it. Place on a paper towel-lined plate to drain, and once cooled, cut into small pieces.
Preheat your oven to 350°F.
In a large bowl, beat the softened butter and maple syrup together until smooth and fully combined. Add the flour, cornstarch, and salt, mix together until combined, and then stir in the bacon with a wooden spoon.
If you want to make circle-shaped shortbread like I did, lay out a piece of wax paper on your countertop and drop the ball of dough into the middle of it. Lay out another piece of wax paper on top and roll out with a rolling pin until the dough is about ½" thick. Using a round cookie cutter (or, in my case, the top of a beer tasting glass), cut out cookies and place them on a baking sheet that has been lined with parchment paper (these won't spread much, so you can fit 'em pretty close together). When there's no room to cut any more cookies, ball up the scraps of dough and roll it out again. Continue to do this until most of the dough has been used up.
Once all cookies are formed, bake them for about 12 minutes or until just lightly golden brown on top. Allow to cool completely.
If you're dipping your cookies in chocolate, line another baking sheet with wax paper. Create a double boiler by setting a heatproof glass bowl on top of a small pot of simmering water (the bottom of the bowl should not be touching the water). Add the chocolate chips to the bowl and stir until completely melted. Dip the COOLED cookies into the chocolate and return to the wax paper-lined baking sheet. Refrigerate this sheet for about 30 minutes until the chocolate has hardened, then store in an airtight container on the counter.
Notes
Prep and cook times are listed without the chocolate dip.
Adapted from Closet Cooking
My Bacon-Wrapped Life http://www.mybaconwrappedlife.com/
Looking for more sweet and savory goodness?