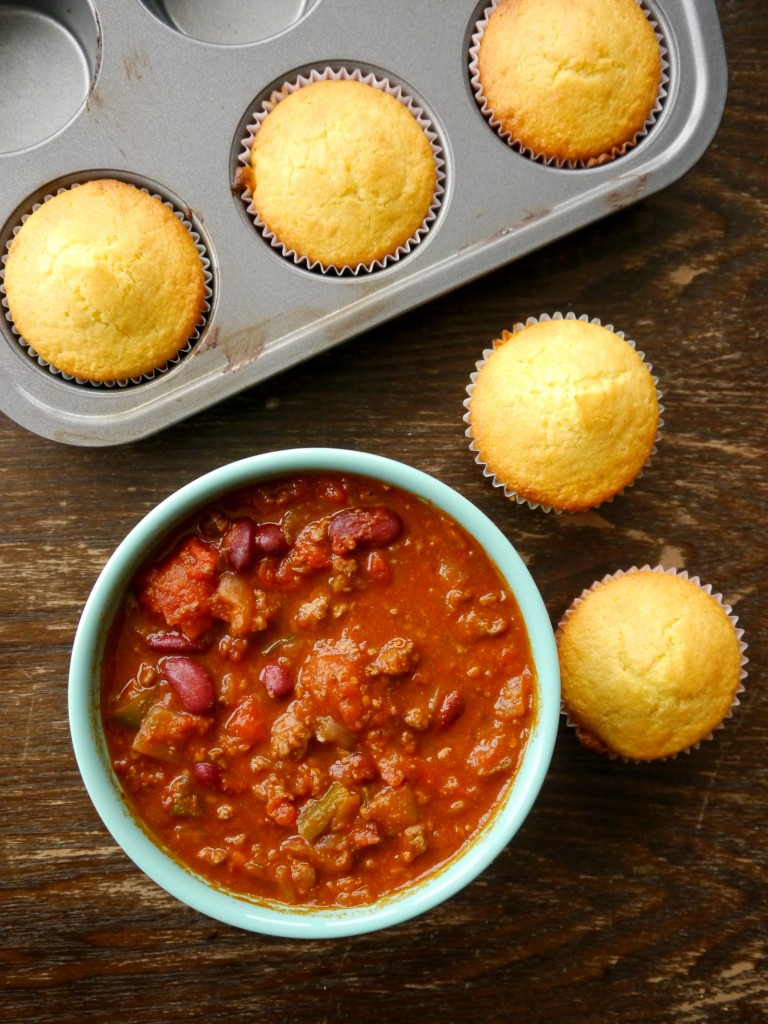 January has always presented a bit of a culinary conundrum for me. On one hand, it's hard not to be totally inspired by all the healthy recipes out there on the inter-webs. On the other hand, it's freakin' freezing (can I just mention that the high in Chicago tomorrow is -13°F?) and all I'm craving is warm, hearty, hibernation foods. What's a girl to do??
Enter: some seriously delicious chili. I've found that chili is one of those dishes that can be easily lightened up and is still fantastic, because the best parts can stay: warmth, spiciness, and quality protein from the meat and beans. Topped with a dollop of plain Greek yogurt and a little pinch of cheddar cheese, you have an incredibly hearty and satisfying meal that totally fits the new-year-new-you nutritional bill, as well.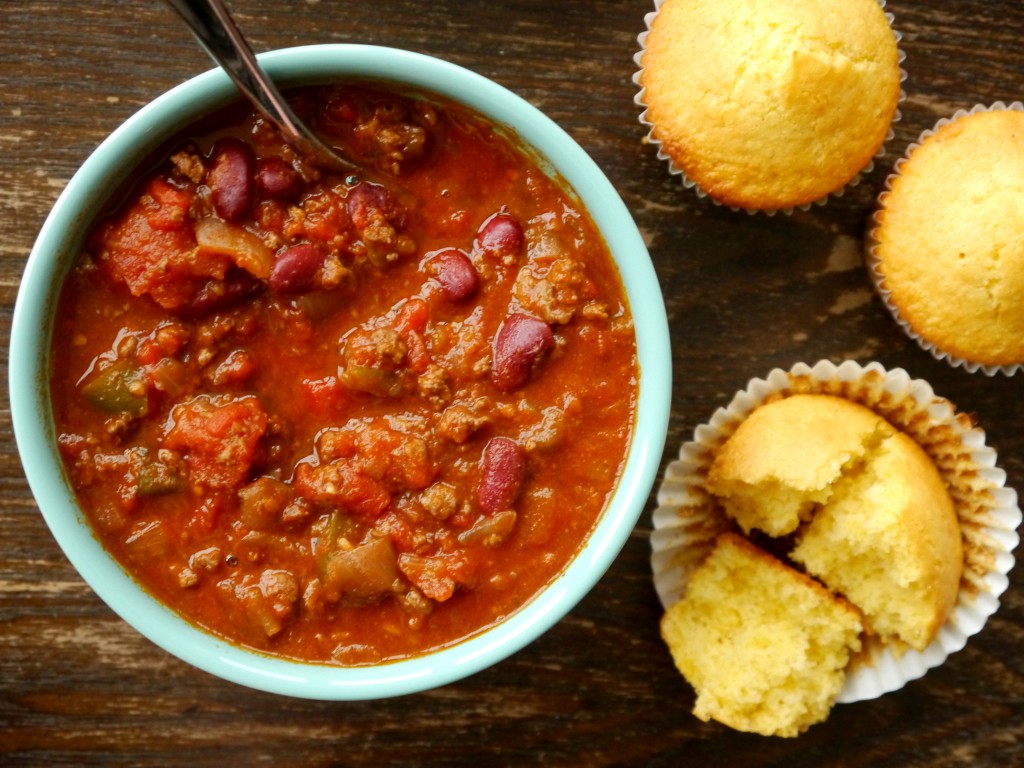 This traditional chili is a red version, chock full with ground beef, red beans, veggies, and spices. The flavor is deepened by a little red wine, and it's truly a knock out. It's meaty, hearty, and exactly what your body wants in January on a cold, snowy day. And the best part? This chili is so good for you, there's totally room at the table for some cornbread. Because no matter what month it is, cornbread is a critical element of chili consumption. A girl's gotta have her non-negotiables, okay?
P. S. – If you're more into white chili, check out this also healthy and also incredibly delicious chicken option!
P.P.S. – I hope everyone likes the new layout – I'm loving the cleaner and more streamlined feel! New year, new blog, right?!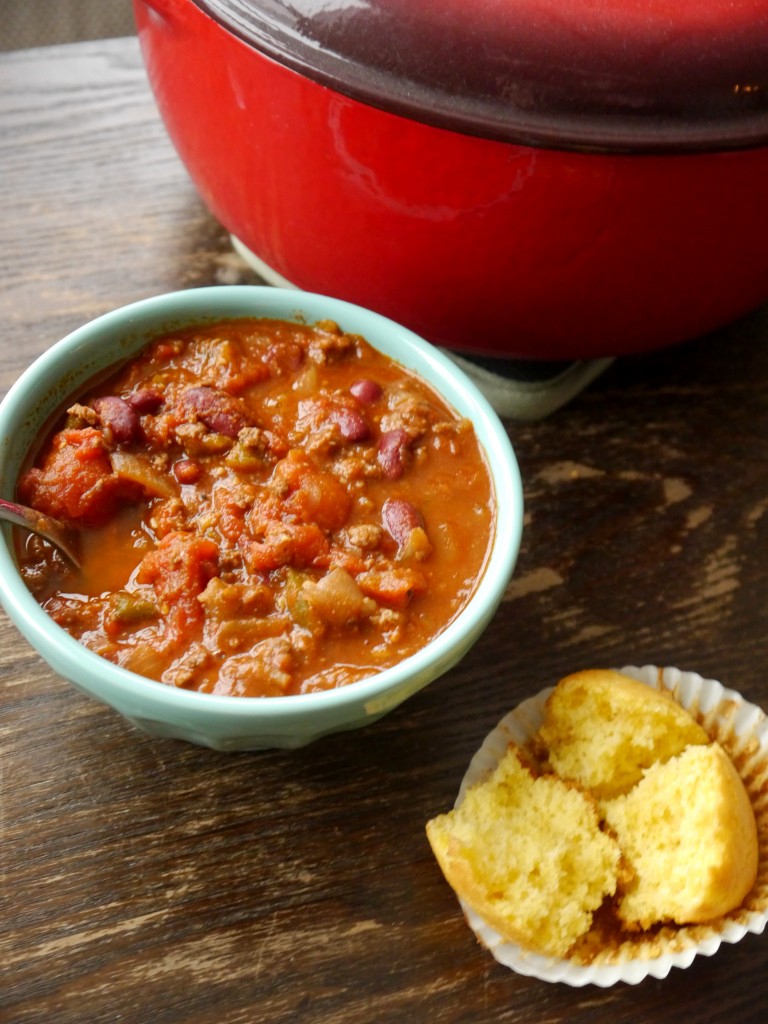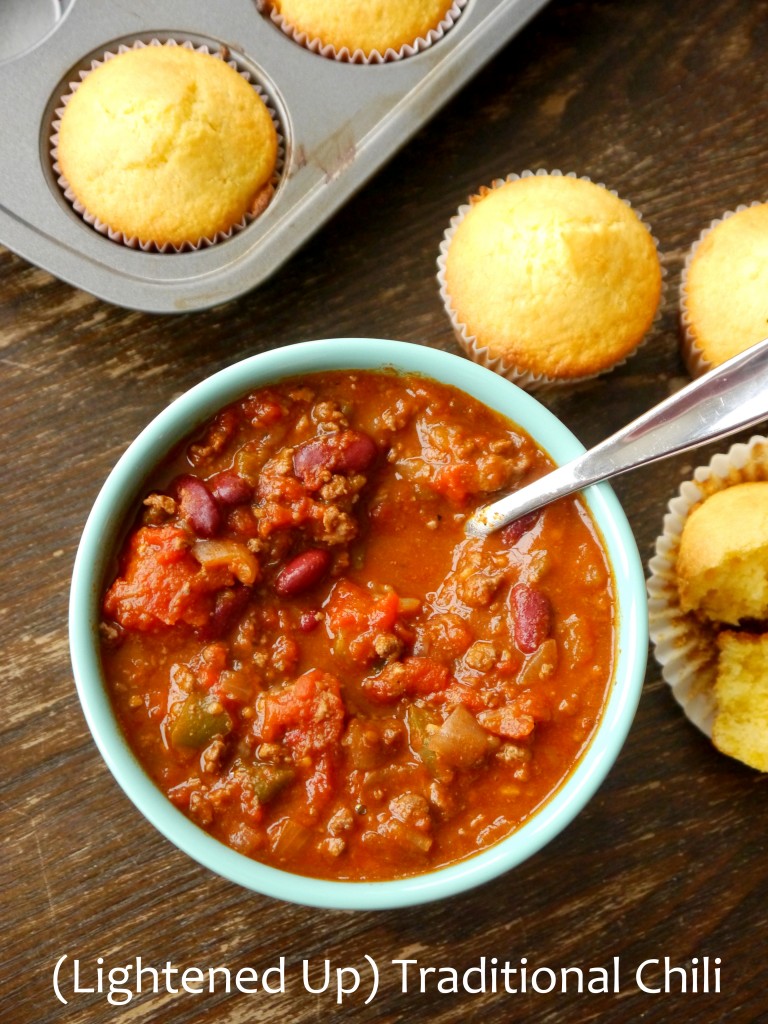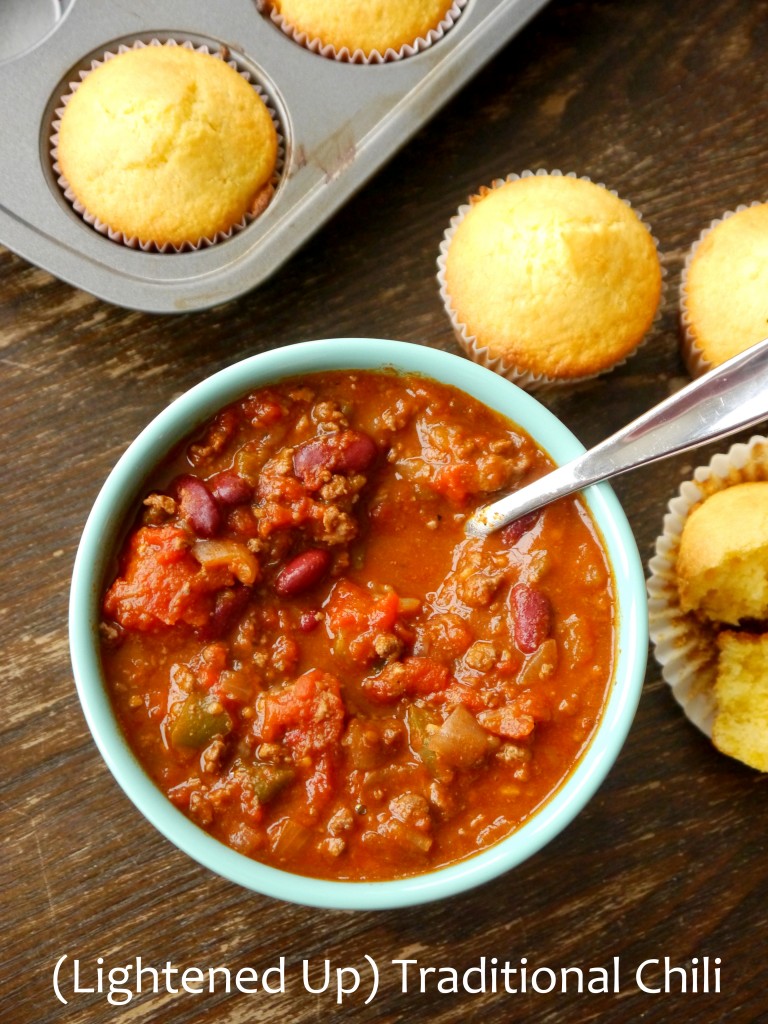 (Lightened Up) Traditional Chili
2014-01-05 19:36:22
Serves 8
A traditional meat & beans chili that's healthy, hearty, and absolutely delicious. Serve with a dollop of nonfat Greek yogurt, a sprinkling of cheese, and some corn bread muffins for a complete meal!
Ingredients
2 cups chopped onion
1 cup chopped green bell pepper
8 garlic cloves, minced
1 ½ lbs. ground sirloin
1 jalapeno pepper, chopped
2 tbsp chili powder
2 tbsp brown sugar
1 tbsp ground cumin
3 tbsp tomato paste
1 tsp dried oregano
½ tsp black pepper
¼ tsp salt
1 ¼ cups Merlot (or any similar red wine)
2 (28-oz) cans whole tomatoes, coarsely chopped (do not drain)
2 (15-oz) cans kidney beans, drained
Sharp cheddar cheese and nonfat plain Greek yogurt, for toppings
Instructions
Heat a large Dutch oven over medium-high heat. Add the sirloin, onion, bell pepper, jalapeno, and garlic to the pan. Cook for about 10 minutes, stirring frequently to crumble, until the beef is browned and cooked through.
Next, add in all the spices (chili powder through salt) and cook for 1 minute, stirring constantly. Add in the wine, canned tomatoes, and kidney beans; stir to combine. Bring the mixture to a boil, then cover, reduce heat, and simmer 1 hour, stirring occasionally.
Uncover and cook for 30 more minutes, continuing to stir occasionally. Dish into bowls and serve with cheddar cheese, Greek yogurt, and, of course, cornbread.
Adapted from Cooking Light
My Bacon-Wrapped Life http://www.mybaconwrappedlife.com/