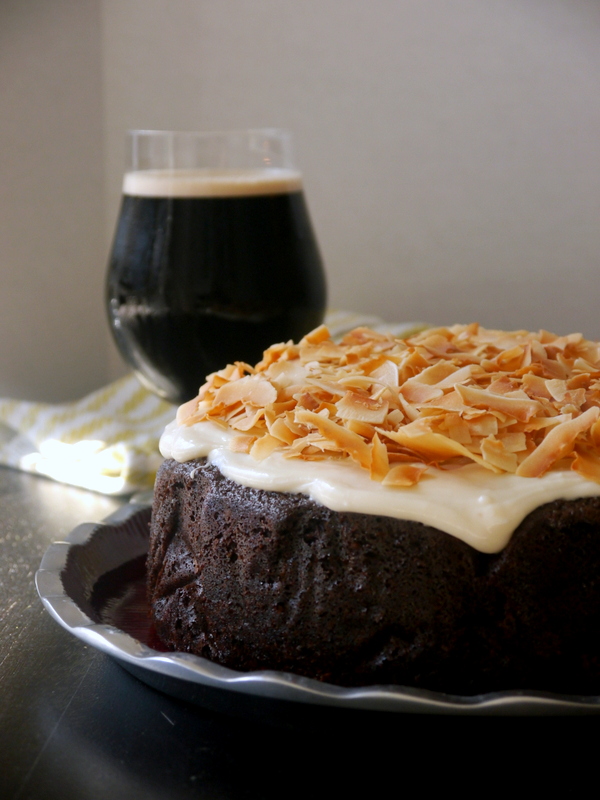 Happy St. Patrick's Day!!
As an ex-Chicagoan, I feel very strongly about this fun, festive holiday. Some of my favorite memories from my years in Chicago are St. Patrick's Day celebrations with friends – going to see the green river, starting the day off with some beer pong at 10am, and walking down the streets surrounded by people absolutely spilling out of every bar. The first year we spent in the Bay Area, I woke up on St. Patrick's Day weekend expecting everyone to be out and partying – instead, everything was totally silent! I realized quickly that I'd have to make my own St. Patrick's Day fun out here – which is perfectly fine with me (I'm a little too old to be doing it up with a day full of green beer and Irish car bombs, anyways). I never miss the chance to celebrate with chocolate and booze – two of my very favorite things!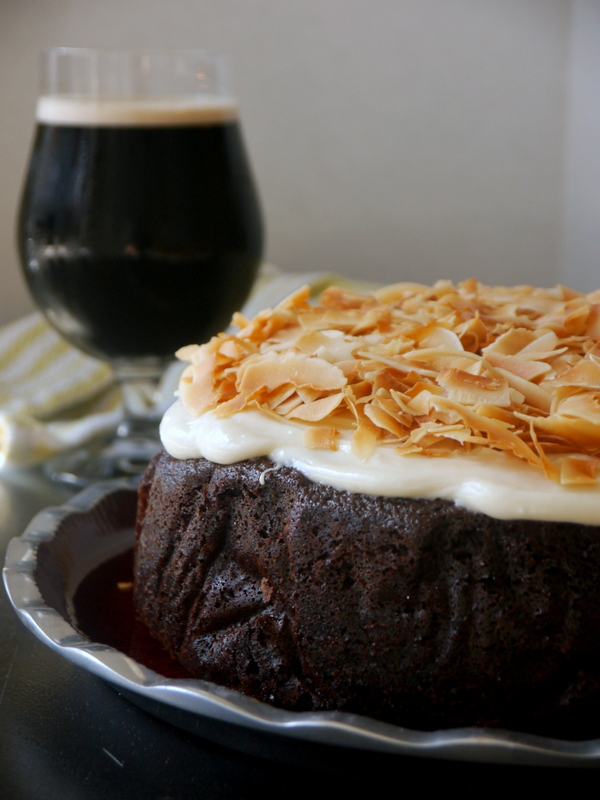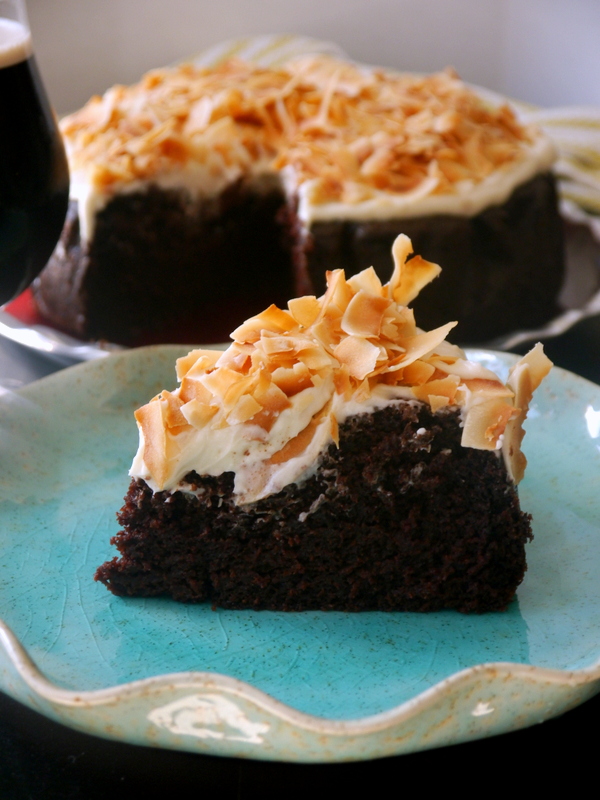 I've experimented with many chocolate stout desserts over the years and have truly loved all of them – I love rich chocolate desserts that aren't too sweet, and the bitterness of the beer adds the perfect depth of flavor to pretty much any chocolate dessert. This Guinness chocolate cake with toasted coconut cream cheese frosting was absolutely no exception.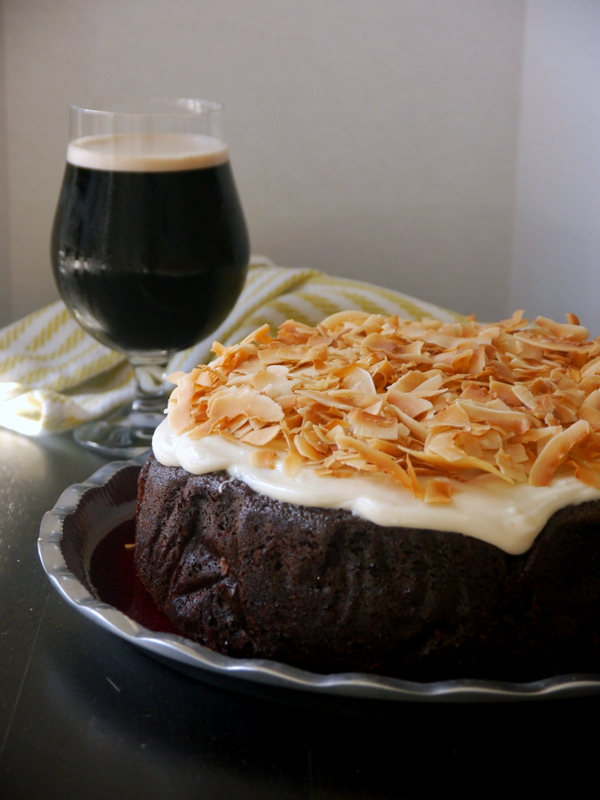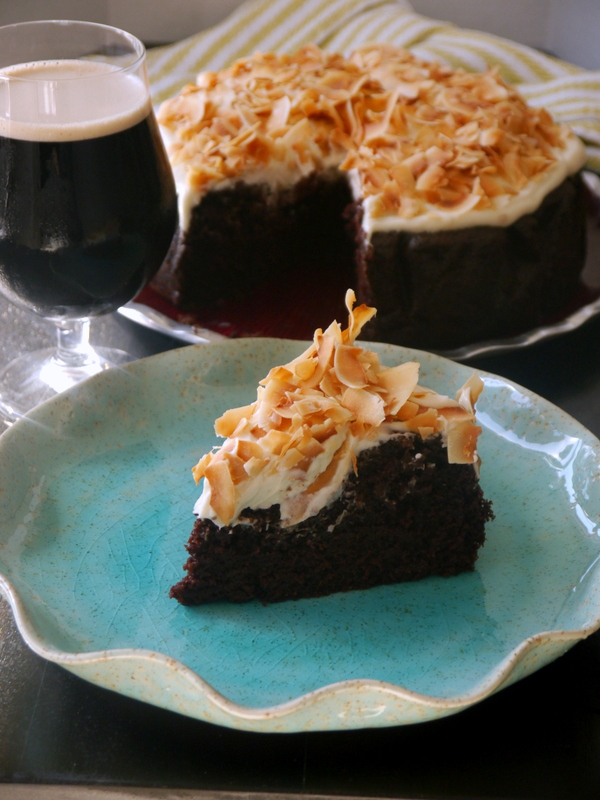 The chocolate cake is rich, insanely moist, and fluffy, and it's filled with such rich flavor thanks to a hearty dose of Guinness. I followed Nigella Lawson's cake recipe to a T (girl never fails me) and was so happy with how it turned out. I topped the cake with a decadent, milky cream cheese frosting and a hearty dose of my favorite ingredient of late – toasted coconut! (Thanks, Hawaii.) I love how the sweet toastiness of the coconut pairs with the rich chocolate cake and tangy cream cheese frosting, and it provides the perfect textural crunch. I've seen a lot of stouts and porters lately that list coconut and vanilla in the flavor notes, so I knew it would be a great topper for this festive cake.
If you're looking for the perfect decadent, chocolate-y treat to make this St. Patrick's Day, look no further! This Guinness chocolate cake will absolutely be in our rotation for years to come.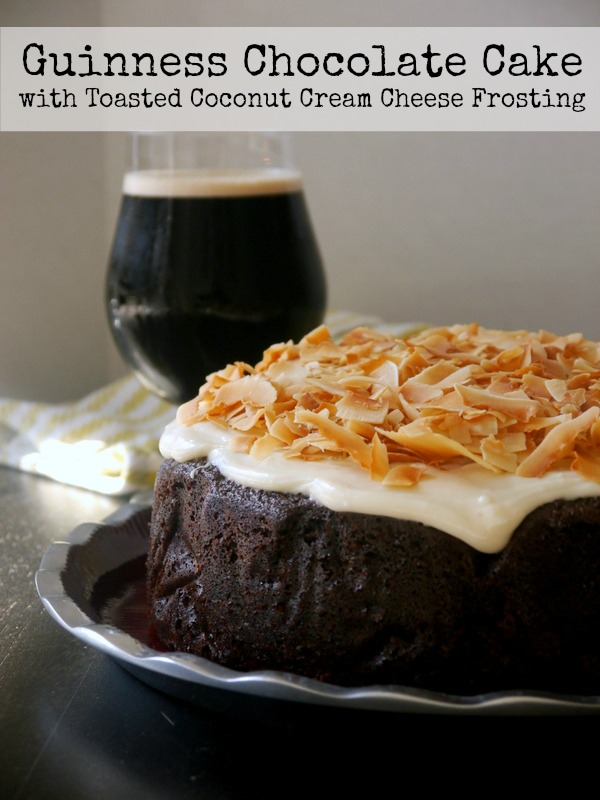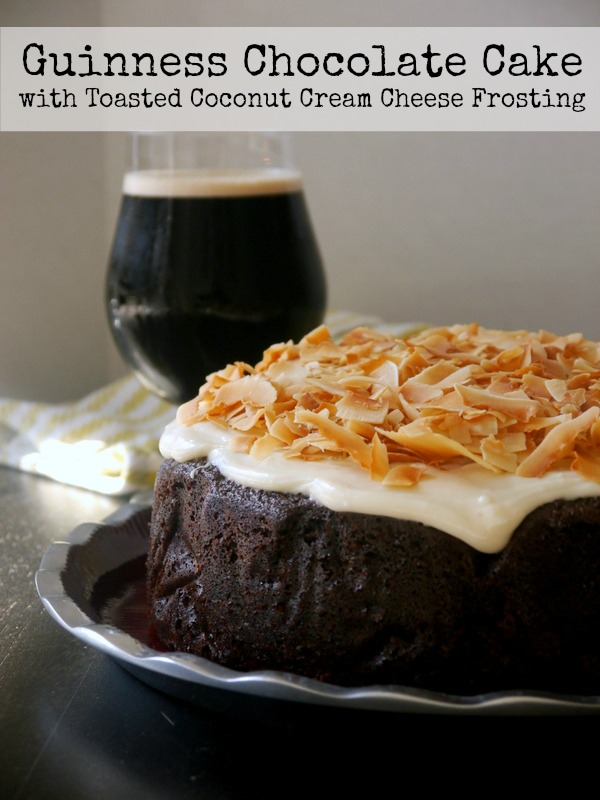 Guinness Chocolate Cake with Toasted Coconut Cream Cheese Frosting
2017-03-12 18:02:20
Serves 12
This Guinness chocolate cake is the perfect decadent, delicious St. Patrick's Day dessert. The tangy cream cheese frosting and toasty, crunchy coconut are the absolute best compliments to this amazing chocolate cake!
For the cake
1 cup Guinness (or stout of your choosing)
10 tbsp. unsalted butter, plus extra for greasing the pan
¾ cup unsweetened cocoa
2 cups sugar
¾ cup sour cream
2 eggs
1 tbsp. vanilla
2 cups all-purpose flour
2 ½ tsp. baking soda
For the frosting and topping
1 ¼ cups powdered sugar
8 ounces cream cheese, softened at room temperature
½ cup heavy cream
½ tsp. vanilla (you could sub coconut extract if you want more coconut flavor!)
1 cup coconut flakes, toasted
Instructions
Preheat your oven to 350°F. Thoroughly butter a 9-inch springform pan with tall sides. Line with parchment paper and set aside.
In a small saucepan, combine the Guinness and butter on medium-low heat. Cook until the butter melts, then remove from the heat. Transfer to a large bowl and stir in the cocoa and sugar until combined. Allow the mixture to cool for 10 minutes or so.
In a small bowl, combine the sour cream, eggs, and vanilla. When the Guinness mixture has cooled a bit, gradually stir in the sour cream mixture until combined. Add the flour slowly, whisking to combine. Add in the baking soda and stir one last time until the mixture is smooth.
Pour the batter into the prepared pan and bake for 45-50 minutes, until a tester inserted into the center comes out clean (mine was done in 45). Place the pan on a wire rack to cool and allow to cool completely before attempting to remove it from the pan.
When the cake is cooled, prepare the frosting. Combine the softened cream cheese, powdered sugar, and vanilla in the bowl of a stand mixer, or in a large bowl with a hand mixer. Beat until light and fluffy. Add in the heavy cream and beat again until creamy and smooth.
Carefully remove the cake from the pan and place on a serving platter. Frost the cake just on the top (Nigella points out this makes it look like the head of a Guinness pint – how cute is that?!). Press the toasted coconut into the top so it sticks. Cut into wedges and serve immediately!
Notes
Total time does not include cooling time - I'd budget at least an hour, preferably 2!
Adapted from Nigella Lawson via The New York Times
My Bacon-Wrapped Life http://www.mybaconwrappedlife.com/
Looking for more St. Patrick's Day treats?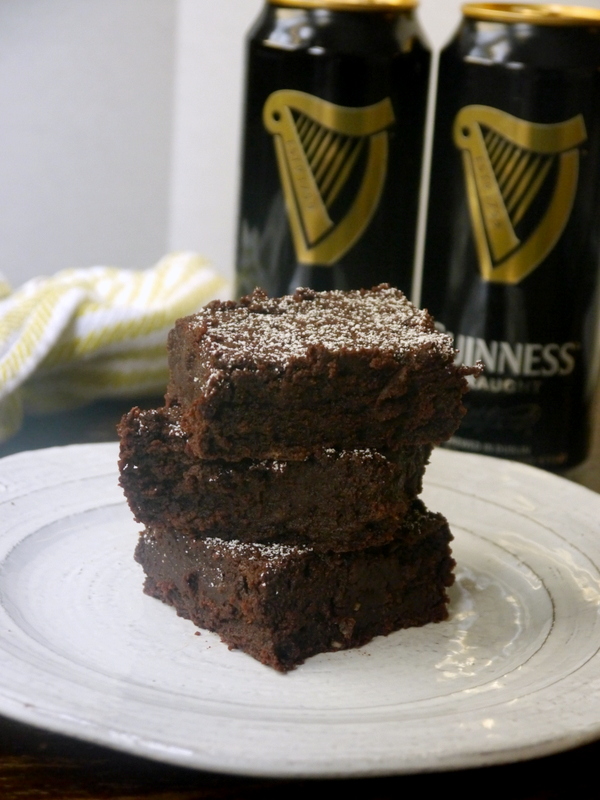 Fudgy Chocolate Stout Brownies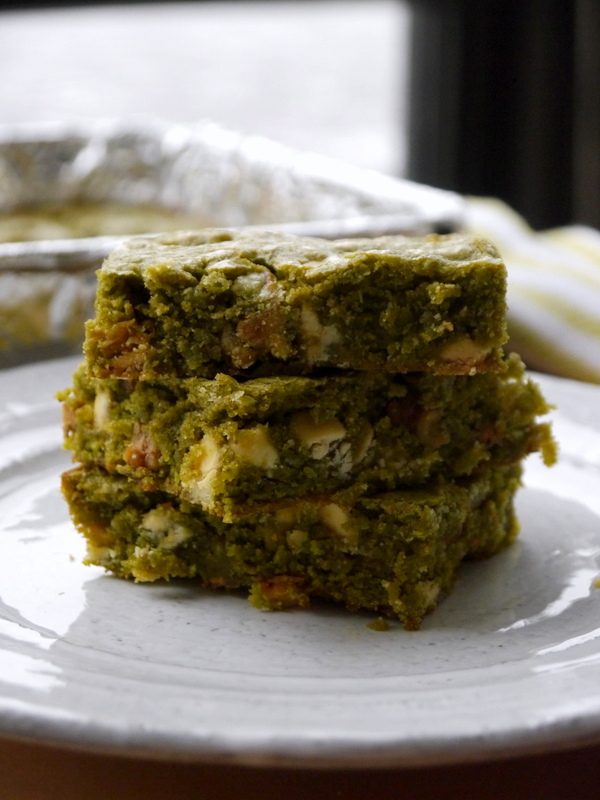 Matcha White Chocolate Walnut Blondies