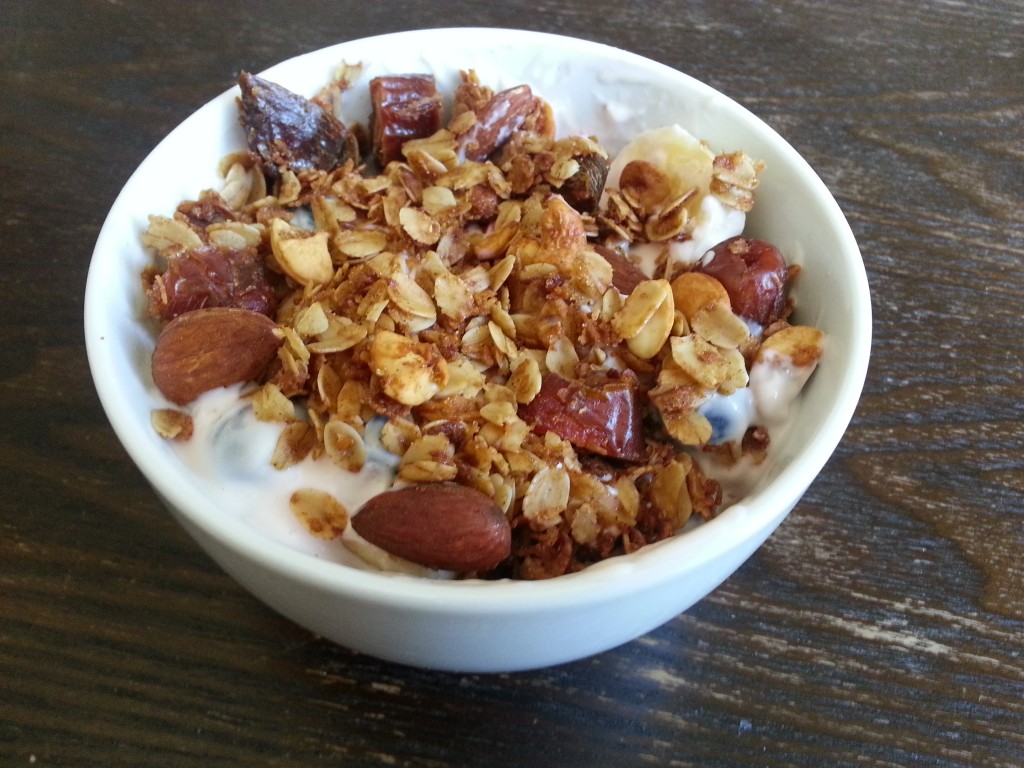 One of my favorite foods in the entire world is homemade granola. If you find yourself thinking that sounds weird, or random, or strangely healthy, I hate to break it to ya, but you've never had good granola. Good, homemade granola is slightly sweet, wonderfully crunchy, and chock-full of delicious extras – nuts, dried fruit, warm spices, coconut, or pretty much anything else you could think of that would be delicious smothered in a little butter and sugar and baked up to crispy perfection. It's fake health food at it's finest, and it's absolutely delicious served in a big bowl with milk and berries, eaten stranding at the counter over the container by the handful, or my personal favorite, as a topping for Greek yogurt and fruit for a wholly satisfying breakfast that's quick enough for any workday morning but also indulgent enough for a lazy Saturday.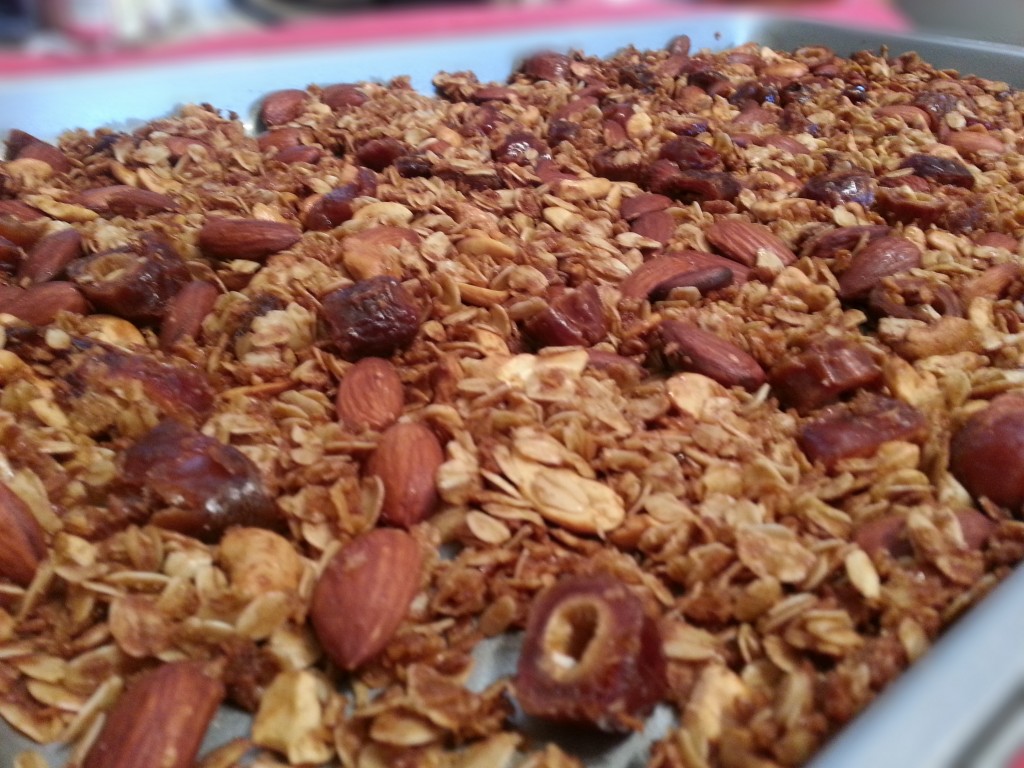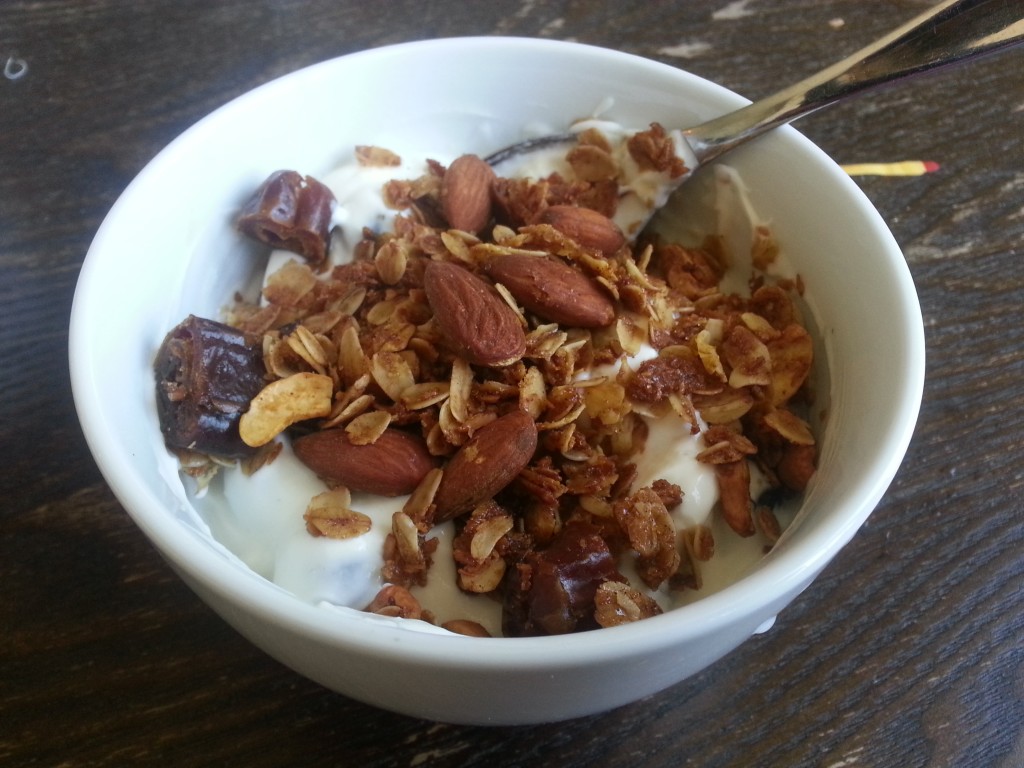 This granola is truly wonderful, made with real, simple ingredients that bake up beautifully together. Old-fashioned oats, cashews, almonds, dates (or whatever combination of nuts and dried fruits that makes you happy) are tossed with butter, brown sugar, honey, and warm spices. Coconut adds a layer of nutty flavor, although if you're coconut-averse like many people I know are, it's easily omitted. I like that this recipe doesn't involve any crazy steps – the prep is literally just throwing all the ingredients together and adding to a baking sheet. I've tried varieties with browned butter (also delicious, but time-consuming) and bourbon (who am I kidding, I would probably still add this) and other sorts of fancy extras, but honestly, this simple one is my favorite. Not only does it make the idea of making homemade granola totally un-intimidating no matter how hectic life happens to be that day, but it just tastes right – balanced, easy, and happy. It's touch sweet without being at all overly so, nutty and crunchy but also a little chewy with the dried fruit. It's wholesome, but with a little butta'. Now, do you see why it's one of my favorite foods, or are you going to have to try it and see for yourself?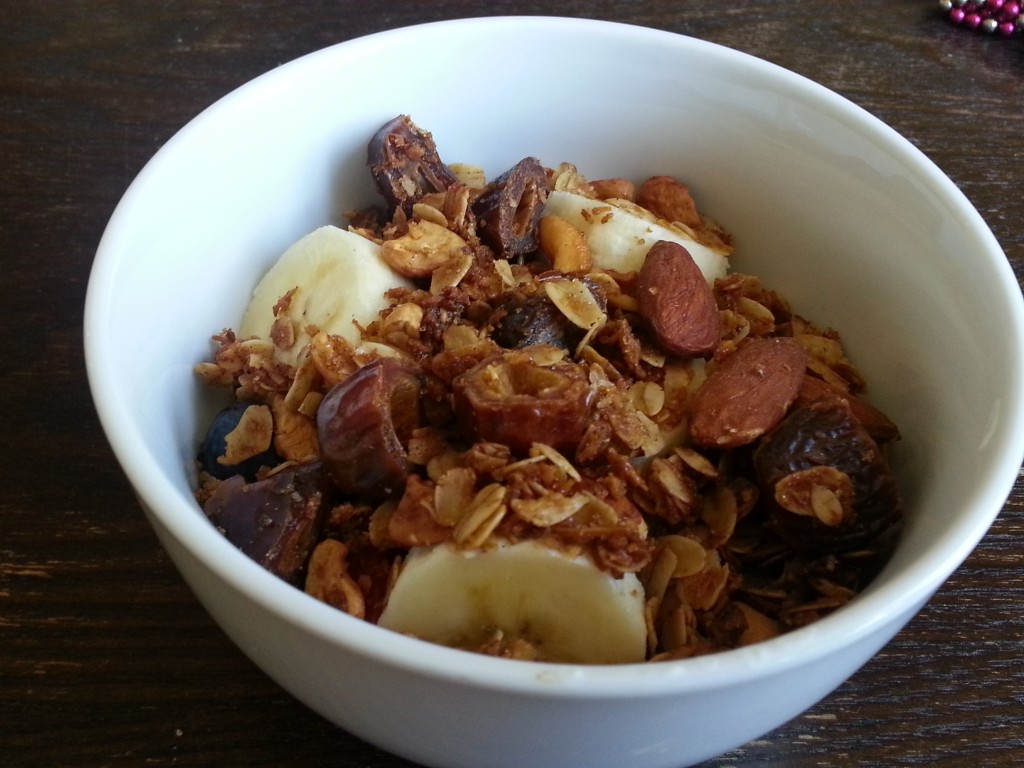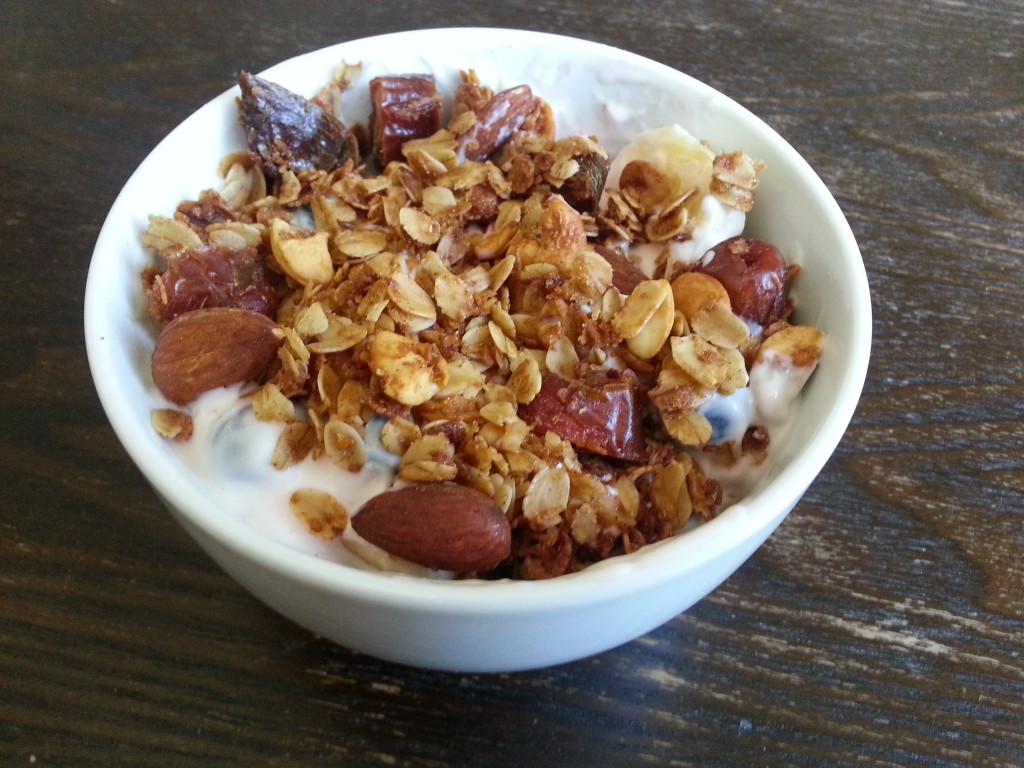 Granola with Nuts and Dates
2013-08-09 20:40:40
Serves 12
A perfectly sweet and crunchy granola recipe that everyone will love!
Ingredients
2 cups old-fashioned oats
¾ cup almonds
½ cup sweetened flaked coconut (optional, but do it!)
½ cup raw cashews
1/3 cup brown sugar
1 ½ tsp ground allspice
1 tsp ground cinnamon
¼ cup unsalted butter
2 tbsp honey
2 big handfuls pitted dates, cut crosswise into thirds
Instructions
First, preheat your oven to 300°F while you prepare the granola. Mix together the oats, almonds, coconut, cashews, brown sugar, allspice, and cinnamon in a large bowl. In a small saucepan, melt the butter and honey together over low heat, stirring occasionally to combine and watching to ensure butter doesn't burn. Once combined, poor the butter/honey mixture over the granola mixture and toss until fully combined. Spread out on a large baking sheet.
Bake for about 20 minutes, stirring every so often. Add the dates, making sure they don't clump together and are evenly distributed. Return to the oven for about 15 minutes, stirring frequently now, or until the granola is golden brown. Allow to cool before crumbling into an airtight container for storage.
According to the recipe, this granola will keep for about 2 weeks in an airtight container at room temperature. I can't attest to it, since this doesn't last more than 2 days in my house, but it's good to know in case I...nevermind. This will never be a situation that is applicable to me. But there you go!
Notes
Watch the granola closely as it bakes - you don't want it to burn!
Adapted from Epicurious
My Bacon-Wrapped Life http://www.mybaconwrappedlife.com/