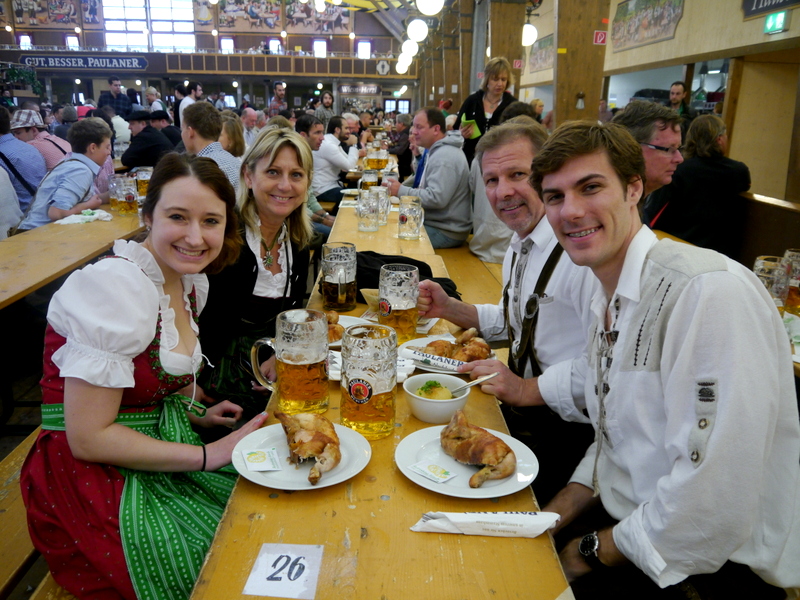 Halfway through our first beers at Oktoberfest!
Hi everyone! I hope you've had a great couple of weeks. We are currently recuperating from an incredible trip to Germany last week – more pictures to come next week! In the meantime, I have lots of links for you from my week off. Here are this week's Foodie Favorites!
First and most importantly, these beer-cooked bratwursts are bringing me riiiiiight back to Bavaria. But really, can we go back now?
These homemade apple fritters look ah-mazing. Undeniably labor-intensive, but so worth it! Stunning.
These brownies with matcha glaze are too cute. Plus, matcha powder is SO hot right now. (Zoolander voice…anyone?)
This jalapeño quinoa corn dip is like a snack and a meal combined and I just want to shovel the whole thing in my mouth with tortilla chips reallll fast. Yum!
I love this honeycrisp, sage, and bacon mac n' cheese. Apples + cheese are an incredible combination (if you haven't tried a piece of apple pie with cheddar melted on top, you haven't lived!) and I can't wait to try that killa sweet-salty combo with mac n' cheese!
Pumpkin beer waffles? Oh no you di-int. Must try!
I'm very excited about this pumpkin oatmeal. It look soooo creamy and fantastic! Plus, pumpkin. I'm obsessed.
This fruity pebbles funfetti cake is basically the cutest thing ever. That is all.
Hope you enjoyed this week's long-winded Foodie Favorites! There's too much good out there not to share. Have a great week!