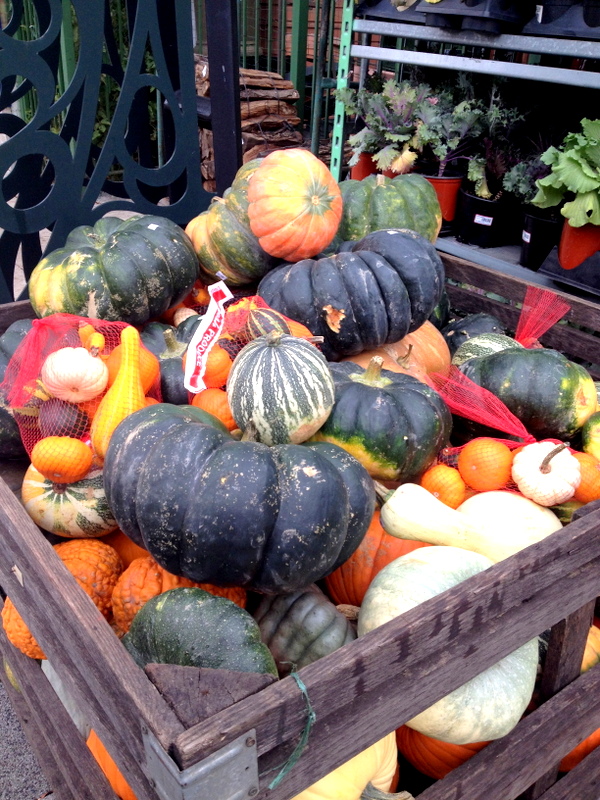 Decorative gourd season is here in full swing, and I am lo-ving it!
Hey everyone! Hope you enjoyed last week's roundup of German food + beer pics in lieu of Foodie Favorites. Now we're back in action with a ton of links!
Have you seen this pizza cake? The classy side of me is like "GET A GRIP" and the trashy side of me is like "MUST MAKE THIS IMMEDIATELY". It's Jekyll and Hyde in here, I tell ya.
This bacon butternut squash and Brussels sprouts mac n' cheese is basically all my favorite things in one. My two favorite veggies in the world + cheese + pasta + buttery Ritz cracker topping + BACON? I'm soooo in love.
This spicy roasted squash with feta is my ideal weeknight side. Can you tell I really, really like squash?
I've never seen anything like these cocoa dumplings with bourbon maple sauce and the whole shebang looks 100% completely and utterly drool-worthy. YUM.
These Asian quinoa meatballs look so moist and flavorful – another perfect weeknight dinner! I foresee these in my quickie dinner rotation very soon.
I love an epic bloody mary, and this grilled cheese bloody Caesar is a full balanced meal in a glass! I would hit this up for brunch so hard.
Pumpkin cake with cream cheese glaze and candied bacon? This girl speaks my language so, so much.
These mini pumpkin layer cakes just might be the cutest thing ever. I love the idea of making a teeny tiny cake, and as we've covered many, many times, everything tastes better when it's pumpkin-ed!
Phew! That's it for this week. As always, please feel free to share the links you've been lovin' on this week – I'm looking for all the holiday cooking inspiration I can get! (It's never to early, okay?)