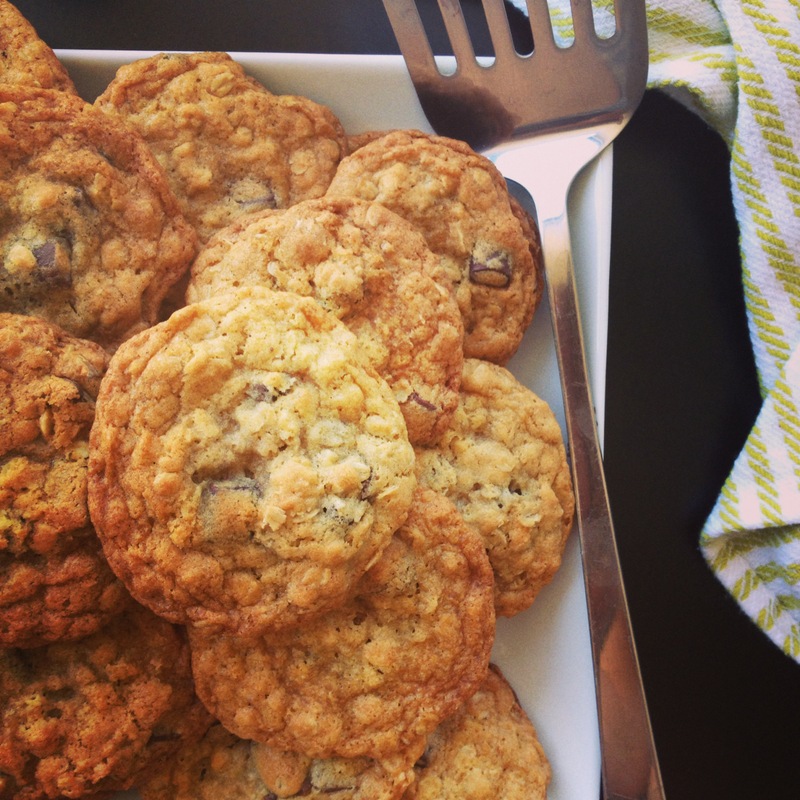 Just a small portion of the epic batch of oatmeal chocolate chip cookies (Brad's mom's recipe!) that I baked up on the 4th of July
Hey guys! How was your 4th of July? I spent the day cooking, loungin' by the pool, and of course watching fireworks! Dinner consisted of panzanella salad, our favorite brown sugar garlic flank steak, and, of course, way too many of the above cookies. Such good eating!
Hands down best thing I spied this week: these bacon and sweet corn ice cream sandwiches. Bacon and ice cream is such a thing right now, and I am obviously completely on board this train. I love this super unique flavor combination!
This cheesy roasted corn on the cob is pure summer to me. It reminds me of the Mexican street corn that's sold everywhere in LA and I can't wait to try it at home!
These peanut butter pretzel rice krispie treats are genius – I love the idea of taking the flavors of one of my favorite snacks (peanut butter-filled pretzels) and turning them into an incredible dessert. Sweet and salty love all up in here.
These sweet potato nachos are calling to me. Nachos and sweet potatoes are two of my favorite things, so when you put them together I pretty much can't contain my excitement. MMMMMMM.
I spotted these smashed fingerling potatoes with jalapeño in this month's issue of Bon Appetit and they immediately shot to the top of my to-make list. Super tender spicy smashed potatoes? Count me in!
Thanks for tuning in for this week's Foodie Favorites! As always, please feel free to share the things you're loving and Pinning and eating this week!