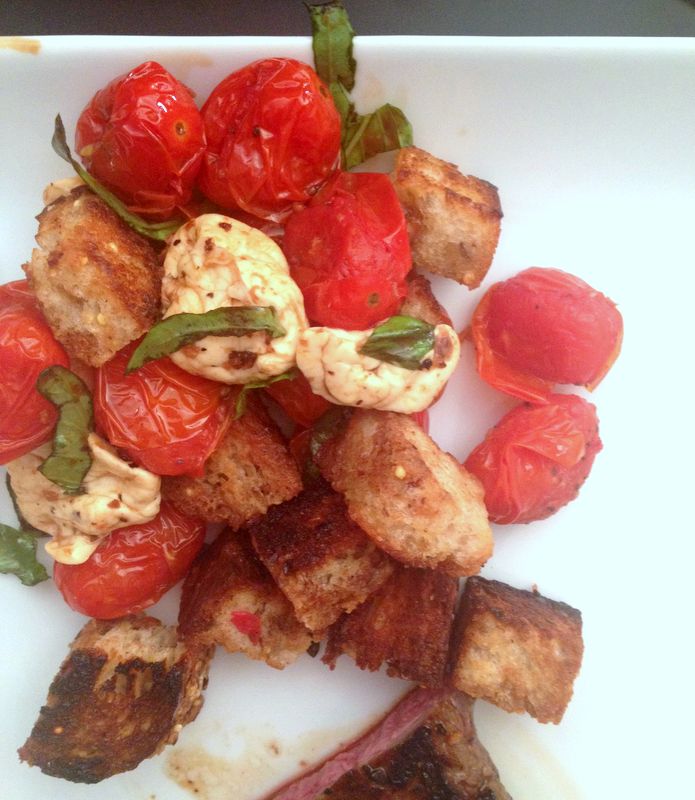 My new favorite light summer dinner: roasted tomato caprese panzanella
Hi everyone! Hope you enjoyed last week's whirlwind foodie tour of New York City. This week we're back with drool-worthy links from around the Internet, which is always good news!
I'm freaking out about this falafel pita. I LOVE falafel and this homemade version looks totally do-able and absolutely delicious. Not to mention the incredible photos!
I have been craving this cinnamon toast crunch milkshake since I first saw it. Is there anything better than cinnamon toast crunch cereal milk…made into a MILKSHAKE? Yes, just yes.
These caramel apple pie biscuits are so inventive. What an incredible take on the classic American dessert! If someone brought me one of these right now, I wouldn't hate it. Just saying.
These black pepper stir-fried noodles are calling to me. So easy, so healthy, and that noodle swirl – YUM. Going on the to-make list immediately!
These homemade drumsticks look soooo good. I would be all over a mint chocolate chip or cookie dough version…
In the same vein, I love these fancy s'mores ideas. The almond butter and banana looks like perfection, as does the salted caramel and the raspberry white chocolate and well…all of them. How could a girl ever choose?
I hope you enjoyed this week's installment of Foodie Favorites! Don't forget to comment to share with me the foodie places, people, and things you've been loving this week.