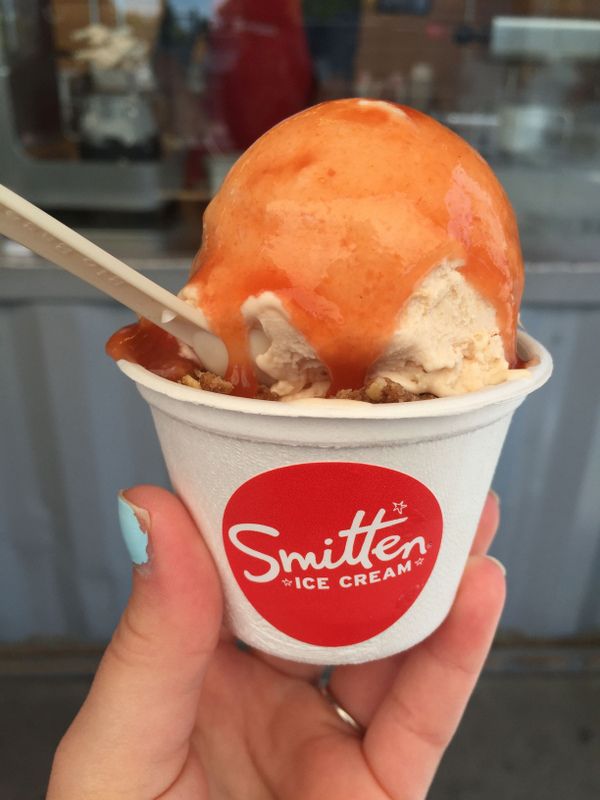 Yes, more Smitten ice cream. It's just too photogenic – plus, this "nectarines and cream" flavor (with, uh, oatmeal cookie crumbles) totally blew my mind! I love this place!
Hey guys! How's your week goin'? I'm kicking off my summer travel crazies this weekend with a trip to Minneapolis to visit my brother with my family, and I absolutely can't wait!! I miss the Midwest-summer-lovin' vibes so much, and the idea of sitting by a lake with a beer in my hand all weekend makes me feel completely warm and fuzzy inside. I hope you all have similar summer-fun weekend activities planned! Here are this week's Foodie Favorites.
I love how this bourbon peach galette combines so many traditional Southern summer flavors with a totally modern twist. I could eat this whole beautiful thing!
Popsicles!! I'm not usually a big popsicle fan but these ultra-creamy vegan pb&j pops might change my mind. I am totally craving these!
These Asian noodle bowls look completely amazing. I've been looking for a great homemade noodle recipe (we order delivery Thai way too much) and this looks like a winner!
Hello, most decadent-looking brownies ever. These cookies n' cream brownies are seriously insane!! I could def get down with a pan of these.
More popsicles!! (Who am I?) But guys, these are BLOODY MARY POPSICLES. How cool, right?! I'll take my dranks in pop form anyday.
This cheesy potato and corn galette is totally my kind of meal – carbs on carbs on carbs (on cheese). Galettes for the easy-breezy summer baking win!
Hope you all have the best week! XOXO